The Quota Enigma; Plan-Fulfilment; Embargo Obsession; GMA Go US; MP Go Public; Minmetals Go Stellar; Lynas Taking Heat; Bye Alkane - Hello ASM;
Rare Earth 2020 July 17
China's government set the whole year quota for rare earth oxide equivalent output 2020 at plus 8,000 t or 6.3% higher than 2019. The total is now 140,000 t as TREO for 2020.
In 2020, the national total mining control index of rare earth minerals (rare earth oxide REO, the same below) is 140,000 tons, of which the index of rock and mineral type rare earth minerals (mainly light rare earth) is 120,850 tons, and ion type rare earth minerals (medium heavy Mainly rare earth) indicator is 19150 tons. (from the MIIT memo)
We don't understand, that a company that does not mine gets a mining quota. We also do not see REO recycling by "comprehensive resource utilisation" companies being considered.
With these 140,000 t MIIT achieves one of the targets of the "Rare Earth Industry Development Plan (2016-2020)", to keep output at or below 140,000 t. To refresh your memory, this is the list of targets: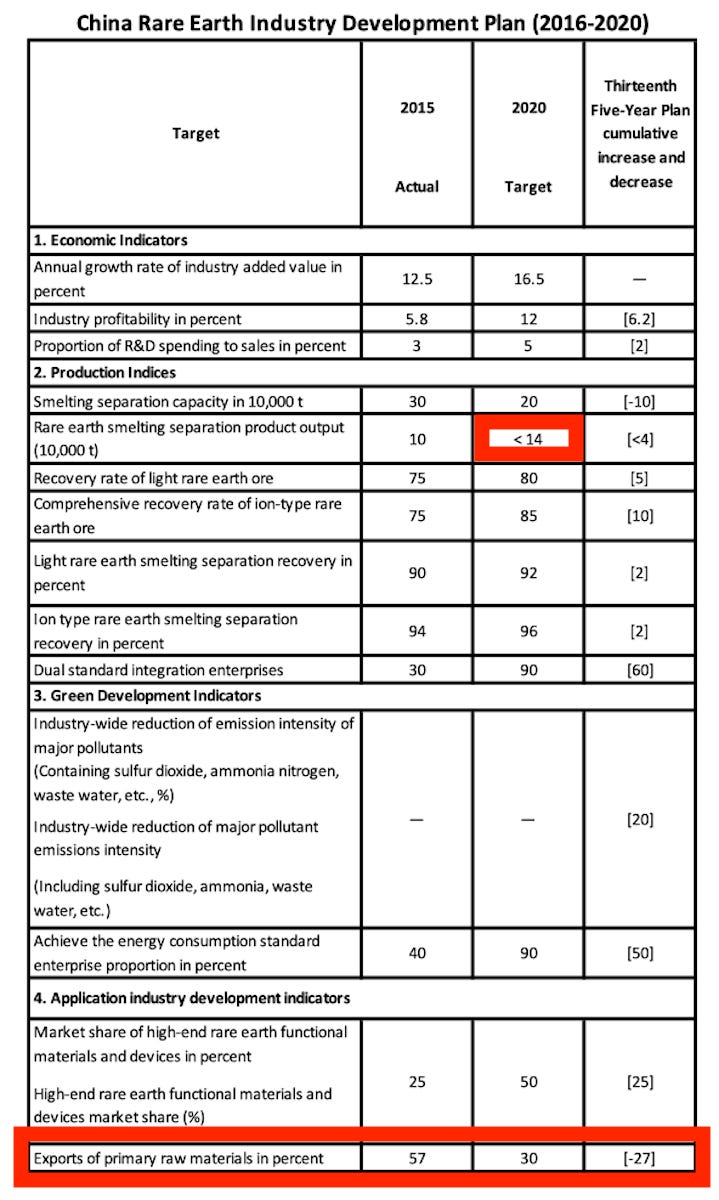 In terms of plan fulfilment they could have kept the quota lower.
These additional 6.3% in our view are the anticipated growth of RE consumption of 4.3% (Argus REO growth estimate) plus 2% on top, maintaining a slight oversupply to prevent prices of key materials from rising.
The Chinese media who announced the embargo on Lockheed-Martin's China sourcing yet again go overboard by suggesting an RE embargo, which is an obsession of loose-cannon Global Times editor Hu Xijin, probably much to the horror of China RE industries.
MP Materials go public and raise funds for adding separation ability to the Mountain Pass mine. Question will be not only clearance and permissions, but also cost-competitiveness. However, there has never been a serious solution for the US RE issue that would not include Mountain Pass. It potentially covers the US demand for La and Ce and can also provide some of the magnet materials.
Thanks for reading, have a great weekend.
//Companies
Geomega Resources Inc. ("Geomega" or the "Corporation") (TSX:V.GMA) (OTC: GOMRF), a rare earth clean technologies developer for mining and recycling, and USA Rare Earth, LLC, the funding and development partner of the Round Top Heavy Rare Earth and Critical Minerals Project in West Texas, are pleased to announce that they have entered into a Letter of Intent (LOI) to recycle rare earth-containing production waste from USA Rare Earth's future production of sintered neodymium iron boron (NdFeB) permanent magnets (sintered neo magnets) in the United States.

As part of its mine-to-magnets strategy, earlier this year USA Rare Earth purchased the sintered neo magnet manufacturing equipment formerly owned and operated in North Carolina by Hitachi Metals America, Ltd. USA Rare Earth is currently evaluating options for the location of the plant, which will become the first neo magnet manufacturing plant in North America since the Hitachi facility ceased operations in 2015. Other domestic sources of neo magnets either import magnets for assembly in the US or import sintered neo magnet blocks that are machined and assembled in the US.

The plant was designed to produce in excess of 2,000 tonnes of sintered neo magnets per year, or approximately 17% of current U.S. demand for neo magnets. The process of manufacturing and machining neo magnet blocks generates up to 30% swarf and scrap (up to 600 tonnes), which needs to be recycled. Material from USA Rare Earth's facility and material from machining of other blocks will be the feed for Geomega's recycling plant located in St-Bruno, Quebec which, after processing, could become one of the rare earth oxide feed required for USA Rare Earth's magnet plant. USA Rare Earth is expected to make all its swarf and scrap available for Geomega to recycle for a minimum period of five (5) years, commencing on the effective date of a definitive agreement between the companies.
U.S. rare earths miner MP Materials will go public in a $1.47 billion deal by merging with a private-equity backed blank-check company, underscoring Wall Street's rising interest in efforts to boost production of the strategic minerals.

Hedge funds JHL Capital Group and QVT Financial will fold their ownership of MP into the special-purpose acquisition company (SPAC) Fortress Value Acquisition Corp , shares of which gained 9.7% on Wednesday. Fortress is controlled by Japan's SoftBank Group Corp <9984.T>.

MP will net about $489 million from the deal and a separate stock offering for several private investors, including venture capitalist Chamath Palihapitiya and the hedge fund Slate Path Capital, which is a major shareholder in Barrick Gold Corp , the world's second-largest gold producer.

MP plans to use the funds to upgrade outdated and mothballed Molycorp-era processing equipment in California.

MP had planned to process 5,000 tonnes per year of the two most common rare earth metals by the end of 2020, though the goal is now by 2022, the company said on Wednesday.

It was not immediately clear if China's Shenghe Resources Holding Co Ltd <600392.SS>, which owns 9.9% of MP, would participate in the Fortress deal, though the conversion likely will give Shenghe an equity holding in the newly formed public company. Shenghe did not respond to a request for comment. MP declined to comment.
The transaction includes a $200 million fully committed common stock private Investment in public equity (PIPE) deal at $10.00 per share, anchored by Slate Path Capital, Chamath Palihapitiya and Omega Family Office. The combined company will have an estimated post-transaction equity value of approximately $1.5 billion, with over $500 million in net cash to fund its growth strategy.
Comment: The birth of another Molycorp?
A DAP MP said Putrajaya must determine a suitable site for the Permanent Disposal Facility (PDF) for Lynas Malaysia to be built before allowing the rare earths plant to continue operating.

Wong Tack, a vocal critic of Lynas, claimed the public was still "in the dark" as to where the PDF — meant to manage waste — would be located.

Neither does the public know if suitability studies have been carried out at the selected site.

"Until today, the people are still in the dark as to where exactly this PDF is located. What happens if the site chosen is not suitable or is unacceptable to the people?" the Bentong MP said in a statement this evening.

In February, Lynas' licence was renewed for another three years till March 2023.

It is, however, subject to several conditions, including developing its PDF within the first year from the date of the approval.

Lynas must also submit a work development plan for the construction of the PDF and report on its development status.
ASM's parent company Alkane Resources has announced that shareholders have approved the demerger of ASM.

Key points:

Alkane shareholders overwhelmingly approve the Demerger of ASM, with both resolutions tabled at the Extraordinary General Meeting passed.


ASM will become one of Australia's preeminent specialty materials development companies when it lists on the ASX, which is on track, and expected on or around 30 July.


Alkane will become a pure-play Australian gold company with balance sheet strength, a quality production asset in Tomingley, and an exciting development pathway with one of Australia's most significant exploration discoveries at Boda.
Minmetals Rare Earth (SZ 000831, closing price: 14.78 yuan) released a performance forecast on the evening of July 14th, and it is expected that the net profit attributable to shareholders of listed companies in the first half of 2020 will be 140 million to 175 million yuan, a year-on-year increase 189.3%~261.63%. Basic earnings per share is about 0.14 yuan/share to about 0.18 yuan/share. The reason for the change in performance is that up to now, the company's separation company, Ganxian Hongjin Rare Earth Co., Ltd., has received a total of RMB 155 million in relocation compensation and relocation rewards. During the reporting period, the company confirmed that the asset disposal income was about 69.82 million yuan and the non-operating income was about 25.37 million yuan according to the relocation and liquidation progress. In addition, the company's main merchandise sales gross profit rose year-on-year and relocation clearing inventory profitability, also contributed to the current increase in performance.
Comment: Apparently Ganxian Hongjin Rare Earth Co., Ltd. is being completely closed, not relocated, so the compensation received could be booked as profit. As we have seen from the 2019 annual report, domestic trade is already a major share of sales volume at Minmetals, so they'll probably complement lost capacity with trade. On the news of this asset liquidation Minmetals shares dropped 4% on July 15, in line with the broad China sell-off last week.

//Processing
We carried the original article, but as usual the Japanese add "plus alpha".
Baotou Rare Earth High-Tech Zone (Baotou City, Inner Mongolia Autonomous Region) revealed on the 12th, that "research and industrialisation of continuous production technology of 10,000 ton-class light rare earth and carbonates" by Northern Rare Earth Project of China Rare Earth Industry Association After being evaluated and screened by experts, it was officially confirmed that "the overall technology has reached the top level in the world", and the operation has started smoothly. This shows that China was the first in the rare earth industry to realise continuous and automated production of true carbonate rare earth precipitation, Science and Technology Daily reported.

The Northern Rare Earth research team independently researched and developed light rare earth/carbonate continuous precipitation, mixed precipitants for ammonium hydrogen carbonate and ammonia water, and automated control technology, as well as water consumption through single-level and intermittent production through technology integration. It solved the problems of large water consumption and waste water discharge, large variations in product quality, low concentration of precipitant, and low automation level of the whole production process.

``We mainly use light rare earth and carbonates such as reaction level, reaction temperature, continuous precipitation technology conditions such as precipitant distribution method, mixing precipitant mixing ratio, etc., said the project director, Sun Xiaoyun. We also studied the effect on product quality and at the same time the effect on the quality of light rare earth/carbonate products due to the operational effects of technical equipment such as solution purification, agitation, and continuous filtration."


In the light of serious research, the team embarked on precipitant placement and cleanup facilities to plan and verify overall control and integration. Furthermore, based on this, we designed and constructed a raw material placement purification system, a constant pressure raw material supply system, and a continuous precipitation production line for lanthanum carbonate. The project reduced CO2 emissions by 80%, electricity consumption by 29%, and wastewater by 40%. The technical results of the project have already been applied by several major rare earth companies and reduced annual production cost of more than 100 million yuan (about 1.5 billion Japanese yen).
Comment: We dare to deduce from the a.m., that overall lanthanum carbonate processing cost can be reduced by RMB 10/kg, but from what level? We have some information on that but can't verify, so we don't tell at this time. At the time of this writing the median lanthanum oxide published price is RMB 10.75/kg incl. 13% VAT.
Toa Construction Industry Co., Ltd. announced on May 15 that the government's Strategic Innovation Creation Program (SIP) innovative deep-sea resource research technology will be important in order to extract the rare earth in the waters around Minamitorishima from the Japan Agency for Marine-Earth Science and Technology ( JAMSTEC) has been commissioned to conduct a simulated experiment. SIP's Shoichi Ishii, Program Director for Innovative Deep Sea Resources Research Technology (PD) said, "Thawing technology is vital for the collection of rare earths. We would like to carry out a field test in the sea area, including even mud".

When collecting rare earths, it is necessary to atomize (mud) the mud containing rare earths, which are accumulated in the deep seabed in a tightly packed state like clay, to the surface of the sea. Toyo Engineering and Toa Construction Industry Co., Ltd. have been entrusted by JAMSTEC with a simulated experiment of sludge removal technology and have been conducting the experiment. The mud collecting pipe penetrates into the seabed, water is discharged in the pipe, and the mud is mixed with a stirring blade to break the mud and penetrate to a depth of about 3 m. In the experiment, a 1/3 scale large-scale test system and a 6-meter-high work gantry were installed in the outdoor test yard of Toa Construction Industry Co., Ltd. in Sodegaura City, Chiba Prefecture. It was confirmed that the simulated mud could be thawed. Based on the experimental results, Toyo Engineering will proceed with the basic design of the entire equipment that combines equipment for demolition and pumping.
The protein, lanmodulin, enables a one-step extraction and purification of REEs from complex metal mixtures, including electronic waste and coal byproducts.

"Lanmodulin has several unique and exciting properties. We were all amazed to discover that a natural protein can be so efficient for metal extraction. I have worked on many molecules for metal purification but this one is really special," said LLNL researcher Gauthier Deblonde, lead author of a paper on this research appearing in Inorganic Chemistry. "This protein is the most REE-selective macromolecule characterized to date and is able to tolerate industrially relevant conditions such as low pH, high temperature and molar amounts of competing ions."
The company will receive an as-yet-undisclosed assistance package from the state's Jobs and Regional Growth Fund with several conditions attached, including nailing down an offtake agreement by 30 September this year and then meeting staged achievements through to June 2024 to begin receiving financial assistance from the state government.

The project will involve an investment of $1.5 billion for a mine that will support around 700 jobs mining nickel and cobalt with the rare earths element scandium as a by-product.
Comment: More Scandium…
Lynas Corp says it has taken a significant step towards developing its new Kalgoorlie rare earths processing plant having awarded Metso Outotec with a contract to supply the plant's rotary kiln system following a competitive tender process.

The 110 m long, 1,500 t kiln is the largest and longest lead time piece of equipment required for the plant's operation, according to Lynas.

The contract for engineering and supply of the kiln is valued at around $15 million, including the discharge housing, combustion chamber and burner, motor control stations and delivery to Kalgoorlie.

The kiln will be manufactured by Metso Outotec to Lynas' own design, which improves on the design of the four 60 m kilns currently in operation at the Lynas Malaysia plant, the company says. The new kiln will provide increased efficiency and reliability, it added.

Metso Outotec will commence work on the kiln immediately, with components to be manufactured in Australia as well as in European countries, Lynas said.
Comment: Delighted to see this happening, looking forward to hearing about the financing of the Australian project and the construction of the permanent disposal facility in Malaysia for the ~500,000 t of waste at Lynas Malaysia site.
//Mining
A Colorado company agreed to a $7 million cleanup plan for Alaska's only uranium mine, which has left radioactive waste in the Tongass National Forest.

Newmont Corporation is expected to fill the former Ross-Adams Mine in the Prince of Wales Island area, CoastAlaska reported Monday.

The deal reached by Newmont, one of the world's largest mining companies, and the forest service in the past year calls for the estimated $7 million cleanup to fulfill the company's final responsibilities at the site.

The state of Alaska identified the mine as a contaminated site more than 20 years ago, but interest in Bokan Mountain from another mining company has lent new urgency to the effort.

Ucore Rare Metals Inc. said the former open pit mine is about a mile (1.61 kilometers) from the area where the Canadian company is prospecting for rare metals and minerals used in products including smartphones and televisions.
Comment: According to Ucore's preliminary economic assessment, Bokan Dotson-Ridge is good for 20,000 t of rare earth compounds (Ucore PEA Chapter 22-1 Page 195 Table 22-2), equivalent to ca. one year of US rare earth consumption.
//Market
Bigger is better
In 1933 Franklin Roosevelt signed an emergency act – commonly known as Glass-Steagall – to restore confidence in an American financial system that had been battered by the Great Depression.

One important outcome was the separation of investment banks from mainstream commercial lenders. The legislation largely stayed in place until 1999, when Glass-Steagall was repealed. The removal of the restrictions separating banking and broking sparked a golden decade in the US financial markets. Yet some blame that same deregulation for sowing the seeds of the 2008 global financial crisis.

Fast forward to contemporary China where there is speculation that regulators are preparing to tear down the firewall that separates their commercial lenders and investment banks as well.

The prospect of the policy change has been a key reason for a major bull run in the A-share market.
Comment: There was a selloff in China markets from last Monday, but it stabilised on Friday.
(Bloomberg) -- The rally in Chinese shares is unraveling almost as quickly as it began, with losses accelerating Thursday after state media criticized one of the country's most popular stocks.

The CSI 300 Index closed 4.8% lower, its biggest loss since markets reopened in February following the Lunar New Year break. Crowd favorite Kweichow Moutai Co. slumped 7.9%, wiping out a record $25 billion in value and dragging down an index of consumer shares by the most since 2018. The ChiNext Index, which had earlier this week turned hotter than any benchmark in the world, fell as much as 6.2%.

This month's frenzy in Chinese stocks had pushed the value of the country's equity market to almost $10 trillion, a level that marked the top of the bubble five years ago. Policy makers have since taken steps to rein in speculation in equities, including effectively withdrawing liquidity from the financial system.
Comment: Indices stabilised on Friday