The Nuclear Option; China Regulator Questions IPO; "Made in China 2025" Comeback; PetroChina Rare Earth Catalyst Production Starts; Pensana Debut in London
Rare Earth 2020 July 7
Thorium (Th) - the radioactive headache of many rare earth miners, as it is contained in rare earth ores like monazite and xenotime, sometimes in as high as 5-10% concentrations.
Residual Th will become a problem in Australia and other nations, as processors of beach sand monazite and eventually junior RE miners progress.
Commercial usage of thorium is pitiful small currently, while, also related to the the separation of rare earths, output of Th is quite high.
For the future of rare earth mining, it would be advantageous to put thorium to good use as nuclear fuel.
From its wild, rare earthy days, France is reported to hold 10,000 t of thorium on stock, which would be enough to supply France with ~100 years of current energy consumption - if France had corresponding nuclear reactors. But France doesn't.
Related to its own rare earth production, China stocks of thorium should be around 100,000 tons by now (2012: 90,000t).
James Kennedy of ThREE Consulting has been tirelessly promoting the thorium molten salt reactor (Th-MSR, a.k.a. FHR - fluoride high-temperature reactor, LFTR (liquid fluoride thorium reactor) or the German concept Dual-Fluid Reactor) for many, many years, and while doing so, carried rare earth advocacy along.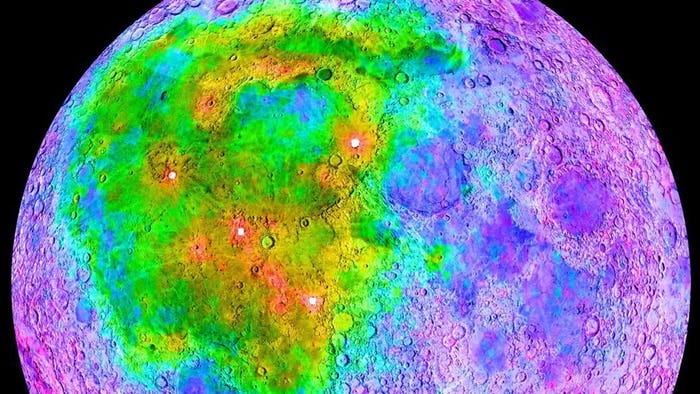 The first 2 semi-commercial, low-cost Th-MSR are neither built in the US nor in the EU or Japan, but are currently work-in-progress in two other countries, one of them of course China, taking advantage of US-developed know-how developed 70-80 years ago.
China revived its early 1970s Th-MSR "728 Project" in 2011. Fortune Magazine writes:
The Department of Energy is dusting off one of the old betamaxes of nuclear technology: The molten salt reactor. But with political will lacking at home, it will rise in China.

In 1973, the Nixon administration made a momentous decision that altered the course of civilian nuclear power: It fired the director of the Oak Ridge National Laboratory, scuppering development of a reactor widely regarded as safer and superior to the complicated, inferior behemoths that define the global industry to this day.

… Decades later, the U.S. Department of Energy (which owns Oak Ridge) is slowly reawakening to Weinberg's vision. But this time, rather than build a molten-salt reactor itself—the country currently lacks the political will and funding to do so—the U.S. is helping others.
If China was to replace end-of-life nuclear reactors with Th-MSR, China would no longer need to import uranium.
Another usual suspect, Russia, stopped development of its own Th-MSR in 1994.
Kennedy said about rare earth:
Civilian officials inside the Pentagon and a handful of Congressmen and Senators continue to believe that one of the remaining 3 or 4 U.S. penny-stock rare earth companies will somehow finance their unlicensed and unpermitted mining operations (hundreds of millions of investor dollars), develop a metallurgical value chain platform (requiring billions of investor dollars) that replicates China's rare earth value chain that spans two enormous cities.

Of course this wishful thinking does not take into account China's state directed monopoly (somehow ignoring the smoldering ash-heap bankruptcy called Molycorp and the many other bankrupt or technically bankrupt want-to-be rare earth enterprises).
Basically, the US have regulated themselves out of the rare earth business.
Made in China 2025 makes a comeback. The term has been avoided in China in recent, so not to worsen the highly charged trade-war problem.
On July 4, US Independence Day, Ming Tuo Group Chromium Technology Co., Ltd. and Baotou Rare Earth Institute celebrated the set up a combined academic work unit for stainless steel and rare earth permanent magnets, in order to "add new impetus to the full implementation of the "Made in China 2025" development strategy" (中国制造2025).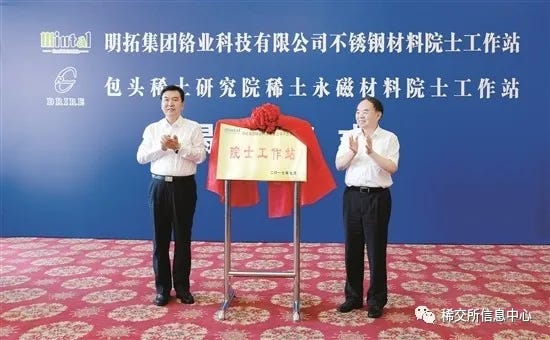 Baotou Rare Earth Exchange is overseen by the China Federation of Logistics & Purchasing. Both had an online compliance meeting recently with high-level officials in attendance. Neither the agenda nor the outcome of the meeting were made public.
As we mentioned before, balancing the supply-demand of lanthanum and cerium is mission-critical for China (and for anybody else in the rare earth space, for that matter). First for commercial reasons, both materials are much too cheap, and then for strategic reasons, to diminish China's rare earth export dependence. As you will see below, related activities are in full swing. Should China succeed with that, we'll have a fundamentally changed landscape in rare earth, that will allow China to play out its rare earth strengths.
China playing out rare earth strength will also give rise to hope for junior RE miners to obtain finance earlier than towards the end of this century.
Thanks for reading, hope you enjoy.
//Companies
In all, the company produced 82,272 EVs in March-June, down by 19.9pc from 102,672 in the previous quarter and by 5.5pc from 87,048 in the second quarter of 2019. The drop was caused by the closure of Tesla's Fremont assembly plant in California for almost two months from 23 March. The plant reopened in May.

The pandemic has highlighted the fragility of automotive supply chains, especially for EV makers which rely on battery materials across the world. The initial outbreak in China forced the company to shut its Shanghai factory temporarily. But Tesla has fared well compared with other automakers with large footprints in Europe, which was mostly locked down for much of the second quarter of 2020.
Pensana, which trades on the Australian stock exchange, is coming to London as it seeks funding for its neodymium and praseodymium (NdPr) project at Longonjo, Angola, which will be the world's first new major rare earths mine for 12 years.
Comment: They are listed as Pensana Rare Earth Plc (PRE.L)
China's securities regulator on Monday officially gave approval for Chinese chip maker Semiconductor International (SMIC) and rare earth processer [it is a permanent magnet maker] Earth-Panda Advance Magnetic Material to be listed on China's Sci-Tech innovation board in Shanghai, according to the regulator's official website.

"The companies and their underwriters will discuss the listing date and related prospectus with the Shanghai Stock Exchange," China Securities Regulatory Commission said.

If successful, it would be the first time for Earth Panda to be listed on the stock market. But SMIC has been listed on the New York stock market and Hong Kong market for more than a decade, even though it quit the New York Stock Exchange (NYSE) in 2019.
Comment: The Global Times do not tell us in English, what it's local peers tell us in Chinese. See below.
On June 30, the China Securities Regulatory Commission reported that it agreed to register the initial public offering of shares by SMIC International Integrated Circuit Manufacturing Co., Ltd. and Anhui Earth Panda New Materials Co., Ltd. (hereinafter: Earth Panda) Science and Technology Board.

However, the investigation of the "Eel Express" found that there are many doubts in the IPO prospectus of Earth Panda, including the transfer of benefits, the impact of the industrial chain, and data falsification. Although the verification letter was sent to the company in early June, there is still no response.

Our research found that the quality of the information disclosure of Earth Panda is worrying. Compared with the GEM prospectus disclosed in 2018, there are discrepancies in 10 purchase and sales amounts, 20 financial statement data and 2 sales data in the Earth Panda prospectus for listing on the Science and Technology Board . Additionally, the number of social security payers disclosed in the prospectus and in the annual report of the National Enterprise Credit Information Publicity System is inconsistent, and there are also problems of corruption and disguised HSE problems.

According to the Prospectus of Earth Panda, Baotou Steel's [the largest rare earth manufacturer in the world] Anhui province subsidiary [Anhui Baosteel Rare Earth Permanent Magnetic Alloy Manufacturing Co., Ltd., herein after Anhui Baotou Steel] is a related company of Earth Panda, however, Anhui Baotou Steel is both a customer of Earth Panda and its largest supplier, accounting for more than 60% of the total purchases. Among them, the main raw material procured by Earth Panda is almost entirely from Anhui Baotou Steel. The amount of purchase of NdFeB quick-setting thin-band alloy sheets from Anhui Baotou Steel during the reporting period accounted for 98.49%, 98.38%, 100.00% and 100.00% of total purchases.

In the prospectus Earth Panda stated that this was due to the particularity of raw material supply in the rare earth permanent magnet industry, and it was also a procurement model commonly adopted by companies in the same industry.

However, the situation of the peer comparable companies Jinli Permanent Magnet and Zhenghai Magnetic Materials contradicts Earth Panda's explanation: Jinli Permanent Magnet's 2018 financial report shows that the company's purchase ratio of its largest supplier is only 27.38%. Zhenghai Magnetic's 2018 financial report shows that the proportion of purchases from the largest supplier is only 14.6%.

Tianyancha Research revealed that Baotou Steel's subsidiary in Anhui province was established in October 2011 with a registered capital of 90 million yuan. China Northern Rare Earth Group [=Baotou Steel] holds 60% of the shares and Earth Panda hold 40%. In terms of personnel, Xiong Yongfei, the actual controller, chairman and general manager of Earth Panda, is the director of Anhui Baotou Steel. Director of Earth Panda, deputy general manager, chief engineer and core technician Yi Xiaofei also serves as director of Anhui Baotou Steel.

Earlier, in the feedback, the China Securities Regulatory Commission asked Earth Panda to explain the background and necessity of its joint venture with Northern Rare Earth to establish Anhui Baotou Steel,…the authenticity and reasonableness. Has there been any situation in which the Earth Panda bears, advances costs or other benefit arrangements, etc.?
Comment: Earth Panda CEO Xiong Yongfei alone has positions and interest in 14 other companies close to Baotou Steel/China Northern Rare Earth Group. Also other non-executive directors seem to have overlapping, conflicting interests.
The CCP party secretaries implanted in each company are supposed to be the gate-keepers, to prevent things like conflict of interest and corruption. The Communist Party's Central Disciplinary Commission should have the one or the other question for the party secretaries of Earth Panda and China Northern Rare Earth Group.
China's big miners are snapping up gold mines and strategic minerals in a deal binge that comes as governments in mineral-rich Canada and Australia tighten restrictions on foreign investment.

* China's Baogang [=Baotou Steel a.k.a. China Northern Rare Earth Group] was blocked from taking up a $20 million stake in rare earths miner Northern Minerals (NTU.AX) which owns the advanced Browns Range heavy rare earth project in Australia's north.

* Privately held Yibin Tianyi Lithium Industry in May completed a A$10.7 million investment in lithium hopeful AVZ Minerals (AVZ.AX), which has a project in the Democratic Republic of Congo. The deal was amended after Australia's FIRB advised that an earlier proposal for a 12.1% stake in AVZ faced rejection for being "contrary to the national interest."
//Applications
Saint-Gobain engineers from France and the United States prepared an evaluation of next-gen environmental barrier coatings made of rare earth silicates for presentation at the cancelled ASM International ITSC 2020 conference.

Yttrium and Ytterbium disilicates have become a widely used reference material for studies and new developments. More recently, interest has increased for scandium silicates. These powders have been developed and thermally sprayed on silicon-based substrates for evaluation.
Recently, China Petroleum Fujian Changting Rare Earth Catalytic Cracker Project was fully put into operation and successfully started up, producing qualified catalyst products.

It is understood that the project is located in the Fujian (Longyan) Rare Earth Industrial Park and was jointly constructed by China National Petroleum Corporation, Central Enterprise Poverty Alleviation Fund Co., Ltd. and Longyan Kaolin Co., Ltd., with a total investment of 1.018 billion yuan, which began construction on September 21, 2017.

Qin Song, the project leader, introduced that the project adopts the independent intellectual property rights technology of China National Petroleum Corporation, equipped with a 50,000-ton/year catalytic cracker device, a 15,000-ton/year ultra-stable molecular sieve device, and 100 tons/hour ammonium sulfate— Ammonia nitrogen treatment device, 80,000 tons/year water glass dissolution device, 15,000 tons/year aluminum sol device, etc. The rare earth, kaolin and other raw materials required for the project can be sourced in the vicinity of Longyan City.

It is reported that after the project is completed, it is expected that the average annual new sales income will be about 1 billion yuan, the average annual net profit will be nearly 140 million yuan, and the average annual tax payment will be about 100 million yuan.
Comment: Concretely, the product is a molecular sieve catalyst based on lanthanum and cerium. Both companies are state-owned. The project is in the exact same location as Xiamen Tungsten's rare earth separation site.
Elsewhere, the National Institute of Rare Earth Catalysis, led by Tianjin University, is also under construction.
Everything to balance the oversupply of La and Ce.
In recent years, rare earth metal-organic frameworks (RE-MOFs) have attracted great attention in heterogeneous catalysis because of their adjustable channel sizes stable network structures and diversiform active sites. This review provides a systematic summary and prospect for catalytic applications of RE-MOFs from the following three aspects: organic catalysis, photocatalysis and CO oxidation catalysis.
//Politics
Going on the offensive over the issue, the Congress party sharply attacked the Narendra Damodardas Modi government for allowing the trade deficit with China to balloon to $53 billion -- from $36 billion when the Manmohan Singh government left office in 2014.

India's trade deficit with China has ballooned in the last six years. Why did it happen and what are the companies that benefit from this?

It is not six years, it has happened in the last 15 years.

If you see, imports from China in 2003-2004 were $4 billion. In the last financial year it was $65 billion.

Now, two things happened. At that time China had just joined the WTO and was given the Most Favoured Nation status and treated at par with other members.

At the same time India started liberalising more and tariffs started coming down rapidly in 2003.

After the 1991 liberalisation, the sharpest decrease in tariffs happened in 2002 and 2003.

The third thing that happened was that India's manufacturing sector was very weak then. There were government reports that talked about improving the share of manufacturing in GDP. But all those reports were ignored by successive governments.

As a result, China got advantage of the open Indian economy.
Comment: India is "victim" to all kinds of imports from everywhere, items that India should be able to produce domestically, but doesn't. Setting up a factory in India opens the gates to bureaucratic hell. Little surprise, that even state-owned India Rare Earth Ltd (IREL) have not set up full-scale rare earth separation and instead ship off raw materials and semi-separated product to distant shores. Also attempts to set up totally environmentally benign factories in other sectors of the economy have been abandoned, sometimes after trying in good faith for a decade.
Energy Fuels, a Colorado-based business that owns the White Mesa Mill in Utah's stunningly beautiful San Juan County, wants us to let a Canadian company, with operations in Estonia, ship hundreds of tons of the uranium-containing byproduct of their rare earth mineral processing operations to the mill site 5,000 miles away and just a few miles from Ute Mountain Ute tribal lands.

While Energy Fuels calls this "recycling," in reality, the company will be well-paid to accept this as radioactive waste.
Humans discarded more than 50 million tonnes of electronic waste last year -- an increase of 20 percent in just five years -- making tech refuse the world´s fastest growing waste problem, the United Nations said on Thursday.

In 2019 only 17 percent of the year´s 53 million tonnes of e-waste was recycled, with the rest ending up in scrapheaps or landfill. With its unreclaimed deposits of gold, silver, copper and platinum as well as highly-prized rare Earth metals, non-recycled e-waste means more must be mined to equip consumers with new products.

The report´s authors blamed ever-shorter device lifespans and a lack of recycling infrastructure for the ballooning e-waste problem. "E-waste quantities are rising three times faster than the world´s population and 13 percent faster than the world´s GDP during the last five years," said Antonis Mavropoulos, president of the International Solid Waste Association.
Comment: It largely depends on consumer behaviour. Our experience with Apple products is, that there have been no real quantum leaps and that a notebook can well serve 10 years, while iPhones may well have a useful lifespan of 5 years. Both with repairs in-between, but low cost.
Japan lodges a strong protest against China after Chinese coast guard vessels enter Japanese waters for the 81st consecutive day.
Comment: This is unlikely to trigger a second 2010 crisis. China currently enforces a fishing ban in its waters to allow fish-stocks to recuperate. That ban applies to everyone, no matter if Chinese or foreign. Owing to overlap of territorial claims, China's coastguard also prevents Japanese fishing boats from fishing in disputed ocean territory.
//Market
While REEs are not all as rare as their name implies, when it comes to global reserves their scarcity comes from the fact that they are very difficult to extract chemically. Moreover, the use of REEs is associated with various environmental and social issues.

Environmental Impact: Although wind energy itself is environmentally friendly during the use phase, the same cannot be said about the production of wind turbines. The environmental impact of rare earth extraction is estimated to be more damaging than fossil fuel extraction due to the toxic effluent, emissions and waste generated from the intensive mining activity required[iii]. According to the BBC, tons of radioactive waste is generated from the production of a wind turbines as a result of the refinement of REEs[iv].

Social Impact: REE extraction has negatively impacted the access to fresh water and food production in local communities surrounding rare-earth mines. In some instances, vegetation has stopped growing, cattle have died from toxins in the soil, and drinking water has been contaminated[v]. There is also strong evidence to suggest that mining activities have caused severe health impacts[vi]. Cancer rates have steeply increased among populations living in villages surrounding mines in China[vii]. In addition, NGOs have found that the extraction of rare earth has been linked to human rights violations including forced labor and child labor[viii].

Governance Impact: Since states hold mineral rights and oversee regulatory approvals and issuing permitting, mining companies may feel pressure to maintain positive relationships with governments and regulators. To maintain these relationships, companies may also feel the need to engage in facilitation payments or kickbacks to speed up or guarantee project approvals. Tax avoidance and bribery among mining companies are frequently reported in the media, with some high-profile incidents involving Glencore, Vedanta and Rio Tinto[ix]. A shortage in REEs would further expose companies to risks related to corruption and anti-competitive practice risks.

The market for REEs in green technologies is in high demand. However, production is not expected to grow fast enough to meet forecasted needs, if industries want to respect the Paris Agreement[xii]. As demand goes up and supply falls, the law of supply and demand dictates that prices are bound to increase. A spike in the price of REEs could expose wind turbine manufacturers using permanent-magnet generators to significant operational risks.
Comment: This strategic risk is, why we believe Argus low growth forecast on RE-consumption remains correct.
From a resource standpoint this national security failure will soon be turning 20, but the Pentagon would have us believe that the spectacular Wall Street failure that was called Molycorp would have single handedly delivered the U.S. economy and defense industry from the grips of China's rare earth monopoly.

The improbable story goes something like this. Sometime well before its 2010 IPO, Molycorp, a Denver-based mining company, convinced the Pentagon it would fulfill all of our national security needs relating to rare earth materials for major defense systems and our economy. Molycorp had the backing of big Wall Street firms so the Pentagon entrusted our nation's security to their solitary mine in the California desert.

In 2010 Molycorp became an IPO powerhouse and Wall Street darling. Its market capitalization shot up past $7 billion. Investors, trade journals and "market experts" were euphoric: fait accompli. Fortunes were made. The smart money moved on to the next deal. The financial press announced mission accomplished and that the free markets won again…. the Pentagon agreed.

Today Molycorp is bankrupt—its facility rusting away into the sand. The company, having burned through billions of dollars, never lived up to its promise of meeting our national security needs.

This epic fail has left the U.S. Defense Department more vulnerable than ever to the threat of supply interruptions for our most important materials, metals and system components.

The free-market victory was a sham. From a National Security stand-point Molycorp's geologic and technical capabilities were essentially worthless.
Comment: Posted more than a year ago, nonetheless exquisitely to the point.
//Off-topic
The China Quarterly
No. 151 (Sep., 1997), pp. 567-582 (16 pages)
Published by: Cambridge University Press on behalf of the School of Oriental and African Studies
Very relevant to current events. Recommended reading.