The Crisis That Isn't; China Green List; Commanding Heights; AREC's Fabulous RE Deposits;
Rare Earth 2020 October 11
Rhodium Group jointly with the German Bertelsmann Stiftung published the report Exploring a "Green List" for EU-China Economic Relations.
The Swiss Neue Züricher Zeitung newspaper writes: "The authors' attempt to objectify a discussion that is currently heavily driven by emotions and politics is certainly the right approach. As this first analysis shows, many areas of economic exchange do not appear to be problematic for purely security reasons and do not justify any obstacles."
About rare earths the report says: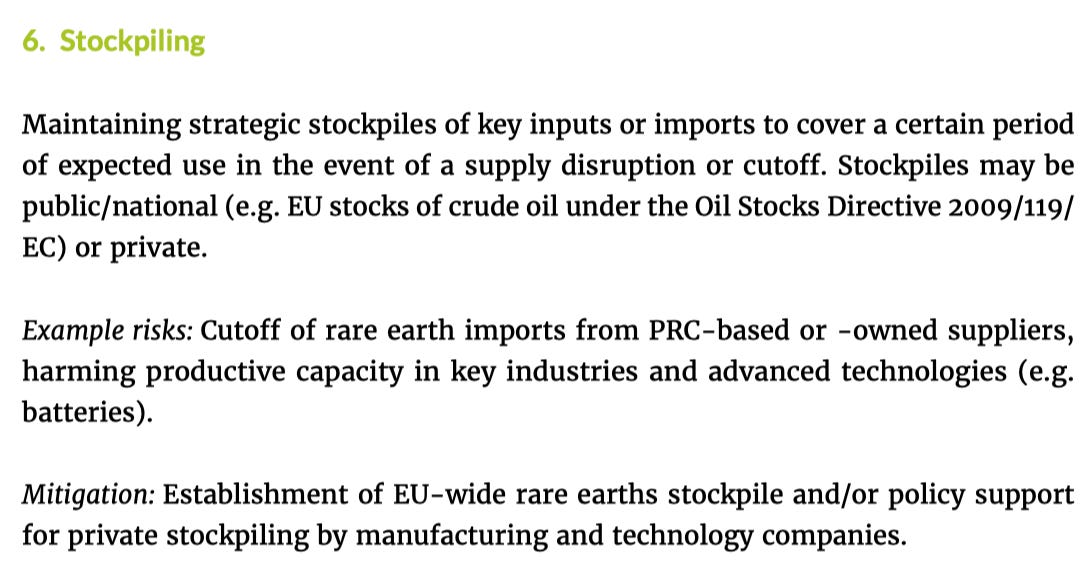 Rhodium/Bertelsmann perhaps define rare earths differently from us.
We are not sure, what benefit a stockpile could have in case of an extended China export embargo, however unlikely that may be.
If one wanted to classify a China export embargo of rare earth and battery materials as a risk, a stockpile would not be a solution.
A stockpile only serves as a relief in case of temporary problems, e.g. in crude oil, a closure of the Hormuz Straits. It does not offer relief in case of persistent supply stoppage.
---
The Commanding Heights Of Global Transportation is a new report from SAFE, an organisation that describes itself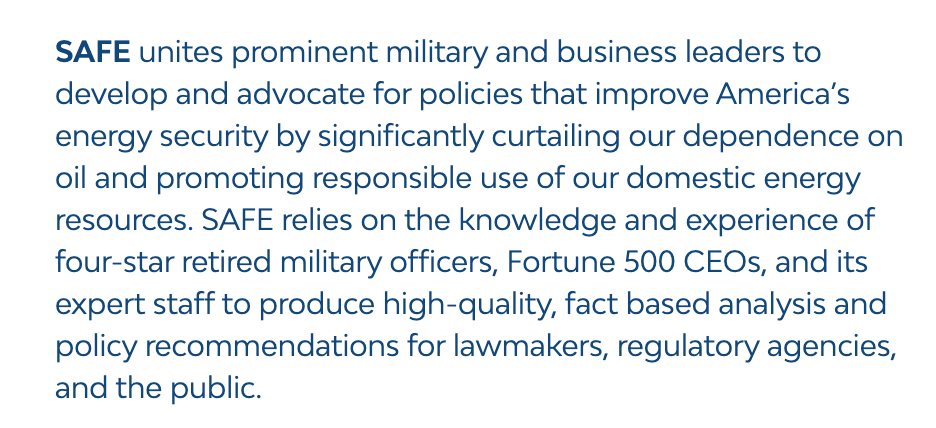 Essentially it says, if the US fail in gaining a controlling marketshare in EV, then this is yet another area where the US lose out to China.
---
Regarding the report on Bayan Obo, China Northern Rare Earth on pricing of rare earth we made headway. It is, however, really complicated research and our partner, a former senior audit member of Ernst & Young, already capitulated.
What we find is evidence of cost leadership, first because of the features of the Bayan Obo mine, but also hidden in a jungle of an ever morphing contractual relationship of countless contracts between the Baotou Steel, the controlling shareholder, and China Northern Rare Earth Group, where arms length is always wanted but seemingly hardly achieved.
Likewise the relationship of China Northern to its often loss-making subsidiaries, many sub 50% shareholding, not consolidated.
We're on it. Watch this space.
---
In our next issue we'll give you the numbers on stock market performance of rare earth shares for the first 3 quarters of 2020.
Thanks for reading.
//Policy
The US-China trade war has no sign of being settled . It seems that the United States is intensifying its offensive against China, but China seems to have a card that will be a reversal offensive. The Chinese media Sina Corps recently published an article analyzing how China cuts the "rare earth" card.

Needless to say, rare earths are an indispensable material for manufacturing the latest military weapons and electronic devices. The article introduced that China has an overwhelming advantage in the world share of rare earths. Especially in the technology of separating rare earths from ore, China has accumulated the technology for a long time and says that it is "the world's top level".

Meanwhile, the United States points out that many rare earths depend on imports from China. It is not easy to secure sources other than China in a short period of time, so it is speculated that the United States is not imposing tariffs on rare earths in China. Then, as an example of US dependence on rare earths, we will introduce weapons manufactured by US military companies . For example, it is said that a state-of-the-art stealth fighter, the F35, would require more than 400 kilograms of rare earths to build, and that the Patriot missile would require 4 kilograms of neodymium magnets.

The article went on to explain that although many rare earths are buried in the United States, it is difficult to produce them on a large scale due to financial and environmental problems. It's extremely difficult to make a value chain. "In fact, a 2016 US Government Accountability Office report estimates that it will take 15 years for the United States to rebuild its rare earth supply chain in the country. He insisted, "It will be in the next few years whether China can play the rare earth card."

However, as a result of China using a card called rare earths for Japan, Japan once developed a new supplier or a technology that does not use rare earths, and the price of rare earths plummeted, resulting in a bitter experience of being squeezed. Rare earths may be a "trump card", but at the same time they are double-edged swords, and they are not easy cards for China. (Editor: Kenji Murayama)
Securing America's Future Energy (SAFE) just released their plan, titled "The Commanding Heights of Global Transportation," to regain the lead. The authors of the plan, which was signed by former Pacific Command chief Admiral Dennis Blair, lay out a comprehensive roadmap for winning the competition with China over our energy future by subsidizing electric vehicles, autonomous vehicles, 5G internet and rare earth minerals. In doing so, they illustrate exactly how hard industrial policy will be going forward.

Their primary objective is to preserve the American automotive and truck-manufacturing industry. This is a worthy goal: Although fond reminiscences of old Chevys and Fords can lead discussions about the auto industry into unenlightening nostalgia fests, auto production is important for the United States. Millions of Americans owe their jobs to car manufacturing, which contributed over $500 billion to GDP last year.

Electric cars will erode the industrial base even if the U.S. leads the world in producing them. Electric drivetrains contain a mere fraction of the parts that conventional ones do and require fewer workers to produce and assemble them. If electric cars were widely adopted domestically, tens of thousands of Americans employed producing drivetrains would have to find new work. From an economic perspective, that may not be a bad thing. Freeing up people to work on other projects could lead to more prosperity if they are able to find more lucrative work. But losing skilled workers will weaken the industrial base and leave Americans with less spare capacity for emergencies.
"WE REALLY NEED TO GET ON THIS": The Pentagon on Thursday committed to sending Congress a plan within the next month on how to increase the national stockpile of rare earth minerals and reduce reliance on China, our colleague Jacqueline Feldscher reports.

Rare earth minerals are the natural elements and metals used to manufacture components for high-tech electronics such as smartphones and flat-screen televisions. But they also play a role in military communications and electronic displays for a host of major weapon systems.

Members of the Senate Armed Services Committee urged Ellen Lord, the Pentagon's top acquisition official, to begin stockpiling the minerals to ensure a steady supply and minimize any Chinese interference.

But Sen. Dan Sullivan (R-Alaska), who chairs the panel's Readiness Subcommittee, asked what more Congress can do to speed up the process, citing its role in establishing the Strategic Petroleum Reserve, an emergency supply of oil to protect any disruptions created after the Middle Eastern oil embargo in the 1970s.

"Would it be better to have Congress do that?" Sullivan said. "We really need to get on this."

Lord said the Pentagon has some authorities to take steps to reduce reliance on China, including under a new executive order signed by Trump this week to expand U.S. production of rare earth minerals. But she promised Sullivan a "fairly detailed plan" within the next month on what additional authorities are needed and how much it would cost.
Comment: As discussed above, stockpiling as such is no long term solution to the perceived problem.
Is command and control over the rare earth supply chain absolutely necessary for there to be a strategically secure relationship between the producers of these minerals and the manufacturers who rely on them?

"No!" emphatically responded Dr. Eugene Gholz, an adjunct scholar with the Defense & Foreign Policy Dept. at the Cato Institute.

"There certainly doesn't have to be a command or a control relationship," Dr. Gholz continued. "That's what the market is: lots of contractual relationships between independent entities, to get supply of all the things you need -- whether they're critical minerals, or the cup of coffee I drank a few minutes ago. I don't have to own the farm in order to have coffee."

Maybe it would be premature, Gholz told ZDNet, to declare the rare earths supply chain "just fine." But at each stage of the value chain, between the mining of the ores and the polishing of the touchscreen, there are multiple stages. There is already, he asserts, an appreciable degree of flexibility there. "In general," he said, "if governments would stay out, things would work great."
Comment: The issue has arisen, because the government didn't stay out. It couldn't. The unmitigated rare earth mining environmental catastrophe in China, which the market most certainly would not have sorted out, begged for government intervention (in an industry that is anyway supposedly anyway in firm control of the government).
The tension between the geographic concentration of vital metallic elements and the increasing scramble to secure them will further unsettle geopolitics in the twenty-first century. Rich-country governments must now follow China's lead and build new avenues of trust and cooperation with developing countries
Comment: Worth reading, but doesn't withstand a probe into the details, as lithium and cobalt are fundamentally different issues than rare earths and can't reasonably be lumped together.
Combating climate change will require rapidly deploying renewable energy while reducing our use of fossil fuels. But renewable energy technologies like wind turbines, solar panels, batteries, and electric vehicles require large amounts of mined metals and minerals.

To help us dive into all of this, we speak with Ian Morse, a journalist who follows the minerals mining and clean energy beat closely. We also speak with Catherine Coumans of MiningWatch Canada, who discusses the threats posed by deep sea mining and tells us why more mining may not be the best way to meet the demand for minerals.
//Companies
The company is choosing to produce a high-grade MREC as it is a much higher purity product with higher value than the concentrate product in Pensana's preliminary feasibility study (PFS). MREC also has a broader market and wider scope of applications.

Importantly, industry specialists have determined the MREC product from Longonjo compares favourably with the main products being produced and sold throughout China.
Comment: For rare earth carbonate there is the China Industrial Standard GB/T 16479-2008 with the following 4 specifications:

Shares of American Resources Corp. nearly doubled in very active morning trading Wednesday, after the raw materials supplier unveiled its new subsidiary, American Rare Earth LLC, to organize and develop its portfolio of rare earth mineral sites. The stock shot up as much as 202% to an intraday high of $4.93, the highest price seen since February 2019, before paring gais to be up 96%, enough to make it the biggest gainer on major U.S. exchanges. Trading volume soared to 87.5 million shares, compared with the full-day average of about 53,000 shares. The company said it has indentified its first 10 rare earth mineral sites within its owned asset base in eastern Kentucky, which have already been evaluated and are being engineered to recover rare earth elements.
Comment: This is ridiculous. One look at the corporate presentation reveals, that this - how should we call it - thing is good for 283 kg of 0.238 metric tons RE per year, based on an impossible to achieve recovery rate of 100%.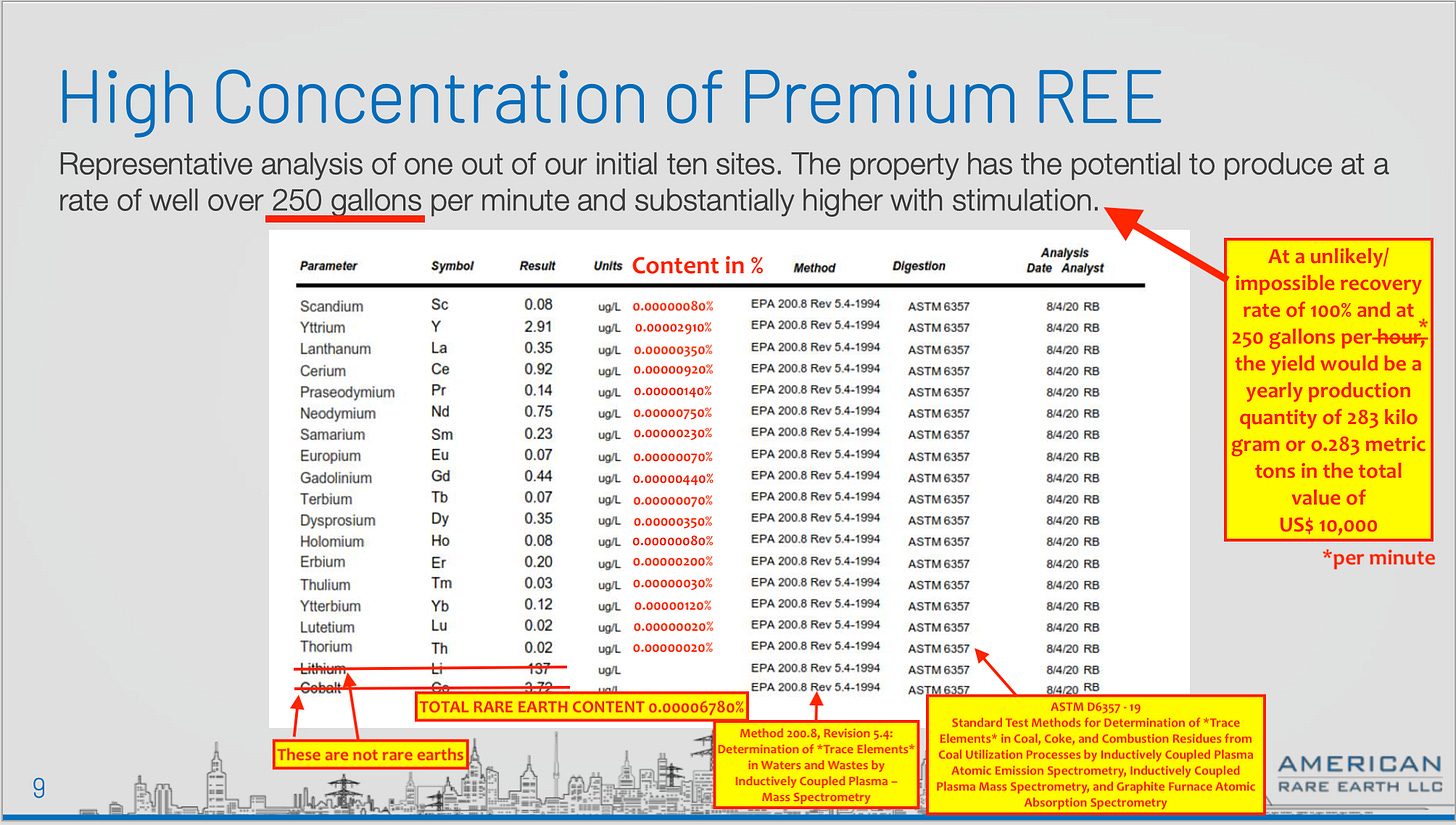 Source: Page 9 of American Rare Earth LLC corporate presentation, retrieved on October 6, 2020
MineSense specialises in digital technology solutions for ore-waste classification in real time at the mining stage (run of mine), thereby providing better grade control compared with that of the deposit block model or mine plan. It uses data analytics, combined with its trademarked ShovelSense and BeltSense technologies, to monitor mineralogical or grade changes in an orebody daily, as it is mined. This information allows for optimal ore blending, grade trend characterisation, and overall improved mine planning with resultant cost efficiencies.

The MineSense technology is based on X-ray Fluorescence sensors fitted to specific pieces of mining equipment to monitor the spectral response of the material being actively mined. The technology provides for a higher level of control compared with the typical ore sorting process which occurs at the truck scale in the process plant, Commerce says.

The resource base at Ashram consists of 1.59 Mt of material averaging 1.77% total rare earth oxides (TREO) in the measured category, 27.67 Mt at 1.9% TREO in the indicated category and 219.8 Mt at 1.88% TREO in the inferred category. The preliminary economic assessment outlined a 4,000 t/d open-pit operation with a 0.19:1 (waste:ore) strip ratio over a 25-year mine life. Annual production averaged circa-16,850 t of REO over the life of mine.
Comment: Ashram Main proportional RE content: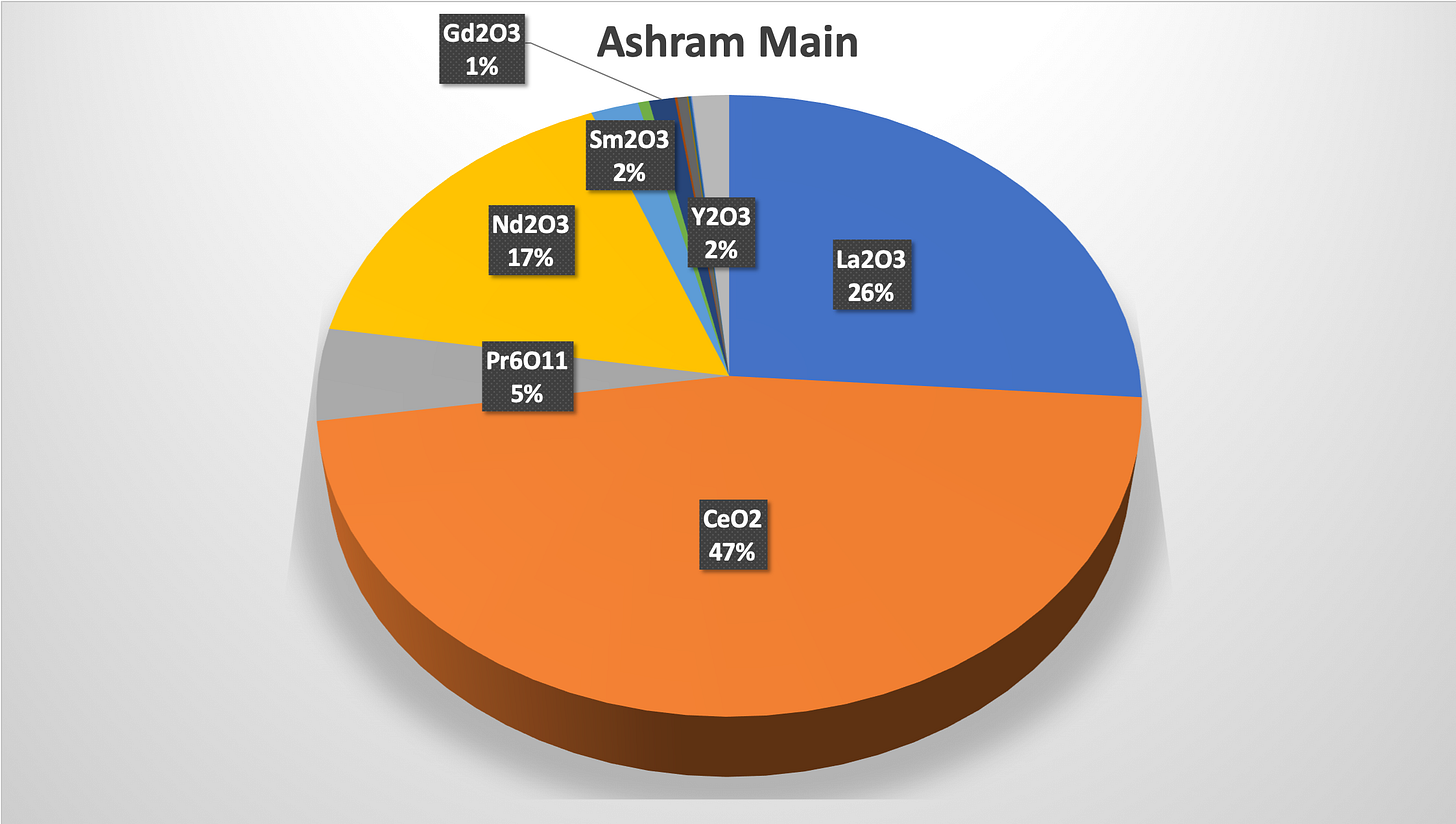 So, based on 16,850 t of yearly REO output, it would be 4,400 t of lanthanum, 8,000 t of cerium, 2,900 t of neodymium and 850 t of praseodymium.
//Science
For the new research, scientists conducted a series of experiments that showed sodium and potassium—rather than chlorine or fluorine as previously thought—were the key ingredients for making these rare earth elements soluble.

It showed that sodium and potassium make the rare earths soluble in solution. Without sodium and potassium, rare earth minerals precipitate in the carbonatite itself. With sodium, intermediate minerals like burbankite form and are then replaced. With potassium, dysprosium is more soluble than neodymium and carried out to the surrounding rocks.