Strategic failures; Trade War Australia-China?; A messy US-China divorce; View from China; US Dependence: Japan is the Key; Rare Earth Nanobrushes;
Rare Earth 2020 June 11
This week there was a strong forecast for post-Corona EV sales in Germany. Tesla's factory in Germany proceeds well and Tesla's shares have reached galactic heights, while German EV-hopeful VW is struggling with a management crisis.
Domestic in China e-bike business seems to be good, leading to more activity in the RE market. In order to maximise margins, RE buyers had been running their stocks low to wait for the very last moment to replenish, at the lowest possible prices.
So far there were no further impulsive trade war exchanges during this week, but the rightful question, how wise it would be for Australia to pull off trade-war action with China and doing so, what the endgame strategy should look like.
Thanks for reading.
//Market
A fall in spot supplies and a rise in spot demand have lifted praseodymium-neodymium prices since late May. Market participants see lower rare earths waste recycling output and rising magnet demand from the electric bicycle sector supporting the praseodymium-neodymium market further in the short term.
//Companies
ASM also owns the $1 billion Dubbo Project in Central West NSW, an advanced polymetallic project with large in-ground resource of zirconium, rare earth elements (including yttrium), niobium and hafnium.
Search Minerals Inc. is pleased to announce a non-brokered secured convertible debenture private placement for gross proceeds of $500,000. The Debenture has a maturity date of one year from the date of issuance and will bear simple interest at a rate of 15% per annum, calculated and paid semi-annually. The Debenture will be convertible into units ("Units") of the Company at a conversion price of $0.05 per Unit
Arafura Resources Ltd (ASX:ARU) has received firm commitments to raise $7 million through a share placement to institutional and professional investors providing a strong endorsement of the Nolans NdPr Project.

The placement, which was completed at an issue price of 6.2 cents per share, received strong support from both domestic and offshore investors.

Funds raised will be used to undertake early engineering works at the Nolans Neodymium-Praseodymium (NdPr) Project in the Northern Territory.
//Policy
China responded by suspending beef shipments from four major Australian suppliers and threatening to impose tariffs of up to 80% on barley imports. The two countries have drifted apart as Australia continually aligned itself with the administration of U.S. President Donald Trump. Recent actions include rejecting plans by Baogang Group Investments to buy a USD 13 million stake in a mine owned by Australian company Northern Minerals, and a letter from the U.S. Congress expressing support for Australia's call for an independent investigation into the origins of COVID-19.
The Mountain Pass mine had been a leading global supplier of rare earth minerals until the 1990s, but stringent domestic environmental regulations reduced the commercial viability of its rare earth production business, forcing the United States to become highly import dependent, mostly on China.

The uninterrupted availability of these critical minerals at an affordable price is important for the clean energy industry to thrive. The Pentagon efforts could result in re-establishing domestic rare earth capacities that can reduce the risk of potential supply disruptions.
Comment: Mercy Kuo seems to be unaware, that the DoD award for paperwork was withdrawn. There is no word about the ownership of the Mountain Pass mine.
Indeed, many aspects of supply chains need to be reset. China supplied 80% of the rare earths imported by the U.S. from 2014 to 2017, materials vital for producing smart phones, electric-vehicle batteries, medical-imaging machines, and advanced defense weaponry. The U.S. will need to be prepared to ramp up domestic rare earths production by developing efficient and cleaner extraction.

A divorce will likely involve deep and wide collateral damage, affecting U.S. corporate interests in China. The U.S. will need a plan. Companies like Apple, Boeing, McDonald's, Tesla, and Walmart will suffer if Chinese consumers boycott them to show loyalty to the Chinese government. It has happened before: Apple's iPhones sales in China fell 30% in the first quarter of 2019 as a result of a consumer reaction to the U.S. campaign against Huawei.

Just like a regular divorce, a U.S.-China decoupling requires time and money. China did not become the world's factory in a day. The U.S. cannot turn the clock back without serious planning.
At present, American super weapons basically rely on rare earth elements. From the F22 Raptor fighter to the next-generation B-21 stealth bomber, rare earth elements have an irreplaceable key role for the US military superiority. The important military value of rare earth elements is unquestionable, and their importance to US national security is self-evident.

A large amount of rare metals in American weapon systems originates from China. For example, the samarium cobalt magnet used in the "Abrams" tank navigation system was purchased from China; the hybrid electric drive system uses by the DDG-51 destroyer uses a neodymium magnet purchased from China; "Aegis" The system's SPY-1 radar also uses a samarium-cobalt magnet made of Chinese metal samarium.

If China reduces or ceases to export rare earths, it will have disastrous consequences for US military equipment, manufacturing, and the overall economy. More than 10 years ago, the planners of the US Department of Defense began to envision the next round of super weapons, which was eventually called the "third offset strategy." After 25 years of "misguided" US globalization policies, the Achilles heel of the United States will be its failure to obtain rare earth elements domestically, and instead largely depend on rare earth resources from China.

In recent years, China has greatly accelerated the application of rare earth-related patents, and has applied for more than 23,000 rare earth patents than US companies , further strengthening China's right to speak in the field of rare earth processing. Rare earth is an important non-renewable strategic material. As Chinese rare earth patents and core technologies have become more and more mastered, it has become an important bargaining chip in China. In the future competition with the United States, it strives to gain more initiative.
Comment: There is a degree of likelihood, that any newly developed process may violate an existing China patent. How do you address this issue, in view of global intellectual property right protection?
//Applications
A team led by the Department of Energy's Oak Ridge National Laboratory synthesized a tiny structure with high surface area and discovered how its unique architecture drives ions across interfaces to transport energy or information. Their "nanobrush" contains bristles made of alternating crystal sheets with vertically aligned interfaces and plentiful pores.

The bristles of their multilayer crystal, or "supercrystal," are grown freestanding on a substrate. Former ORNL postdoctoral fellow Dongkyu Lee synthesized the supercrystals using pulsed laser epitaxy to deposit and build up alternating layers of fluorite-structure cerium oxide (CeO2) and bixbyite-structure yttrium oxide (Y2O3). Realization of the nanoscale bristles was made possible by the development of a novel precision synthesis approach that controls atom diffusion and aggregation during the growth of thin-film materials. Using scanning transmission electron microscopy, or STEM, former ORNL postdoctoral fellow Xiang Gao was surprised to discover atomically precise crystalline interfaces within the bristles.
//Mining
The drones survey the seafloor above the Clarion-Clipperton Zone, which is about 15,000 feet below the surface of the Pacific Ocean and home to untapped reserves of rare-earth metals, CNBC reported.

Under the seafloor, potato-sized manganese nodules contain not only manganese but iron, nickel, copper, titanium and cobalt — valuable resources in building products for Apple and Tesla, the outlet reported.
//US-Dependence - opinion
Permanent Magnets are the Key, and that key is held by Japan
It is hard to conceive a solution to US-rare earth concerns that excludes Mountain Pass.
The billion dollar asset Mountain Pass mine, one of the largest operating deposits of rare earth, was sold out of the Molycorp bankruptcy to a lowball bidder in June 2017. Back then, a consortium of financial adviser JHL Capital and a distressed asset expert, the hedgefund QVT Financial, with a 9.9% participation (legal maximum) of China Aluminium's international investment vehicle Shenghe Resources, acquired the mine for US$ 20.5 million.
A higher Russian-Swiss consortium bid was not considered.
In view of these two bidders for a US-rare earth deposit, China and Russia, actually all alarm bells should have been ringing in Washington DC. However, pleas from the industry not to allow this sale to non-US owners were not heard, for reason unknown.
In August 2017 the Trump administration's CFIUS approved the sale to the China-JHL-QVT consortium.
Mountain Pass mode of operation is to ship all of its rare earth concentrate to China via Shenghe Resources (China Aluminium). China's import tariff on the product is suspended, i.e. zero, and, except for a past brief period, also China's punitive trade war tariffs no longer apply to Mountain Pass material.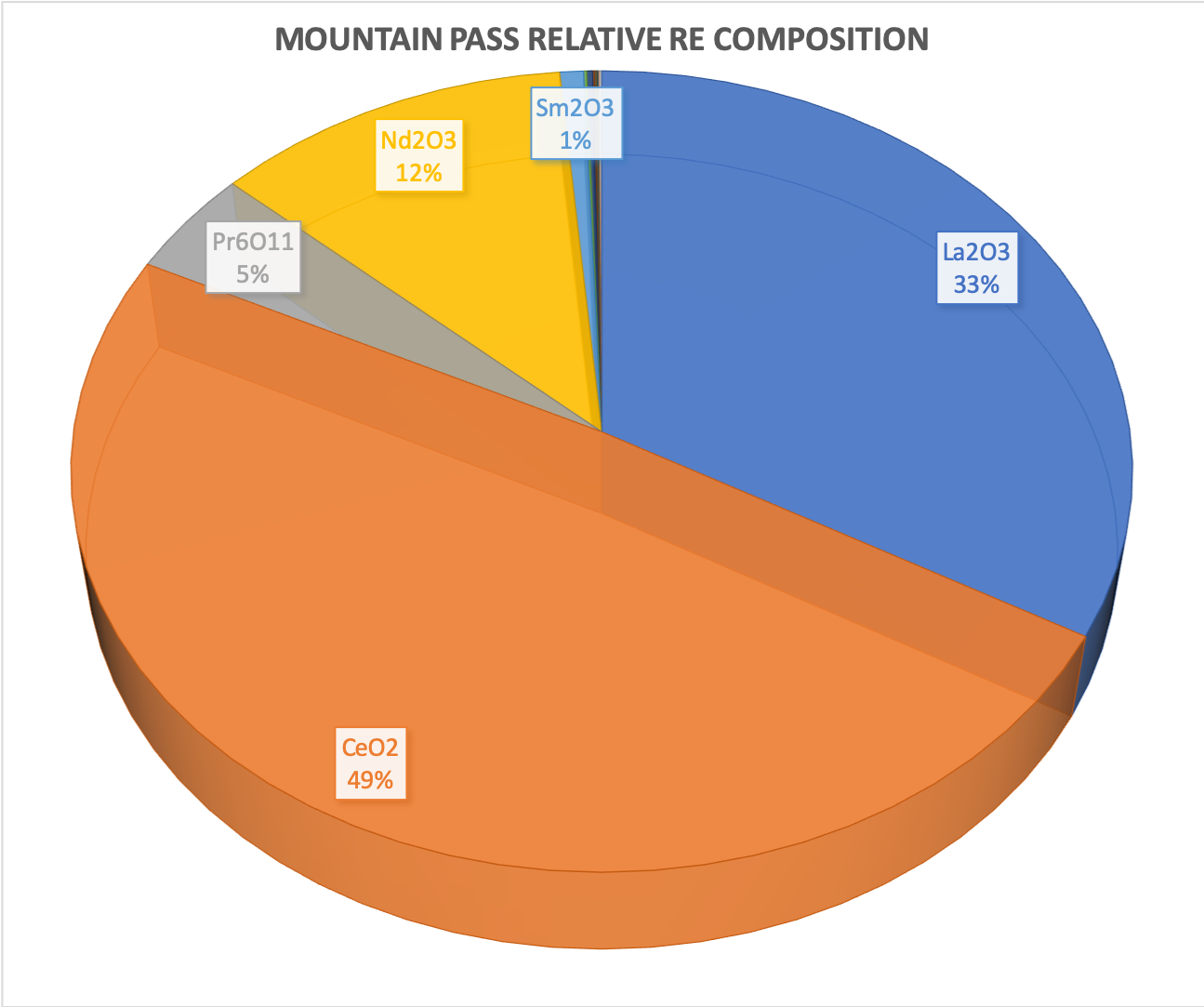 Short of heavy rare earths, Mountain Pass carries bastnaesite containing a composition of different REO, that is very suitable for the US market. But it will be impossible to bring Mountain Pass under the required 100% US-ownership without ruining it economically, as China in such case would almost certainly discontinue support of the mine and withdraw the currently somewhat privileged market access, while US downstream processing facilities continue lingering in an embryonic stage, unable to digest what Mountain Pass can deliver.
The idiosyncracy here is, that the US don't depend not only on rare earth, but rather on the things made from rare earth: Permanent magnets. If one prioritises defence, permanent magnets are the starting point, not only rare earth. This being so, the US may first have to start permanent magnet production of meaningful size, in order to kick-start the domestic demand for rare earth. That would mean increasing the rare earth dependence on China, before being able to reduce it.
China's 23,000 patents are for rare earths, but the relevant permanent magnet patents rest with Japan. Even Chinese permanent magnet makers grudgingly pay license fees to Japan. For advanced magnet know-how, the US need to turn to Japan.
It was also Japan, who nurtured the only sizeable non-China rare earth oxide manufacturer on its breast, Lynas. Perhaps there are one or two things that the US could learn from cooperating with Japan in RE.