Stock Price Rally in China; Greener Grass; Smuggled monazite; EV shake-out; Washington turning in circles;
Rare Earth 2020 July 10
Chinese rare earth and permanent magnet makers share prices rose sharply this week, for no apparent reason.
Some analysts link this to a notice published by China's Ministry of Industry & Information Technology on July 8, asking China's "Big 6" rare earth groups to match their actual production numbers to the assigned quota for first half 2020. A simple, bureaucratic act that happens twice per year, share-price neutral. Share prices rose well ahead of the publication as nothing ever remains secret in China, particularly, if money can be made.
Other cite better than expected profits at permanent magnet makers owing to the low prices of rare earth, while at the same time getting excited about rare earth list-price increases that seem to stick, therefore hyping rare earth makers shares.
The sky-high valuations of these listed companies (we reported) are no deterrent to retail investors in China. They know, that self-respecting Chinese companies have several balance sheets: One for potential (foreign) investors, one for shareholders, one for the taxman and one that is eyes-only for the chosen few. Why: The tax burden on Chinese enterprises is enormous, creating the need to optimise whatever possible. Success of state-owned enterprise is more often than not measured by the amount of tax it generates, not by profits or dividends for shareholders.
We told you about the doubts and questions that arose from the IPO prospectus of Chinese permanent magnet maker Earth Panda, containing numerous numbers different from what was officially filed in the national public databases (reason please see above). Apparently the concerns raised were not serious enough for Shanghai regulators, who now allowed the listing to go ahead. Earth Panda will list 25% of their shares, which is well below the "blocking minority", a classic strategy of China's state-owned enterprises to prevent pesky shareholders from actually having a voice.
The grass on the other side is always greener. Recently we could see a couple of RE companies going for gold:
Hexagon

RareX

Alkane (spin-off rare earth, to become 100% gold)

Mkango (diversifying into anything, including gold)
And also the reverse happens, gold miners trying rare earth:
New Jersey Mining Co

Havilah Resources

Petratherm

Stategic Elements

Stavely Minerals

Tempus

Fancamp
While the former may need more promising business to engage in, the latter use rare earth rather as a buzzword to raise investor interest, as gold alone may not drive the share-price any higher.
Indonesia has woken up to rare earth.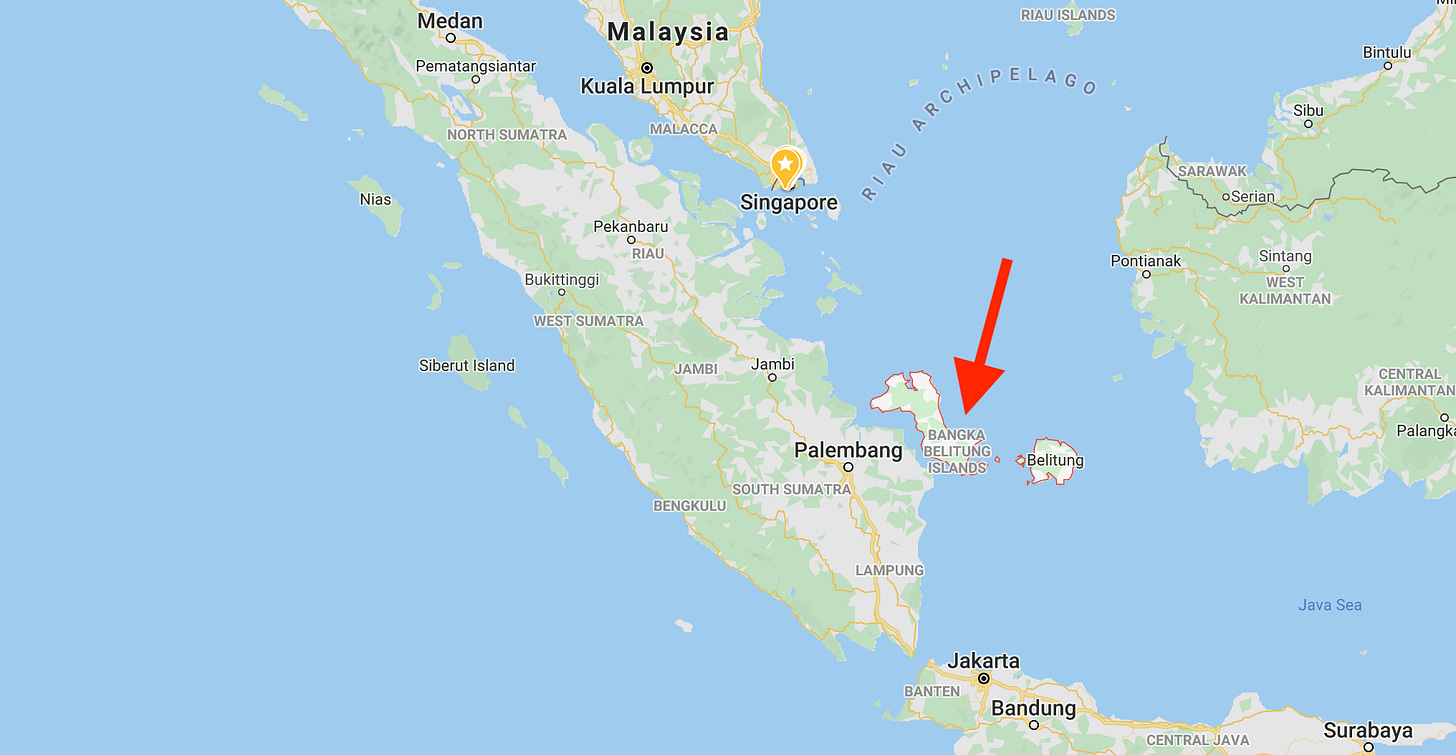 The Indonesian island district Bangka Belitung has a continued history of smuggling small quantities of monazite (containing 5-10% radioactive thorium, subject to IAEA rules and strict transport/export/import regulation) from the area of former tin miner PT Koba Tin, which was held 75% by foreign tin company Malaysia Smelting Corporation Berhad, while the remaining 25% were in the hands of Indonesia state-owned PT Timah TBK.
Nowadays ore is illegally artisanal mined in Bangka Belitung district, monazite separated from tin and zirconia and clandestinely exported to you-know-where (and another country), sometimes even concealed as bricks.
Indonesia's Maritime and Investment Coordinating Minister Luhut and Defense Minister Prabowo discussed about monazite mid of last month.
Thanks for reading and have a splendid summer weekend ahead!
//Market
The EV market in China is now dominated by a very limited number of companies, including startups like Nio, Xpeng, and Leading Ideal, and a few other brands launched by conventional carmakers. A screenshot tallying the many now-extinct Chinese EV brands — albeit not exactly accurately — went viral on social media, and gave people the clearest sense to date of how brutal the EV competition has been.

Last week, Byton Motors, a once-hyped Chinese EV startup with significant footprints in both China and the Silicon Valley, declared that it would halt operation for at least 6 months due to financial problems.

Chinese state-run broadcaster CCTV reported that among the nearly 50 EV startups in China that established around 2015, 40 are still operating but only 8 of them, including Nio, Leading Ideal and Xpeng, have sales on their books. All domestic companies are falling behind Tesla in EV sales, according to the China Passenger Cars Association, which recorded 7,666 vehicles sold by Leading Ideal, 9,235 by Nio, over 30,000 by Tesla from January to May 2020.

China expected new energy vehicle sales to reach a quarter of all car sales by 2025, according to the Ministry of Industry and Information Technology's draft proposal last year.
Behind the 3 consecutive rises of rare earth leading companies: the first half of the year turned losses into profits, and the industry prices continued to rise
According to Finance Association Press July 8, as of midday close, the rare earth permanent magnet index rose nearly 6%, with a turnover of 13.7 billion yuan. The turnover of this sector has exceeded 10 billion for three consecutive days.

According to Baichuan Yingfu, the price of rare earths has risen recently. The spot market for praseodymium and neodymiumis is tight, and merchants' quotations are slightly rising; the prices of dysprosium and terbium are firm. Merchants are optimistic about the future market, and the quotations are firm.

The header row left to right: listing number, company name, latest price, percentage of increase/decrease and trade volume in 亿 = hundred million. Note: In China 'red' means share price up, 'green' means share price down. It is not, that this is related to progress in communism. Japan does the same.

The rare earth permanent magnet leader Jiaozuo Wanfang has achieved 3 consecutive daily limit rises. On July 7th, it rose 7% more than the general market, and the total turnover was nearly 1 billion yuan. The top five buyers bought a total of 50.59 million yuan; the top five sellers sold a total of 91.48 million.
//Companies
Australian rare earth miner Lynas Corp said on Tuesday chairman Mike Harding intends to retire by September 30 after more than five years in the role.

Kathleen Conlon, a non-executive director at the firm since 2011, has been elected to succeed Harding.
The Roberts REE Project is comprised of 12 unpatented mining claims covering an area of approximately 89 hectares (219 acres). This Project is located within the Mineral Hill Mining district, approximately 48 kilometers (30 miles) northwest of the town of Salmon, Idaho. Recent sampling by Company geologists returned grades in excess of 12% combined rare earths elements.

NJMC's VP of Exploration, Rob Morgan commented, "I consider 1% to be the threshold of REE ore grade mineralization, so to see grades exceeding 12% is extraordinary. As with many higher-grade project's, if our initial sampling holds true as we advance the property, an economic ore deposit could be defined within a relatively small footprint.
Comment: This is a gold exploration company.

Hexagon Energy Materials (ASX:HXG) will kick off a big exploration program at the underexplored Halls Creek gold project, designed to dial in on some of the numerous high-grade targets identified earlier this year.

Hexagon's main game is to develop a downstream rare earths refining business centred around a disruptive rare earths processing tech, called RapidSX. But for investors, the company's legacy Halls Creek project in WA represents plenty of upside.
Lindian Resources (LIN) has filed a notice of appeal in the High Court of Malawi. The company wants to fight a previous ruling on its right to a stake in the Kangankunde Rare Earths Project.

The appeal relates to legal action against South African geologist, Michael Saner and his company, Rift Valley Resource Developments.

The Kangankunde Project has been subjected to litigation and legal claims for over 10 years, and the majority of the disputes are due to Michael's refusal to relinquish his stake in the project.
//Politics
Defence Minister Linda Reynolds says Australia must step up in supplying rare earths and other critical minerals increasingly important to its armed forces and those of allies.

Senator Reynolds raised the prospect of increased government support for rare earths on Monday as Australia looks to boost defence capability and western nations seek to reduce their reliance on China.

Australia was working with the US and other partners through the multi-country Energy Resource Governance Initiative to boost supply, Ms Reynolds said.
Ellen M. Lord, undersecretary of defense for acquisition and sustainment, spoke on defense spending and capabilities after COVID-19 at the Brookings Institution's European Union Defense Washington Forum today, participating in the discussion via video.

"We need to make sure we re-shore as much as possible," she said — bringing as much of the defense industrial base back to U.S. shores as is feasible while still relying on allies and partners for their contributions. Canadian, Mexican and European partners produce military hardware for the United States, she noted.

When the Defense Department goes out for bids for a system, the DOD officials like to have as many competitive bids as possible — both to bring down cost and to have more options, Lord said. If just two companies are bidding, she said, she'd prefer that one is domestic.
Comment: As Jack Lifton correctly put, if you want to onshore rare earth production, you have got to be willing and ready to pay the price. We don't see this understanding reflected here.
But China's strategic-metals grip is so strong and the challenges in competing against its state-led model so great that some estimate it could take over a decade to create a relatively secure US supply chain. The US has also made some significant missteps that haven't helped, critics say.

"The rare metals issue is a microcosm of the broader trend," said Paul Haenle, chair at the Carnegie – Tsinghua Centre and a former China affairs director at the National Security Council. "The issue of rare earth exports is particularly important because it also represents national security concerns."

While many in Washington agree on the importance of reducing reliance on China, debate rages over how to get there.

"We have to find an economic message to counter the Chinese state," said a Republican senate staffer who was not authorised to speak publicly. "And rare earth is a big part of that."
Comment: As David Henderson (Rittenhouse/Nano Scale Powders) said last November at the International Rare Earth Conference in Kuala Lumpur: "You can rely on the US to do the right thing, after having tried everything else."