Resource Slavery; China Information Translators; Off-Takes; RE M&A; The Man In The Know;
Rare Earth 2020 September 21
The main potential investors in rare earths remain Japan Inc. and China Inc.
Both act nationalist and want the resulting finished product to end up in their respective home markets.
Both are nursing what we would call "resource slaves".
Both want the undesirable waste, radiating by-product and tailings to stay abroad.
While Japan Inc. allows a significant part of the added-value to occur abroad, China Inc. aims for the entire added-value to occur in China, minus the undesirables.
"Resource slave" is not a good position to be in, as it does not create real value for the nation or respective company shareholders.
Indonesia agrees.
Indonesia does not allow the export of RE raw materials like monazite or intermediate RE products, it will only permit the export of ≧99% pure separated rare earth compounds. This way, substantial added-value must occur in Indonesia.
Among supposedly free-trade nations such export restrictions may be questionable, however, something similar as a condition for foreign investment in strategic materials may be considered.
Next stop: Transfer-pricing.
---
What information are we talking about in rare earth? China.
Data, that are usually chargeable in most developed countries, come free of charge in China, be it prices, corporate news, broad production numbers or broad customs data.
Most China-based "information services" merely translate and charge, they don't need to work hard.
The added value provided is minimal.
---
In recent memory there is only one case in the listed rare earth space with at least an attempted sale or merger of a company, Neo Performance Materials and Luxfer.
The one lonely executed transaction we have seen in recent years in RE was a private company being acquired by a listed one, Biolantanides and Hochschild. There is one ongoing sale currently, again involving a private RE company, VHM.
While combining two companies with each one deadbeat RE deposit is pointless, is there really not more potential for pooling resources, cutting cost and taking advantage of synergies through M&A?
---
Off-take contracts, what are they good for?
Primarily off-take contracts are good for demonstrating to creditors and investors that there is market demand for the product that is planned to be produced. Typically, such contracts are made for large-scale commodities, that are produced according to the same standard the world over.
Ideally, a majority of the quantity to be produced should be put under off-take, in order to have the desired confidence effect. However, it does not change many potential financiers stance, that ≧40% of capex should be covered by equity.
Ideally an off-take contract contains, among regular sales contract terms, a fixed yearly quantity to be taken by the off-take partner, a pricing clause that is very specific on how the price will be determined, and a take-or-pay clause, that if the off-taking party does not take some or all of the quantity, it is still obliged to pay for it.
Off-take partner should be a company with the demonstrable ability to live up to the off-take contract terms and must have the capital to pay.
Off-take contracts will, however, need to have exit clauses in order to become workable for the off-take partner, particularly in a pre-production, pre-revenue state of the junior RE miner.
---
James Kennedy of ThREE Consulting tells the story of US rare earth with brutal honesty, a tad too mercilessly, in our opinion.
This paper of his is a must read: History of Chinese Industrial Advances in Rare Earths & Relative Technological Position to U.S. & RoW.
His view is, that RE production is only feasible/viable as a by-product, something somewhat related to what we proposed in our previous issue (and are still researching) that the mining cost of Bayan Obo are disproportionately carried by the iron ore from the mine, not by the rare earth by-product, leading to completely twisted cost calculation of rare earth at China Northern Rare Earth Group.
Jim's point is supported by a heavy rare earth market, that is much more healthy than the light rare earth market, however, in heavy rare earth we have dedicated mines, which somehow beats the by-product thesis.
While he is probably right to make the point regarding the Bayan Obo, the largest rare earth mine on the planet and by volume the largest supplier to the US, by composition Bayan Obo is somewhat similar to Mountain Pass, while at the same time he alleges Mountain Pass is useless for covering US rare earth demand (see below article).
By composition ionic clay deposits with a larger share of heavy rare earths may actually be more suitable for the overall rare earth market.
---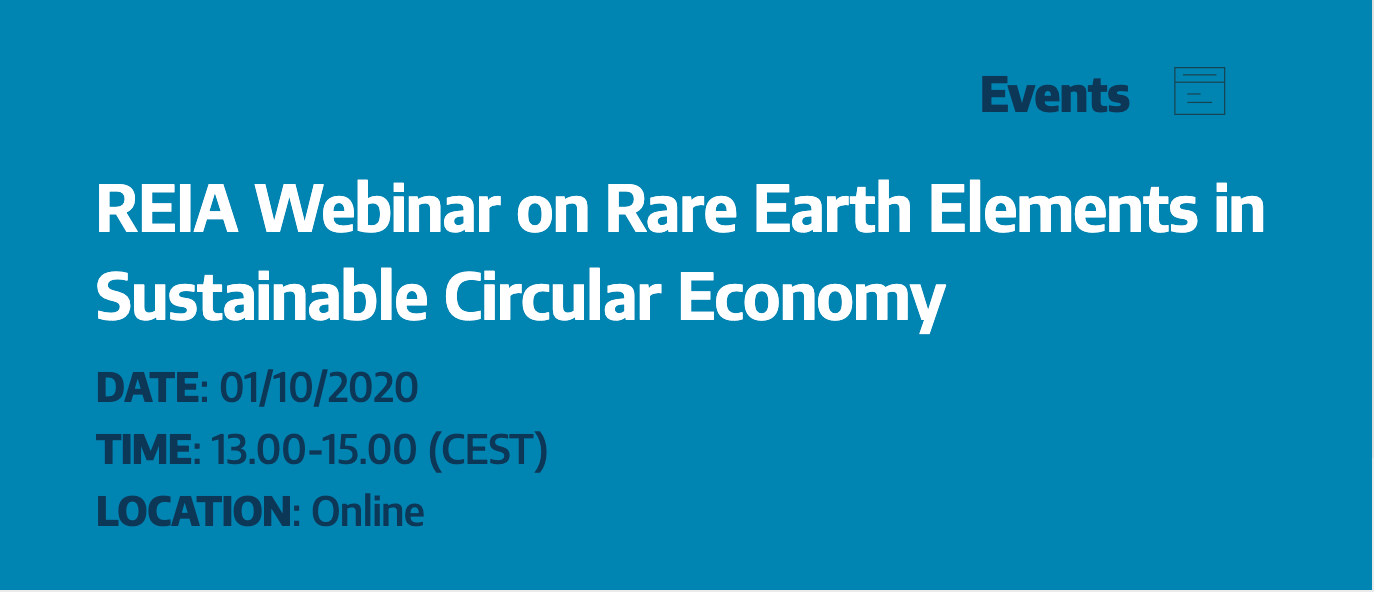 Upcoming event by REIA.
While rare-earthlings know a thing or two about circular motion, this webinar is rather designed to bring in more insights on how the principles of circular economy can be stitched to REE materials.
Thy shallt attend!
---
Sorry for skipping the TREOs last week, we are very, very busy.
Thank you for reading and enjoy your working week!
//Trade
China exported 1,642 tonnes of rare earths in August, dropping 62.3% year on year, according to official customs data released Sept. 7. This followed a year-over-year 69.1% plunge recorded in July when the country exported 1,620 tonnes of rare earths. From January to August, the country's rare earth exports fell 25.7% year over year to 24,377 tonnes.

Hu added that Chinese traders have seen a big drop in orders from overseas users in 2020 and especially in July and August, while demand in China remained stable as the country started to recover from the pandemic.

Tight domestic supply of mid and heavy rare earths like terbium is another reason behind the decrease in exports, the analyst said. According to Hu, the price of terbium oxide was recently at its highest level in seven years while production to date in 2020 has dropped 15% year over year.

Hu expects rare earth exports for full year 2020 to decrease by up to 20% compared to 2019.

The Chinese government recently raised its 2020 quota for rare earth mining by 6.1% year on year to 140,000 tonnes. Zhang said exports will likely rebound from August levels this year, while he expects the declining trend in monthly exports to continue. Zhang expects full-year 2020 exports will decrease by more than the 12.6% year-over-year decline to 46,330 tonnes of rare earths in 2019.
//Politics
What is the supply situation for rare earths?

The U.S. disposes of enough REEs each year to meet the non-Chinese world's demand. If the U.S. resolved the 1980 NRC regulatory issues, as outlined in the House and Senate bills (H.R. 4410 and S. 2093), the U.S. and all non-Chinese countries could be entirely independent of Chinese REE production.

What makes a Rare Earths project attractive?

The economics of any successful REE project need to be based on something, anything, other than REEs. It is foolhardy to open a stand-alone rare earth mine when China controls global supply, price, and consumption. If the U.S. wants to build an independent REE supply chain, it must build it upon uninterruptible REE resources. The only uninterruptible REE resources are the by-product resources that are disposed of under the 1980 NRC/IAEA regulation. Everything else is subject to Chinese monopoly price manipulation.
Comment: The man in the know, James Kennedy. Listen closely, when Jim talks.
The storms and the devastation they wrought on the country's food producing and other areas — including a key rare-earth mining area in South Hamgyong Province — forced a drastic alteration of economic plans this year, with Kim Jong-un ordering the regime's attention be directed towards recovery efforts.

In a high-profile ruling Workers' Party Political Bureau meeting on Aug. 13, Kim ordered the country to reject all external help with regards to Covid-19 or flood damage, insisting the North will surmount its current crises through its own self-reliant means.
Comment: Possibly the background for high bids from China for monazite.
The fundamental challenge is economic. America's goal should be secure supply chains, not national autarky of supply. The U.S. should do this by promoting domestic production; diversifying mineral imports away from China; cooperating with allies to insulate each other from Chinese control; developing multiple alternative supply chains; stockpiling rare earths to create shock absorbers in case of a crisis; and reducing demand by investing in alternatives.

Japan's experience shows how this can be done. In 2010, the Chinese government used its commercial dominance of rare earths as a national-security threat, closing off Japanese access during a maritime dispute. Japan conceded quickly, even though Japanese firms had adequate short-term stockpiles; Chinese firms broke the embargo, and markets stimulated greater supply.

The long-term effect was that Japanese firms developed technologies less reliant on rare earths in quantity. The Japanese government started to diversify supply, extending loans to Australian firms at below-market interest rates to start up rare-earth mining. In less than a decade, Japan reduced its reliance on Chinese supplies by a third.
//Mining
Polymetallic nodules found on the abyssal seabed of most ocean basins contain millions of tonnes of metals such as nickel, copper, cobalt and manganese as well as gallium and rare earth elements. Efficient deep-sea mining of these nodules requires a complete high-tech mining value chain but, to date, no integrated system of harvesting, vertical transport and surface processing has ever reached industrial viability.

With EU funding, the Blue Nodules project has "designed the layout of the entire logistics chain while tackling the complex problem of environmental protection up to technology readiness level 6 (TRL 6)," outlines Laurens de Jonge, project coordinator. "This ambitious initiative is a major step in the development and testing of environmentally friendly seafloor harvesting and processing technologies for polymetallic nodules," he says.

With in-situ processing at the seabed the nodules are separated from the sediments. On board the vessel, the nodules are dewatered and the deep sea water is returned to its origin. Another ship then takes the ore for processing on land, to extract the metals.

Also receiving funding from the Horizon 2020 research and innovation programme, Blue Nodules' successor is the Blue Harvesting project. With many of the original partners, Blue Harvesting will focus on developing and improving the collector to reduce environmental impact while maintaining production rate and efficiency. Integrated field tests and pilot mining tests in a relevant offshore environment will attain TRL 7.
//Science
Current disinfectant products for killing viruses like coronavirus take minutes to fully sanitize surfaces, which isn't practical on high-contact areas such as door handles, elevators, and bannisters.

That's why the University of Central Florida is co-developing a new, rapid-acting, long-lasting disinfectant spray that instantly kills viruses without using harsh chemicals.

The disinfectant they are developing works by using cerium oxide nanoparticles developed by Seal, which prior research indicates could be lethal to viruses similar to SARS-CoV-2, the virus that causes COVID-19 disease.

Cerium oxide nanoparticles have been shown to have a wide range of therapeutic properties from healing diabetic wounds, to reducing harm from radiation, helping kill cancer cells and working as an antibiotic.
This applies to the crystal, which has now been examined in detail - a so-called langasite made of lanthanum, gallium, silicon and oxygen, doped with holmium atoms. "The crystal structure is so symmetrical that it should actually not allow any magnetoelectric effect. And in the case of weak magnetic fields there is indeed no coupling whatsoever with the electrical properties of the crystal," says Andrei Pimenov. "But if we increase the strength of the magnetic field, something remarkable happens: The holmium atoms change their quantum state and gain a magnetic moment. This breaks the internal symmetry of the crystal".

If this succeeds, it would be a promising new way to store data in solids. "In magnetic memories such as computer hard disks, magnetic fields are needed today," Pimenov explains. "They are generated with magnetic coils, which requires a relatively large amount of energy and time. If there were a direct way to switch the magnetic properties of a solid-state memory with an electric field, this would be a breakthrough".
Now a team led by LMU chemist Professor Lena Daumann has shown that an enzyme cofactor called pyrroloquinoline quinone (PQQ) found in certain species of bacteria selectively binds to specific REEs and can be used to separate them from mixtures.

That REEs also play essential roles in the biosphere was discovered less than 10 years ago, when it was shown that certain types of bacteria can selectively take up lanthanides from the environment, which are then incorporated into enzymes for use as metabolic catalysts. For instance, in methylotrophic bacteria, lanthanum or europium bind to PQQ in the enzyme methanol dehydrogenase (MDH), and plays an essential role in the oxidation of methanol – an important part of the energy metabolism of these bacteria. Daumann and her colleagues have now characterized the interaction of PQQ with these REEs in detail and, in cooperation with researchers based in Berlin and Münster, they have isolated PQQ-lanthanide complexes and determined their molecular structures for the first time in the absence of the enzyme matrix.

The results demonstrate that PQQ can selectively remove some REEs by precipitation from aqueous solutions containing mixtures of their salts, without the need for potentially hazardous organic solvents or other additives. Strikingly, PQQ preferentially binds to the larger lanthanides, including neodymium. Recycling of the latter is of particular interest for sustainable technologies.
Green Science Alliance has Developed SOFC (Solid Oxide Fuel Cell) with Apatite Type Lanthanum Silicate Based Solid Electrolyte with University of Hyogo and Hyogo Prefectural Institute of Technology
Fuel cells are intensively developed because they are a highly efficient power source that can directly change the chemical energy of gases such as hydrogen, hydrocarbon, natural gas etc. into electricity. SOFC (Solid Oxide Fuel Cell) is said to be a highly efficient electrical power source. Its low CO2 emission is an attractive feature in the context of energy savings and sustainability.

In this project, magnesium doped lanthanum silicate solid electrolyte La9.8(Si5.7Mg0.3)O26.4 (MDLS) was combined with La2SiO5 as other lanthanum silicate based material, it was possible to obtain even higher ionic conductivity. On top of that, we have also found that solid electrolyte layer could be densified in order to prevent gas leak so that voltage was maintained at high side. Furthermore, by applying Gd (Gadolinium) doped ceria (Ce0.9Gd0.1)O1.95 (GDC) as intermediate layer between solid electrolyte and cathode, it was possible to suppress the reaction between solid electrolyte and cathode during sintering, which resulted in suppressing cell resistance.
//Companies
Geomega Adds Technical and Operations Management Experience
Mr. Nicholas Nickoletopoulos will be presented as a new nominee to the board of directors of Geomega. Director Jean Demers will not be standing for re-election. The new director will be proposed at Geomega's Annual General Meeting ("AGM")

Mr. Nicholas Nickoletopoulos, P. Eng. (ON), Ph.D. brings over 25 years of operational, technical and executive management experience in the metals industry. Currently, he is President, Managing Director and minority shareholder of Metalunic, a Quebec-based manufacturer of metallic building envelope products primarily composed of Canadian base materials.
The very shallow depths of the mineralised intercepts and proximity to the existing Fraser's Open Pit demonstrate the high probability for mine life extension at Fraser's with excellent grades and thickness encountered in every hole of assays received. (See table 1*). Fraser's currently has the highest NdPr (Nd2O3+Pr6O11) grades at 0.56% of any of the Yangibana defined deposits.

The high NdPr grades and corresponding Nd2O3+Pr6O11:TREO ratios are a unique feature not found in any other rare earth project, except for Yangibana.

The Fraser's Mineral Resource has a calculated Nd2O3+Pr6O11:TREO ratio of 41% (see announcement 18% Increase in Ore Reserve Mine Life Extended by 2 years to 13 years November 2019), however assays received forming this announcement had Nd2O3+Pr6O11:TREO ratios ranging from 44 - 50%. (see Table 1*), representing a substantial increase over existing results from Frasers.
Comment: Frasers and Bald Hill are the only two (out of a total 14) Yangibana area deposits covered by the not published definitive feasibility study, dating October or November 2017.
"We are very pleased to add this new rutile and ilmenite discovery to our portfolio of projects in Malawi."

He adds that these early-stage results show similarities in terms of saprolite-hosted mineralisation to the recent rutile discoveries made on the adjoining Sovereign Metals licence to the east. This, says Lemon, suggests the potential for discovering high-grade rutile deposits within Mkango's large licence area, in what could potentially be a new province of rutile mineralisation.

Mkango is planning an exploration programme of more extensive soil sampling, additional auger drilling, and mineralogical test work to identify rutile prospects across this potential new rutile province within the Mchinji licence. The exploration programme will be funded from the company's existing working capital.
Comment: We don't understand, why Mkango diversify and scatter their scarce resources.
Arafura Resources Ltd's (ASX:ARU) final rare earth oxide (REO) products from the Nolans project flowsheet piloting program have been validated by supply chain partners across the globe, including Europe, China and Japan.

Three REO products prepared at ANSTO Minerals were the culmination of processing of 15 tonnes of representative ore feed from the Nolans Neodymium-Praseodymium (NdPr) Project in the Northern Territory.

Preparation of these products involved piloting of the project's beneficiation, phosphate extraction, phosphoric acid production, rare earth extraction, rare earth processing and rare earth separation process stages to produce final NdPr oxide, middle and heavy rare earth oxide and cerium oxide products.
Comment: A case of off-take fatigue?
One element of many EVs that isn't sustainable is the use of rare-earth material (usually neodymium) in permanent-magnet motors. When combined with iron and other materials to make an alloy, neodymium magnets are the most powerful permanent magnets available. Used in the rotor of an 'electric machine', they make it relatively easy to generate high torque, and motor control is relatively straightforward, too.

Doing away with these rare-earth magnets and generating a magnetic field with coils of wire instead (electromagnets) is an alternative but makes it harder to achieve the best performance and motor control a little more challenging.
The company has earmarked $5.9 million for installing ore sorting equipment, which can double the feed grade and improve project efficiency and economics.

The company has earmarked a budget of $5.9 million as capital expenditure for the procurement, installation and commissioning of the ore sorter.

Construction has started on the structural and mechanical equipment, with commissioning scheduled for mid-2021.
Comment: Year to date NTU shares have lost almost half their value.

ADAMAS Intelligence has forecast that global annual demand for magnet rare earth oxides such as neodymium, praseodymium, dysprosium and terbium will increase by 150% through to 2030.

Meeting this demand will require current global production to double and when this is considered together with increasing production costs in China, the company believes there will be considerable upward pressure on prices over time.

The company considers Kvanefjeld is one of the world's most important emerging rare earth projects and will position Greenland to become a globally significant supplier of materials that are key to an energy efficient and environmentally sustainable future.
Comment: All this is somewhat acceptable, but the underlying concept means, that all the problems stay in Greenland, while all the added-value occurs abroad at the one single customer, who also happens to be significant shareholder, China Aluminium's Shenghe Resources, the guys behind MP Materials/Mountain Pass. The illustration of GGG's concept please find below.
Source: Up-marked by distinguishable fonts/colours presentation sheet from "Materials for an energy efficient future" by Greenland Minerals and Energy Ltd, October 2017, page 13.