REO Prices Rise; Broken Hill a Broken Dream?; Round Top with edges; GMA Patent; Fundraise & Debt Restructure; Uganda Ionic Clay;
Rare Earth 2020 June 12
Sometimes funny things happen, like fat-finger syndrome in electronic trading: A young newcomer at a Chinese company launched an import enquiry for 1,000,000 tons of monazite per year with minimum of 68% TREO…
NdPr prices have dropped more than 20% year on year, demand picked up a bit, so the largest rare earth manufacturer thought this was a good time to increase the list prices a bit. Fair enough, let's see if the increase sticks. The actual transaction price today, median reports of 4 different sources was RMB 290,800/t = US$ 41.10/kg. Beginning of June the NdPr spot price was US$ 38/kg, so there is the 8% rise in dollar terms.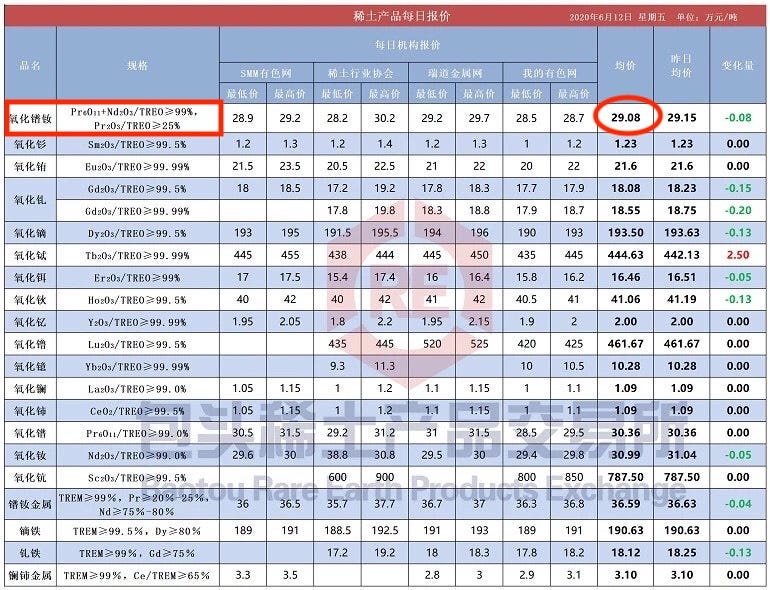 Thanks for reading.
//Market
According to a notice on the company's website released on Thursday June 11, the Baotou-based rare earths supplier will sell praseodymium-neodymium oxide at 310,000 yuan/mt, tax-included and ex-factory, for the month of June, up about 8% from the previous month.

This month's substantial increase followed a 0.7% rise in May. The rare earth producer slashed its listed price for praseodymium-neodymium oxide in March and April, by 6.3% and 5%, respectively, to 285,000 yuan/mt.

Listed price for neodymium oxide rose 4.3% from May to 318,000 yuan/mt, and the prices for praseodymium-neodymium and neodymium metal climbed 7.5% and 3.9% to 389,000 yuan/mt and 400,000 yuan/mt, respectively.

The company held its listed prices for lanthanum and cerium oxides both unchanged at 12,200 yuan/mt, after a cut of 3.2% in May.
Comment: A list price is just that, a list price. Actual transactions happen below the list price.
//Companies
Broken Hill Prospecting (BPL) is set to raise $496,500 to accelerate its La Paz Rare Earth Project in Arizona.

Approximately 27.1 million shares will be issued to sophisticated and professional investors at a price of $0.015 per share to raise $406,500.
Comment: According to the relevant NI43-101, the mineable resource of the La Paz deposit is 112 mio tons with a TREO of 0.037%. This means La Paz contains probably ~41,000 t of rare earth oxides. To put that number in relation: The US in 2019 imported ~20,000 t of rare earth products.
Once fully commissioned, the plant will be focused initially on group separation of rare earths into heavy (dysprosium, terbium), middle, and light (neodymium, praseodymium) rare earths (REE's). The final phase of the pilot work will be the further separation of high-purity individual REE compounds.

At the same time, the pilot plant will also be focused on recovery of non-REEs focusing on lithium, uranium, beryllium, gallium, zirconium, hafnium and aluminum, all of which are on the U.S. Government Critical Minerals List. Confirming the recovery of these critical non-REEs will support upgrading the measured and indicated resources to proven and probable reserves (with no in-fill drilling required), and completion of the Preliminary Feasibility Study (PFS).
Comment: A PFS of Round Top will be really interesting to read, as current business projections of Round Top among others emphasise a giant leap into a niche of all niches, the lutetium market, and grab a ~40% marketshare, naturally with no price decrease.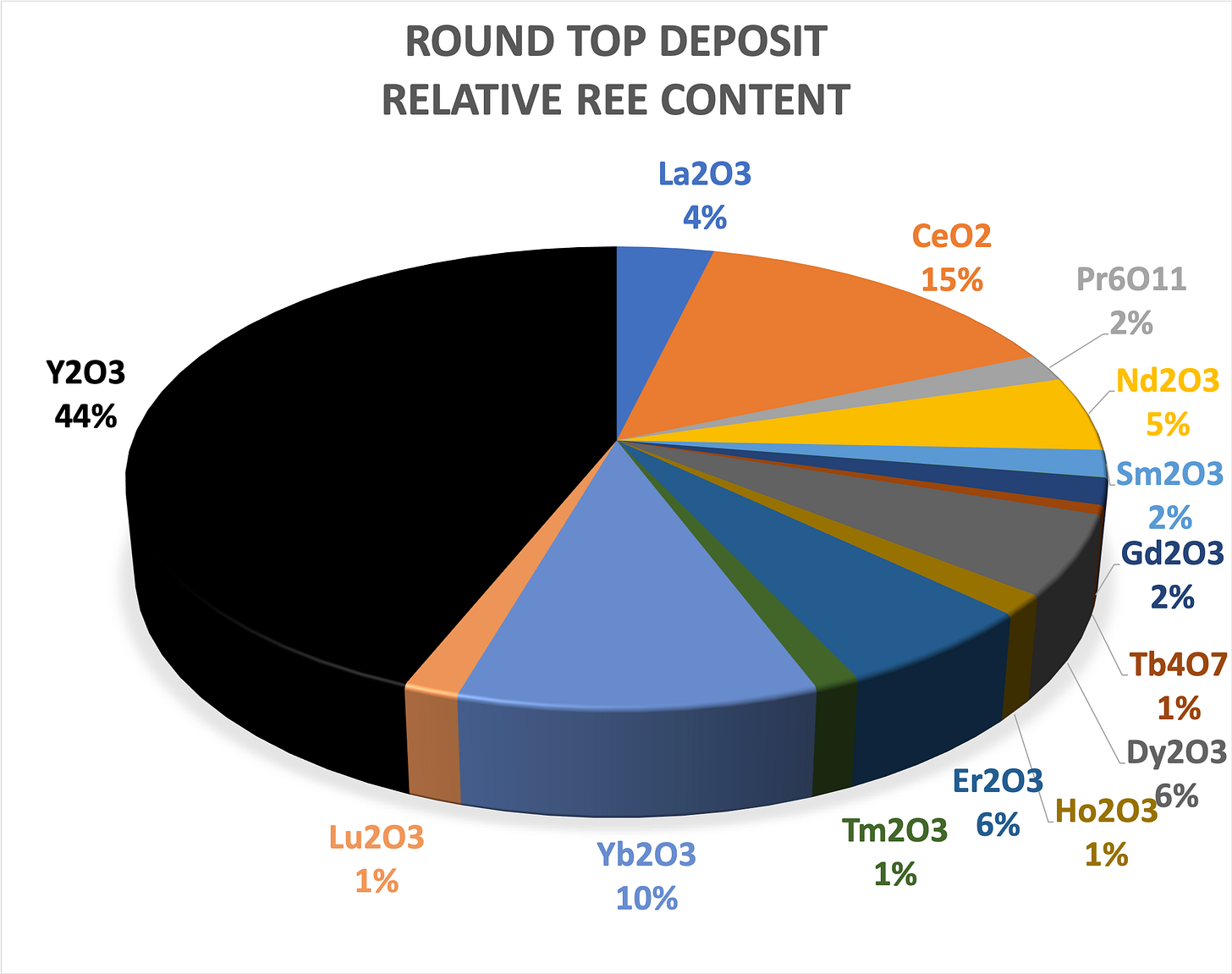 This new finance plan demonstrates the Lenders' commitment to Hudson, the Government of Greenland and Hudson's shareholders, who will benefit from this new agreement. Under the terms of the plan, the Lenders will become partners going forward which will help the Company realize the true value of this unique anorthosite mine and its many green applications. The Lenders will hold two of the four board seats on Hudson Greenland A/S, the Greenlandic operating company which holds the White Mountain exploitation license. The other two seats will be held by Hudson Resources and Greenland Venture A/S, a Greenland government investment fund which owns eight million shares in Hudson Resources.

Hudson owns and operates the White Mountain (Qaqortorsuaq) anorthosite mine in Greenland through its wholly owned subsidiary, Hudson Greenland A/S. Hudson Resources also holds 100% of the Sarfartoq rare earth element (REE) and niobium exploration license in Greenland.
Comment: With a TREO content of ~146,000 t, Sarfartoq is one of the small RE deposits.
The technology has been developed by Geomega's Chief Technology Officer, Dr. Pouya Hajiani, for the Montviel deposit and was tested in lab and bench scale. The patents cover an innovative approach by which Geomega was able to significantly reduce the reagents usage while producing high recoveries of both rare earths (REE) and niobium. By using hydrochloric acid (HCl) regeneration, Geomega demonstrated that a total of 58 kg of regenerated HCl were to be used per metric ton of ore to extract REE and Niobium. Furthermore, 91%, 92% and 66% overall recovery were achieved for Neodymium, Praseodymium and Niobium respectively (See table below for detailed recoveries). The process was designed to minimize effluent discharge and to integrate in situ acid and base production and regeneration in tandem with water recirculation in a plant powered exclusively by hydroelectricity in Quebec.
Comment: Perhaps available for licensing?
One company in the thick of those efforts is Urban Mining Company (UMC) of San Marcos, Texas. They raised $25 million in a Series A funding round in June 2016, and have since been scaling up their processes for recovering REEs from electronic waste, then manufacturing new magnets from the recycled metals. "UMC set out to figure out an alternative or substitute to change the dynamic of [REE] supply chain risk," said Scott Dunn, the company's CEO. "That resulted in a process to use waste material as an abundant source for magnet raw materials."

One of the most significant challenges in establishing alternative sources for REEs is price. China has heavily subsidized their producers in the sector, putting other producers across the world at a market disadvantage. But recycling can help overcome that "thumb on the scales." "We have a significant cost advantage," Dunn pointed out, "and a source that's domestic and decentralized."

UMC is in full-scale magnet production. "We built a facility in San Marcos that can produce thousands of tons of magnets per year," said Dunn. "And we have an additional 90 acres of land there for expansion. It's a complete magnet manufacturing process. We've produced magnets for defense and commercial applications including for new DC power trains, using recycled materials from hard disc drives, MRI's, and 15-year-old HEVs."
Comment: Recycling is certainly the way forward, China's high magnet recycling rates have shown the way.
Ionic [previously known as Oro Verde] has restarted exploration at its Makuutu rare earths project, with more than 90 per cent of its planned 4,000m program within the 26km-long mineralised corridor still to be drilled.

Makuutu, one of very few ionic adsorption clay-hosted projects outside of China, currently has a resource of 47.3 million tonnes grading 910ppm TREO for the project. [43,000 t TREO]

Besides a relatively simple method of rare earth recovery, it is located close to well maintained and available local infrastructure, including cheap hydroelectric power.

Metallurgical variability testwork released in February showed recovery of up to 75% TREO less cerium while recent metallurgical optimisation test work has also increased rare earths element recovery in some lower recovery areas with less than 10% TREO-Ce by seven fold.
Comment: Ionic so far own 31% of Rwenzori Rare Metals Limited, targeting earn-in of 60%. According to an earlier NI43-101-like report of Benzu Minerals, mineable resource could be 267 mio t at 0.078% TREO, so 208,000 t TREO.