Reenova Apply Mining License; Another RE Alarm; Another RE Executive Order; Another Stiff Celebration; Bitter Patent Fight; Small RE Companies Get Funding;
Rare Earth 2020 October 2
Among the mandatory reads in rare earth, there is Julie Klinger's "Rare Earths: Lessons for Latin America." Warmly recommended.
---
Reenova Investment Group (formerly known as ISR Capital), Singapore, announced to have applied for a mining permit for the Tantalus ionic clay rare earth deposit in northern Madagascar, of which it holds 60% of the shares (40% are probably with REO Magnetics - formerly known as Apphia Advanced Materials).
So far there was only an exploration license.
Reenova are headed by a former Minmetals Rare Earth manager Chen Tong.
Reenova don't have the capital for starting up Tantalus.
Tantalus measured and indicated mineral resource was estimated to be 197.7 mio t, 0.0897% or 177,383 t TREO, according to SGS in 2014.
---
Alarmist Adamas came out again, warning of a rare earth demand-supply gap opening, that will be harder and harder to fill. Adamas do make valid points. Even if only a part of their forecasts becomes reality, the situation in RE will become dire.
However, no matter what, investors still would first want to see prices of rare earth heading for break-even territory of junior miners and they probably still want to see capex funded 40% by equity.
Until then, a number of available rare earth assets may have been picked up - by China.
---
Trump executive orders again, that REO are to be produced in the US. Perhaps he should spend an hour with James Kennedy, to understand one way of how to solve the problem for the US.
---
We are just past China's national day with a lot of patriotic symbolism. The entire party leadership and government honouring the revolutionary martyrs at the Column of Martyrs on Tian An Men.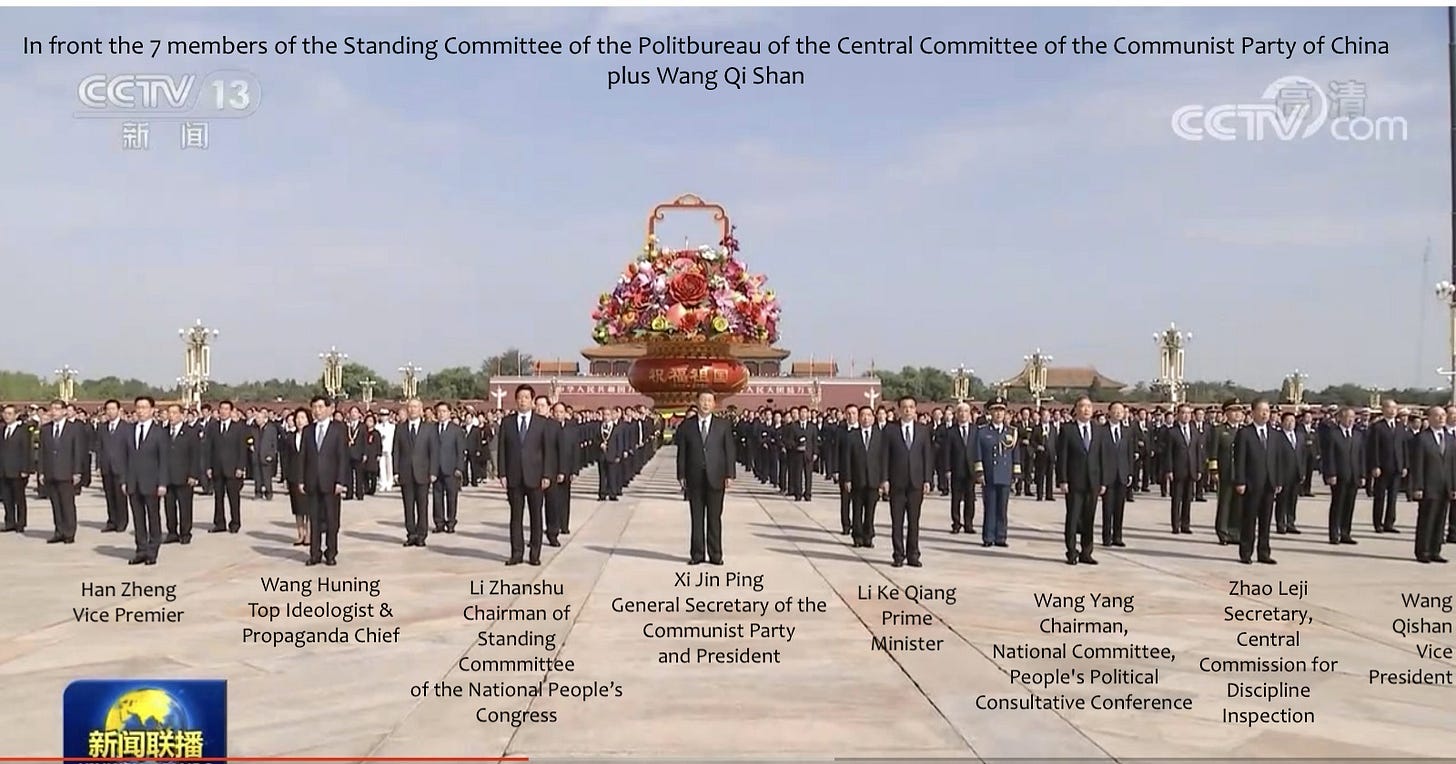 In the front line the echelon of power. In the second line the vice-premiers and portfolio government ministers. Who stands where exactly defines the position and rank in party and government. Who gets how much airtime in such video feature is precisely timed. We note that China's aggressive foreign minister only accidentally slips into the picture.
There was also an extremely dry and formal "Beam me up, Scotty!" dinner party in the Great Hall of the People with speeches by Premier Li Ke Qiang and Vice Premier Han Zheng.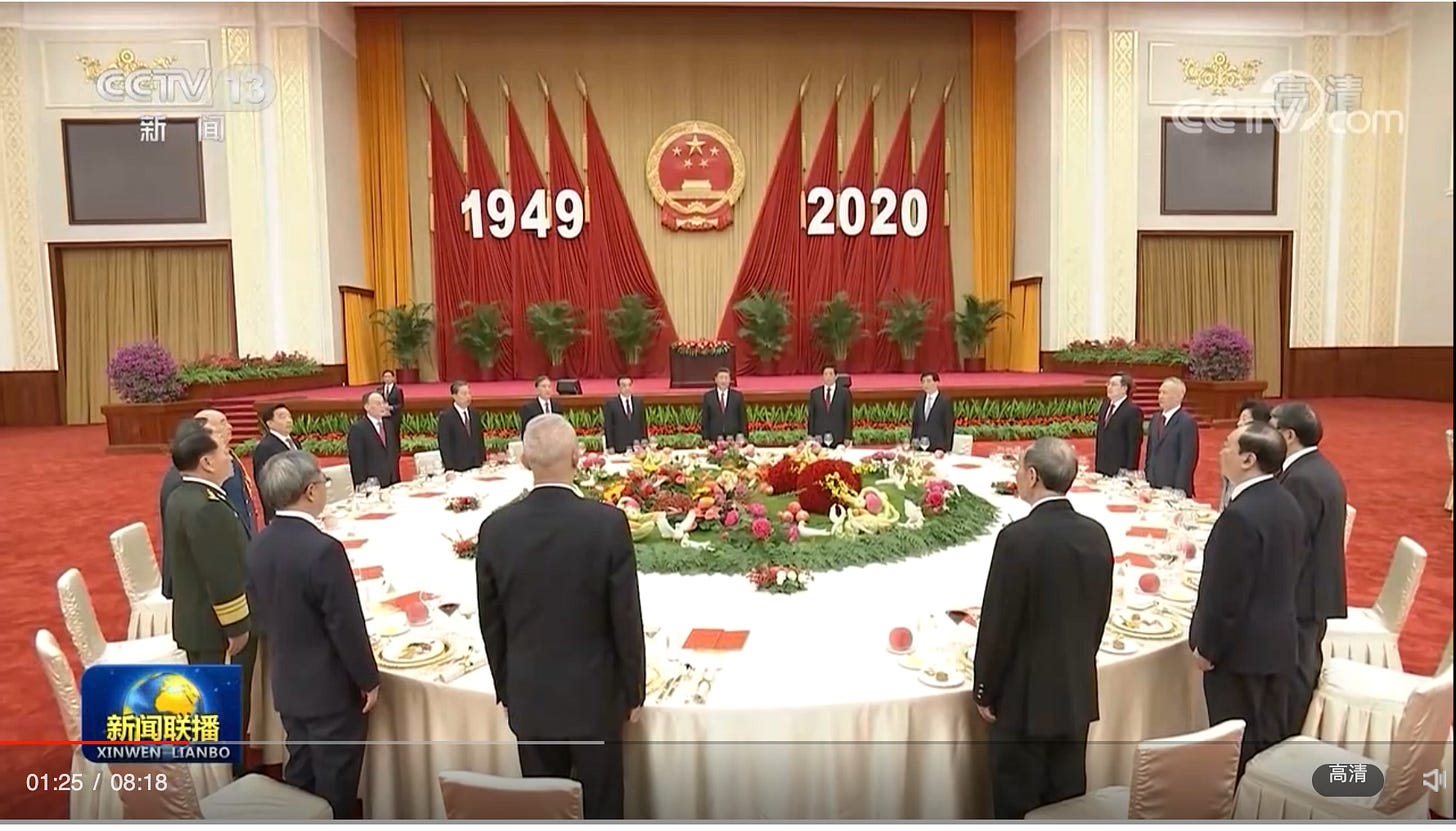 Unless something big happens, like a detour to Taiwan during the Asia trip of the US Secretary of State, China will be hibernating until October 8.
Just like this time every year, importers of China rare earth will worry, why there are no replies to enquiries and why noone picks up the phone in China. No, it is not the boycott. It is the National Day holiday.
---
Thanks for reading and have a great weekend ahead!
//Companies
Solvay has won another patent infringement case in Germany against Neo Chemicals & Oxides Ltd.. In a judgment released on September 3, 2020, the Düsseldorf Regional Court concluded that Neo's commercialization of certain Cerium/Zirconium based mixed oxides had infringed Solvay's patent EP 1527018.

The Court ordered Neo to stop the infringement, meaning that Neo must not commercialize its products covered by the Solvay patent in Germany any longer. Neo has also been ordered to recall the infringing products which are still kept by its customers. Solvay has taken steps to enforce the judgment.

Neo was previously held liable for numerous violations of Solvay's patents in the rare earth field, including unappealable judgments handed down by superior courts in Germany and the UK. The decision just made by the Düsseldorf Court also shows that Neo's current infringing activities expose customers and OEMs to compliance and supply chain risks.

The Court held that Neo had also infringed the catalyst claims of the patent by providing the infringing mixed oxides to customers who use them to make catalysts for automotive exhaust gas depollution. According to the judgment, these catalysts are also infringing the patent. This implies that the import of such catalysts into Germany would also infringe the patent.

Respect for Intellectual Property Rights is essential for free, healthy competition and to promote further innovation. Solvay will continue to take vigorous action to enforce its rights against infringers.
Comment: The patent EP 1527018, assigned to Rhodia Operations SAS, was filed on June 26, 2003. Validity of patents in the EU is generally 20 years.
Geomega Resources Inc. ("Geomega" or the "Corporation") (TSX:V.GMA) (OTC: GOMRF), a developer of clean technologies for the mining, refining and recycling of rare earths, is pleased to announce that it has secured additional debt financing of $1,326,000, which will be added to the funds required to build the rare earth magnet recycling demonstration plant in Saint-Bruno-de-Montarville, Quebec. Project financing will be provided by Investissement Quebec ("IQ"), who will be acting as agent on behalf of the Quebec Government to secure funding for the project.
Comment: That should be enough for Geomega to start production in H1 2021.
First Growth Funds Limited (CSE:FGFL) "(Company") is pleased to announce an investment in rare earth resource company Vital Metals Limited (ASX:VML). Vital Metals has a resource in Nechalacho (Canada) and Wigu Hill (Tanzania). Vital Metals recently completed a $8M placement and First Growth Funds received circa 1% of the allocation due to heavy demand by other investors. First Growth Funds is already showing a 25% premium on its investment.
American Rare Earths Ltd's (ASX:ARR) non-executive director Matthew Hill has retired from the board, effective from September 24, after serving more than eight years.

Company secretary Ian Morgan has also retired from his role, effective September 25.
Musk announced that the company had taken the first step of expanding into mining by securing the rights to a 10,000-acre lithium clay deposit in Nevada. The mine, along with a new North American-based cathode manufacturing facility, would be two new additions to Tesla's growing lineup of factories and operations.

But there's one problem with that, Berry said. "There has never been any commercial production of lithium from clay sources," Berry said.

"I turn that question around and I say, 'Well geez, if it was this easy to find a domestic source of clay-based lithium, and just used everyday materials like water and like salt to produce commercial battery-grade quantities at scale, why haven't we been doing this all along?'" Berry asked.
Lynas Corporation has made two executive changes as newly elected chair Kathleen Conlon formally started her term yesterday (September 30).

This follows the retirement of former chair Mike Harding.

Conlon has been a non-executive director of Lynas since November 2011 and brings a deep knowledge of the company, extensive strategy and operational expertise to the role.

Lynas also appointed Vanessa Guthrie as a new non-executive director, effective today (October 1).
The holes intersected significant shallow zones of mineralisation including 41m at 4% total rare earth oxides (TREO) from 29m and 36m at 4.6% TREO from surface, including an ultra-high-grade zone of 3m at 25.1% TREO.

The recent infill drilling program was designed to firstly, firm up the Cummins Range resource from inferred to indicated category and secondly, better define a higher-grade portion of the resource. The current inferred resource for the project is 13 million tonnes at 1.13% TREO.

"These first three holes have already gone a long way towards achieving these first two objectives, with the width and grade of the intercepts significantly exceeding our expectations," Mr Robinson said.
Comment: Copper & gold or rare earths, what will it be for RareX?
IMC's proprietary RapidSX technology is being commercialized for the cost-effective bulk separation and purification of rare-earth elements ("REEs") - including both heavy REE ("HREEs") and light REEs ("LREEs") - for the production of REE oxides ("REOs"), in addition to other critical metals, such as lithium ("Li"), nickel ("Ni"), and cobalt ("Co") for lithium-ion ("Li-ion") battery materials.
Comment: We wonder, if this process had been considered by Canada's SRC and what the outcome was, if any.
Once listed, Critical Metals said it would seek to acquire mines in Africa producing copper, cobalt, tin, tantalum, niobium, vanadium, rare earths, beryllium, cesium, or antimony.
//Science
Pristine CeVO4 and CeVO4/CNT HCNS were successfully prepared via a silicone oil-bath method.

The Li insertion/de-insertion electrochemical reaction with the CeVO4 was analyzed.

The discharge performance of CeVO4/CNT HCNS electrode was improved compared to the pristine CeVO4.

The electrode delivered a reversible capacity of 586.82 mA h g-1 after 1200 cycles at 500 mA g-1.
//Recycling
The communication presents a new, expanded list of critical raw materials (CRM) – adding inter alia Lithium and Titanium to the list – and the challenges for a secure and sustainable supply of CRM and actions to increase EU resilience. The full document can be found here.

One statistic stands out, says WEEE Forum: For electric vehicle batteries and energy storage, the EU would need up to 18 times more lithium and 5 times more cobalt in 2030, and almost 60 times more lithium and 15 times more cobalt in 2050, compared to the current supply to the whole EU economy. Clearly a case for increased recovery of certain metals.
//Policy
U.S. President Donald Trump on Wednesday ordered his Cabinet secretaries to look into the country's reliance on rare earths in his latest bid to end China's dominance of the industry.
Comment: For the full executive order please click here.
Regarding Western countries' concerns about China's monopoly of the rare earth market, Geng Shuang, the spokesperson of the Ministry of Foreign Affairs of China, said at a regular press conference last year that in the era of globalization, a certain field or market is dominated or monopolized, or a certain field or market is artificially controlled. It is impossible to remove or exclude the link chain.

Geng Shuang pointed out that China has always adhered to the principle of openness, coordination, and sharing to promote the development of the domestic rare earth industry. China is willing to use rare earth resources and products to meet the legitimate needs of the development of all countries in the world, and play an active role in promoting the development of the Chinese economy and the world economy.
Comment: An unusually conciliatory tone from China's most belligerent Communist Party publication, the Global Times. It does not befit Global Times repeated calls for a rare earth boycott. Had Global Times editor Hu Xijin been "invited for tea", to give him a lecture, what disastrous consequence a boycott may have on the Chinese rare earth industry? Reminder: The by far largest share of US RE imports by volume are mountainously overproduced hard-sellers lanthanum and cerium, which, as a result of overproduction, are as cheap as cabbage.
China will take steps to implement the three-year action plan on reforming the country's state-owned enterprises (SOEs), according to a conference here on Sunday.

The SOEs should become market entities with core competitiveness and push forward the mixed-ownership reform in an active yet prudent manner, said the national teleconference on the implementation of the action plan.
Comment: We have been hearing this now for 30 years. Real action regarding SOE only happened during the time, when Zhu Rongji was vice-prime minister and later prime minister from 1993-2003 under General Secretary Jiang Zemin.
Xi Jinping stressed ….. The economies of the two countries are highly complementary. The Chinese side is willing to promote cooperation on the resumption of work and production with the Angolan side on the basis of sound epidemic prevention and control, encourage competent Chinese enterprises to undertake investment cooperation in Angola, promote new development in practical cooperation between the two countries, and boost Angola's economic and social development.

Attaching great importance to the high-level relationship and profound friendship with China, the Angolan side firmly supports the Chinese side's position on issues concerning its core interests and welcomes more investment from Chinese enterprises in Angola and broader bilateral cooperation in such fields as economy and trade.
Comment: This mutual understanding between China and Angola is essential for Pensana Rare Earth project, Pensana's Paul Atherley will blow in the same horn.
The U.S. Geological Survey and the Association of American State Geologists are pleased to announce $160,000 in funding for critical minerals projects in Indiana. These funds are for FY2020 under the USGS Mineral Resources Program's Earth Mapping Resources Initiative, or Earth MRI.

These funds include grants to the Indiana Geological Survey for geochemical analyses for areas of central and southern Indiana that have the potential for lithium, rare earth elements and other critical minerals and to preserve and make publicly available information on critical mineral resources

The Indiana Geological Survey will participate in two geochemistry reconnaissance surveys. The first survey will focus on underclay deposits in the Illinois Basin that have the potential for lithium and rare earth elements. The second survey will look at the rare earth element potential of phosphate rocks in the Appalachian Mountains. The two surveys will be done in cooperation with the Indiana, Illinois, Iowa, Kentucky, Maryland, Pennsylvania and West Virginia Geological Surveys.
EIT RawMaterials will manage the stakeholder consultation process across the entire raw materials value chain, working with an innovation project-driven community, which brings together more than 150 industrial and non-industrial actors with the common objective of securing the supply of sustainable raw and advanced materials for industrial ecosystems in order to build Europe's resilience and competitiveness.

The European Commission, represented by Vice President Šefčovič and Commissioner Breton, launched the European Raw Materials Alliance (ERMA), with the presence of other EU Institutions, national Ministers, industry, unions and civil society organisations as well as key industry stakeholders.
Comment: Yet another commission. To the very best of our knowledge there is no zero-impact mining and processing of rare earths. Will the EU continue funding commissions, until there is?