RE still on China Negative List; EU out of patience; India RE Demand Growth; Ionic Challenge; Rare Earth Assassination Case
Rare Earth 2020 June 26
What do fishing, news, press & publications, tobacco, law offices and rare earths have in common?
You guessed right. In China foreign direct investment in all these businesses and more is banned, forbidden, untouchable. Rare earth plus tungsten mining and beneficiation rank high on the just published "Special Management Measures for Foreign Investment Access (Negative List) (2020 Version)."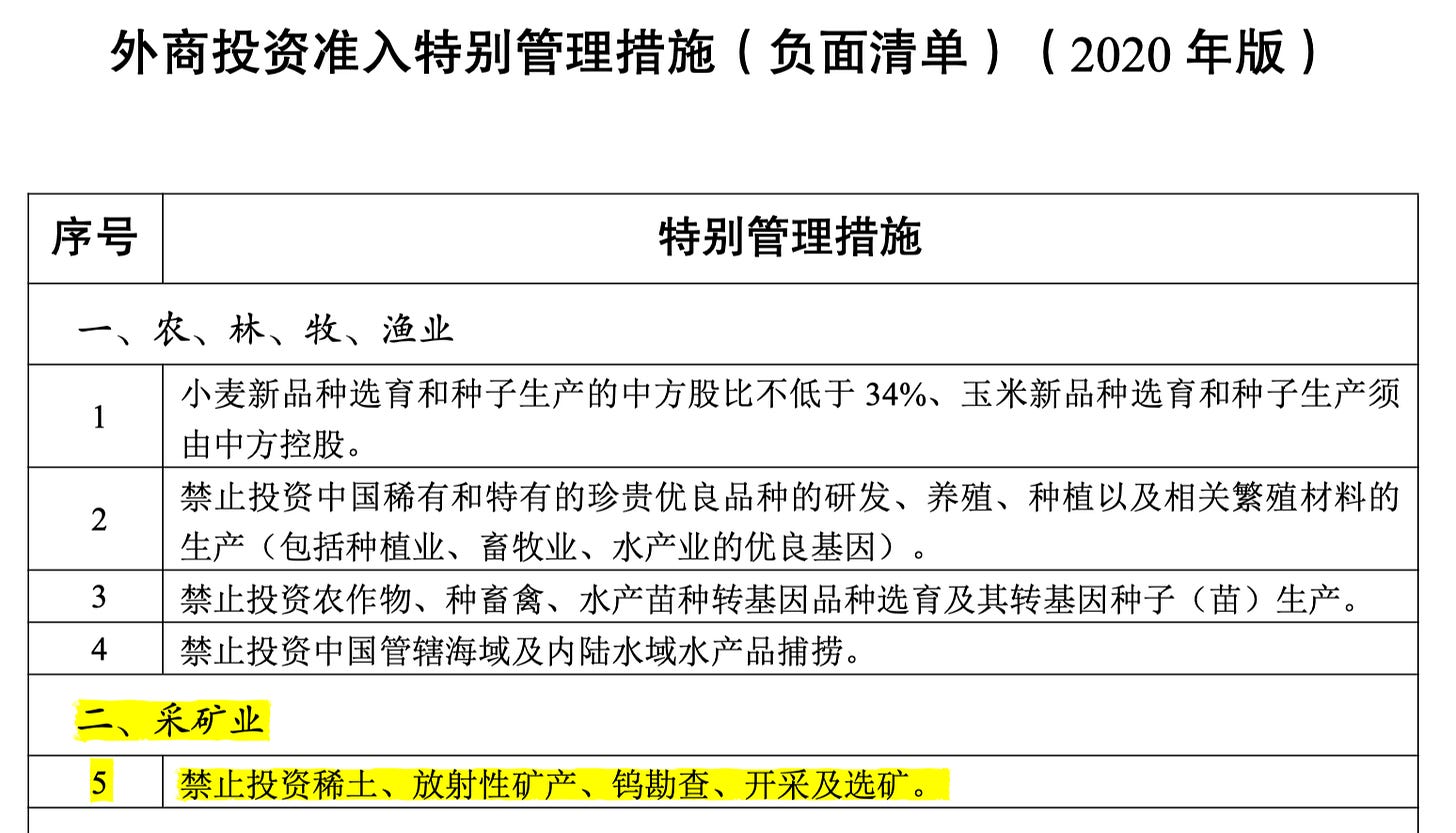 Responsible for the content of the Negative List is China's National Development & Reform Commission (NDRC), whose function is much more accurately described by its former name, State Planning Commission. The subordinated Ministry of Commerce was allowed to sign the list, too.
In terms of importance the NDRC ranks 3rd on the list of the China State Council after the Ministry of Foreign Affairs (there is no other country on this planet that wants to be loved so desperately) and the Ministry of Defense. Whatever the NDRC does is no accident, no honest mistake and can't possibly be subject to plausible denial.
How China wants to pursue its "going out" policy guidance in rare earth investment abroad while offering no reciprocity is somewhat mysterious.
What can be done about it? While it is unrealistic to assume that anyone would ever want to get into RE mining in China, as a matter of reciprocity it should be an open option. Not offering reciprocity displays a mindset, that is inconsistent with the role of self-appointed protector of globalisation.
In terms of lack of reciprocity, Australia's rejection of China Northern Rare Earth Group's (Baotou Steel "Baogang") investment in Northern Minerals is politically justified (but ruinous on the receiving end).

The EU lost patience with China long ago and has a history of being tough on China. Since 2013 the EU has delayed finalisation of a bilateral investment agreement with China, because the EU wants to see the required improvements implemented on the China side first as advance deliverables, before edging them in stone in an investment agreement.
The upcoming EU-China summit in September was canceled by the EU, ostensively for Corona.
The safe supply of rare earths has been a long standing issue between China and the EU and has been subject to regular government-to-government meetings of the raw materials groups from the EU Commission and China's Ministry of Industry & Information Technology.
How dependent is the EU on China's rare earths?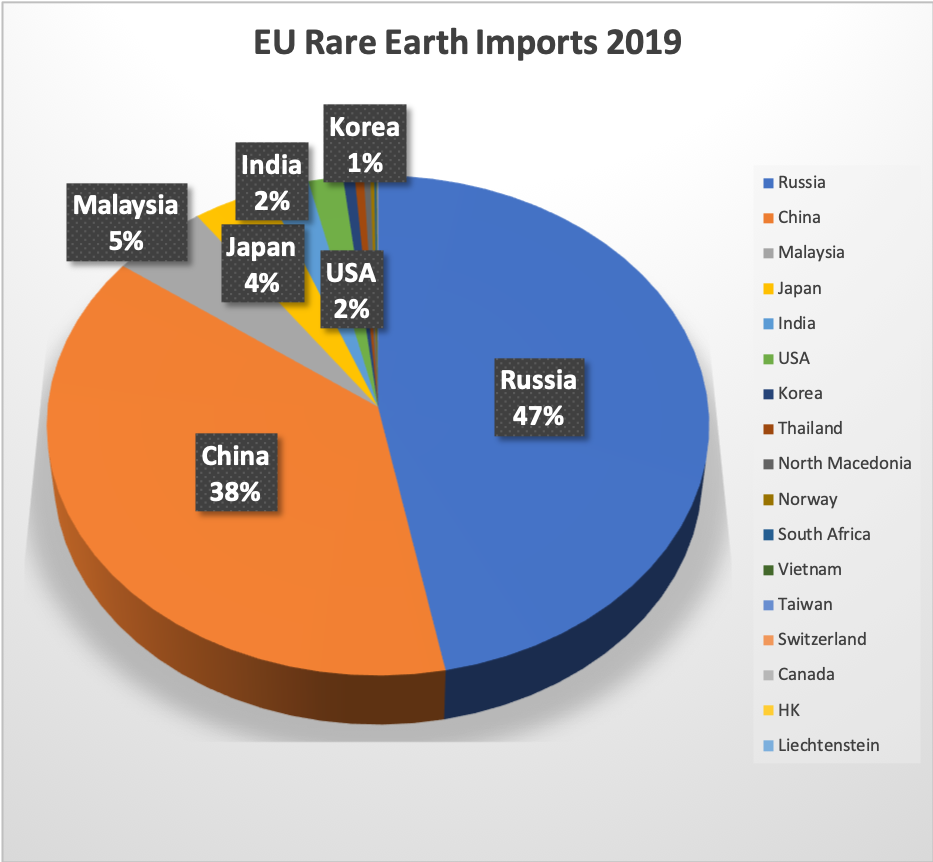 A basic structure of rare earth value chain exists in the EU. More than 50% of EU RE imports come from non-China origins. Russia last year succeeded in separating NdPr and may become a supplier. Still, there is significant RE-dependency on China.
China should de-risk itself in rare earth towards the rest of the world. The Chinese government knows, what to do.
If not, the Global Rare Earth Industry Association (REIA) is an ambitious RE lobby organisation, who can effectively raise issues with the EU Commission, as well as with REIA's its Chinese state-owned members.
Thanks for reading.
//Policy
The number of sectors that are off-limits for foreign investors will be cut to 33 in the 2020 version of the negative list from 40 in the 2019 version, according to a statement jointly released on Tuesday by the National Development and Reform Commission and the Ministry of Commerce.

China also unveiled its 2020 negative list for foreign investment in pilot free trade zones, cutting the number of prohibited industries to 30 from 37.

The two new negative lists will take effect on July 23.
Comment: The link to the official document 外商投资准入特别管理措施 (负面清单)(2020年版) is here.
"We continue to have an unbalanced trade and investment relationship," von der Leyen said, adding that China needed to conclude negotiations on a wide-ranging agreement.

Last year, the EU labeled the world's second-largest economy as a "systemic rival." Patience is now in short supply. And with Sino-American ties in pieces, President Xi can not afford to alienate the European bloc.

Still, his move for "a more stable and mature relationship" rings hollow in light of the bullying "Wolf Warrior" diplomacy which has angered key EU members such as France and Germany.
Deputy Premier John Barilaro announced restriction of development of thermal coal mining, and a focus on new exploration of other minerals in demand from the high tech sector, like copper, cobalt and rare earth minerals.

"Some areas are going to do it tougher than others," Mr Barilaro said.

"But we have to start planning today because we don't want to get to that cliff edge that one day it all ends."
The grant is part of DOE's Technology Commercialization Fund, which was created to promote DOE national laboratories' promising energy technology and expand the agency's efforts to foster commercial impacts developed from DOE research. The project will facilitate the expansion of technologies and methods for rare earth element extraction from coal ash that have been developed by researchers at the National Energy Technology Laboratory (NETL).

The $1.62 million, three-year project involves NETL, the University of Wyoming School of Energy Resources (SER), Campbell County, the city of Gillette and Energy Capital Economic Development. The project will create a pilot-scale production facility at the Advanced Carbon Products Innovation Center, now under development in Gillette, to demonstrate the economically viable production of rare earth elements from coal-related feedstocks.

"This will help us understand the commercial potential of rare earth element extraction from Wyoming coal and coal ash," says Scott Quillinan, director of SER's Center for Economic Geology Research (CEGR). "It also demonstrates the commitment and partnership that UW SER and CEGR have with Wyoming communities."
//Companies
The current mineral resource at Area 4 has been drilled to depths of between 125 to 225 vertical metres and is estimated to be 2.88 million tonnes Indicated grading 0.32% TREO, yielding 9,230 tonnes of REO, of which 7,050 tonnes are estimated to be heavy rare earth oxides (HREO), and 3.28 million tonnes Inferred grading 0.27% TREO yielding 8,970 tonnes of REO, of which 6,700 tonnes are estimated to be HREO.

The primary objective of the Lofdal joint venture is to double the current resource size with an additional 7,700 metres of drilling. The company has completed 4,447 metres of drilling to date in 21 holes at Area 4. Drilling operations have continued uninterrupted since beginning in early March, 2020, and remain on schedule; however, slight delays in receiving laboratory results have been realized due to COVID-19 restrictions in Namibia and Canada.
Comment: At least doubling the resource size would really be necessary, for Lofdal to begin making any commercial sense.
Ionic Rare Earths has highlighted the potential for its Makuutu Rare Earths project to be a globally significant source of heavy and critical rare earths after upgrading resources by 53 per cent.

Recent infill and resource extension drilling has allowed the company to increase resources at the project to 78.6 million tonnes (Mt) grading 840 parts per million (ppm) total rare earth oxides (TREO), or 66,000 contained tonnes of TREO.

Metallurgical test work has already confirmed that rare earth recovery of up to 75 per cent TREE-Ce can be achieved using a relatively simple method while recent optimisation work has increased rare earths element recovery in some lower recovery areas from less than 10 per cent TREO-Ce by seven fold.
Comment: Low-TREO ionic clay, but comparatively easy to separate. 78.600 million tons of mineable resource, 78.534 million tons of which are waste. If Ionic incur cost of only US$1/ton of resource, that will be US$1,190/ton of TREO, before separation cost. In situ leaching probably will save a lot of cost. China is experimenting with an environmentally benign in-situ leaching process in Ganzhou.
(The messy license cancelation case regarding Pacific Wildcat Reources Corp's Mrima Hills rare earth deposit in Kenya culminated in the assassination of Pacific Wildcat's Kenya partner Jacob Juma)
However, missing in the dock will be controversial businessman Jacob Juma, who was murdered in May 2016.

In fact, four months before his bullet-riddled Mercedes Benz was found at the exit of the Southern Bypass in Karen, Juma had accused the government of planning to assassinate him over his stand on corruption.

In yet another incident, Juma once sued Mr Balala when he was the Cabinet Secretary Mining. This is after a licence issued to Cortec Kenya Limited, a mining company in which he is a director, was cancelled by the Cabinet secretary. He also sensationally alleged that Balala had demanded a bribe of Sh80 million.

Additionally Cortec Kenya Limited sued the government at the International Centre for Settlement of Investment Disputes arising out of a mining project at Mrima Hill said to contain one of the world's largest undeveloped niobium and rare earth deposits worth Sh6.4 trillion. The company lost the case in October 2018, two years after Mr Juma's death.
Navajo Transitional Energy Company (NTEC) has announced that the company is partnering with Photosol US (Photosol) to establish the next step toward building a renewable energy portfolio on the Navajo Nation.

The companies submitted a proposal June 17 to site 200 MW, of a 400 MW, solar array on reclaimed Navajo Mine land.

Last year the company invested in Texas Mineral Resources, a company which is developing innovative extraction methods for rare earth minerals and metals, which are key component of solar panels and the batteries necessary to store solar energy and power electric vehicles.
//Market
The country's Central Electricity Authority (CEA) expects the overall renewable energy capacity to easily outpace the expansion of its coal-power fleet in the current decade.

It expects the share of renewable energy in India's overall generation capacity to rise to 34pc in the next 10 years from 23.6pc now. India is already working to expand its total renewable energy capacity to 175GW by 2022 and 435GW by 2030, from around 87GW now.

The bulk of the new capacity is planned to come from solar power plants, encouraged by the government's aim to raise solar energy capacity to 100GW in the next two years and about 280GW by 2030, from around 35GW now. Wind energy capacity is projected to grow to 140GW by 2030, from about 38GW at present.

The construction of solar photovoltaic (PV) complexes requires the use of multiple non-ferrous metals including tellurium, gallium, germanium, indium, silicon and cadmium — with variation depending on the technology being applied. The exact impact of India's wind energy capacity expansion will in part depend on the balance of onshore compared with offshore, with rare earths including dysprosium and praseodymium-neodymium more typically used in offshore sites.
//Mining
As clean energy expands, demand for metals and rare earth elements is growing along with it. Developing the wind turbines, solar panels and batteries that will power our low-carbon future requires cobalt, nickel, zinc, copper, silver, gold, lithium and more.

While these materials have historically been sourced on land, there's increasing interest in tapping into supplies found underwater, through deep-seabed mining. Yet a new Blue Paper commissioned by the High Level Panel for a Sustainable Ocean Economy finds that deep-seabed mining is a potentially risky proposition that may, in fact, be unnecessary given the rapid development of alternative technologies that reduce demand.
The technology basically involves accelerating projectiles to velocities that can exceed five times the speed of sound, and either slamming those projectiles into rock or shooting them into the sky.

An initial series of field trials, bankrolled by Shell and an undisclosed mining company, is due to wrap up this summer at HyperSciences' MineLab test facility near Sandpoint, Idaho. "Then our partners will fund a Phase 2 of that drilling project," Russell said.

HyperSciences' blasting system is designed to gain access to geothermal heat sources, as well as resources ranging from platinum and high-quality quartz to lithium and rare-earth minerals.
//Links
Rare Earth Elements: China's Vibranium?