RE Politics; Skewed Stats; Lynas Prenup with DoD sealed; Clockwork ARU; Many Cooks;
Rare Earth 2020 July 29
Here is, what perspired these days:
The US-Senate's S. 4049 requires the Department of Defense to eliminate unsecure sources of supply of rare earth by 2030.

The US Congress's H.R. 6395 requires the entire US to be independent of rare earth supplies from China by 2035.
According to Jack Lifton, the DoD theoretical demand for REO is ~3,000 t/year. Demand of the entire US is about 7 times as much.
A lot of water will run down the Potomac and Yellow rivers until due date.
Meanwhile, Yahoo! Japan features an article from Korea-Japan newsservice Chuo Nippo (中央日報), something like Breitbart for North-Asians, which throws, among many other retaliation possibilities, the rare earth boycott back into the game. Korean rare earth related shares rose strongly on the US ordering the closure of China's Houston consulate, which was on the speculative assumption that China may impose a RE boycott on the US, which punters believe may benefit Korean rare earth related companies.

Also an article on the Chinese site Finance World keeps pointing at embargo direction, blowing in the same horn as CCP-powered Global Times, whose ultra-nationalist editor Hu Xijin keeps calling for a rare earth embargo.
Loose cannons out and about.
In order to be effective, China would need to stop exporting both, rare earth compounds and permanent magnets, impact of such combination would be enormous.
As we said before about a rare earth embargo, China got away with it once. It inflicted a lot of damage also on China itself. If China chooses now to do it again, then there won't be a third time.
This was circulating on Twitter: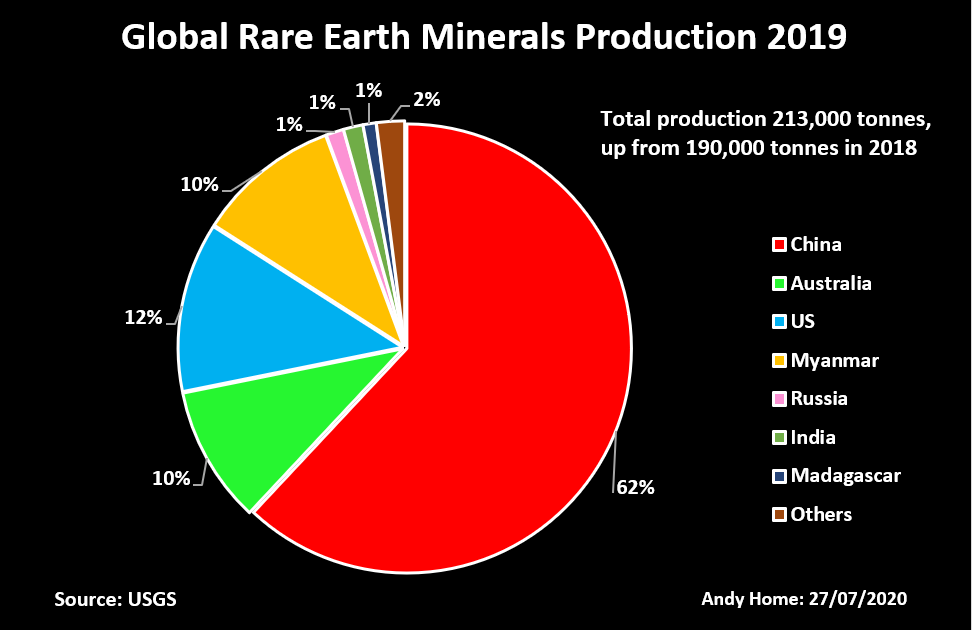 So. we looked at what USGS have to say about it:

and went on to read the 2020 Rare Earths publication of USGS: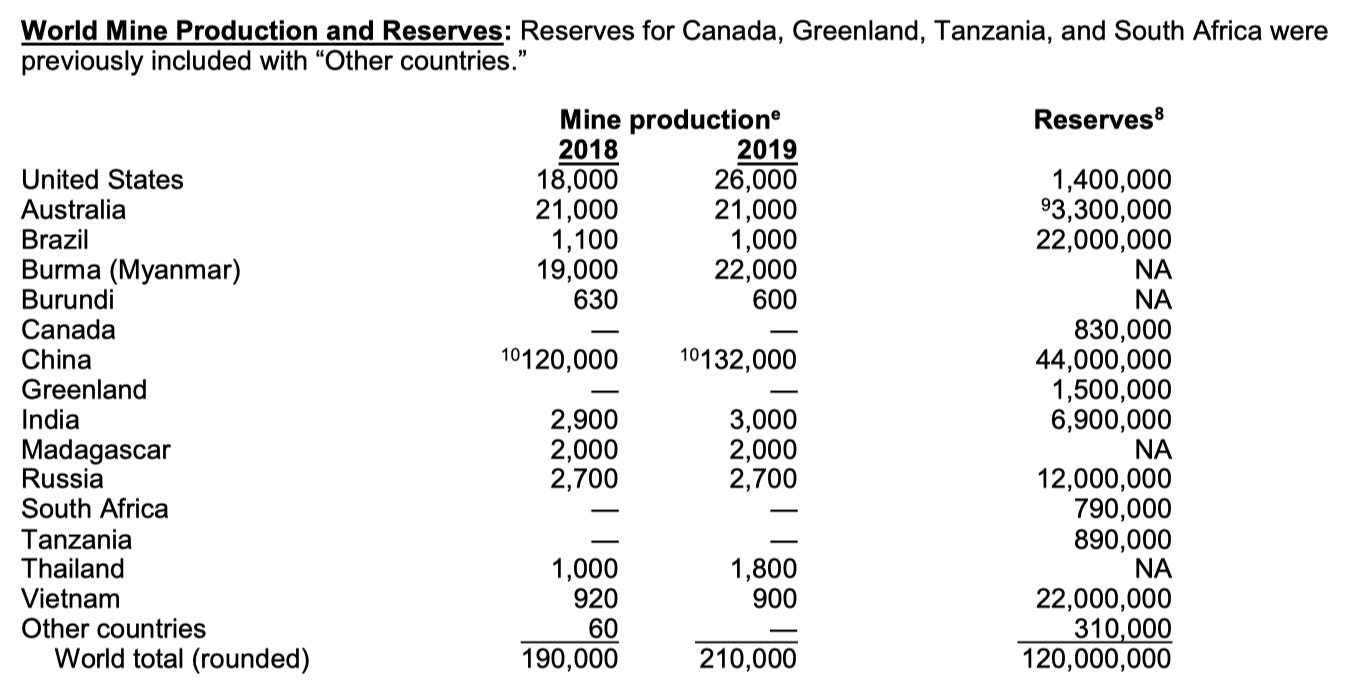 Finally, we compared the China mining quota, which matches finished rare earth product output quota of 132,000 t 1:1:

Everything matches beautifully, we are done here! Lets go for lunch!
But wait, perhaps you want to have a look at this first: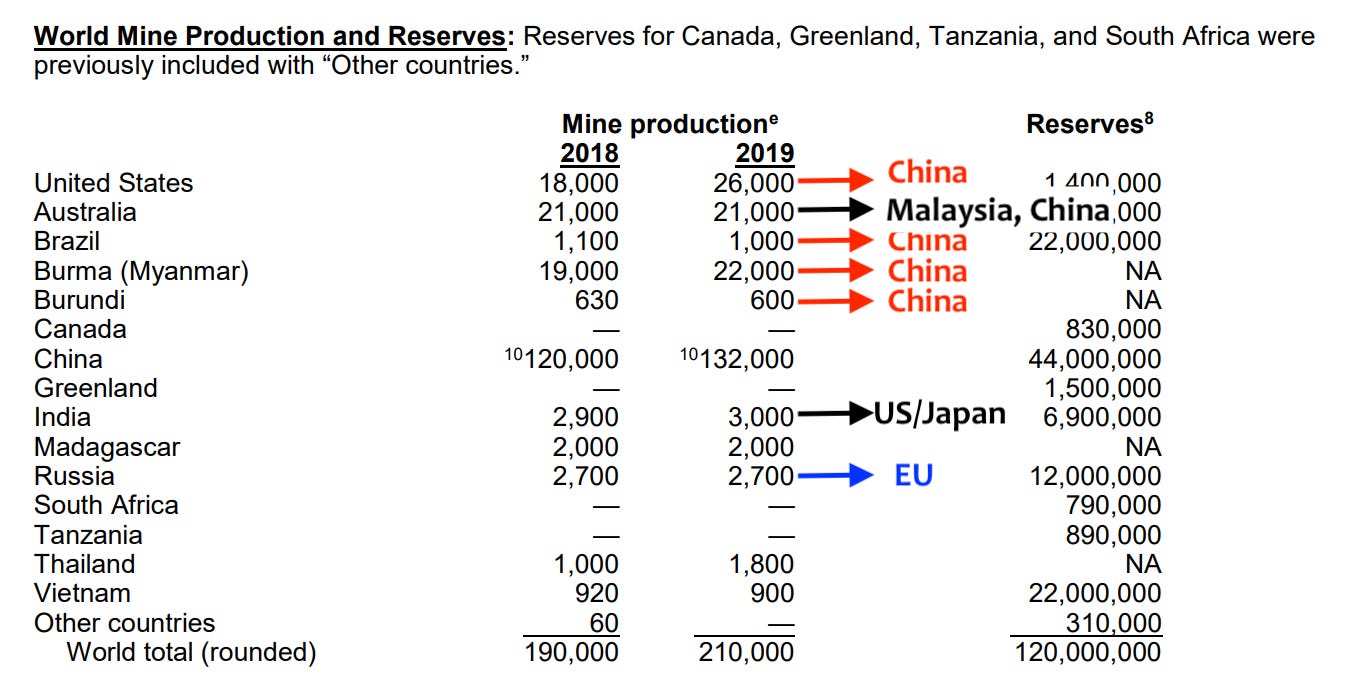 The entire US output of bastnaesite concentrate went to China, so did Myanmar's output of ionised clay concentrate, and so on, all-in ca. 50,000 t.
What happened to these 50,000 t? They are not in the quota. Or are they?
We know for certain, that among the Big 6 rare earth groups several companies have a mining quota, but they do not mine.
We also know, that China Aluminium group member Shenghe Resources have no separation quota, but a mining quota. Shenghe Resources import a quantity larger than the mining quota of the entire China Aluminium group in form of bastnaesite concentrate from USA, Mountain Pass.
On top of the a.m. there are clandestine monazite imports to China of uncertain quantity.
What is happening here?
If we assume, that the USGS numbers are correct and China really mined 132,000 t and then we add the imports, then China output of separated rare earth products 2019 could potentially have been >180,000 t, 36% above plan.
If so, then nothing would have changed in China regarding illegal output ("black rare earth") during the past 5 years and all measures taken would have been a complete failure.
Besides, REO market prices should have sunken under the resulting oversupply.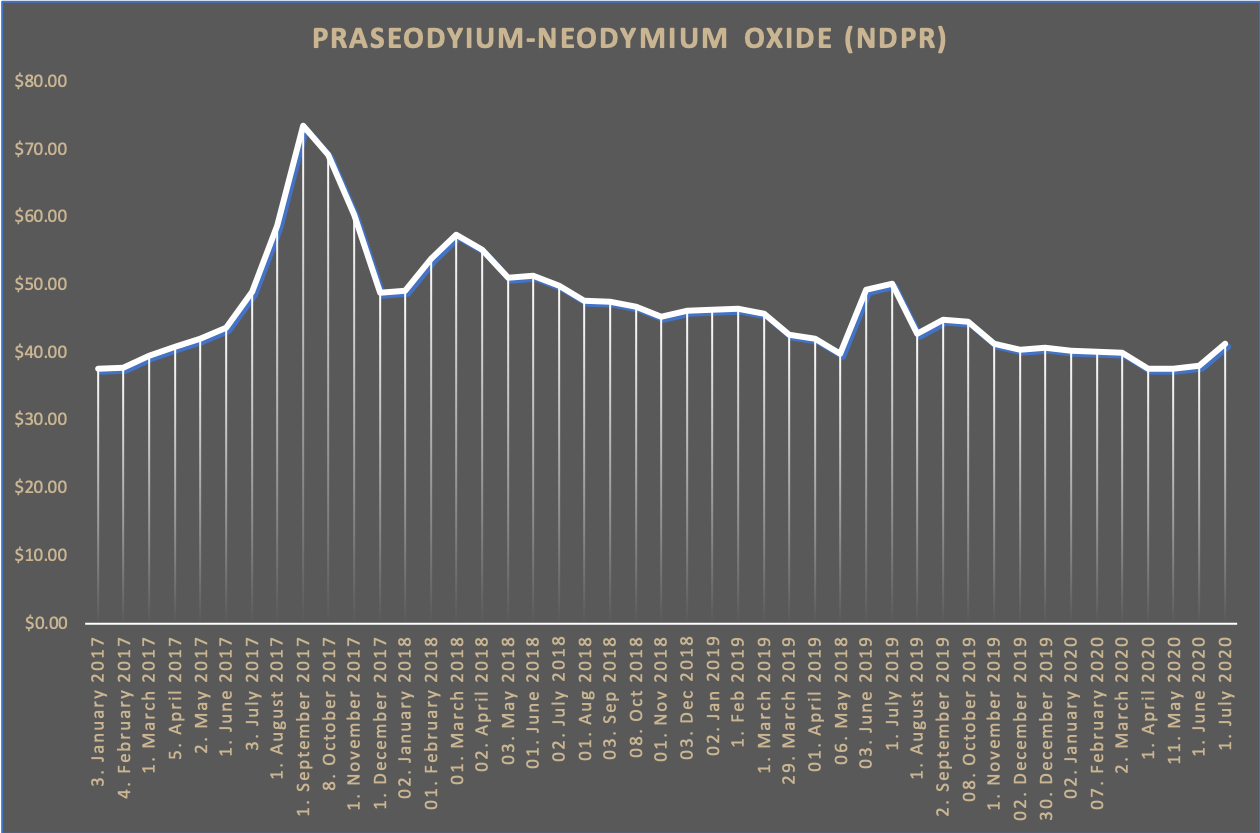 But, if we assume that China succeeded in rigidly enforcing its separated rare earth product quota and books imports under the mining quota, then China may have only mined ~82,000 t as TREO in 2019.
That would actually be a perfect fit for China's domestic rare earth resource preservation objective.
Under such assumption, thanks to China's smoke screen, USGS China RE mining assessment for 2019 would be off by nearly 38% and previous years would also be wrong.
USGS know that, hence you will find in the small print:

Don't believe in statistics, that you haven't cooked-up yourself.
Asia Times hosted a webinar with Dr. Robert Atkinson, the CEO of the Institute for Innovation and Information Industry on the subject "Can US manufacturing make a comeback?" A very worthwhile webinars. Rare earths fit right in.
For our next issue we'll crunch a couple of numbers again.
Thanks for reading!
//Companies
Geomega Resources Inc, which is a rare earth cleantech developer for mining and recycling, is partnering up with USA Rare Earth, which is a funding and development partner of the Round Top Heavy Rare Earth and Critical Minerals Project in West Texas, to recycle rare earth–containing production waste. This waste comes from USA Rare Earth's production of sintered neodymium iron boron permanent magnets (sintered neo magnets) in the US.
Nolans is one of the world's largest and most intensively explored NdPr deposits of its kind with the potential to produce around 10 per cent of global demand for NdPr magnet feed and plans to mine over a million tonnes of ore per year.

The company has been in negotiations with the Northern Australia Infrastructure Facility on finance to help get the project started.

This latest regulatory milestone follows the project being awarded Major Project status by the Territory Government, and agreement with Anmatyerr Native Title Holders to provide access for the project in June this year.

The project has an initial operational life of 33 to 39 years.

Arafura Resources will now be required to lodge a Mining Management Plan with the Department of Primary Industry and Resources and hold a valid authorisation under the Mining Management Act 2001 before any ground activity can start.

Once authorisation under the Mining Management Act 2001 is obtained and a mining management plan approved, construction and mine development activities can commence. Arafura Resources hopes to start work on construction at the site next year.
Comment: Exemplary execution, feasibility at current prices remains an issue.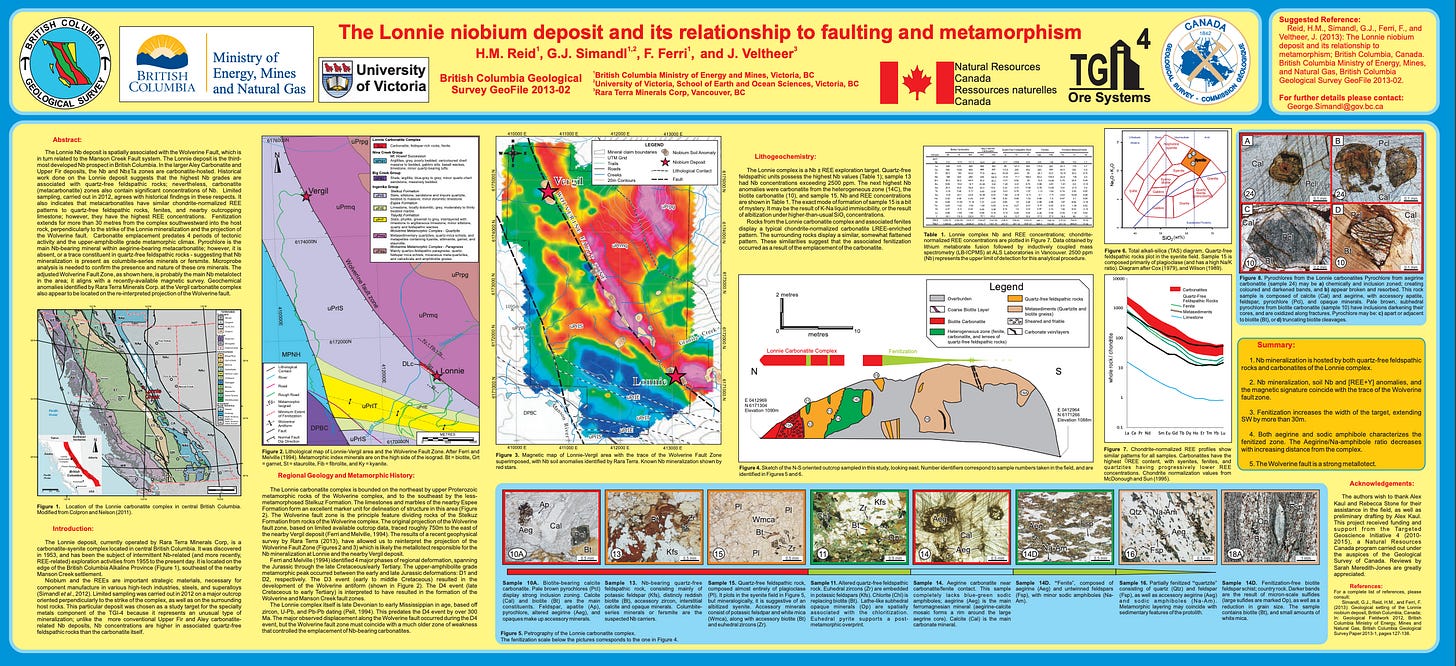 American Manganese Inc (CVE:AMY) (OTCPINK:AMYZF) has unveiled plans to spin out its mining assets in British Columbia (BC) into a separate company to take advantage of the current bull market in precious and base metals.

The Rocher DeBoule property was in a good position to capitalize on this upsurge, he added, being an iron oxide copper gold ore (IOCG) target with past production.

Elsewhere, the group's rare earth Lonnie-Virgil property comprises claims over 1,817 acres, south-east of Manson Creek in North Central British Columbia.

It contains two showings defined by trenching with a combined strike length of 620 metres with widths ranging from 1-40 meters, grading 0.20% niobium. A 56-meter chip sample on the Brent carbonatite assayed .05% lanthanum, .03% neodymium and .15% titanium.

"By contributing these mineral claims to a separate, newly formed company, AMY believes shareholders will benefit from the market's view on these assets," the firm said.
Pensana says the company brings an Afri-centric engineering capacity to the team and will help coordinate the bankable feasibility study (BFS) for the project.

Paradigm will also be responsible for the front-end engineering design of Longonjo's power, water and waste services, offices, workshops, camp infrastructure and off-mine facilities, such as rail and port facilities.

Meanwhile, SRK Consulting is working towards a revised mineral resource estimate, which will be published in September.

Mining consultancy Snowden is preparing an openpit mine optimisation, design and cost studies for the BFS, which is due in mid-October.

Paradigm will also work alongside Wood Group, which is managing the metallurgical pilot plant test work that is under way at ALS Metallurgy, in Perth.

Construction is expected to start in the first quarter of next year.
Comment: 4 consultants, all of them partly responsible for the BFS.
Mapping and rock chip sampling have provided the potential to extend the resource area by around three times the original size.

This comes as the company continues work to convert the NI 43-101 resource to JORC 2012-compliant status.

The NI 43-101 inferred resource stands at 112 million tonnes at a grade of 371.5ppm REE for 83.3 million ounces while the indicated resource is 16.2 million tonnes at 373.4ppm for 12.1 million pounds.

ARR's La Paz deposit, although of relatively low grade, stands apart due to its very large scale, shallow nature, uncomplicated mineralogy and lack of uranium and thorium.

Wood Plc, an international consultancy group, has provided a critique of the preliminary metallurgical test-work conducted by Saskatchewan Research Council with recommendations to further upgrade the metallurgical flow chart.
Comment: La Paz TREO of 0.03715% or 41,000 t means at an average recovery rate of 90% it yields 24,000 t of REO, barely more than Bokan Dotson Ridge, just 1¼ year worth of US rare earth demand.
Hexagon Energy Materials (ASX:HXG) continues to focus on developing a downstream rare earth processing business while also seeking an appropriate strategic partner.

In its June quarterly report, Hexagon highlighted ongoing development of the RapidSX™ for rare earth separation of which the company holds an option to acquire a 49% interest.
Comment: Do Ucore agree?
//Politics
Tensions over Taiwan were reverberating through China's foreign ministry again last week, when it announced sanctions against American giant Lockheed Martin for its role in a $620 million upgrade of a Taiwanese missile system that has just been approved in Washington.

"To safeguard the country's interests, China has decided to take necessary steps and put sanctions on the main contractor for this sale, Lockheed Martin," a spokesman said.

But is that a signal that Beijing is going to take a more aggressive stance towards companies that do business with the Taiwanese in ways that it dislikes? Not necessarily. Commentary on Lockheed's case has highlighted that there isn't any mention of the form that the sanctions might take. Additionally, Lockheed doesn't do much business in China and the only Chinese-owned firm in its supply chain is easily replaced. That adds to speculation that Beijing has picked it out for censure because it is a less likely candidate to trigger a fuller row with Washington.

The sanctions may be meant more as a warning to others to avoid doing business with Taiwan in a similar manner. Yet previous threats to sanction companies like General Dynamics and Honeywell for arms sales to Taiwan don't seem to have been acted on.

If Beijing decides to maximise the pain from its sanctions a rare earths embargo could complicate Lockheed's operations – though enforcement could be tricky.
Comment: The fragmented landscape of US permanent magnet traders/processors does not allow tracing of one particular magnet, forward to Lockheed Martin, and back to it's rare earth supplier. On top of that, LM produce the world over, not only in the US.
"The Department of Defense entered into a $33.6 million agreement with eMagin Corporation to sustain and expand critical industrial base production of organic light-emitting diode (OLED) microdisplays capable of meeting high-performance requirements in resolution and brightness," the release said on Friday.

The Defense Department has also entered into a $14.9 million agreement with Meggitt-Rockmart to increase domestic production capability and capacity of military grade fuel bladders for use in a wide range of US military aircraft platforms, the release said.

In addition, the Defense Department entered into a $28.8 million agreement with Urban Mining Company to assist in developing a domestic source for Neodymium Iron Boron (NdFeB) rare earth permanent magnets, the release added.
The annual "must-pass" defense authorization legislation contains provisions to address supply chain domestication in light of the COVID-19 pandemic, which could have far reaching implications on the American economy and global trade agenda. While members of Congress and the administration have expressed concerns regarding supply chain vulnerabilities in the last several years, the recent shortages of medical equipment to combat the COVID-19 pandemic has refocused policy-makers' attention on the issue. These recent shortages, along with growing economic competition with China and other foreign actors across a wider range of sectors, including technology, energy, aviation, minerals, financial services and agriculture, have made taking action on supply chain domestication a matter of national security.
Rare earth producer Lynas Corp said on Monday it signed a contract with the U.S. Department of Defense to begin initial design work for its heavy rare earth separation facility in Texas that the Pentagon is providing initial funding for.

The 'Phase 1' funding forms part of a concerted effort by Washington to reduce the United States' reliance on China as the world's largest producer of the strategic minerals used to make missiles, cell phones to a ranger of other high-tech equipment.

Lynas, the largest rare earth producer outside China, expects to finish the planning and design work for the facility in fiscal 2021.
Last week also saw questions on individual companies being single-handedly raised by Tan Sri Noh Omar (Perikatan Nasional [PN]-Tanjong Karang), who sought explanations on decisions made by the previous administration. One of it was on the contentious vote to extend Lynas Malaysia Sdn Bhd's rare-earths plant licence by three years. The other was on land sales involving TH Plantations Bhd.

To both questions, the respective minister and deputy minister in charge gave a comprehensive account on events that took place under PH rule, raising questions on the decisions made in between, before concluding with hints that some decisions may be reversed.

Science, Technology and Innovation Minister Khairy Jamaluddin Abu Bakar made it clear that the renewal of Lynas' licence and the inclusion of terms to build a locally-based permanent disposal facility for its radioactive wastes by March next year were made by his predecessor.

The decision to renew Lynas' operating licence last year triggered a backlash from the public, with local residents saying they fear a repeat of the Asia Rare Earth Sdn Bhd disaster in Perak, where cases of birth defects and leukaemia were reported.
Comment: Lynas should get rolling on this real soon, as the chances of muddling through yet another year are dimming. With the US-DoD funded project Lynas have now officially become a hostile foreign force and moved into China's crosshairs. It wouldn't be China, if it wouldn't try to weigh in on Malaysia as regards Lynas.
U.S. reliance on critical energy materials from foreign countries and developing a reliable domestic supply of those same resources will be the main focus of a new congressional caucus organized by Rep. Eric Swalwell (D-Livermore) and other elected officials, according to a statement issued by the Tri-Valley congressman last week.

The Congressional Critical Materials Caucus -- co-chaired by Swalwell and Rep. Guy Reschenthaler (R-Penn.) -- aims to "help the United States develop the technical expertise and production capabilities to assure a long-term, secure and sustainable supply of energy critical elements (ECEs)" as well as educate other congressional leaders and the public about the matter.

"This caucus is a crucial step towards ensuring a reliable domestic supply of ECEs and rare earth elements," Swalwell said in a statement.
For many security experts, the solution is to decouple the economies of the two superpowers, carving the world into blocs led by United States and China respectively, limiting dependencies between the two.

Decoupling remains intensely controversial, given the implied upheaval in global supply chains, which would be very expensive, but many security experts have endorsed some degree of disengagement.

In the United States and some of its allies, much of the debate now revolves around the desirable degree of decoupling, rather than the idea of decoupling itself, and how to pursue engagement in the remaining areas.

But there are also broader concerns about supply chains that depend on manufacturers in China, including for computers, telecoms equipment, medical equipment, steel and rare earth minerals.

So far, U.S. policymakers appear more keen on decoupling than their counterparts in China, who remain publicly committed to a more integrated global economic system.

For security experts in China, however, there are growing concerns about dependence on imported raw materials, especially oil and gas, as well as global payments and currency systems dominated by the United States.
---
Last but not least, here something off-topic for you: