RE FUBAR? Here's The Cure; Pentagon RE-marries Lynas-Blue & MP; Apple RE-Use RE; NATO Funds Nano-Cerium; ARU's Hurdle Race; Lynas Output -50%; Pensana Blitz; Vital Sign of Life;
We all know the happy rare earth investor equation:

Electric vehicle demand up means higher demand for magnets, therefore higher demand for "NdPr", which means profits for the RE miners, driving up the share price, which gives rise to shareholders celebrating.
Many junior RE miners like to present it like this, to keep things simple for "EV investors."
Unfortunately, rare earth is not single/dual element production. It is multi-element production, as they all stick to one-another in their respective ores.
In other words: You can't have the one without the other.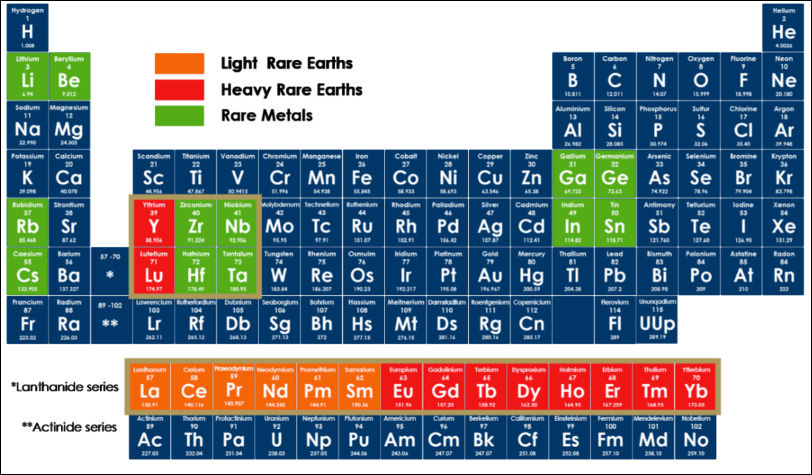 Promethium (Pm) can be considered "extinct" in nature
In order to keep the supply/demand balance in NdPr or single element neodymium, like China's Ministry of Industry & Information Technology (MIIT) tries to force twice per year, you will overproduce some rare earth elements and underproduce some others.
Every RE deposit is different, but globally speaking, if you produce 1 ton of NdPr, you will also turn out 1.5 tons of lanthanum and 1.9 tons of cerium. Trouble is, that there is only demand for 1 ton of lanthanum and 1.3 tons of cerium, 30-40% less than output. Bump.
That is, why lanthanum and cerium oxide cost less than US$2/kg, certainly way below cost, while NdPr can be priced 20 times higher.
But it gets even better!
Lanthanum's main application is in fluid cracking catalyst for gasoline production.

One of Cerium's major application is a catalytic converters in combustion engine vehicles.
What exactly would you expect to happen to lanthanum and cerium demand, if EV take over, combustion engine cars disappear and the bottom falls out under gasoline demand?
Little wonder, that China pours most of research funds and effort into search for new applications of these two, lanthanum and cerium, and be it only to maintain current demand volume.
There are even new applications in cattle feed, you literally "feed it to the pigs". That is also known as desperation.
The fun does not stop here!
If you artificially keep supply and demand balanced in neodymium, apart from flooding the market with lanthanum and cerium, you will also constantly oversupply the market for yttrium at a rate of 1.45 times of demand, turn out 2.5 times more samarium and 2 times more europium than needed, while at the same time constantly under-supplying the market for dysprosium, terbium, gadolinium and holmium.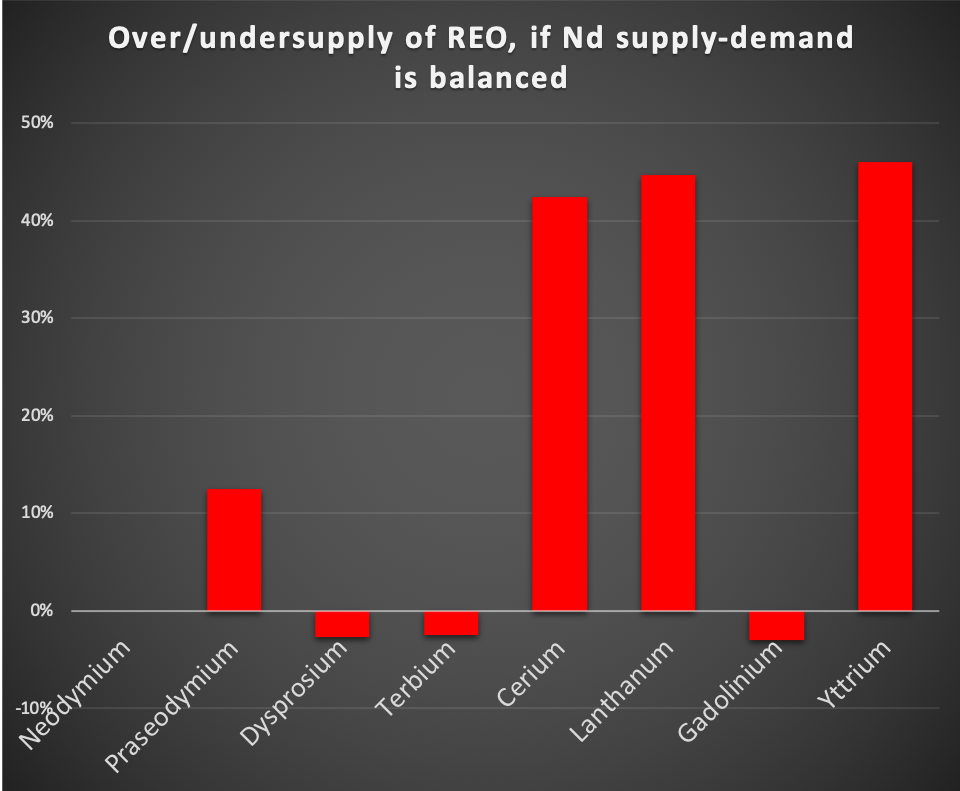 The big volumes are La, Ce and Y.
That is not exactly the essence of "sustainable", and it is happening.
You build up huge stocks of unneeded rare earth compounds on the one hand, with persistent shortages for needed rare earth compounds on the other hand.
If you look closely, you will find that China's rare earth makers keep an inventory, that is higher than their sales/production volume per year. And inventory is growing, of course.
Once in a while you make part of the inventory disappear through a practise that the Japanese call "tobashi". You have high stocks and your financial year ends on December 31. You have a non-consolidated subsidiary (or good friend), whose financial year ends on March 31. You invoice part of your inventory to this subsidiary on December 30, and past December 31 you buy back the same inventory bit by bit during the following 3 months, so it is not too obvious. The receivables disappear through wash-out and the goods have never left your warehouse.
That is, why Chinese rare earth retail stock investors look in China-listed RE companies opportunities of inventory revaluation, as it is the only way to make money out of ever mounting inventory.
In a regular market economy world, how do you turn out the much needed growth materials neodymium, praseodymium, dysprosium and terbium, without over-supplying other elements as massively?
A hint for you: NdFeB magnets contain ~25-30% of the rare earth elements neodymium (Nd), praseodymium (Pr) (as "NdPr"), and a token percentage dysprosium (Dy) and terbium (Tb) for heat resistance.
Yes, right!
You recycle end-of-life permanent magnets, which yields these four much-needed rare earth elements.
The impact of recycling of permanent magnets would be, that eventually the incredibly wasteful, value-destructive imbalance of rare earth mine production can be substantially equalised. The more recycling product is around, the less the demand for primary raw material from mining and therefore less output of oversupplied RE materials.
Perhaps even a more level playing field for junior miners may come about from recycling rare earth magnets.
China has of course long realised the potential of permanent magnet recycling, however, it was turned environmentally and orderly-marketing-wise into a complete pig's breakfast and regulators had to forcefully intervene, catch and close.
In terms of near-zero environmental impact rare earth recycling, there are some very advanced projects in US, EU, Japan and Canada, some of which are listed on stock exchanges. One of them will start production in 2021.
These companies deserve much, much more attention than they currently get. For if successful, they will actually substantially shape the rare earth business of the future.
Will recycling be profitable?
The above mentioned complete pigs breakfast extends through China's entire value chain of rare earth, up to the highest added-value export product, EV, which eventually is to earn all the money burned throughout the value chain.
In our view, for as long as China wants to dominate RE and its value chain (read "forever"), manipulates the market and abuses its VAT system for directing volumes to the higher added-value items, recycling of permanent magnets should remain profitable for the foreseeable future.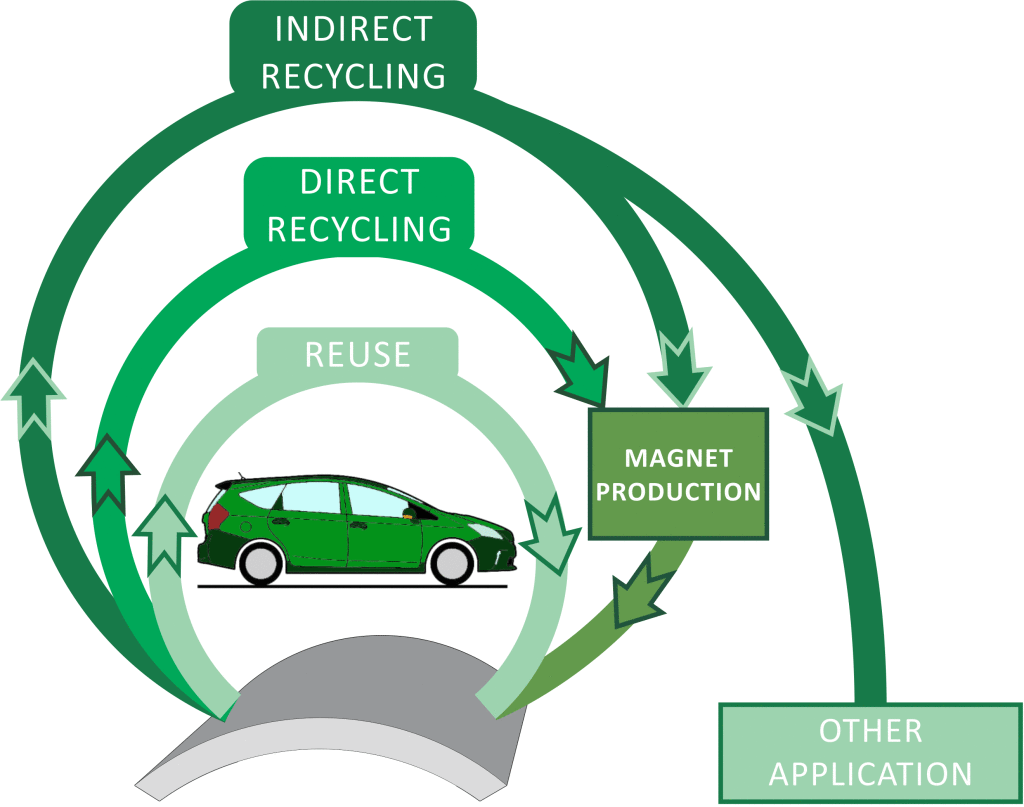 Source: European Training Network for the Design and Recycling of Rare-Earth Permanent Magnet Motors and Generators in Hybrid and Full Electric Vehicles (DEMETER)
On a side note, rare earth as primary materials are not entitled to a VAT refund upon export from China, while permanent magnets get the full VAT refunded upon export, 13%. That applies also to the downstream products.
China-domestic, VAT is a cost-neutral in-out tax.
Since there is no VAT refund upon export from China for rare earths, it means that foreign users of rare earth already have a 13% raw material cost disadvantage vis-a-vis China domestic rare earth users. That disadvantage is going to persist, as up-and-coming western junior miners will of course seek to compete with Chinese export rare earths on the 13% higher level.
As painful as and tedious as it may be, no matter what the outcome of the trade war, market-economy governments must engage China on it's VAT-based trade manipulation as a whole. Abolishment of the VAT-based trade manipulation will deny China's Ministry of Finance much of the funds it needs for subsidising production of subsequently unfairly priced export products.
Not addressing this matter will only perpetuate China's predator mercantilism. Perhaps the one or the other politician may decide to no longer kick the bucket down the alley and finally address the issue.
The options are:
Either no VAT refund upon export for all China export products

An equal rate of VAT refund upon export for all China export products

Full VAT refund upon export for all China export products
Whatever the choice, it must be edged in stone. No in-betweenies and "adjustments" anymore thereafter.
Nothing else will work in eliminating the China trade imbalance problem.
Argus Metals, our favourite metal consultants, have put out a white paper "How to build a rare earth supply chain". It doesn't exactly live up to its title. The content is actually interviews with two veteran rare-earthers, Pol Le Roux and Ian Higgins, both always worth listening to, whatever they have to say.
Thanks for reading, have a great weekend ahead!
//Companies
Arafura Resources Ltd (ASX:ARU) has jumped the final regulatory hurdle for the Nolans Neodymium-Praseodymium (NdPr) Project in the Northern Territory with the granting of mineral leases (MLs) by the NT Government.

This key milestone secures the Nolans Bore mineral resource for an initial period of 25 years and shares have jumped more than 8% at opening to 6.2 cents.

The MLs, which will host the Nolans mine, process plant, waste storage facilities and accommodation village, were granted to Arafura's wholly-owned subsidiary Arafura Rare Earths Pty Ltd (ARE) by the Northern Territory Minister for Primary Industry and Resources, Paul Kirby.
Rare earths producer Lynas Corp Ltd said on Wednesday output nearly halved in the fourth quarter, hit by coronavirus-triggered halts at its Malaysian processing plant and flagship mine in Australia.

Production at the company's Mt Weld mine in Western Australia restarted in mid-June after a two-month hiatus, while the Malaysian plant reopened in early May having been shuttered for more than a month under government orders.

Despite the restart, Lynas said its Malaysian plant was operating at only 75% capacity and production at Mt Weld was aligned to the rates in the southeast Asia nation.

Production of neodymium and praseodymium (NdPr) fell to 775 tonnes in the quarter ended June 30, from 1,505 tonnes a year earlier, missing a UBS estimate of 900 tonnes. Output was also 43% lower than the third quarter.

According to documents seen by Reuters, the U.S. Department of Defense resumed funding for the company's heavy rare earths separation facility in Texas, though Lynas did not confirm the report.

It instead said it was "continuing to work with all relevant stakeholders to address outstanding issues."
Ionic is developing the Makuutu rare earths project to be a globally significant producer of both heavy rare earths oxides and critical rare earth oxides.

The company's aim is to provide a viable large-scale, low-cost alternative supply chain outside of China.

Ionic presently owns 31 per cent of the Makuutu rare earths project and will move to 60 per cent ownership through an earn-in arrangement.
Vital Metals says preparation of its Nechalacho site, on Thor Lake, will start in September and October then continue in the first three months of next year.

Vital says mining operations are expected to begin in April 2021, with work at a rare-earth extraction facility beginning in October 2021.

Vital's latest update, issued last week, states a $3.7-million ore sorting plant is being manufactured that will sit within a 40-foot shipping container at the site.

The Nechalacho project had been inactive for years thanks to a previously quiet market for rare earth elements. In 2015, for example, some prices fell by as much as 50 percent – meaning almost no work took place at Nechalacho in 2016 and 2017.

Avalon Advanced Materials subsequently sold its Nechalacho near-surface mineral rights to a company named Cheetah Resources, which is now entirely owned by Vital Metals.
Comment: Thor Lake has been a black hole for long. Let's hope, this time it is different.
Premier African Minerals (Premier), which owns RHA Tungsten project in Hwange, has agreed with Lithium Consolidated Ltd (Li3) to extend the due diligence period on the portfolio of hardrock lithium until Friday this week due to continuous interruptions as a result of COVID-19 issues in Zimbabwe.

The company has a diverse portfolio of projects which include tungsten, rare earth elements, lithium and tantalum in Zimbabwe, encompassing brownfield projects with near-term production potential to grassroots exploration.
Apple says it has commitments from over 70 suppliers to use 100% renewable energy for Apple production. Jackson said the company hopes the announcement will rally more suppliers to work with it to limit their carbon footprint. Apple is also working with the US-China Green Fund to invest $100 million in energy efficiency projects for its suppliers.

Apple is already starting to change the materials it works with. The company said Tuesday that it's begun to use a new type of aluminum to make its 16-inch MacBook Pros. No carbon is used when the aluminum is smelted, according to Apple.

Apple has also reduced emissions from gases used in manufacturing its electronics.

The company said it has a new robot that's designed to disassemble an iPhone component that contains valuable rare earth elements, which can be reused in future devices. According to Apple, all iPhones, iPads, Macs and Apple Watches released in the last year now have recycled rare earth elements.
Comment: In order to extract commercial quantities of RE from iPhones, you would have to recycle more than a billion of them in a year. Re-use of components, as described here, makes sense.
Chairman Paul Atherley said the miner planned to raise between $30-$50 million of working capital from the banks while funds would be tapped for about $25 million (19.7 million pounds) in equity for the construction of the mine.

State-owned China Great Wall Industry Corporation (CGWIC) will provide the rest of the up to $170 million required to build the rare earths project in Angola, Pensana said.
Comment: Well, "provide the rest" is perhaps a bit of a stretch. We discussed the CGWIC matter in our previous issue.
Platina Resources Ltd (ASX:PGM) (OTCMKTS:PTNUF) (FRA:P4R) will advance its trial of vat leaching for scandium extraction at its namesake project in NSW after initial tests highlighted its potential as a cheaper alternative to high-pressure acid leaching (HPAL).

A second phase of test work for the Platina Scandium Project (PSP) is planned to confirm these preliminary results and to obtain leach solutions for further processing.

These tests will determine whether scandium can be recovered using a solvent extraction process similar to that in use at titanium dioxide pigment plants to recover scandium from spent acid.
//Politics
Somaliland, the northern third of the country and a former British protectorate, however, is a happy exception. It gained its independence (and U.S. recognition) in 1960, only to forfeit it days later when it entered into a union with the rest of Somalia. It was an unhappy marriage marked by dictatorship in Mogadishu and later genocide against the Somaliland population. Finally, in 1991, Somaliland left the union and reasserted its independence. Today, it is peaceful, stable, and even without international recognition, one of the most democratic countries in Africa. It is the first country in the world, for example, to use biometric iris scans for voter registration.

Alas, the State Department ignores Somaliland and instead operates under the fiction that Somalia works. Like a gambler who believes he can redeem his losses with just one more hand at the blackjack table, it continues to pour money into the country, never mind the historical reverse correlation in Somalia between aid and stability. This fiction and gambler's addiction increasingly undermine vital U.S. national interests.

Mining is a new industry, but already Somaliland is becoming a resource for the rare elements necessary for modern electronics and cutting-edge technology. China has tried to monopolize rare earth elements both to bolster its own economy and, for strategic reasons, to deny them to the United States.

Here is where the State Department strategy is so narrow minded. Somaliland officials say that Chinese companies are aggressive in seeking mining concessions in Somaliland. Somaliland, which has traditionally been both moderate in its outlook and pro-Western, prefers to work with the United States and Europe. But, in order to maintain the fiction that Mogadishu is a success (even though a half billion dollars each year buys the Somali government control over just a few square blocks in the center of Mogadishu) the U.S. government dissuades American companies from signing separate contracts with authorities in Hargeisa, the Somaliland seat of government.
(Reuters) - The U.S. Department of Defense has resumed funding for two projects to process rare earth minerals for military weapons after a review found the grants are in the best interest of the U.S. government, according to documents seen by Reuters.

The Pentagon on April 22 awarded Australia's Lynas Corp and privately held MP Materials funding for rare earths separation facilities in Texas and California, respectively. Those decisions were put on hold on April 29, the Pentagon said, pending "further research."

Reuters reported in late April that a Chinese company's minority stake in MP Materials, which owns the only U.S. rare earths mine and is majority-controlled by a Chicago hedge fund, had prompted concerns from U.S. government scientists.

Several U.S. senators have pushed the Pentagon to fund only domestic rare earth projects.

After a legal and program review was completed by a third party, the Pentagon determined the award process was followed fairly and decided to resume funding for Lynas and MP, according to the documents, which were dated July 10.
The Department of Inorganic Chemistry of the University of Alicante has recently obtained funds for a new project within the framework of NATO – Call for proposals for Science for Peace and Security (SPS) – for minimize radiation damage. The purpose of the SPS Program is to promote cooperation on security issues between NATO member countries and Alliance partner countries, through scientific research, innovation and knowledge exchange activities.

Specifically, the objective of the project entitled "Novel Composites based on Cerium Oxide Nanoparticles and Carbon Enterosorbents for Acute Radiation Sickness", is to synthesize cerium oxide nanoparticles and activated carbon materials for the treatment of oxidative stress generated when a human being is exposed to radiation.
Nevertheless, Commonwealth Scientific and Industrial Research Organisation program director for mineral processing Dr Chris Vernon says that, fortunately, the industry has evolved enough to use tools able to predict where such minerals might be located.

He says: "In 1990 there seemed to be next to no rare earths in Australia, yet year on year since then, we've added to what we know we have. Today's inferred resources stand at more than 26 million tonnes, of which at least 4 million tonnes are economic to extract using today's technology."

He says: "An investor might be attracted by comparative rarity and the opportunity to break into a growing market, but the volatility of prices and uncertainty about how the market operates will hold them back.

You might read articles about how the price of rare earths has gone up, or down, but there's no public exchange mechanism. Most trading occurs privately and the price is not revealed."

Another thing about rare earths is that very often, when exploring grounds, operators end up with cheaper minerals like cerium or lanthanum, even if they are targeting high-value praseodymium, neodymium, and dysprosium, which might be discouraging.

Also, compared to more traditional minerals like copper or nickel, Vernon highlights that rare earth marketing is far more complex. "You need to be able to sell all of your metals, and that's unlikely to be to one buyer, except if you're exporting a mixed concentrate to someone already in the business – and that's likely to be in China," he says.

These specifics of the market have had a negative impact on attracting substantial investment and they are likely to remain amongst the factors keen investors have to consider further, before taking a leap.
Comment: Molycorp is still in people's minds.
//Market
The transition to electric vehicles and renewable sources of electricity, now gaining serious momentum, is largely about dispensing with fossil fuels. But in order to end our reliance on those substances, we need a growing supply of other materials—things like lithium and rare earth elements. Unlike fossil fuels, however, these materials need not be consumed when we put them to use. In principle, devices can be recycled at end of life to return these precious materials to a closed loop that could eventually minimize the need for mining.

But with solar arrays, wind turbines, and electric vehicles starting to hit the disposal stage in increasing numbers—while manufacturing skyrockets—is a new recycling industry actually ramping up to take advantage? The answer is "not really" for reasons both familiar and novel. A lot of heavy lifting remains between here and a closed loop for clean energy technologies.

Recycling is, in a way, an even more attractive proposition for rare earths than for lithium because of what's known as the "balance problem." While you can visit the cereal aisle and select only the cereals you want, rare earth mining means buying the whole aisle. Some of the rare earth elements are much more in demand than others, but the ratios found in ores bear no resemblance to their relative popularity. Looking at the lanthanide series on the periodic table, the elements used most today are found in the middle—neodymium and dysprosium, for example. Most ores, on the other hand, are enriched with one end of the series or the other. They also often contain radioactive thorium and uranium, adding another layer of complexity for mining operations to contend with.
Comment: QED.