Politics Trump Economics; New China Trade Secrets Protection; Flashback; More Love From Russia; Zimtu Zoom Again; Re-invented Wheels;
Rare Earth 2020 September 9
"Politics trump economics" is the postulate of Prof. John Mearsheimer of the University of Chicago, who has been on the question "Can China rise peacefully?" for a quarter of a century. His answer sounds a little bit like "No."
As China's relations with the economically developed world race for rockbottom, acclaimed China expert Bill Bishop posted on Twitter:
In our humble view it is not China rising, economically it is simply returning to a position it has held historically, as a resource-rich country owing to its size, which always housed a significant part of world population, historically good for 30% of world industrial output, demanding and receiving tributes from foreign countries.
China mastered cheap mass production already 400 years ago and exported its products to ready buyers.
But it also exported unique products.
Prussian porcelain manufacturer KPM (Königliche Porzellanmanufaktur Meissen) tried copying China's Jingdezhen porcelain for the longest time, and, charmingly, Jingdezhen in the early 1700s copied KPM products back, better than the original, owing to its unique clay resource paired with superb manufacturing skills.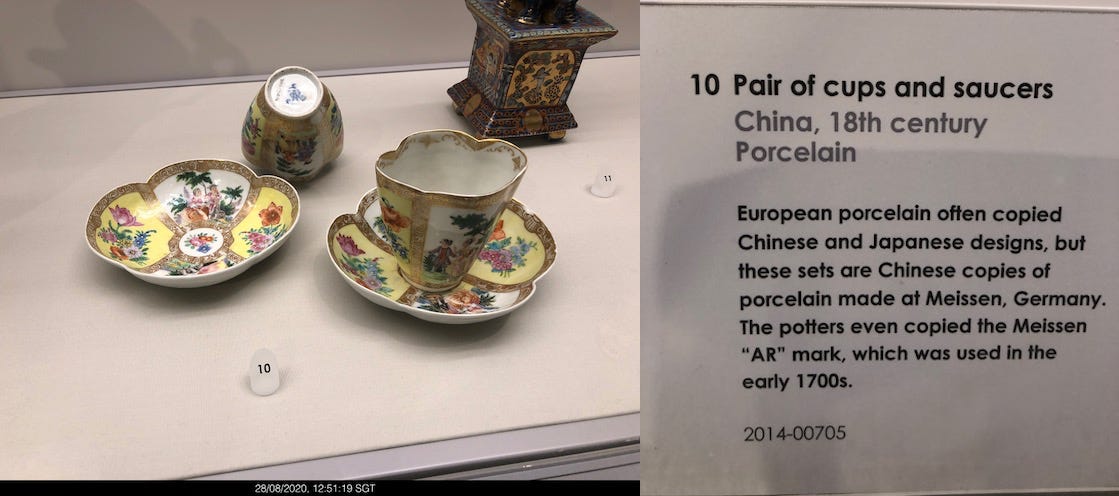 In rare earth we are dealing with a kind of Jingdezhen porcelain. For example, it is hardly likely that a certain rare earth hopeful, who rests his rare earth feasibility on lutetium, will be able to match China's Lu 99.9999% (6N) purity instantaneously, if ever.
The trade imbalance with China depleted western silver coffers and among the few western export products that became a hit in China was opium, at a time when China was under foreign rulership. The Manchurian Qing dynasty, who had imposed their culture and society on China, was inward looking and had corrupted and weakened the country, made China a somewhat easy prey for colonial powers. The century of humiliation ensued.
Fast forward, Lehman crisis. China's leaders looked at the nation's status quo and took stock: Corruption at an all time high, political principle sacrificed to economic growth, a central government perceived as weak with central government regulation literally evaporating at Beijing city limits, provincial governments successfully testing the limits of what is permissible, and a large, but hopelessly outdated military, tinkering on a Soviet aircraft carrier wreck, obtained by a Chinese visionary from Ukraine, while having no carrier-suitable aircraft.
Evil rumour at that time even had it, that a seat in the almighty Politbureau would be sold at RMB 200 million.
CCP leaders felt it was high time for a return to political principle, centralised law & order and time for overall assertiveness, domestically and internationally. The party elders made a consensus decision to induce change, to start what today is referred as the Great Rejuvenation of the Chinese Nation.
In our humble view, the 2010 Senkaku incident with the resulting rare earth crisis was one of the early expressions of that political change, 2 years before consensus candidate Xi Jin Ping was voted into power in late 2012 and thereafter took things completely in his own hands. While not everyone appreciated the outlook of a principled communist as sole "People's Leader", the course was set.
At around the same time, unnoticed by most, the EU and US government's attitude to China also changed. Without making much noise about it, a rising cascade of antidumping duties against Chinese products hit trade in a growing number of products and a hardened trade policy replaced previous complacency, citing fatigue with China's numerous unfulfilled trade promises.
China kept responding in kind, but so far it has been watchful of taking economic self-harm as a result of political action, as economic growth has been defining for the Chinese government's legitimacy after the June 4 "incident" in 1989.
General Secretary Xi Jin Ping has a history of brinkmanship in office, including risking his life when first abolishing party leadership consensus principle, then attacking party internal corruption and on top of that taking the relentless anticorruption campaign to the military, attacking simultaneously both legs power in China rests on, with nothing to back him up but Mao Zedong's much cited will of the people.
It worked.
Because of the experience of acrimonious brinkmanship working and with the political conviction that no sacrifice is too big for the Chinese people to further socialism with Chinese characteristics in the new era with Xi Jin Ping thought at the core, it has become entirely possible that Prof. Mearsheimer could be right, that politics do trump economics and that we may actually see a second (and probably final) rare earth crisis at a certain point.
---
China's Ministry of Justice published a draft for public comment:
Guiding Opinions on Strengthening the Protection of Commercial Secrets and Confidential Business Information in the Process of Administrative Licensing
and related
Regulations on the Protection of Trade Secrets (Draft for Soliciting Comments).
Essentially, it extends patent-like protection to non-patented company know-how. These proposed regulations would do away with the need for legal challenge under China's murky national security law.
This will also affect rare earth. For example, hiring knowledgeable staff from China rare earth majors in order to jump start rare earth processing, like this project, may expose the Chinese staff to legal challenges at home.
---
Flashback:
But there is growing concern over another key raw material for the electric car -- rare earth minerals.

Among the people sounding the alarm about the scarcity of rare earth metals is Mike Crane, who runs the growing EV and hybrid business at the fourth-largest global parts supplier ($20 billion in sales for 2009), Continental Corporation. Of course, Continental has a dog in this hunt. As an alternative to the permanent-magnet motors in most electric cars, it is deploying a brushed synchronous motor that uses no rare earth metals. The motor will be used in a European EV coming to the market next year.

"Rare earth availability is a serious problem as the EV market grows, though I'm not seeing much consternation about it yet," said Crane in an interview. "We could be trading dependence on one commodity, foreign oil, for another, rare earth metals."
That is 10 (ten) years ago. Groundhog Day.
---
Zimtu zoom again. We'll be there.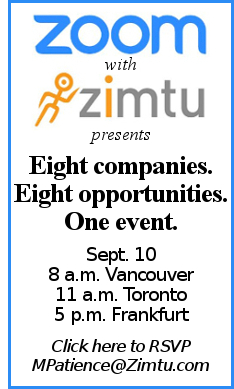 ---
Thanks for reading and have a glorious rest of the week!
//Companies
The mineral resource audit by SRK Consulting was the first independent audit of the Tomtor project. The content of niobium oxide in the ore is 5.9% (0.8 million tons), rare earth oxides - 15% (2 million tons), including 2.8% of neodymium and praseodymium oxides. Revealed resources amounted to 11.8 million tonnes of ore with a niobium oxide content of 6% and rare earth oxides of 15.1%.

The Tomtor deposit in the northwest of the Sakha Republic (Yakutia) is one of the richest in the world in terms of the content of rare earth metals in ore and the largest non-producing niobium project. In 2013, ICT Group established TriArk Mining, a subsidiary of which later received a license to develop Tomtor. In March 2020, Polymetal acquired 9.1% in TriArk for $ 20 million. The funds were used to prepare the PFS and the initial mineral resource and ore reserve estimate.
Comment: The original mineral resource assessment was 30 mio tons, TREO 7.3%, ~2.2 mio t. While now the total quantity of 2 mio t TREO is just a bit less than originally anticipated, the TREO percentage has doubled from the original assessment and the mineral resource is down to less than 1/2 of what it used to be.
~65% of Polymetal shares are held by Alexander Nesis, whose brother is CEO of Polymetal. Alexander Nesis also owns ICT Holdings, the mother company of ThreeArc. So, strictly speaking, he acquired through Polymetal shares in ThreeArc, which he already owns, while pulling in the 35% public shareholding of Polymetal. For a better understanding of Tomtor and the reasons for this transaction you can read the report Russia: The Tomtorskoye Rare Earth Project.
The project "Integrated Chemical and Metallurgical Complex for the Production of Titanium Dioxide, Rare and Rare Earth Metals at the Central Section of the Afrikand Perovskite-Titanomagnetite Ores" is being implemented in the Murmansk Region by ArcMineral-Resource JSC with the support of the regional government.

It is reported that the initiator of the project received an official positive opinion from the Federal Center for Project Finance JSC, independent expert opinions, including on the technological part, agreements were signed on the performance of exploration and research work with MAGE JSC and Geostroyproekt LLC, connection to networks of production facilities with IDGC of the North-West, PJSC . In addition, an auction was held in June, within the framework of which the project initiator was identified as a subsoil user of the Central section of the Afrikand field for 25 years.

According to Trenin, one of the main problems in the implementation of the project is that the subsoil area is located in close proximity to the military infrastructure facility. Under the terms of the license, mining operations are possible only after the relocation of the facilities of the Ministry of Defense, planned in 2021-2022, takes place.
Comment: Apparently this project has been pending since 2012. ArcMineral-Resource JSC (est. 2016) and its mother company, SGK ArcMineral LLC (est. 2011) are pre-revenue companies. The CEO of both companies is Andrei Trenin.
Appia Confirms High-Grade REE, Uranium and Gallium Mineralization from Ermacre, Oldman and Hawker Zones, Alces Lake Property and Announces Flow-Through Financing
Surface sample assay highlights include;

Ermacre: 4.209 wt% total rare earth oxide ("TREO") and 0.012 wt% gallium oxide ("Ga2O3") from an outcrop grab sample

Oldman (Line 2): 1.117 wt% TREO and 0.011 wt% Ga2O3 over 4.69 m channel sample length, including 2.609 wt% TREO over 1.67 m

Ken: 0.591 wt% TREO from an outcrop grab sample

Hawker: 0.171 wt% uranium oxide (U3O8) from an outcrop grab sample.

Mr. James Sykes, Vice-President, Exploration and Development, comments: "Having confirmed our recently discovered showings, Ermacre and Oldman, as high-grade REE surface exposures is very exciting for us. Ermacre, which is located 600 m NW of the Charles zone(s), now represents the most northern occurrence of high-grade REE mineralization exposed at surface on the Property. We will continue Phase II exploration (diamond drilling) along the Ermacre-Hinge to Charles-Wilson corridor in search for continuity of the REE minerals system (the "System") and additional high-grade REE zones.
//Policy
On Sept. 7, 2010, a Chinese trawler rammed into a Japan Coast Guard vessel near the Japanese-administered Senkaku Islands, which China claims and calls the Diaoyu. The captain of the trawler was detained, spiking tensions between the countries and a wave of anti-Japan protests across China.

Two weeks after the clash, a Japanese official bearing a secret message visited the Diaoyutai State Guest House in Beijing to meet with Dai Bingguo, then China's top diplomat.

Dai stood firm. He turned down the Japanese proposal and even refused to watch the video the Japanese official had brought of the crash. He did, however, promise to tell the Chinese leadership about it.

The following day, on Sept. 21, 2010, Chinese Premier Wen Jiabao said Beijing had no choice but turn to extreme measures. Chinese rare-earth exports began facing delays at customs that day.
The EU's newly released 10-point critical raw materials action plan calls for development of European supplies and supply chains, as well as further re-use and recycling. But for those materials not found on the continent, the European Commission says, "pilot partnerships with Canada, interested countries in Africa and the EU's neighbourhood will start as of 2021. In these and other fora of international co-operation, the commission will promote sustainable and responsible mining practices and transparency."

European Union looks to Canada and others for critical minerals supply

The commission made the proclamation September 3 as part of its Green Deal, a program to achieve a climate-neutral, digital economy and "stronger Europe." As has been the case in the U.S. over the last four years, the continent has been expressing increasing concern about security of supply for necessary resources. The EU also released an updated list of critical raw materials, the first since 2017.
"It's very difficult to sustain, it's expensive to sustain," said Jennifer Bisceglie, the chief executive officer of Interos, a supply-chain risk management company. "If you create an entire local supply chain, think about the expense in training the labor and getting the raw materials if they're not in your country." Large multinational corporations rely heavily on smaller suppliers who have access to localized raw materials they might not be able to get elsewhere, she said.

The bills introduced in the U.S. House and Senate offer tax incentives, which would make the domestic industry more competitive, according to Hu Yan, an analyst with SMM in Shanghai. Still, it will take time for countries to build up technology and equipment locally and environmental hurdles are higher for mining and exploration, which can cause significant damage. Yan said the U.S. -- which is rich in rare-earth resources but has high production costs including labor and energy -- needs to weigh those environmental costs against the benefit of an onshore industry.

Europe's plan is coming in for criticism from groups who say it focuses too much on mining and not enough on recycling. While officials across Europe and the U.S. may be hoping to end dependence on China for the raw materials, executives at rare earth miners say they only need to gain a portion of the market to incubate successful domestic industries.

"It doesn't need to be the entire industry, it just needs to be some significant part of the supply," said Jim Litinsky, the incoming CEO of MP Materials, the lone miner of rare earths in the U.S. "As long as there are one or a handful of major Western competitors that keeps the entire supply chain honest and shields us from getting squeezed."
//Mining
Keketuohai in Xinjiang used to be a major mining hotspot. For decades, the rare metals extracted from the earth supported China's scientific progress and national defense.
Comment: Details find here. This secrecy is not an exception, something the one or the other rare earth consultant tends to forget.
A vast transition from fossil fuels to renewable energy is crucial to slowing climate change. But building solar panels, wind turbines and other renewable energy infrastructure requires mining for materials. If not done responsibly, this may damage species and ecosystems.

In our research, published today, we mapped the world's potential mining areas and assessed how they overlap with biodiversity conservation sites.

We found renewable energy production will exacerbate the threat mining poses to biodiversity—the world's variety of animals and plants. It's fair to assume that in some places, the extraction of renewables minerals may cause more damage to nature than the climate change it averts.
Comment: Ignore at your peril
The research, published in Nature Communications investigated alternative sources of much sought after heavy rare earth metals used in every day modern technologies, focussing on subtropical soils in Northern Madagascar.

Using an intense X-ray source, called a "synchrotron," the team of researchers reveal at the atomic scale where the rare earths are in the soil. The team found that the rare earths are loosely stuck to the surfaces of clay particles. By comparing samples from a weathered volcanic complex in Madagascar to those mined in China, the study provides key insights into how nature produces easily-leachable, economically viable, rare earth deposits.

Lead author of the study Dr. Anouk Borst, from the University of St Andrews, said: "Some have wondered whether the Southern Chinese adsorption deposits are unique, but our study confirms that the Chinese soils are identical to deposits found in Madagascar, and that they formed in similar ways. The race is now on to find other deposits elsewhere in the world." This information will be an impetus to global exploration for critical metal resources outside China.
Comment: This is as old as Methuselah. Of course China's ionic clay is not unique. Among RE ionic clay deposits are:
Tantalus, Madagascar by Reenova (5EC.SI) - dormant

Penco, Chile by Hochschild (Biolantanides) (HOC.L) - active

Mulanje (Chambre), Malawi by Altona Energy - dormant

Makutuu, Uganda by Ionic Rare Earth (IXR.AX) - active

Minacu, Brazil by Mineracao Serra Verde (private) - active
and so on.