Plan Fulfilment Reigns Supreme; China's Very Own Dependencies; Force-Feeding With Yuan; Controversy, Lobbyism & Other Spins; China Northern H1 Sales Up
Rare Earth 2020 August 11
While China's exports surged in July, up 7.2% year on year and up 10% month on month, China's RE exports dropped 44% month on month in July, after having already fallen 10% year on year in first half 2020.
At the same time first half 2020 sales of China Northern Rare Earth Group are well above budget.
China's Global Times suspect the hand of the China government in this, reducing RE exports in order to show the West who the boss is, while others blame reduced demand owing to corona.
If there should really be intervention to keep exports low, then it would be a matter of socialist 5-year plan fulfilment rush. China's Ministry of Industry & Information Technology (MIIT) had written in its current 5-year plan to bring down export dependence from 57% in 2015 to 30% at the end of the current 5-year plan.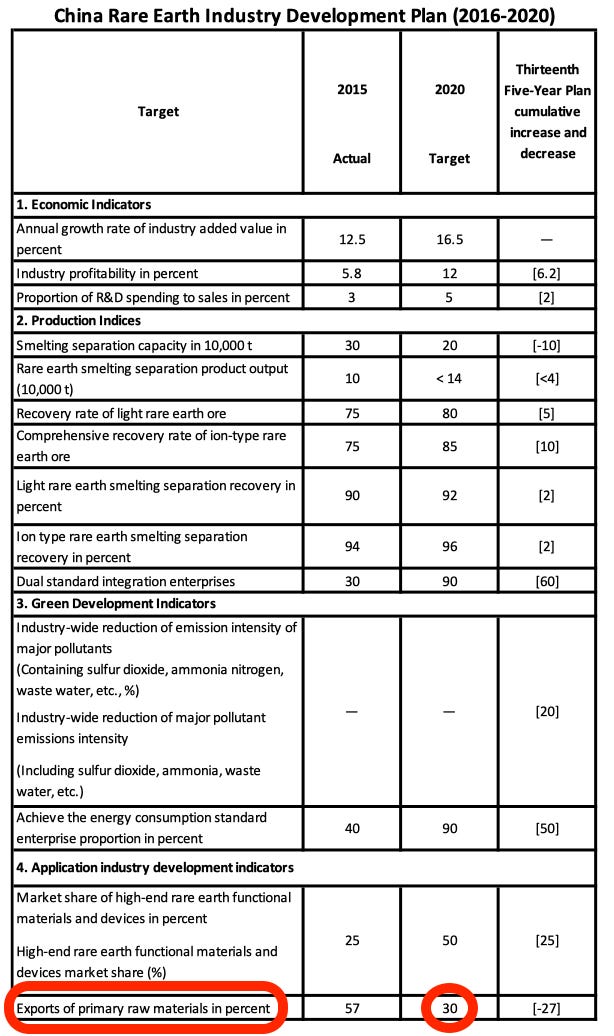 2020 is the final year of the current 5-year plan.
Talking about dependence, SMM published an interesting report on WeChat, the Chinese allrounder platform, recently banned by executive order of the US-president:
With the rapid development of China's economy, China's non-ferrous metal production has expanded rapidly . However, the low endowment of domestic non-ferrous metal mineral resources has led to relatively high domestic mining production costs , and many domestic mining companies have gone abroad to find new growth points overseas.
It lists China's dependencies as follows: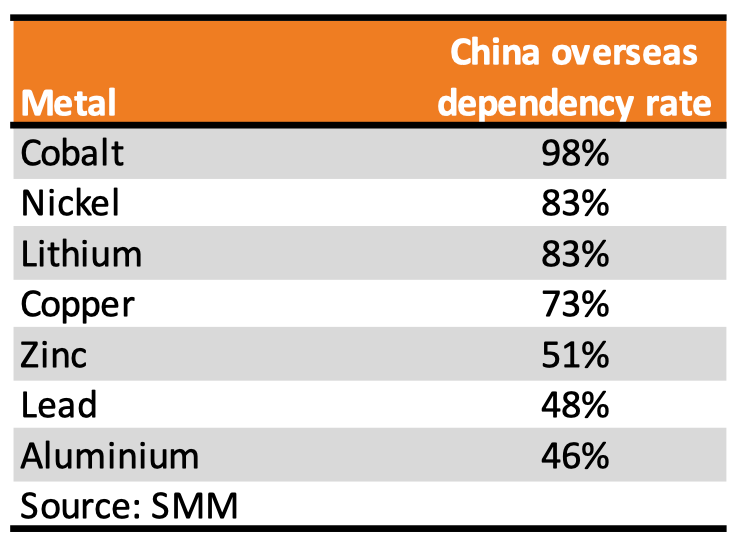 In particular, the external dependence of copper, nickel, lithium, and cobalt resources exceeds 70%, and domestic mining companies must "go global" to control their own destiny.
They go on to evaluate metal profitability: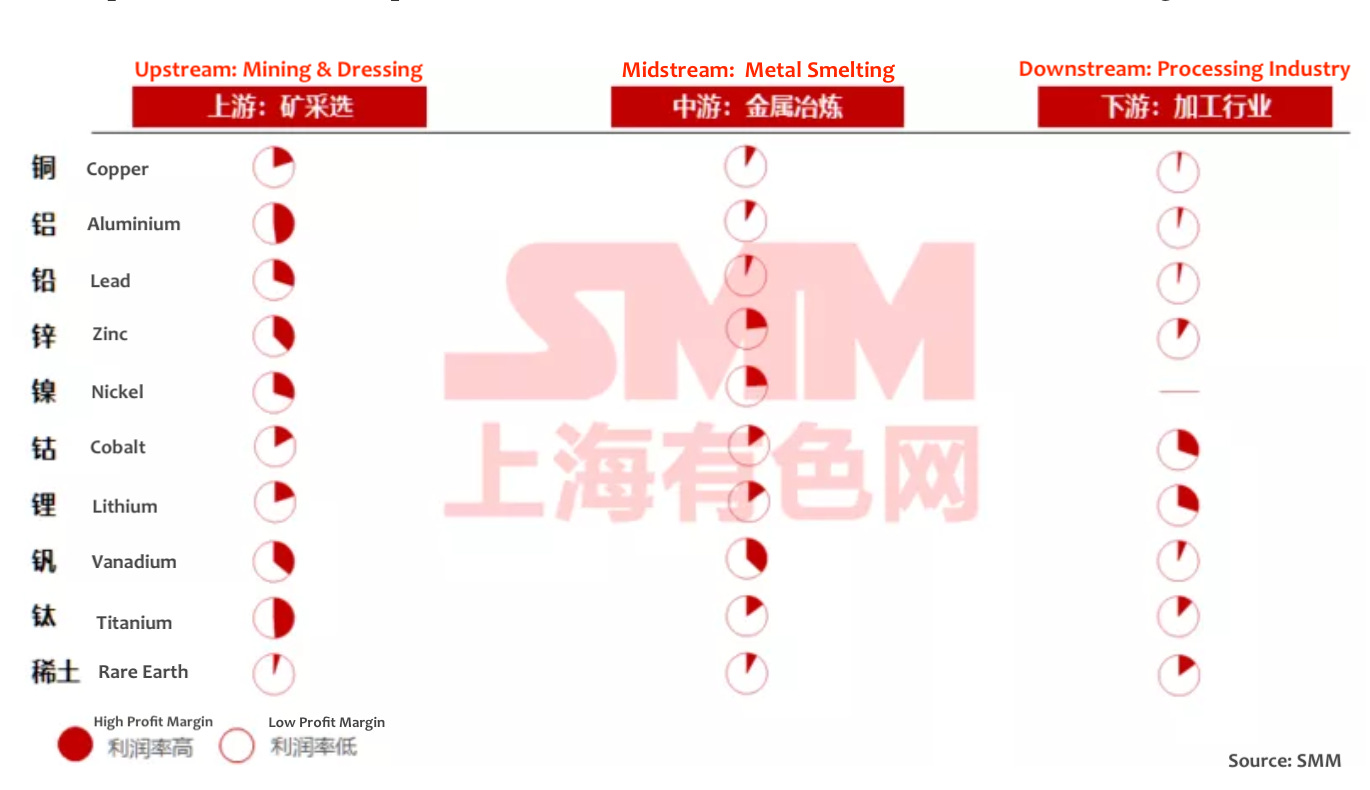 Traditional mining is relatively difficult to enter. Strategic minor metal mining has certain technical or policy thresholds [e.g. rare earth]. The future replacement of primary mining will mainly come from the impact of recycled metals. Copper, aluminium and nickel are still regarded as the non-ferrous minerals with the greatest investment opportunities. Cobalt and lithium emerging metals are regarded as non-ferrous minerals with both opportunities and risks, while investment opportunities such as lead, zinc, vanadium, titanium, and rare earths are relatively small.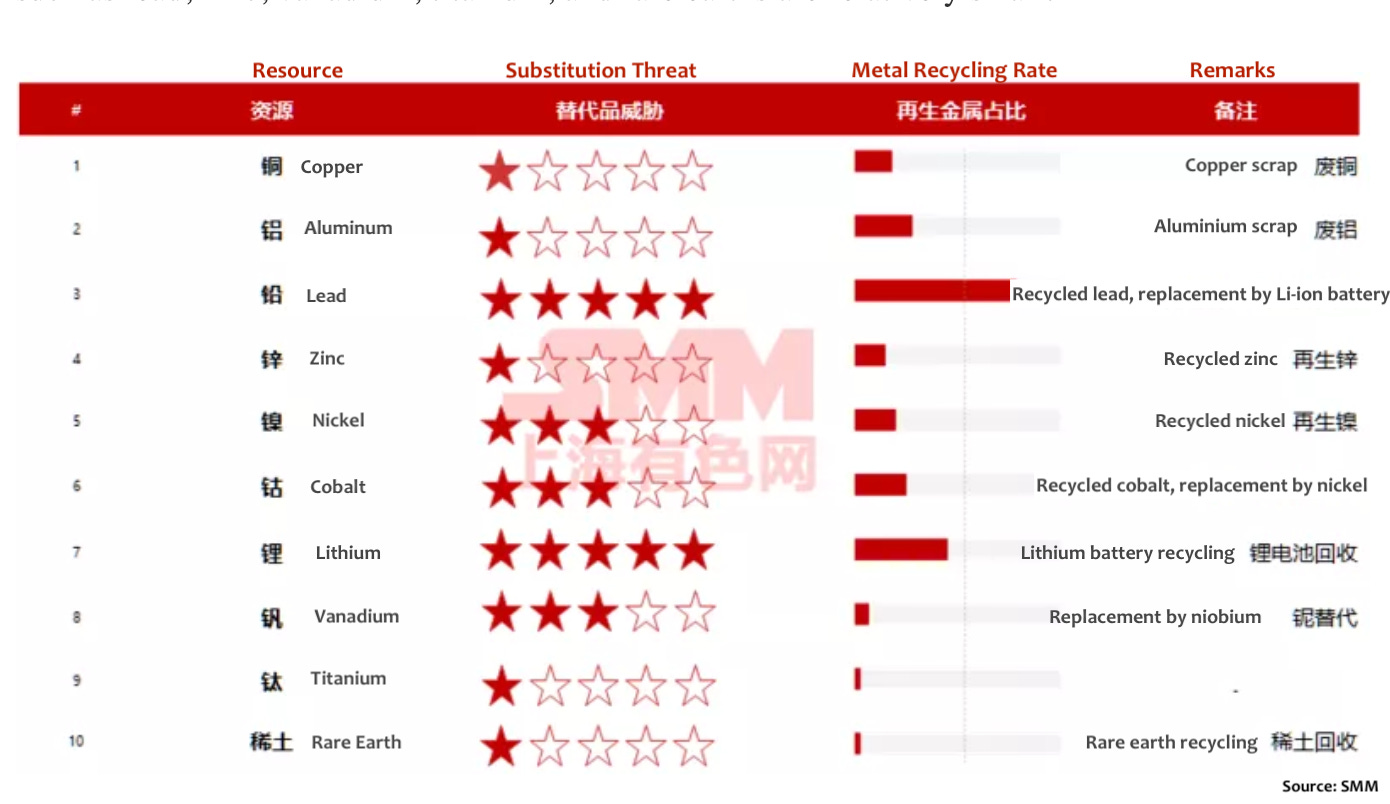 Depressing the low potential they see in rare earth, as a low margin but also low substitution threat product range with a low recycling rate.
In late October during the 5th Plenum of the 19th Central Committee the outline of next 5-year plan will be discussed. Rare earth will be part of that.
Thanks for reading.
//Applications
First of all, the Lyriq should be seen as more of a "technology spearhead," as Cadillac President Steve Carlisle called it, than a single crossover; it marks the beginning of an ambitious electric portfolio of vehicles that the brand has been hyping for years. This is showcased in the Lyriq by way of a modular, skateboard-style EV platform centered by the Ultium battery system, a proprietary energy source that uses NCMA chemistry (nickel-cobalt-manganese-aluminum) that GM says will rival other EV companies (from mainstay brands like Ford to leaders like Tesla) while also cutting down on "rare-earth materials such as cobalt," one of the environmental pitfalls of electric vehicles.

As CNBC reported, not only will the Lyriq be produced in China (as well as North America), it will launch in that country first before it gets its U.S. debut. Essentially, China is walloping America in the EV department; it's the largest market for electric vehicles and has been much friendlier to their adoption. Cadillac is seizing on that momentum, and the U.S. would do well to better incentivize EV adoption and manufacturing so that electric vehicles as a category don't become "a Chinese standard for the world."
//Politics
Chinese loans to 68 heavily indebted developing countries doubled in the four years through the end of 2018, virtually matching the amount of World Bank lending to the same nations and giving Beijing greater global sway.

Western countries have voiced concern about China using such lending to ensnare emerging economies in debt traps. Sri Lanka handed over the port of Hambantota to China on a 99-year lease in 2017 after struggling to pay debts incurred from its construction.

Some countries are diversifying borrowing sources to avoid relying totally on Beijing. Angola, in southwestern Africa, has received $3.7 billion in financing from the IMF. But the World Bank and IMF worry that loans to developing nations may simply be used to repay debts owed to China.

Beijing is using its lending to help internationalize the yuan. The Eurasia Group, an American think tank, notes proposals within China to developing countries to roll over dollar-denominated loans from the U.S. into yuan loans in exchange for partial forgiveness.
The fundamental problem with the Pentagon's decision is that the Mountain Pass deposit cannot produce many of the heavy rare earths that are critical to the military. For example, it lacks terbium and dysprosium, used in all high-temperature military-grade magnets for guided weapons, drones and the F-35. (Nor does it serve the U.S. commercial market, lacking lutetium, used in medical imaging devices; thulium and ytterbium, used in X-ray devices; and erbium and holmium, used in medical lasers.)
Comment: Mountain Pass is rich in lanthanum, cerium, neodymium and praseodymium. The vast majority of US imports of rare earth are actually lanthanum and cerium. The Mountain pass mix makes the whole thing somewhat less complicated than a "full range" RE deposit. BUT, if planned output will be too big, it will necessitate ruinous REO exports.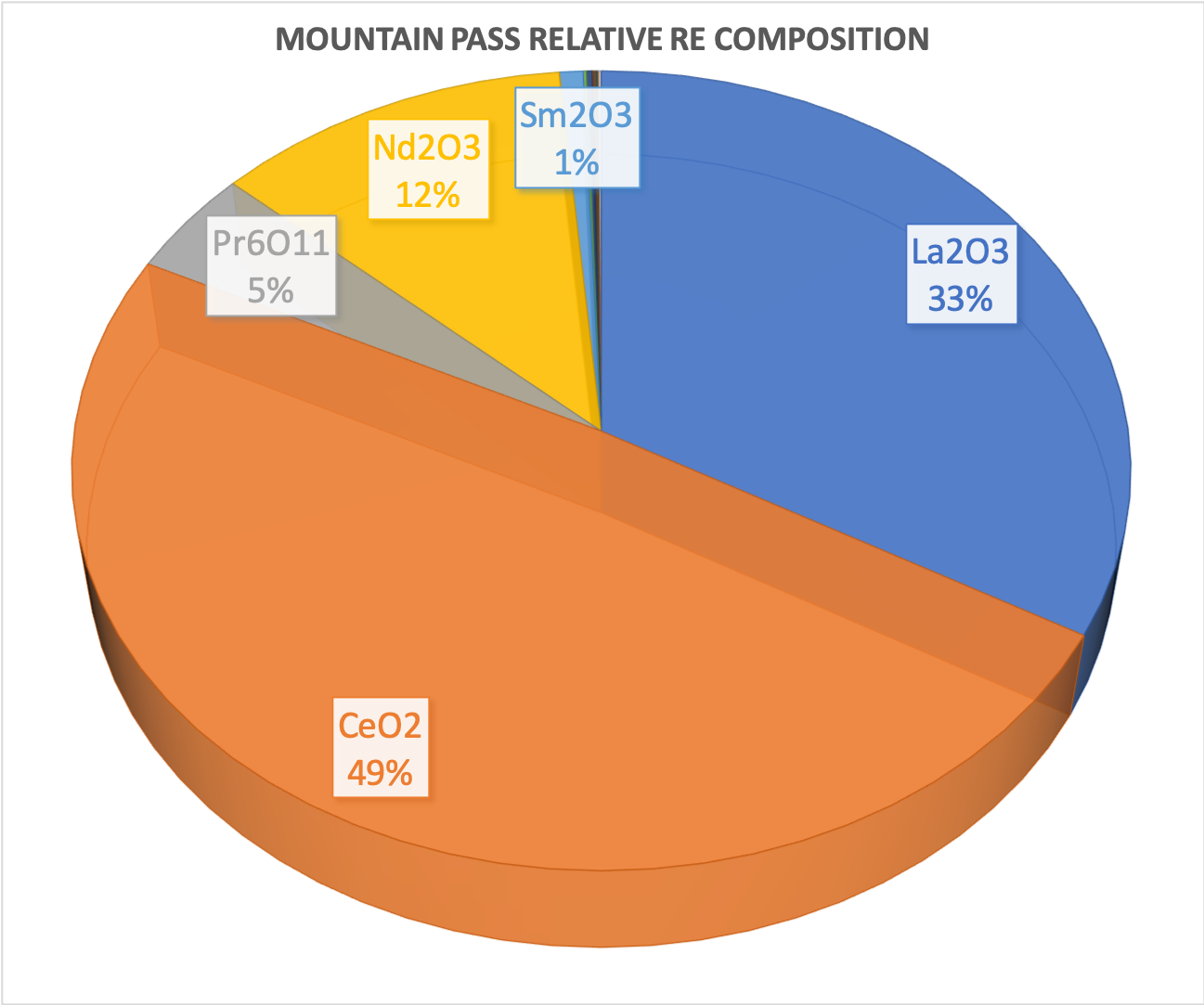 The first question anyone should ask is: Why would the Chinese commit to buying rare earth concentrates with such a high dead-weight value? More than 82 percent of the concentrate is cerium and lanthanum. These elements are in oversupply and sell below their mined and processed cost.
Comment: The pricing is by price formula, MP probably now get US$ 1.60/kg, the only value in this likely is NdPr. Last year MP's price was only US$ 1.30/kg. Nice and cheap.
And then: Why would China bother to haul these low-value materials across California and the Pacific Ocean for processing when it has access to much better rare earths from new producers in Asia and Africa?
Comment: The linked "Asia" article is from last year, when China briefly stopped imports from Myanmar. For 2020, however, it is true that Minmetals have halved the budget for ionic clay based concentrate import from Myanmar.
Regarding the "Africa" link, Rainbow can't even remotely pair the quantities available from Mountain Pass. Even if they could, Rainbows production cost in 2019 were twice as high as the achievable sales price, which implies a certain finality.
Regarding hauling across California, it is 1,500 km only from Gakara to Daressalam: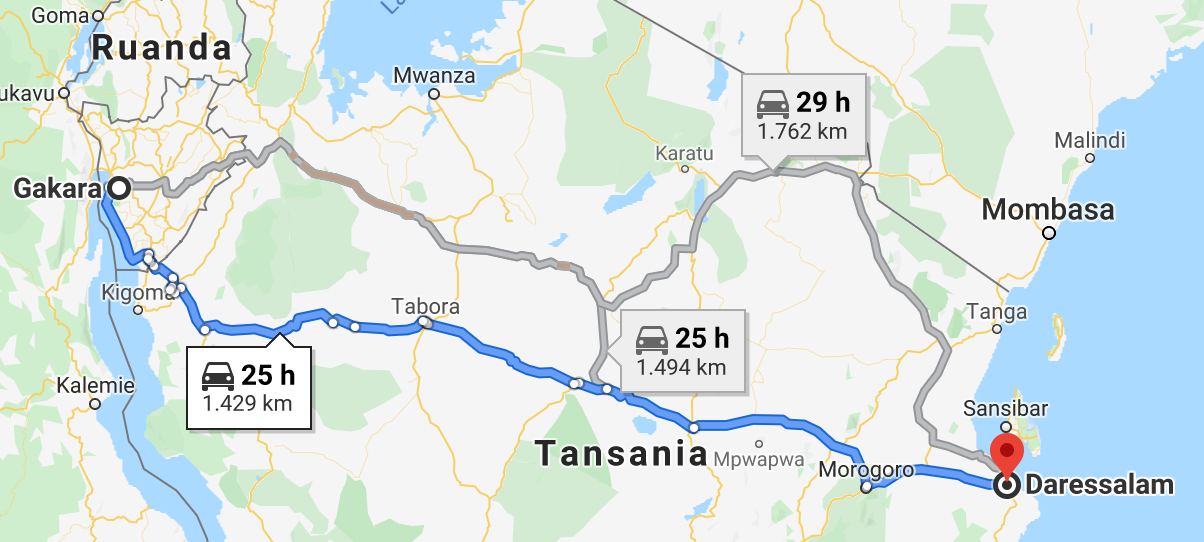 And it is 2,300 km from Tengchong on the Myanmar border to Ganzhou:

But it is only 225 miles from Mountain Pass to Long Beach.
Shenghe Resources import MP's material to China via Shenghe's company in Singapore and sells it on to China domestic processing companies.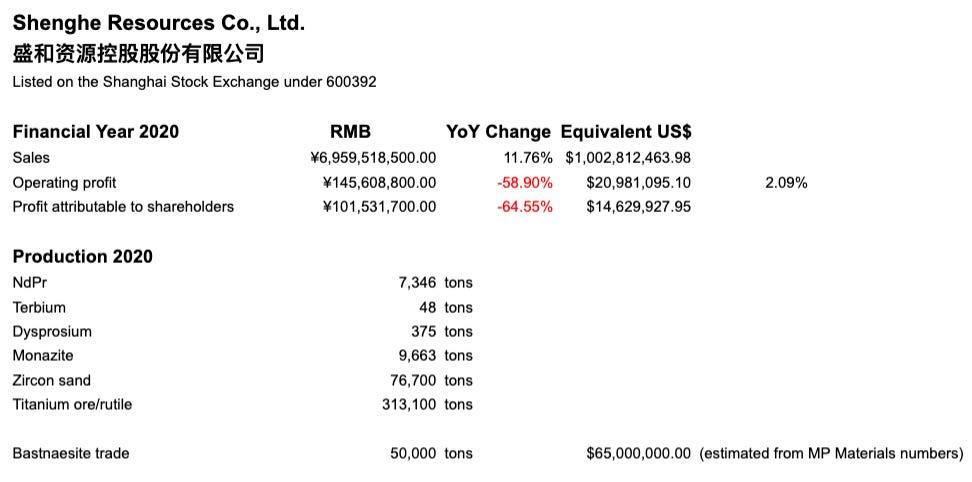 Further the article ignores the Lynas-Blue heavy rare earth project, for which Mount Weld Duncan is likely to be opened, for better heavy rare earth content.
No-one ever mentions lutetium, thulium, ytterbium, erbium or holmium, except for one single junior RE miner. Why does this article bring up these products?
Strange coincidence? Or is this article perhaps a thinly-veiled advertisement for the TMRC Round Top deposit that may take at many more years to get off the ground?
Round Top is a multimetal deposit, whose TREO of 0.063% is less than 1/100 of Mountain Pass' TREO concentration, but with a somewhat interesting, yet challenging composition.
TMRC built their sales projection - among other difficult targets - by taking a large share of the tiny world lutetium market: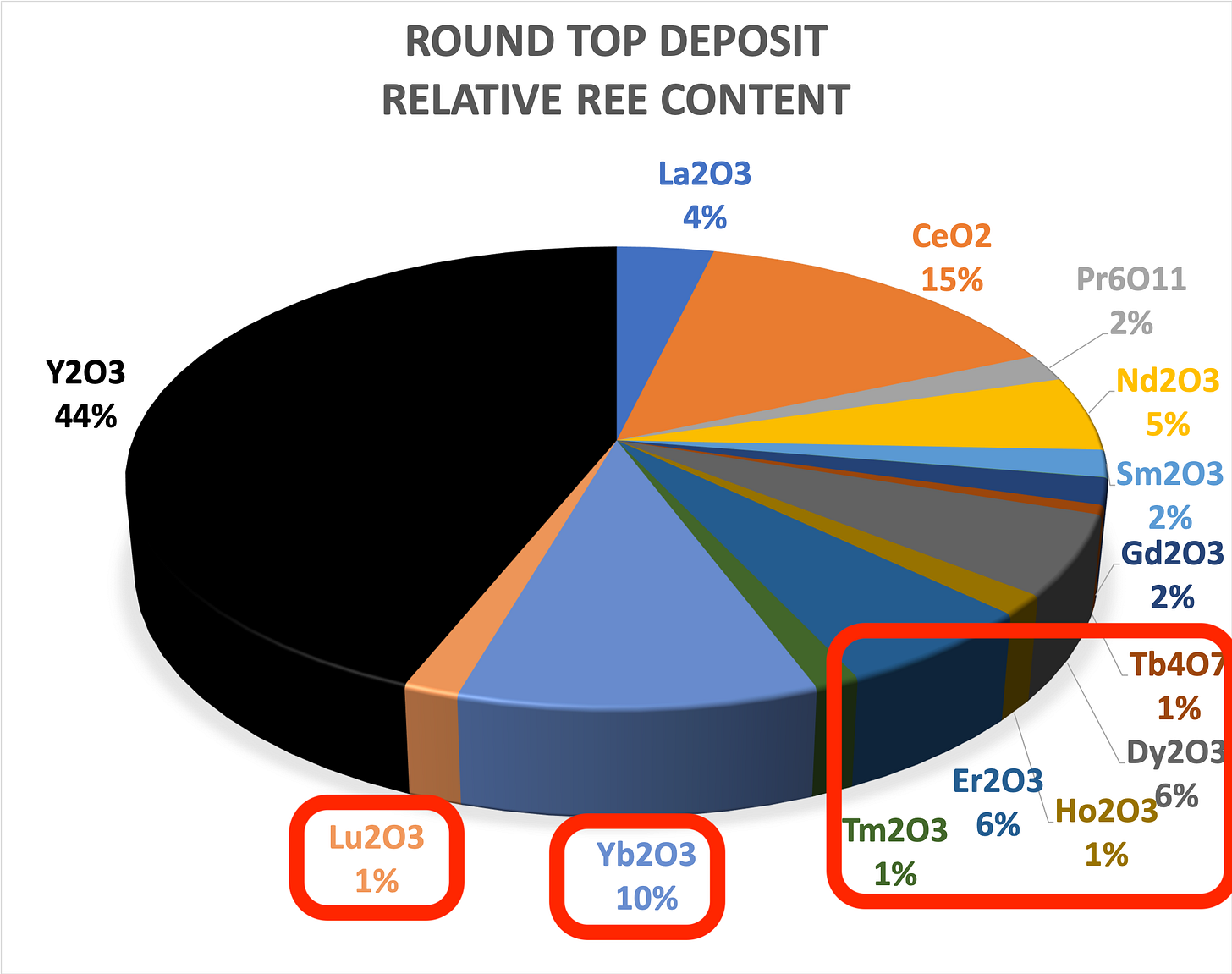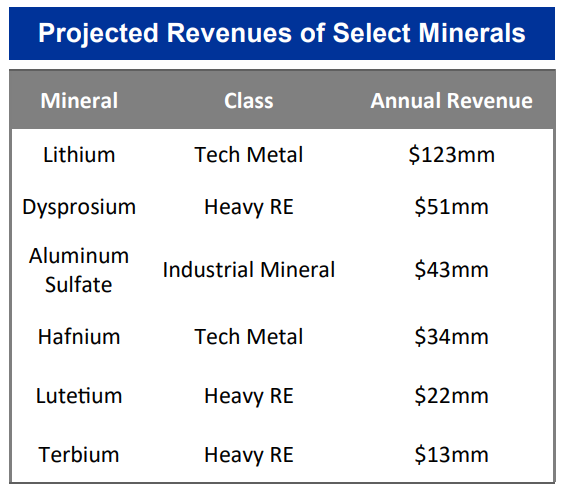 Source: Texas Minerals Resources publications
Regarding the trajectory of MP Materials, as China's state-owned Shenghe Resources will continue to control the fate of MP Materials, until MP's output can be processed to usable quality of REO.
The recent stand-off with China has impacted the critical Indian industrial supplies which were dependent on that country for raw material and components. "Best possible alternative would have been to rapidly boost domestic mineral exploration and mining. While the explorers wait for relevant reforms to the mining policy, the second-best option for the industry is to secure these raw material supplies from countries of the Indian Ocean Region (IOR)," opines a geologist.

Former spokesperson of the Indian Navy, Ministry of Defence, Capt (retd) DK Sharma while sharing his views with Financial Express Online says, "It is a known fact that Rare Earth minerals are being extracted from high seas and the challenge is to ensure that the sea lanes of communications are kept open 24X7 for these minerals to reach the destination countries."
Comment: This sounds strange. What is the point of such spin?
(not rare earth, but tungsten)
According to the survey, 26% of executives source their strategic metals from Vietnam/Pan Asia, while 20% are sourcing from China, Mexico and South America. However, China remains a major sourcing location, with 20% of companies saying they get as much as 40% of all their strategic metals from China.

"Mexico was quite a surprise in the survey," Black said. "There's a lot of silver that comes out of Mexico and tin."

Mexico traditionally has been one of the largest silver producers in the world and is a significant producer of gold, as well as raw metals, such as copper, zinc, manganese and lead, according to Mexico's economy ministry.
BEIJING, Aug 7 (Reuters) - China's rare earth exports plunged 44% in July from the previous month, customs data showed on Friday, hitting their lowest in 5-1/2 years in a sign that the coronavirus has destroyed demand for the prized group of 17 minerals.

Exports stood at 1,620.3 tonnes last month, the General Administration of Customs said. That was also down 69.1% year-on-year and marked the lowest monthly total based on Reuters records since China shipped 1,457 tonnes overseas in January 2015.

China is the world's dominant producer of rare earths, which are used in consumer electronics and military equipment.
However, experts warned that the decline may also be a result of geopolitical conflicts, as China has tightened exports of rare earths amid tensions with the US.

In July, China said it will impose sanctions on US-based arms producer Lockheed Martin, the main contractor of the recertification of the US' Patriot Advanced Capability-3 air defense missiles on the island of Taiwan, and the sanctions will likely feature the cut-off of material supply, including rare earths, which are crucial to advanced weapons production, Chinese industry experts said.

Wu Chenhui, an independent rare earths analyst, told the Global Times on Friday that the firms with export licenses may also curb sales amid geopolitical pressure.
Comment: According to our contacts, China's rare earth exporters are willing and able to supply, no license problems, and apart from Global Times, no-one mentions rare earth export restrictions or embargo. And which sanctionable businesses Lockheed Martin have, we discussed in our previous issue.
The U.S. needs to treat the REE resource holistically, as a national economic and security issue. It must develop, based on national policy, an REE supply chain, starting with raw materials, sourcing, refining, distribution, fabrication, and recycling. Downstream users of these raw materials and alloys, including component manufacturers, must be part of the chain. And it must be accomplished by a government-led effort. Senate Bill S. 2093, introduced on July 11, 2019, for the establishment of a thorium-bearing rare earth refinery co-operative, is a good first step.

The important components of this supply chain are described below.

Materials exploration….

Exchanges….

Substitutions and substitutive technologies….

Renewables and EV impact….

Sharing of critical competencies….

Governance….
Comment: We sense a certain disconnect from the realities of RE business.
//Companies
FVAC, a special purpose acquisition corporation, is going to merge with MP Materials to bring it public. A SPAC commonly referred to as a blank - check company, is a company that currently does not have operations but intends to merge or acquire another company using the proceeds it raised during its IPO. When MP Materials merges with FVAC, it will become one publicly traded company and trade under the ticker MP. The transaction will be consummated in Q4 2020. Sources of the transaction include cash from the SPAC, Equity Rollover from previous shareholders, and a 200 million PIPE (Chamath Palihapitiya and Omega Family), and sponsor warrants. Existing MP Materials shareholder, JHL Capital group, QVT Financial, and Shenghe Resources Holding Company, own 62.4% of the new company. The firms are rolling over 100% of their current equity holdings into the new company.
Looking at rare earths from another angle, there will actually be a broad market", Zhao Dianqing, chairman of the well-known rare earth company China Northern Rare Earth Group, said here on the 7th.

"The epidemic did affect us in the first quarter , but starting from the second quarter, we seized the favourable opportunities for downstream replenishment of inventory and active market transactions after the resumption of work, and achieved contrarian growth."

Official data show that the operating income of China Northern Rare Earth from January to June exceeded the budget by 656 million yuan. At present, the official overall data has not yet been disclosed, but Zhao Dianqing said, "compared with previous years, there is an increase."

At present, the "Research and Industrialisation of the Continuous Production Process of Ten Thousand Ton Light Rare Earth Carbonate" has replaced the traditional single-stage precipitation process and realised the precipitation process of 10,000-ton-level light rare earth carbonate continuous automated production; the "Cerium-Zirconium Solid Solution Project" broke the foreign monopoly, which is of great significance to China's fuel vehicle exhaust control and the upgrading of the rare earth industry.

In 2019, Northern Rare Earth and Tianjin University of Technology "married" to produce a rare earth product-a solid solution product of cerium and zirconium, with a monthly output of 2 tons.

At present, Northern Rare Earth is stepping up the construction of a cerium-zirconium solid solution production line with an annual output of 500 tons, which is expected to be put into operation at the end of October this year. At the same time, a number of automobile exhaust gas treatment and environmental protection companies have reached preliminary cooperation intentions with Northern Rare Earth.

Under the epidemic situation, how to open up the rare earth industry chain and accelerate the "inner loop"? Zhao Dianqing believes that this is a new issue facing many rare earth companies in China.

Zhao Dianqing said that at present, China Northern Rare Earth has made a comprehensive layout in the extension of the new material industry chain, the merger and reorganisation of new material enterprises, and the transformation of independent intellectual property rights. At the same time, it has been engaged in green smelting and separation, rare earth metals-magnetic materials, permanent magnet motors, rare earth alloys, the six major directions of rare earth catalysts, rare earth medical treatment, and rare earth fertilisers will strive to make breakthroughs and continue to promote the optimisation and upgrading of the industrial structure.
Comment: China Northern Rare Earth Group is the largest RE manufacturer on the planet. Mr Zhao personally assured an audience of western RE executives just a couple of years ago that there will never be another rare earth boycott.