No Forest, Just Lots of Trees; Angola's Swamp; China RE Exports Continue Decline; The New Law Hype: China's Decades Old RE Export Prohibitions & Restrictions; Pakistan Enters RE Arena;
Rare Earth 2020 October 20
Retired U.S. Air Force Col. Jeffery A. Green, president of J. A. Green & Company, adds to the soul searching and concept seeking in US-based rare earth production.
Same as others, he can't find the forest because there is all of them trees blocking his view.
The current strategy burdens the US-taxpayer while protecting the interests of rare earth consuming industries, who want China quality and variety cheap, with the Department of Defense blowing into the same horn, no matter what the national interest may be. Thereby they are culling any nascent solution and ensure continuation of the status quo.
Apart from that, the current strategy puts the cart before the horse.
Perhaps just this one time, just once, the US should study and learn how China systematically replaced imports of strategic materials with domestic production.
It worked fine.
---
If you look at the Chinese loans to Africa database it appears, that over the past 20 years China has granted 14 loans to Africa for mining, value US$18.6 billion.
6 of these loans went to Angola between 2011 to 2017, every year one, total value US$17.6 billion, representing 40% of China's total loans to Angola and 95% of all China mining-related lending to Africa.
After the end of the 38-year rule of president José Eduardo dos Santos in 2017, China's mining loans to Angola stopped.
Incidentally, in 2019 Angola ranks 146 out of 180 countries on Transparency International's Corruption Perception Index.
The former president's daughter, Isabel dos Santos, is considered to be the richest person in Africa. She lives in London, after having fled from Angola prosecutors last year, as she is subject to a broad investigation, based on the "Luanda Leaks" trove of documents.
Her half-brother José Filomeno dos Santos, formerly chair of FSDEA, Angola's sovereign wealth fund, has just been sentenced to 5 years in prison for for fraud, money laundering and trading in influence.
In spite of all corruption allegations and investigations, the officials of the current Angola government apparently have absolutely no qualms to been seen and instagrammed with the alleged criminal suspect and jointly lobby for exports of and investment in Angola: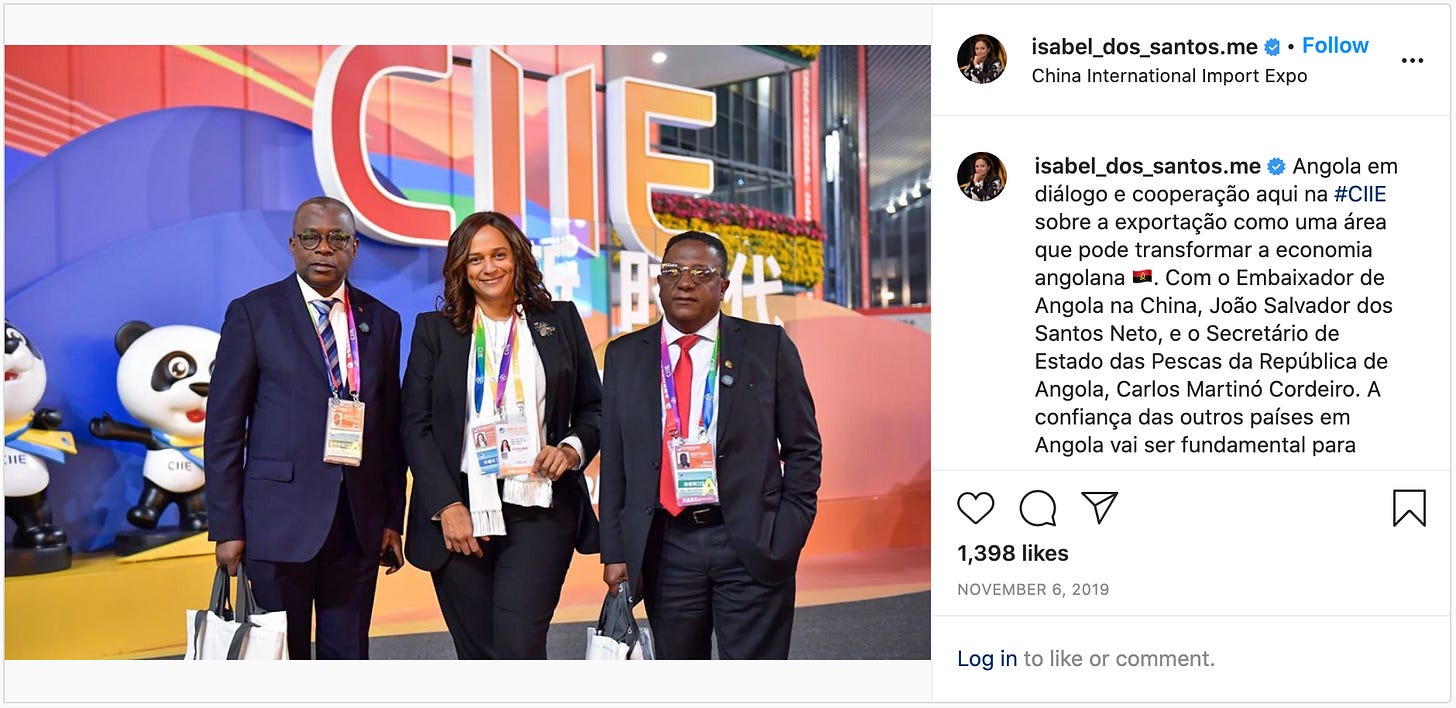 In the center Isabel dos Santos, left Angola's ambassador to China and right Angola's state secretary of fisheries at China's Import Expo in Shanghai , November 2019. Source: Instagram
João Salvador dos Santos Neto, Angola's ambassador to China, recently pitched Chinese investors to invest again in Angola mining, during an international Angola roadshow.
Pensana Rare Earth's Longonjo, in spite of FSDEA being their largest shareholder through ASF Africa Mining LLP (formerly QG Mining - Quantum Global, Mauritius, which used to be part of the dos Santos family money laundry), was not among the promoted projects.
---
China's rare earth exports continued their decline also in September:

Overall, China's rare earth exports are down 27% year-on-year. Annualised exports in 2020 may be 35,200 t, down 24%, perhaps the beginning of a of the trend that started in 2019:

China's Nonferrous Network gave a number of reasons for this: Slowed demand because of COVID-19, July/August summer vacations in destination countries and uncertainty on the part of traders, if or not rare earth will become subject to export restrictions in view of ongoing US-China tensions.
From a Chinese trader's perspective, it is understandable that you don't want to be stuck with a stopped rare earth export shipment, while rare earth market prices keep heading south. A sure way of losing money.
China's Ministry of Industry & Information Technology will absolutely love the drop of exports, because part of the current 5 year plan was to bring rare earth exports down to 30,000 t in 2020, the last year of the current 5-year plan. Bonus-relevant.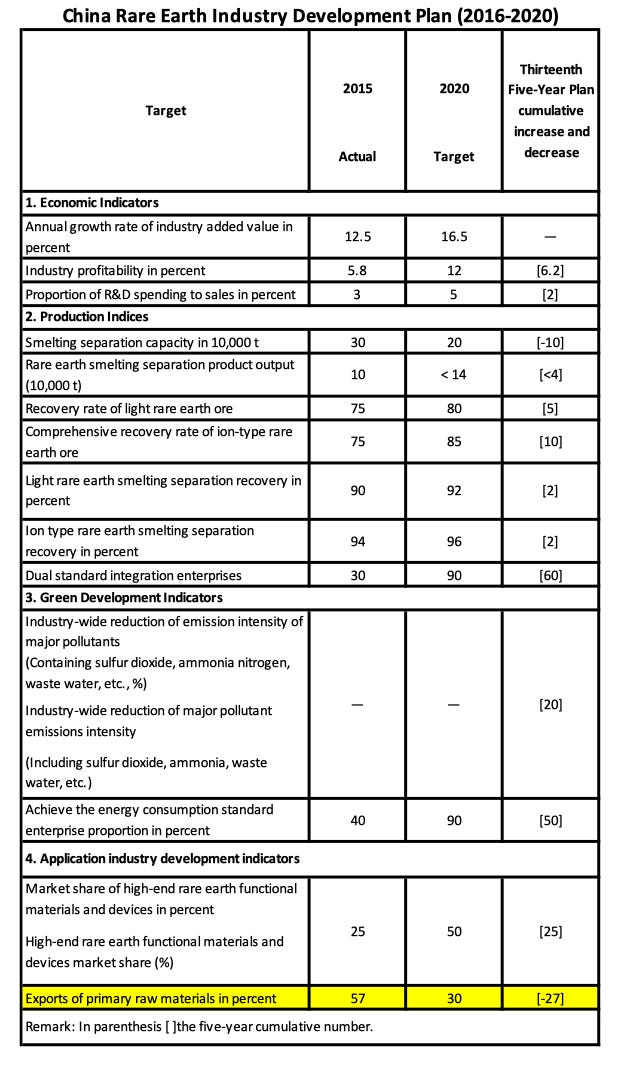 ---
What really continues bugging us is that official China sources keep referring to United States Geological Service (USGS) data when talking about China's own rare earth resources, as if in China they wouldn't know their own resources much better.
As mentioned before, we speculate that China's rare earth resources may actually only be a fraction of what USGS is currently assessing.
---
A lot of media attention for China's new export control law. As usual, there is a lot of media talk based on very little fact, so it is time for a fact-check.
To make it straight, plain and simple: If China wants to stop, restrict or otherwise meddle with rare earth exports, it most certainly won't need a law to do that. The timing of the implementation of this new law is is of course no accident, a bit of sabre rattling.
The law unifies 9 pre-existing laws into this one comprehensive law along the models of corresponding, existing US and EU laws. It has been in the making long before Trump entered office.
This new law explicitly refers to export prohibition and restriction lists, originally drawn up in 2001 and amended in 2008, plus the update of the lists in August this year.
Apart from the know-how of Traditional Chinese Medicine, silk worm cultivation and ink for Chinese calligraphy, the 2001 original and 2008 updated export prohibition list contains following points regarding rare earth:
No. 050901J: Technology Name: Mining Engineering Technology, control point: leaching process of ion-type rare earth mines

No. 053101J: Technology name: Amorphous inorganic non-metallic materials production technology Control points: high-power, large-size neodymium glass preparation technology for laser technology

No. 053301J: Technology name: Non-ferrous metal metallurgy technology, control points: ion adsorption type rare earth heap leaching extraction technology and formula

No: 053302J: Technology name: Rare earth extraction, processing and utilisation technology, control points:

1. Full extraction and continuous separation of rare earth elements and " multiple export " technology and parameters of rare earth extraction

2. 2. Synthesis process of rare earth extractant

3. 3. Process technology for extracting single rare earth (purity ≥99%)

4. 3. Rare earth addition technology for metallic materials

5. Production technology of rare earth alloy materials and products

6. Process and parameters for extracting rare earth elements from ionic rare earth
The restricted list contains:
No. 053101X: Technical name : Daily use ceramics and its products production technology, control points:

4. Formula and firing process of rare earth colour glaze for ceramics

No. 053104X: Technical name: Artificial crystal growth and processing technology, control points:

9. Preparation technology of rare earth-iron (Tb-Dy-Fe series) giant magnetostrictive single crystal material

(1) Climbing method pollution-free magnetic suspension cold crucible crystal growth process

(2) Single crystal composition and structure control technology

No. 053401X: Technology Name: Heat Treatment Technology, control points:

1. Mold heat treatment technology

(1) Formula of rare earth-boron penetration agent

(2) Rare earth-boronising treatment process

2 . Earth, carbon, nitrogen, and total rare earth, nitrocarburizing process and infiltration of formula

3 . Loader bucket teeth material and heat treatment process recipe

No. 053707X: Technical name: Aviation material production technology control points :

1. Preparation technology of rare earth-containing aluminium-lithium alloy

( 1 ) The type and content of rare earth elements and the addition of rare earth elements

No. 053902X: Technology name: Wire and cable manufacturing technology, control points:

3. 3. The formula and manufacturing process of the rare earth aluminium wire for conduction
These are only the headers. If you want the dirty details, please dive into the lists yourself.
In the 2020 update of these lists, we could not find changes referring to the a.m. rare earth relevant restrictions/prohibitions.
Considering the history since 2001, these rules may have been broken many times, first and foremost by China state-owned enterprises.
Think only Minmetals ionic clay leaching in Myanmar, China Nonferrous, Sinosteel et al installations at junior rare earth miners abroad or Shenghe Resources facilities in Vietnam and Thailand.
Our take: This is probably the last time, we'll hear about this law.
---
"Lynas shares were up 7.3% to A$2.87 on reports from China over the weekend that the government was imposing export restrictions on rare earths minerals, among many other products. This would leave Lynas as the only integrated producer outside China."
This is, what the rare earth stock investors looks for: Not profits, not dividends, not M&A activity or sales increases, but exclusively hyped news of a potential embargo that may never, ever come.
COVID-19 gave all pre-revenue junior RE miners a convenient excuse, for what many of them would have done anyway, yet another postponement of implementation of perpetually stalled projects, while their stocks thrived on the embargo hype.
If the US elections turn out the way the polls show now, relations between the US and China would improve, if simply for only one reason, that you can't fall off the floor.
The rare earth embargo hype would deflate, and so would share prices of junior RE miners surfing on the hype.
If during the past 10-20 years a junior RE miner has not achieved anything apart from staying alive at the shareholder's expense (while blaming everyone and sundry, except for themselves, of course), it is extremely likely it also won't achieve anything for the next 10-20 years.
---
Enjoy reading and have a happy and healthy week ahead!
//Policy
But in actuality, Molycorp was struggling to stay solvent. Those new innovative technologies? They didn't generate significant revenue or work as designed. By 2013, the company's revenues were in free fall. The president and CEO stepped down amid an investigation by the U.S. Securities and Exchange Commission into the accuracy of the company's public disclosures (though he was never charged with any wrongdoing).

There are a number of steps the U.S. government can take to establish a more certain future for domestic rare earth production. Reducing red tape and bureaucratic inertia will lower costs and reduce risk — there is no reason that permitting a mine in the United States should take five times longer than it does in Canada or Australia.

The government can also protect the market, at little cost, from Chinese manipulation by agreeing to purchase rare earths from American producers when such materials are intended for military systems. Instead of funding substitution technologies to reduce demand for rare earths, the U.S. should invest in production technologies to increase its supply.
Comment: The DoD demand for rare earths currently is much too small to make a substantial difference in the commercials of l-size mining and processing. BUT, consider the future war machines, drones et al, DoD demand may rise substantially.
However, looking at the pattern of the world's rare earth industry, the basic research work of our nation's rare earth industry still has a strong sense of crisis. In order to get rid of the dependence on China's rare earth resources, Western countries such as Japan and Europe are looking for rare earth resources globally on the one hand, and on the other hand, they have strengthened research on the removal of rare earths from new materials and searched for alternative products for rare earths. They have achieved certain results in certain fields. These will also pose a potential threat to Baotou rare earths and even our nation's rare earth industry.
Comment: This part stands out, the rest is political "Thy shall't obey the Führer" ideological gibberish.
Pakistani rare earth resources are weather[ed] crust and low grade so need efficient technological development. The technology is developed involving bio assisted leaching followed by solo chemical recovery process for the exploitation of Korean monazite. She said part of the research had been published in top five international journals in the Journal of Cleaner Production.
The mining division of Rosatom has been thinking about scandium mining at a deposit in the Dalmatovsky District for a long time.

In 2014, the content of the rare earth element was confirmed. Then came the development of the optimal technology. In 2017, a pilot plant was commissioned.

This production will keep the field functioning for as long as possible. According to Nikolay Poponin, General Director of Dalur Joint Stock Company, it is the incidental extraction of scandium that will prolong the life of the Dalmatovskoye field.

All the infrastructure that has been used for uranium mining can be used to extract scandium.
//Market
According to data released by the General Administration of Customs on October 13, China exported 2003.3 tons of rare earths in September, a year-on-year decrease of 43.89%; from January to September, China's total exports of rare earths totaled 26,400 tons, a year-on-year decrease of 27.5%.

China Nonferrous Metals.com reported that tensions in Sino-US relations have increased during the epidemic, and the market is worried that Sino-US trade disputes may escalate. Traders are currently holding a wait-and-see attitude due to concerns about market outlook risks, and they are more cautious in receiving orders, which will have a certain impact on rare earth exports.

In addition, July and August are overseas summer holidays. Under the interference of the epidemic, overseas market demand continues to be sluggish, and the operating rate of domestic rare earth factories is correspondingly low, resulting in a significant decrease in rare earth exports in July and August.
China has increased quotas for rare earth concentrate mining and smelting in order to satisfy downstream demand, especially demand from the new energy vehicle (NEV) market. These quotas were mainly for light rare earth products, a move to protect the more precious medium and heavy rare earth resources, she said.

For the first seven months of 2020, China's imports of rare earth metal concentrate from the US jumped 117% from the same period last year, totalling 45,000 mt. China imported nearly 28,000 mt of rare earth metal concentrate from the US in 2018, and 46,000 mt in 2019.
Comment: Shenghe Resources, the sole and single customer of MP Materials' bastnaesite, increased purchases, because China removed the punitive trade war duties on this item.
//Companies
A former researcher at Sekisui Chemical is accused of leaking trade secrets involving a key smartphone component after being approached on LinkedIn, highlighting the growing risks posed to companies by the rise of social media.

Authorities allege the 45-year-old man divulged information on the production of conductive particles used in touch screens between August 2018 and January 2019 to Chaozhou Three-Circle (Group), a producer of communications equipment parts based in China's Guangdong Province.

The Japanese chemical maker is one of the world's biggest players in these particles.
Comment: On Monday, October 12, General Secretary Xi Jin Ping visited the perpetrator, Chaozhou Three-Circle (Group) Co., Ltd, in order to learn about the company's indigenous innovation and its research on key technologies.
Folks, this is the kind of China indigenous innovation we keep warning you about.
According to AI Express, China Minmetals Rare Earth (SZ 000831, closing price: RMB 13) will release its performance forecast on the evening of October 14. It is estimated that the net profit attributable to shareholders of listed companies in the first three quarters of 2020 will be between RMB 132 million and RMB 136 million, year-on-year An increase of 114.52%~121.02%; basic earnings per share are about 0.1346 yuan to 0.1386 yuan. The net loss attributable to shareholders of the listed company in the third quarter of 2020 is expected to be 22.9 million to 26.9 million yuan, a year-on-year decrease of 274.26% to 304.7%; basic earnings per share loss is about 0.0233 yuan to 0.0274 yuan.

[The reason:] Until now, the company's subsidiary Ganxian Hongjin Rare Earth Co., Ltd. has received a total of about 155 million yuan in relocation compensation and relocation awards.
Comment: So profit was achieved through a one-off payment, money that will need to be spent at the new location of the factory, naturally. Overall, red numbers.
Hu Zesong, chairman of Shenghe Resources, said in an exclusive interview with a reporter from the China Securities Journal: "Shenghe Resources will adhere to a diversified development path, combine policy-oriented, market-oriented, and its own advantages to actively coordinate and extend the upstream and downstream of the industrial chain. In the future 3 -In 5 years, the company will consolidate the current rare earth resources of 40,000 to 50,000 tons of REO (rare earth) per year. At the same time, through the zirconium and titanium business segment, with the help of overseas resource projects, the company will achieve further growth of rare earth resources."

Hu Zesong told the reporter from China Securities News that the company's development benefited from the mixed ownership model. The company's major shareholder is the Institute of Comprehensive Utilization of Mineral Resources of the Chinese Academy of Geological Sciences, a scientific research unit directly under the Ministry of Natural Resources. State-owned shareholders play a guiding role in the development of the company, while the company's daily operations use market-oriented mechanisms to operate and play the role of market entities.

The targets of mergers and acquisitions are companies with a market value of 1 billion to 2 billion yuan. The ability to grow a company from a small age indicates that the entrepreneur has experience in controlling the market and managing the enterprise.

Hu Zesong said: "In the next 3-5 years, the company will consolidate the current rare earth resources of 40,000 to 50,000 tons of REO (rare earth) per year. At the same time, through the zirconium and titanium business sector, with the help of overseas resource projects, the company will further increase the amount of rare earth resources.
Comment: Hu is also the party secretary of Shenghe. He needs to pitch, as the Shenghe stock price has been a bit underwhelming at -23% year-to-date:

DADA Holdings LLC, the principal owner of New Day Aluminum, and Enervoxa, a Canadian based green technologies company, together announce a groundbreaking joint venture, ElementUS, to extract valuable rare earth elements and minerals from bauxite residue at New Day's alumina refinery in Gramercy, Louisiana. ElementUS will deploy Enervoxa technology to separate bauxite residue into its component materials, including several rare earth elements along with iron, titanium and alumina.

The refinery's bauxite residue contains 10 of the 17 rare earth elements and 15 minerals identified as strategic and critical by the United States Defense Logistics Agency, many of which exist in unusually high concentrations.
Comment: The good, old, time-honoured red mud trace elements (TREO ~0.09%) make a comeback, as they do every 10 years. At least red mud is an infinitely better resource that American Resources with their micro-quantity of trace elemental rare earth filtered from water.
On September 15, Guo Wenqing, General Manager and Deputy Secretary of the Party Group of China Minmetals, and concurrently Chairman of MCC met with Zhao Xiaochen, President and Party Group Secretary of GRINM Group Corporation Limited (GRINM Group). Both sides had in-depth exchanges on further strengthening their cooperation and jointly attended the signing ceremony of the strategic cooperation agreement between China Minmetals Rare Earth Co., Ltd. and Grirem Advanced Materials Co., Ltd.
Lynas vice president of upstream Kam Leung told the Diggers and Dealers conference on Wednesday that while he welcomed the political support, he would like to see more financial support for the project to be more cost-competitive.

"The cost of building a plant in Australia is much higher. Our cost of labour is two, three or four times higher than it is elsewhere," he said.

"We're going to pay 10 times as much for water – and that's going to relatively low-cost water from the City of Kalgoorlie-Boulder – compared with what we would get in Malaysia.

"In other countries, the governments actually come invest, they subsidise some of these critical projects.

"We are going to be looking for things that put us on a level playing field, we're not asking for anything more than that.

"Cold hard cash; that to me is co-investment."

Mr Leung said cheaper power would also help and suggested the government build a renewable power plant nearby.