Myanmar RE Mining Deemed Illegal; The Russians Are Coming; CNBC Feature Geomega; JARE Give Lynas A Break;
Rare Earth 2020 August 14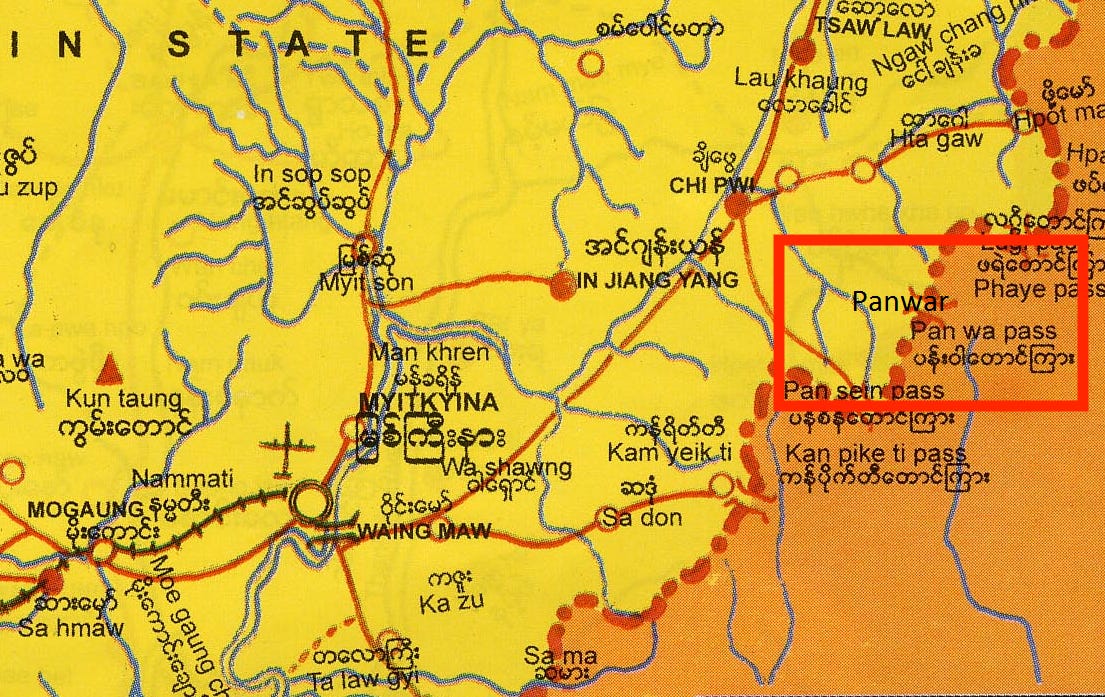 Is China mining rare earth illegally in Myanmar?
The article we feature below "Rare earth illegally dug in Panwar: Kachin Mining department" suggests this is so.
If 26,000 tons rare earth per year are officially imported from Myanmar's Kachin state to China, how can this be illegally mined?
After all, this is not some renegade Chinese warlord, it is a China state-owned company, organised directly under the State Council, China's cabinet.
We wonder, what degree of lawlessness does it take on Myanmar's side, if 5 (five) supposedly illegal mines openly operate in such a relatively small area?
This article probably has the answer: Kachin's Natural Resources: A Curse More Than a Blessing
A state, unable to enforce national law plus a toxic mix of army officers, border guards, armed rebels and local officials, all of them on the take, all pilfering a nation's resources and picking on each other, if the one or the other doesn't get his cut.
Such or similar conditions are not alien to many mining companies worldwide, walking through a legal and moral minefield, for profit.
Is China to blame?
If China leaves behind a chemical-saturated mining wasteland in Myanmar, then certainly yes.
---
Russia actually covers already a large part of EU rare earth imports.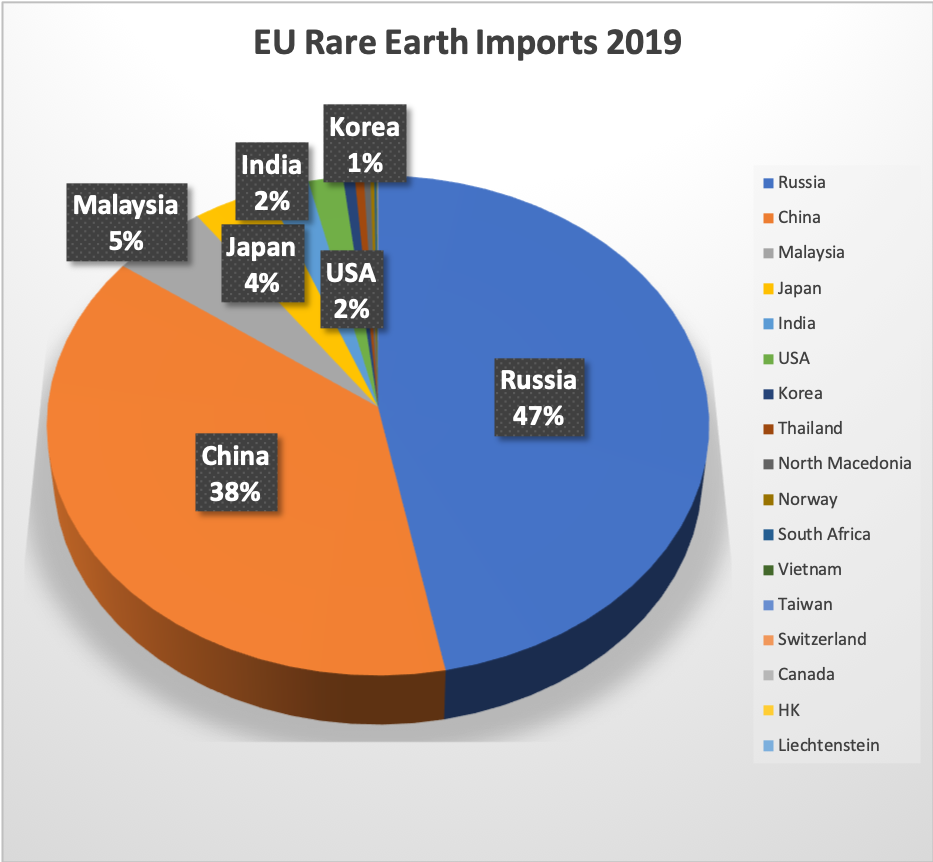 Perhaps some people in Washington will be crying "murder", the EU swapping China dependence for Russia dependence would be suicidal, similar to being dependent on Russian gas.
Germany signed the first contract for then Soviet gas in 1971. Deliveries started in 1973. It will soon be 50 years that Germany and the EU have been "dependent" on Russian gas, and it has been a smooth ride so far.
Today Germany's gas supply is 40% from Russia, 29% from Netherlands, 21% from Norway, 7% local production und 3% spot imports.
Seen from the Russia, Germany takes 50% of Russia's gas export.
And now in rare earth Russia wants to invest US$1.5 billion in order to reduce its own China dependence and to participate more in the rare earth market, and that certainly with an eye on the EU.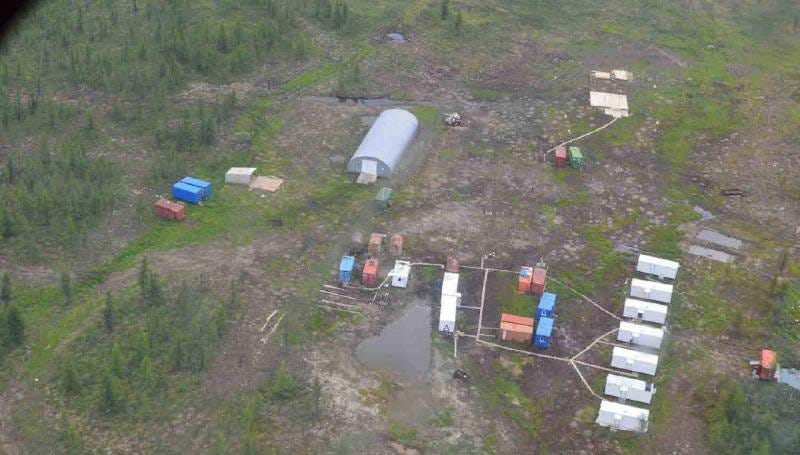 Tomtorskoye site in Siberia
Major beneficiary of this policy with RUB50 billion (~US$ 681 mio) will be Russian billionaire Alexander Nesis' Tomtor RE and niobium mining project, operated by ThreeArc Mining under Nesis' Cyprus based ICT Holding.
Another Russian billionaire, Oleg Misevra, holds a 25% share in ThreeArc.
For details refer to this research of February 2020 Russia: The Tomtorskoye Rare Earth Project.
Other major projects subject to the policy backed by Rosatom:
CJSC Technoinvest Alliance, Zashihinskoe rare earth deposit, Irkutsk, (30% held by ChTPZ/Andrey Komarov) RUB30 billion (~US$408 mio)

CJSC Technoinvest Alliance, Ferro-niobium processing in Transbaikalia, capacity 160,000 t (world heritage nature reserve area, hosting Lake Baikal, the worlds largest freshwater lake, whose local residents recently evicted China-invested polluters)

GK Skygrad, Korolev (near Moscow) rare earth separation from phosphogysum, which is phosphate fertilizer production residue.

OJSC Solikamsk Magnesium Works, RE concentration capacity expansion, feed is apatite from Karnasurt (Lovozero) mine, Murmansk

PJSC Acron Novgorod site, launched 2016. According to Acron executives already succeeded in separating NdPr. Feed is apatite from the Oleniy Ruchey mine near Murmansk
Russia invites foreign participation in these projects, however, to the best of our knowledge foreign investment in strategic products in Russia is capped at 10%.
About the Skygrad phosphogyspum route:
Yara (former Norsk Hydro), Norway, trying the same for years, funded by the EU, based on their phosphogypsum pile in Finland

Mosaic, USA, looked at extracting RE from their phosphogypsum mountain in Florida. It would have yielded 230 t of REO, but also would have created a thorium disposal problem, so Mosaic gave up.

Morocco's OCP are said to be looking into a phosphogypsum project

Deutsche Rohstoff AG's Ceritech have an agreement with China Molybdenum's Brazilian company (former Copebras) for phosphogypsum processing.

Carbon Cycle (PureGyp), UK, Elkem, Norway, plus a handful of others are trying the same.
Thanks for reading, enjoy your weekend!
//Companies
Kiril Mugerman of Geomega Resources discusses how recycling of rare earths could prove to be a cleaner and greener process than the extraction methods that China uses.
The system was specifically designed to take out the taptic engine, which creates the buzzing sensation when touching the iPhone screen. This will help recover valuable materials such as rare earth magnets and tungsten as well as steel. Dave's predecessor was called 'Daisy', which debuted in 2018 following the launch of 'Liam' in 2016.
Rare earths miner Lynas on Thursday told shareholders that it had inked a letter of agreement with Japan Rare Earths (JARE) reconfirming that company's long-term support of Lynas.

The two companies are parties to a long-term loan facility with a balance of $145-million at an interest rate of 2.5% a year and a maturity date of June 2030.

JARE in June of last year agreed to revise the payment schedule, with minimal payments until December 2024 to allow Lynas to use cash flow from its operations on capital expenditure, with JARE deferring further interest payments of $11.5-million until the end of October 2021, with no penalty and no additional interest.

The Atomic Energy Licensing Board recently approved Lynas' proposed site for its permanent deposit facility, in Malaysia, subject to the completion of relevant studies and final regulatory approvals.

The company was hoping to start the development of the facility by early 2021.
//Politics
Russia plans investment of $1.5-billion in rare earth minerals, critical to the defence, telecommunications and renewable energy sectors, as it strives to become the biggest producer after China by 2030, a top government official told Reuters.

Alexei Besprozvannykh, Russia's deputy industry and trade minister, said Russia is offering reduced mining taxes and cheaper loans to investors in a list of 11 projects designed to increase Russia's share of global rare earths output to 10% by 2030 from 1.3% now.

The 11 projects, which include developing the Tomtor deposit in Russia's far east, will allow Russia to become almost self-sufficient in rare earth elements by 2025 and start exports in 2026, the deputy minister said.
As we all know, the world's rare earth resources are mostly in China, and rare earths are also called "golden soil". It has also become an extremely important strategic resource. One may say that without the support of rare earth resources, the development of science and technology in any country will stop. The impact of a shortage of rare earths is immeasurable. So, why is the United States not afraid of China's rare earths?

It turns out that the United States was once a big country in rare earths. Since the extraction of rare earths would cause a lot of environmental pollution, and China's rare earths are cheap and good, the United States instantly closed its mine and switched to imports. But this does not mean that the United States can't survive without China's rare earths. If the United States stop importing rare earths [from China], it will have little impact on the US, as it can import from other countries. On the other hand, the price will be higher.
//Mining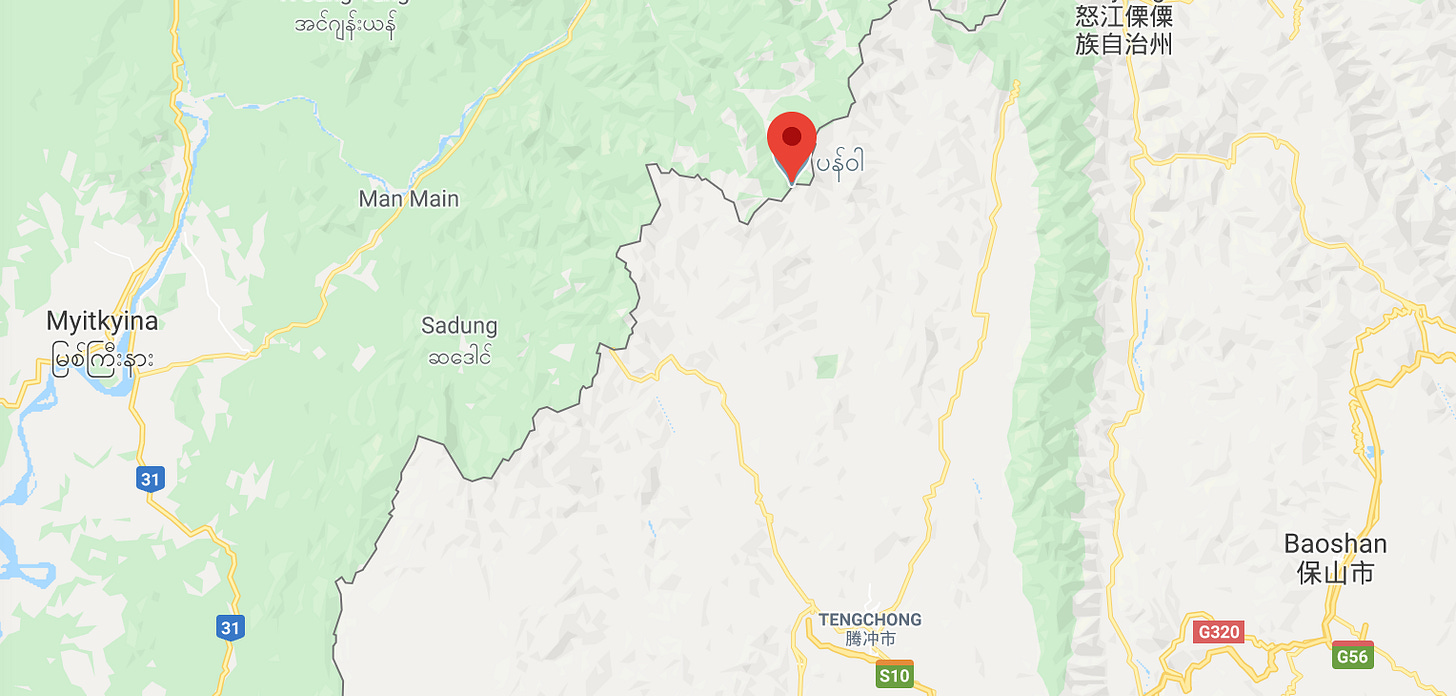 MYITKYINA- The Mining Department of Kachin State released documents which showed some companies digging for rare earth in Panwar region, Myitgyina District, Kachin State.

The documents also showed photos of ten-wheeler trucks loaded with Ammonium Sulphate fertilizer bags that are used in digging up mines and illegal mining plots.

"We submitted the photos and maps. When we inspected the test running mine plot at the south-west of Panwar region in November last week, we found over 30 vehicles. Chinese citizens and workers as well as illegal mining plots that were close to the test mine plots were found. But, we are not the arrest team so we only carried out the inspection. Mainly, there are various armed groups. We told them to officially apply for the mining plots and dig after We also informed the Kachin State Government Committee," said Director Saw Yu from Kachin State Mining Department.

The Minister of Kachin State Natural Resources and Environmental Conservation Dar Shi La Sai also said that only the Union Government had a chance to grant the rare earth mining plots in Kachin State.

However, they were going to submit their finding concerning illegal mining tasks to the Union Government.

There are about five kinds of mines out of 17 kinds of rare earth being excavated in Panwar region. Only raw minerals were exported to the China about 10,000 Yuan per kilogram. The sulphuric acid and ammonium sulphate were mostly used in the digging of the mines, according to the mining department's record.

Locals said that the environment as well as creeks and drains were polluted due to their illegal digging.

A local social organization also said that the Chiphwe Creek had turned red on December 6th from the mining. It also urged the government and companies to take responsibility for illegal mining and to solve the issues.

Rare earth is a essential chemical substance which can be used in manufacturing of electronic devices, mobile phones and weapons as well as exploiting the advanced fuel. But, mostly rare earth has been found in the China.

In Myanmar, rare earth and minerals can be found in only Kachin State protected by the Kachin State Border Guard Force.

However, those are being exported to the China through the blackmarket routes.
//Applications
Laser cooling might sound counter-intuitive because normally, when any material, including glass, is illuminated with a laser, it heats up. However, under certain conditions, by appropriately introducing rare-earth atoms to the glass composition and tuning the laser wavelength, it is possible to cool the glass. Conventional cooling methods always involve moving parts. Most of the time, there's liquid running through the system that adds vibrations, which can impact the precision or resolution of a high-sensitivity device that is cooled. Laser cooling, also known as optical refrigeration, allows a device to be cooled without moving parts and vibrations, making it highly desirable for ultrasensitive applications.