MP Deal Details; Pensana's Scoop; Lynas Pressured; Altona Stick to Mulanje Massif; Shin-Etsu Exit China; BMW Exit RE;
Rare Earth 2020 July 21
We have looked into the SEC filings of Fortress Acquisition regarding the MP Materials case.
All in all, MP Materials make a valid case, but….
Here our chart of Mountain Pass relative RE composition for your better understanding: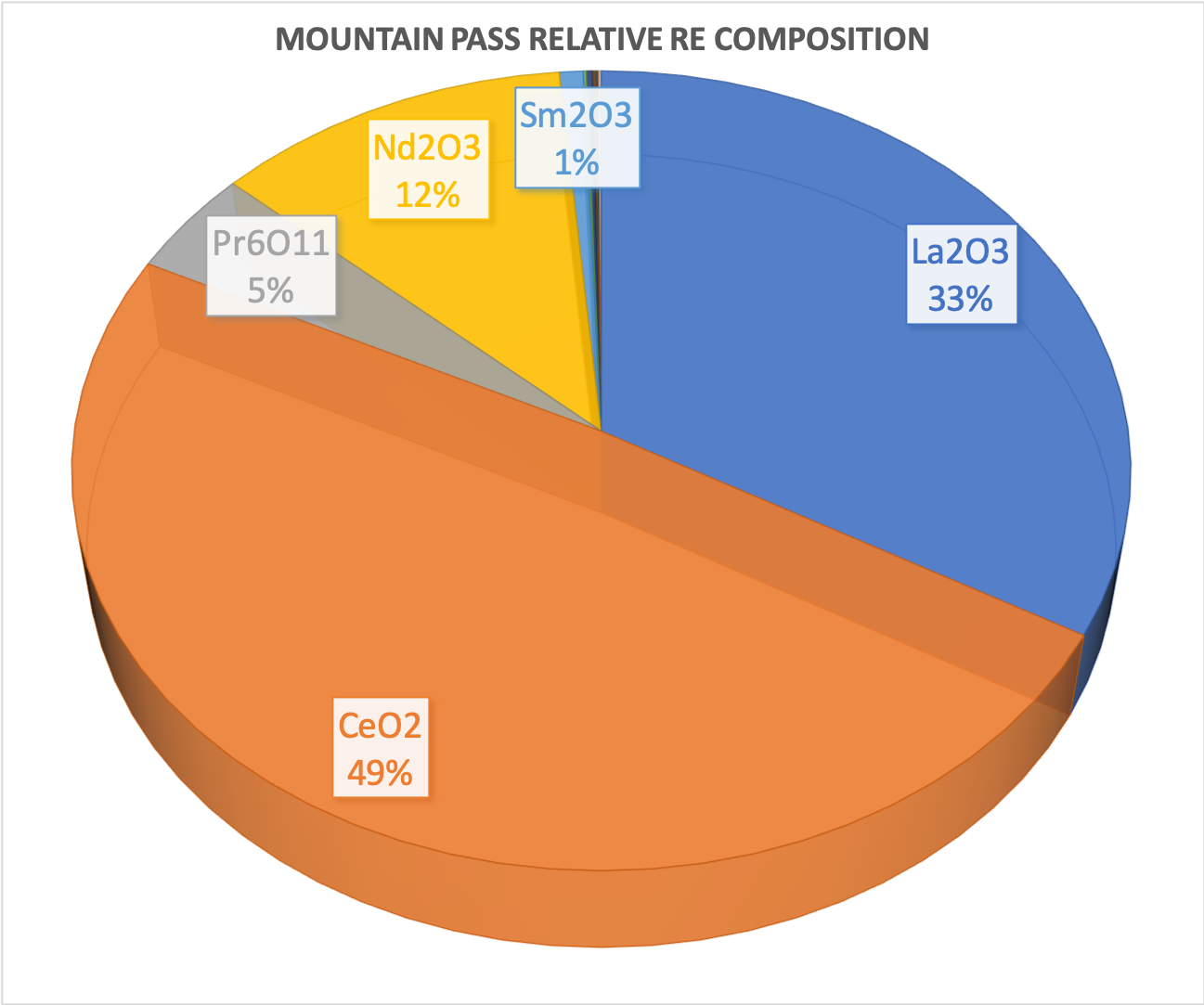 Similar to Lynas, MP Materials want to separate lanthanum, cerium and NdPr (see MP Materials presentation p. 29).
MP materials plan to turn out ~6,000 t of NdPr per year (see MP Materials presentation p. 10). That may be a tad too much for the US market, let alone the oversized quantities of lanthanum and cerium that may come along with separating NdPr.
This implies the need for substantial exports, against China, against Russia and against Lynas (by the way: Lynas only recently managed to bring its lanthanum and cerium quality up to par).
However, there are more risks.
Shenghe Resources (=China Aluminum, majority state-owned) currently own 9.9% of MP Materials. Post-merger Shenghe will hold 8% (see Investor Q&A), but will have no seat on the anticipated board (see MP Materials presentation p. 47).
We find off-take advances of China's Shenghe of US$95.5 mio (see MP Materials presentation p. 39) against an MP Material 2019 revenue of US$75 mio (see MP Materials presentation p. 36) and annualised revenue projection 2020 of US$82 mio (see MP Materials presentation p. 32).
The lifting of China's punitive tariffs against MP Materials exports to China in Q1 2020 brightened the prospects for MP Materials, to raise the current sales price of its concentrate exports from avg. US$1.33/kg to avg. US$1.60/kg during the remaining quarters of 2020 (see MP Materials presentation p. 32). Under these punitive tariffs, MP ran a loss last year (see MP Materials presentation p. 49).
Overall, we wonder, if and why Shenghe Resources should cooperate longer than absolutely necessary and if there isn't an increased risk of re-introduction of punitive tariffs right after Shenghe's possible exit.
If China stalls, the entire MP Materials concept will be in trouble, in our opinion, as the concept lives and dies with cooperation from China (see MP Materials presentation p. 29 and p. 30).
While we picked and linked a couple of pages of the MP Materials presentation, we encourage you to read it in its entirety along with the Investor Q&A and other filings, for fair assessment.
---
After the big sell-off last week, permanent magnet shares and rare earth shares rose sharply in China on Monday.
Two magnet stocks broke the daily limit of +10%:
On the rare earth front it also looked bullish. China Aluminum hit the +10% limit, Minmetals and China Northern Rare Earth Group stopped just short of the daily limit:

Rare earthers outside China also had a good day: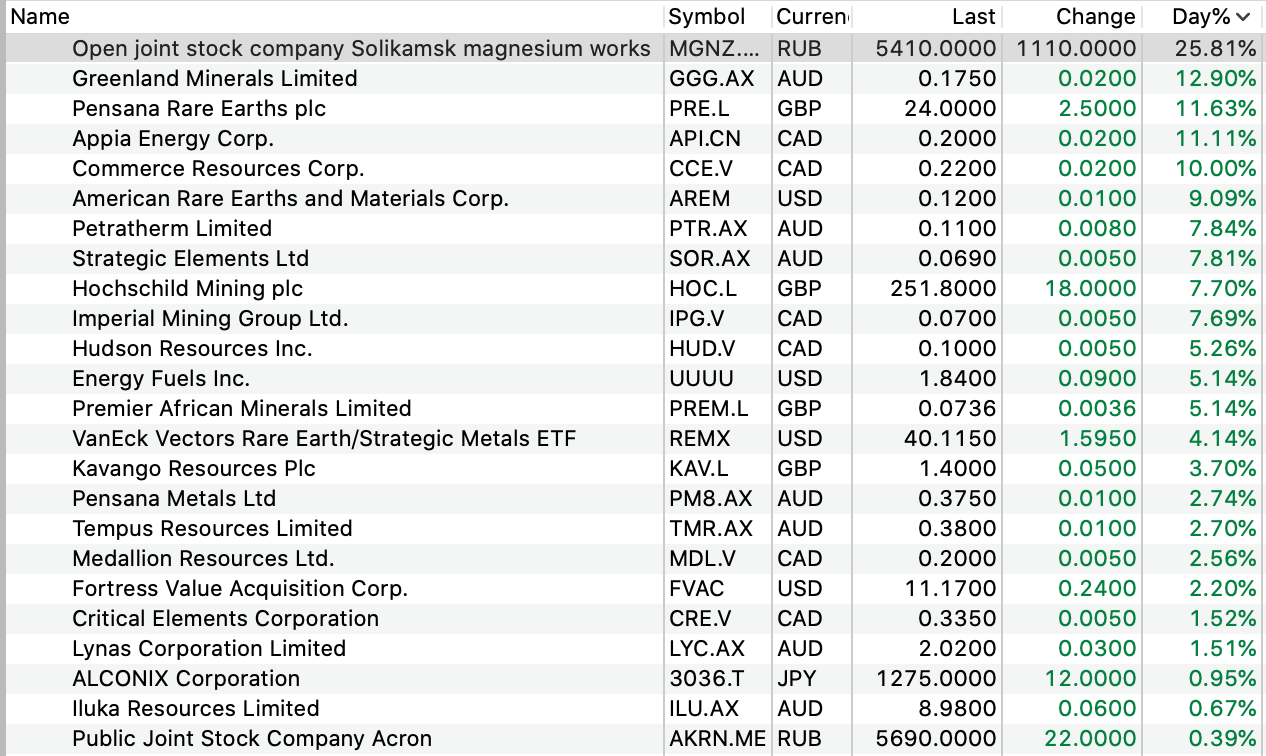 Pensana shares jumped on an announcement, that was released simultaneously in English by the company and in German by it's stock promoter Stefan Mueller (DGWA), content of which is an planned arrangement that would allow substantial Longonjo project financing by using a Chinese state owned satellite-launch company, the Chinese state-owned export insurance, Chinese state-owned banks and, we speculate, the Angola government. Interesting concept. Pensana shareholders should watch closely. See below.
Thanks for reading, have a great rest of the week ahead!
//Companies
Pensana Rare Earths Plc (LSE:PRE ; ASX:PM8) (the "Company") is pleased to announce that it has entered into a heads of agreement with China Great Wall Industry Corporation ("CGWIC") for the purposes of co-operating together for the Company's rare earths Longonjo Project in Angola.

CGWIC is a company with expertise and experience in international engineering which is actively engaged in a range of engineering projects in Africa.

The Company intends to proceed with an engineering, procurement, construction and financing ("EPCF") model for the development of its Longonjo Project to ensure that the design and construction of the processing plant and associated infrastructure is funded through a single arrangement.

The heads of agreement contemplates that the Company will seek the proposed debt financing component of the EPCF to be obtained from commercial banks in China with credit insurance from SINOSURE. The Company will seek to obtain such finance on the following indicative terms:

debt funding to cover no more than 85% of project development costs (Company to be responsible for funding the remainder);

and the term of the facility will depend on the particular terms from commercial banks and the life cycle of the project, but is not expected to exceed 8-10 years.
Comment: State-owned China Great Wall Industry Corporation (registered capital RMB 3 bio) is China's window for selling satellite launch services. Sinosure is a government export insurance agency, similar to what Germany, Japan, US and other countries have. While China Great Wall may not exactly be the ideal, most competitive and most qualified partner for rare earth project construction, they are certainly no alien to mitigating risk through insurance. China Great Wall may serve as a catalyst for enabling the financing of project construction through China's banks by obtaining Sinosure coverage for China Great Wall's exposure to Pensana. Pensana thereby could navigate the single largest obstacle for junior RE miners: Project finance. Sinosure, however, may require a guarantor. We speculate, that this is anticipated to be the Angola government, already invested in Pensana, who on its side may possibly want to see from Pensana a bankable, hard "take or pay" off-take agreement with a Chinese major rare earth player - and perhaps a feasibility study including the cost of this finance arrangement.
The government could revoke Lynas Corporation's permit to operate its rare earth refinery in Kuantan, Pahang, if the firm failed to begin the construction of a permanent disposal facility (PDF) by March 2021, Khairy Jamaluddin said.

The science and innovation minister said this was in line with conditions the Atomic Energy Licensing Board (AELB) set for Lynas to deal with its water leach purification (WLP) residue after the Australian government refused to accept it last year.
Sidley Austin LLP represented MP Materials, while Weil, Gotshal & Manges represented Fortress Value Acquisition Corp in the deal. Simpson Thacher represented Secure Natural Resources in the transaction.

MP Materials closed its merger with Fortress Value Acquisition Corp, a special purpose acquisition company sponsored by an affiliate of Fortress Investment Group LLC in an all-stock transaction valued at over $1.0 billion.

Upon completion of the transaction, the combined company will be named MP Materials Corp. and will remain NYSE-listed under the new ticker symbol "MP".

Following completion of the transaction, MP Materials will retain its experienced management team. Co-Chairman James Litinsky will become Chairman and CEO, current CEO Michael Rosenthal will become COO, Ryan Corbett will continue to serve as CFO, and Sheila Bangalore will continue to serve as Chief Strategy Officer and General Counsel.

As a part of the transaction, Fortress also acquired Secure Natural Resources LLC, the owner of certain mineral rights at Mountain Pass, the only rare earth mining and processing site of scale in North America.

MP Materials is the owner and operator of the Mountain Pass Rare Earth Mining and Processing facility, the only integrated site of its kind in the Western Hemisphere. With over 200 employees, MP Materials produces approximately 15% of global rare earth materials, essential for the development of technologies such as defense systems, smartphones, drones, and electric vehicles. It operates a green mining and processing facility and is currently one of the lowest-cost producers of rare earth concentrate. MP plays a leadership role in advocating for a more robust and competitive rare earths industry in the U.S.
To: All Persons or Entities who purchased Fortress Value Acquisition Corp. (NYSE: FVAC) stock prior to July 15, 2020.

You are hereby notified that Levi & Korsinsky, LLP has commenced an investigation into the fairness of the merger of Fortress Value Acquisition Corp with MP Materials & Secure Natural Resources LLC. Under the terms of the agreement, Fortress shareholders will retain ownership of less than 24% of the combined company.
Mining exploration company Altona said it had launched a pre-funding campaign on Minexia's private investment platform, NR Private Market, for its proposed investment into an African rare earth element project under evaluation.

NR Private Market offered private investors access to pre-vetted mining deals, allowing them to participate in capital raising events, from which they would normally be excluded, due to regulatory status.
With some help from electric vehicle market ebullience, the VanEck Vectors Rare Earth/Strategic Metals ETF (NYSEArca: REMX) is higher by more than 32% over the past 90 days and there could be more to come for the only rare earths ETF.

REMX seeks to replicate as closely as possible, before fees and expenses, the price and yield performance of the MVIS Global Rare Earth/Strategic Metals Index (MVREMXTR), which is intended to track the overall performance of companies involved in producing, refining, and recycling of rare earth and strategic metals and minerals. REMX offers investors the opportunity to participate in the rare earth metals arena, without as much of the risk presented when investing in an individual rare earth stock.
Entering the construction site of Zhenghai Magnet's low-heavy rare earth permanent magnet base construction project, workers are busy installing equipment and debugging. "Our project is expected to be put into use at the end of August. It adopts magnet fine-grain technology, magnet high-temperature resistance component control and process technology, neodymium iron boron magnet surface dysprosium and terbium permeation technology, etc., they independently researched and developed the first domestic magnet grain boundary diffusion method processing. The technology can greatly improve the utilisation of heavy rare earth elements and the coercivity of magnets, and the products can be widely used in electric vehicles, hybrid vehicles, etc." said Li Zhiqiang, general manager of Zhenghai Magnetic Materials.
Comment: ZHMag was established in 2000, went public in 2011. It is a licensee of Hitachi Metals. Core supplier is Minmetals. ZHMag is part of Zhenghai Group, which is in real estate, biotech, car interiors, money lending, jewellery, touch panels, general investment and permanent magnets.

//Politics
Some people don't understand that with more frequent use, rare earths will become less and less. Why doesn't our country prohibit the export of rare earths?

There are two main reasons why our country does not prohibit the export of rare earths. First, our country is a large, responsible country. The United States will prohibit the export of certain commodities for its own benefit, but China does not want to do so. When the trade war broke out between China and the United States, China made it clear that it would not use the "ace" of rare earths to attack the United States unless the United States used Chinese rare earth products to attack China.

According to the latest statistics from the U.S. Geological Survey in 2019, the current global reserves of rare earth resources are 120 million tons, and China, the country with the largest reserves in the world, has 44 million tons, accounting for 37%. In the past few years, China has strictly restricted the export of rare earths.
Comment: Stopping export is not an ace, it is a dud. As long as China can't control the inherent imbalances in the REO output, China will absolutely need to export RE. China goes along with USGS numbers, while they should know better. Our slightly different view based on Chinese numbers is, that China should have <27 mio tons TREO of reserves, while the rest of the world has RE resources of >100 mio tons TREO, not including beach sand deposits.
As part of the plan, Japan's Ministry of Economy, Trade and Industry on Friday announced that 87 companies or groups will be provided with a total 70 billion yen ($653 million) to move their production lines out of China.

Japan is looking forward to reduce its reliance on China and build resilient supply chains, according to the Nikkei Asian Review report.

Of the companies, 30 will shift to Southeast Asia. This includes: Hoya Corporation, which will produce hard-drive parts in Vietnam and Laos; Sumitomo Rubber Industries, which will manufacture nitrile rubber gloves in Malaysia; and Shin-Etsu Chemical, which will shift its rare-earth magnet production to Vietnam, among others.

The rest 57 projects will move to Japan for their operations.
Comment: If Japan goes public like this, then it has already been decided.
Resource security is also a key concern to sustain Japan's economic foundation. Japan is well acquainted with Beijing's weaponization of rare earth elements in 2010 in relation to escalating tensions in the East China Sea. Subsequently, to ease dependence on China and bolster critical mineral security, Japan has stepped up cooperation along with the U.S. and Australia and investing in processing non-Chinese rare-earth metals. Smelting facilities in Texas, to be operated by Australian Lynas, may see Japanese investments. Diversifying sources for rare earth elements and cobalt remains a priority for the Ministry of International Trade and Industry (METI). As China dominates the rare earth supply chain from mining to processing and magnet production, Japan aims to ease its reliance for Chinese rare earth elements to 50 percent or less by 2025 and increase self-sufficiency ratio through equity investments.
Attorney General William Barr delivered a speech on China this week lashing out at American universities and companies for being too cozy with Beijing. He also complained that the United States has become too dependent on China for minerals that are critical to national security.
China has warned Australia that excessive anti-dumping complaints by BlueScope Steel threaten our industry and crucial iron ore exports.

"If China's steel enterprises reduce their iron ore imports due to the impact of trade remedy, it is likely to damage the interests of Australian iron ore producers," it added.

"We would encourage Australia to face up to the characteristics of the industrial structure of and in-depth co-operation between China and Australia and consider the adverse effects for trade remedy investigation on the industrial chain, thus avoids the excessive use of trade remedies which may cause losses to the enterprises of China and Australia," the submission said.
Comment: China is totally dependent on iron ore imports. At this time, China depends on Australia for 75% (seventy-five percent) of its iron ore imports. We can't fathom what degree of bureaucratic incompetence has been guiding Chinese diplomats to cook up such ideas.
//Applications
The hybrid-electric system uses two electric motors, each with unique functions. Both motors use magnets containing no heavy rare-earth metals based on a proprietary, jointly patented Honda and Daido Electronics design.
The factory will source the cobalt and lithium necessary for producing batteries from mines they have deemed sustainable. BMW has made it clear that it prioritizes transparency, sustainability, and a reduced carbon footprint. BMW also plans to stop using rare earth minerals in its fifth-generation electric powertrains from 2021.
First discovered a little over a decade ago, skyrmions are highly promising for application in low-power, high-density storage and transfer of data. They are attracting increasing interest, and there are predictions that the first skyrmion-based commercial devices will start appearing in about ten years.
While low-field MRIs are growing in popularity, radiologists frequently ask Rosen if an injectable contrast agent is available to improve the images they produce. Doctors occasionally inject patients with a contrast agent based on the heavy metal gadolinium before performing a conventional MRI to enhance image quality, though concerns about long-term toxicity now limit that practice.

For gadolinium to be used with low-field MRI, a doctor would have to administer 1,000 times more than the amount approved by the Food and Drug Administration (FDA), explains Rosen.

To solve the problem, physicists David Waddington, PhD, the lead author of the Science Advances study, and Zdenka Kuncic, PhD, both from the University of Sydney, suggested testing superparamagnetic iron oxide nanoparticles (SPIONs) as a contrast agent with low-field MRI.

SPIONs are safe and approved by the FDA for treating some cases of anemia, or iron-deficiency, but they have another desirable quality. "SPIONs essentially amplify low magnetic fields," says Waddington, noting that SPIONs are 3,000 times more magnetic than conventional MRI contrast agents.