Minmetals Quirky Numbers; Sc Oversupply Looms; Battery Failure; RE-Automation; The Usual Suspects
Rare Earth 2020 July 15
Time to throw a flashlight on evil rare earth monopolist, China Inc. It wouldn't be China, if it wasn't complicated. Let's pick one of its state-owned work-units.
What do you know about the stock-listed Minmetals Rare Earth Corp?
China Minmetals is a giant state-owned conglomerate in steel, coal, mining, shipping, extractive industries, manufacturing, etc.
Minmetals Rare Earth Group Co., Ltd. is one of China's "Big 6" state-owned rare earth companies. The company was established in Shanxi Province on June 17, 1998 and listed on the Shenzhen stock exchange on September 11, 1998.
Minmetals Rare Earth Group Co. Ltd., the actual controller of the listed company Minmetals Rare Earth Corp, has a Ministry of Industry & Information Technology-assigned mining quota of about 2,000 tons ionised clay and a smelting and separation quota of >5,600 tons TREO per year.
However, at this time the Minmetals rare earth group consists purely of RE processing and separation companies. If you should have ever wondered, where the imported ionic clay material from Myanmar went to, look no further.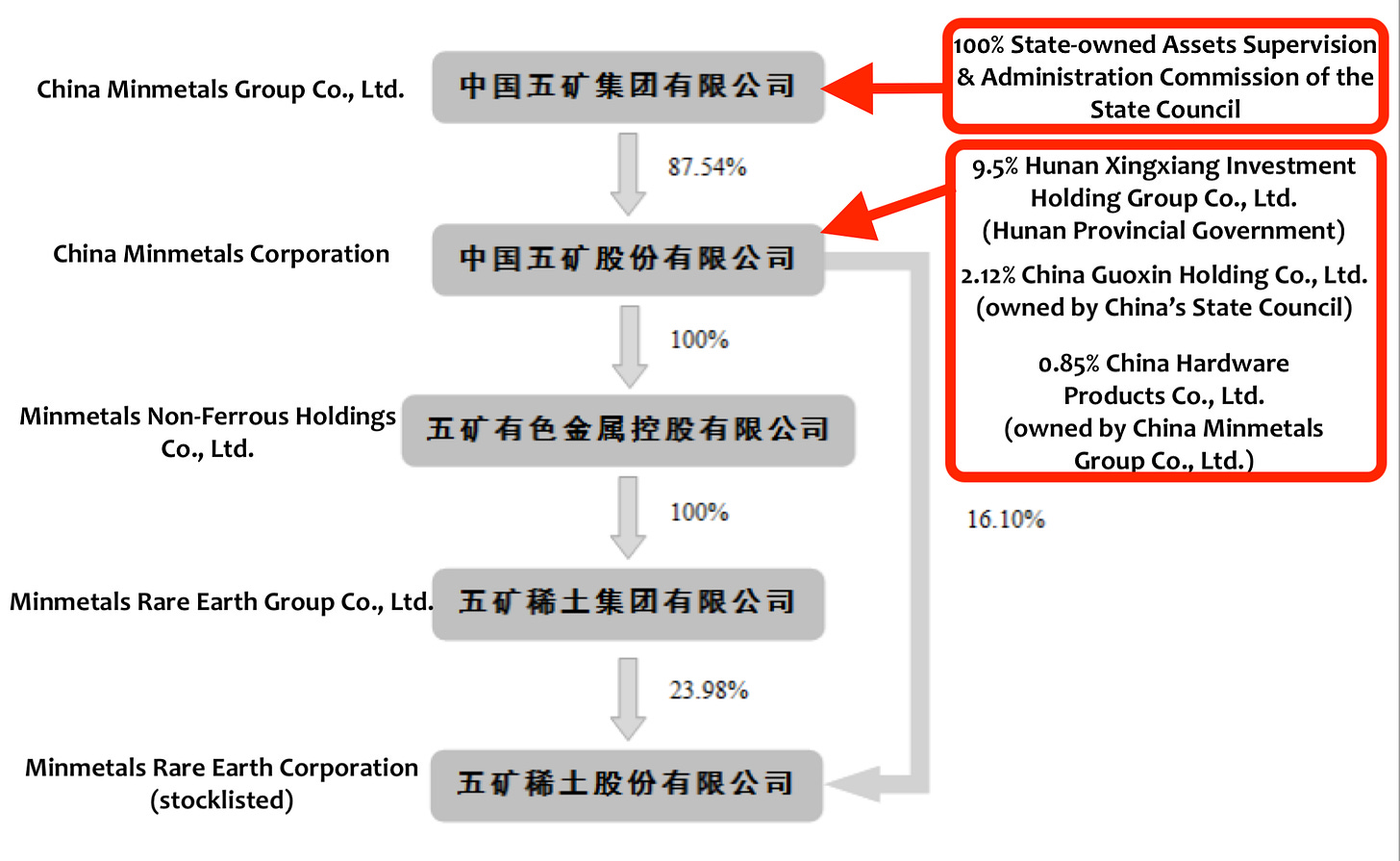 Listed Minmetals Rare Earth Corp itself consolidates 6 subsidiaries , one of which in Guangzhou has been ailing for a while, and another one in Ganzhou is definitely to be closed and removed from its current location for environmental reasons. Such closures would rid Minmetals Rare Earth Corp of much of its RE separation capacity.
In 2019, according to its annual report, Minmetals Rare Earth Corp sold 6,700 t (14% or 1,100 t down year on year), production quantity dropped by 2.4% to 4,000 t and inventory was up by 25% reaching 3,950 tons. In the same period sales revenue increased 78% to RMB 1.647 billion (US$ 235 mio), inventory value rose by 80% to RMB 165 mio (US$ 23.5 mio) and operating cost rose by 98% to RMB 1.464 bio (US$209 mio).
The annual report does not bother to explain the stellar increase of numbers, neither do the auditors.
This is reminiscent of the breathtaking balance sheet acrobatics of Minmetals Rare Earth Corp some years ago, when the company was about to get delisted for 3 years of consecutive losses.
For 2020 Minmetals Rare Earth Corp forecast a 9% reduction of revenue. The stock market is blissfully unconcerned.
The company has been exploring two ionic clay RE deposits for years, Shengongzhai (MR 90.5 mio tons, TREO 50,000 tons) and Feitian (MR 115.8 mio tons, TREO 65,000 tons). Projected capacity of both mines together is 1,800 t TREO per year (in line with Minmetals Group mining quota), to turn out a 92% concentrate. Minmetals Rare Earth Corp have been trying for years to obtain a mining license for both, so far unsuccessfully.
An additional mine, Guposhan (MR 75.6 mio t, TREO 104,300 t), is being developed and paid for by the ultimate controller Minmetals Rare Earth Group Co., Ltd., schedules 2,000 t as TREO output per year (as per mining quota assigned to Minmetals Rare Earth Group Co., Ltd.), along with 3,000 t separation capacity, to be passed through M&A to Minmetals Rare Earth Corp as soon as profitable (see company news below).
Currently, the potential operator of Guposhan, Jianghua Yao Autonomous County Xinghua Rare Earth New Materials Co., Ltd., whose 80% shareholder is Minmetals Rare Earth Group Co., Ltd, is a competitor of Minmetals Rare Earth Corp.
The original plan was to start operations at Guposhan during 2020, but these plans have been COVID-19thed (it is not unusual to start construction ahead of the permit. That is how China got this oversized steel industry).
It is probably reasonable to assume, that only one of the above mining licenses will be granted. We think it will be Guposhan for better TREO content, more favourable RE composition, easier compliance enforcement and lower cost per ton of TREO. However, as you can read below, there are still feasibility concerns.
If Guposhan should start up, expect ionised clay imports from Myanmar to nose-dive.
In China's rare earth sphere they also put on their trousers one leg at a time.
Scandium gets en-vogue. Imperial Mining want to focus on it, NioCorp are on it with potential for turning out a quantity 10 times current world demand, and then there are 9 others who also want to chase scandium.
Thanks for reading.
//Companies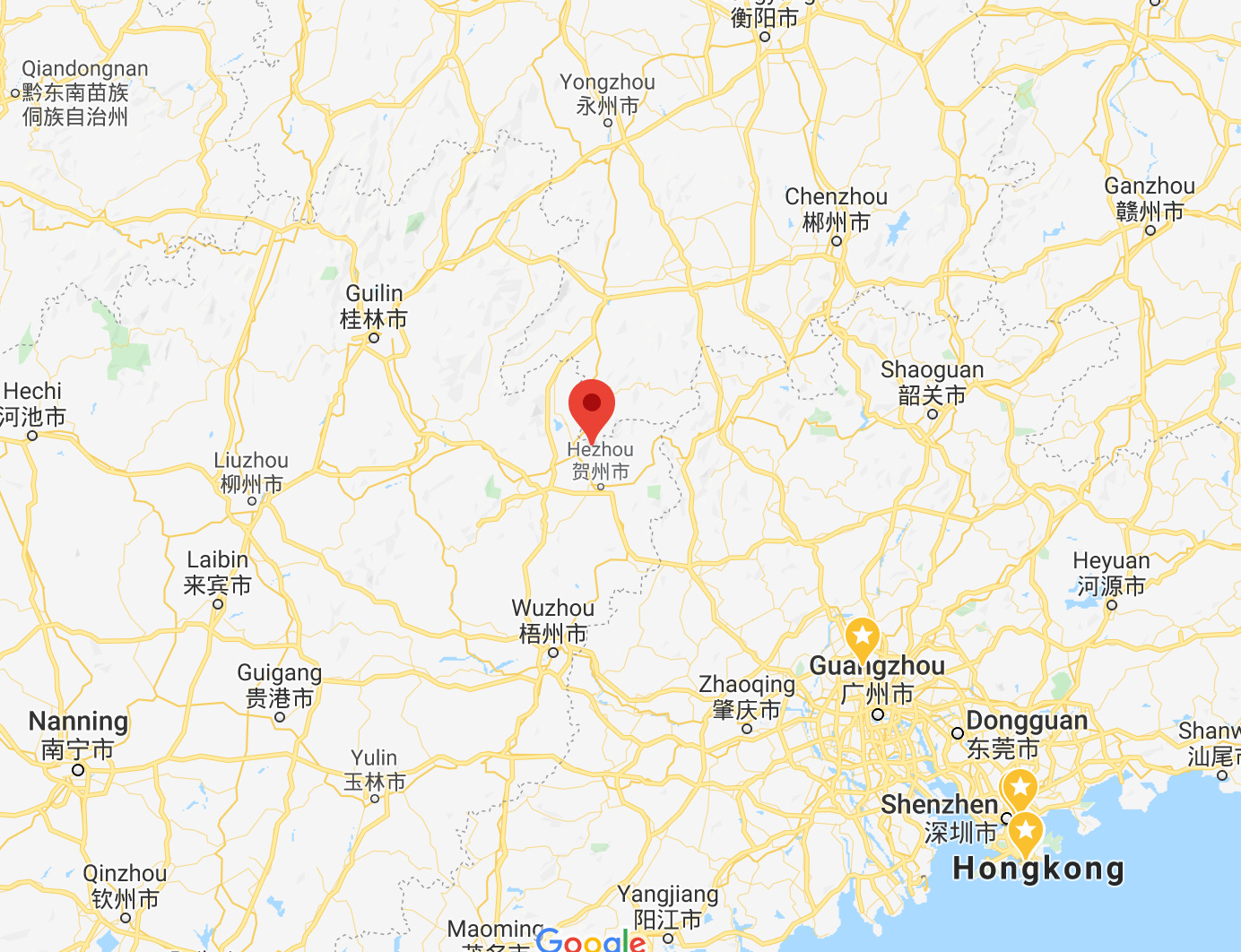 Recently, some investors asked the Minmetals Rare Earth Group how much of the construction progress of the Minmetals Rare Earth Group Jianghua Mine was completed. There are only five months left in 2020. The shares of Minmetals Rare Earth Group Co., Ltd were transferred to Minmetals Nonferrous Metals Holding Co., Ltd. Is there no competition in the same industry, Xinghua Rare Earth will not need to be injected into the listed company?

The company replied that according to your questions, the following replies were made:

(1) It is understood that Jianghua Rare Earth Mine is under active construction, please consult relevant parties for details;

(2) China Minmetals, the actual controller of the company, has promised that if Jianghua Xinghua Rare Earth New Material Co., Ltd. belongs to the parent company for two consecutive years, the net profit after deducting non-recurring gains and losses is positive (based on the value determined by the audit) and meets the listing requirements, will give priority to injecting it into the listed company, and start the asset injection process within one year from the date of meeting the above conditions. If the above plan is not approved after being reviewed by the board of directors and/or shareholders' meeting of the listed company, it will be managed by the listed company, sold out, reduced to below the holding level, or closed. This letter of commitment continues to be valid during the period when Minmetals rare earths are legally and effectively existing and China Minmetals acts as the actual controller of Minmetals Rare Earths. Thank you for your attention.
The firm said the appointments were made to help progress the proposed acquisition of Akatswiri Rare Earth, as it announced on 2 June, and also to consider further possible investments in similar rare earth element projects in Africa.

"The board, taking note of the historic failings of Altona, is cognisant that to provide the best opportunity for success in developing highly technical mining projects, it needs to work closely, from day one, with a team of qualified advisers," the directors said in their statement.
Comment: If one reads the NI43-101 the realisation dawns, that there is nothing that can make Mulanje Massif ionised clay deposit work.
Greg Andrews, President and CEO states: "The proceeds from the Private Placement allow Search to continue to advance our Critical Rare Earth District in SE Labrador. Our exploration team has been working in the area since early June 2020. An extensive channel sample program at AWESOME FOX is nearing completion, and our team anticipates initiating similar programs on our SILVER FOX and FOX MEADOW prospects thereafter."

Additional Andrews adds; "Search continues to evaluate various proven and new REE separation technologies to complete our entrance into the North American rare earth supply chain through producing individual rare earth oxides. Using our proprietary Direct Extraction Process, we have the option to produce either a 58% REO mixed rare earth carbonate or a 99% REO mixed rare earth oxide concentrate as input to the separation plant."
Scandium is classed as a transition metal and rare earth element (REE) and readily alloys with aluminium to produce an alloy that is as strong as steel and titanium but weighs around one-third of steel and is about 40% lighter than titanium and costs ten times less to produce.

Scandium-aluminium alloys are also highly resistant to corrosion and offer enhanced weldability. The welding process can often be challenging for other high-performance aluminium alloys and usually requires costly repair to damaged alloy structures via heat treatment.

These properties, which can be realised with the addition of just 0.1% to 0.45% scandium, make scandium-aluminium alloys ideal for vital components in applications across the automotive, aerospace, defence, and many other industries.

Most scandium is produced today as a by-product of other mineral refining processes and comes in the form of an oxide, chloride, iodide, fluoride, and acetate. However, it is supplied mainly in the form of scandium oxide from China, with minor amounts from Russia, Ukraine, and the Philippines.

Scandium prices, which, according to Scandium Investing News, can be as high as US$4,600 per kilogram for scandium oxide, have made its use as an aluminium alloying agent cost-prohibitive, and the constraints in supply have severely hampered its broader industrial adoption.

Imperial Mining (TSXV: IPG), a leading Canadian exploration and development company headquartered in Montreal, is at the vanguard of efforts to develop a sustainable source of scandium from its Crater Lake Scandium-REE property, located east of Schefferville in northeastern Quebec and approximately 95 km from the end of the Trans-Labrador Highway.
Montoro Appoints Karim Rayani as President & CEO
Mr. Rayani for the past 15 years has been focused on financing both domestic and international mineral exploration and development. Mr. Rayani is currently Chief Executive Officer, Director of Falcon Gold Corp.; Chair of R7 Capital Ventures Ltd.; Chairman, Chief Executive Officer, and Director of District 1 Exploration Corp.

Int. Montoro Resources Inc. listed on the TSX Venture Exchange for over 25 years, is a Canadian based emerging resource company. The Company is systematically exploring its extensive property positions in:

Red Lake, Ontario ( Camping Lake - Au prospect)

Elliot Lake, Ontario (Serpent River/Pecors -Ni-Cu-PGE discovery) & (Uranium- REE's)

Quebec (Duhamel -Ni-Cu-Co prospect & Titanium, Vanadium, and Chromium prospect)

Prince George, British Columbia (Wicheeda North - Rare Earth Elements prospect)
"With the initiation of this multiyear program of baseline surface water hydrology and water quality assessment, we continue to be forward looking with respect to advancement of the Wicheeda REEs project," Defense Metals President and CEO Craig Taylor said in the release.
Pensana Rare Earths (PM8) has reported high-grades from an 8000-metre drill program completed at the Longonjo neodymium-praseodymium oxide (NdPr) Project in Angola.

The infill and reverse circulation (RC) drilling program will support the company's bankable feasibility study (BFS). Pensana is targeting an initial 15-to-20 year mine life based on the weathered zone mineralisation at Longonjo.

Encouragingly, the latest results have identified zones of high-grade weathered mineralisation from the surface that is expected to increase average grades in the area where Pensana is proposing an open-pit mining operation.
Comment: These are the proportional values that we know of Longonjo so far: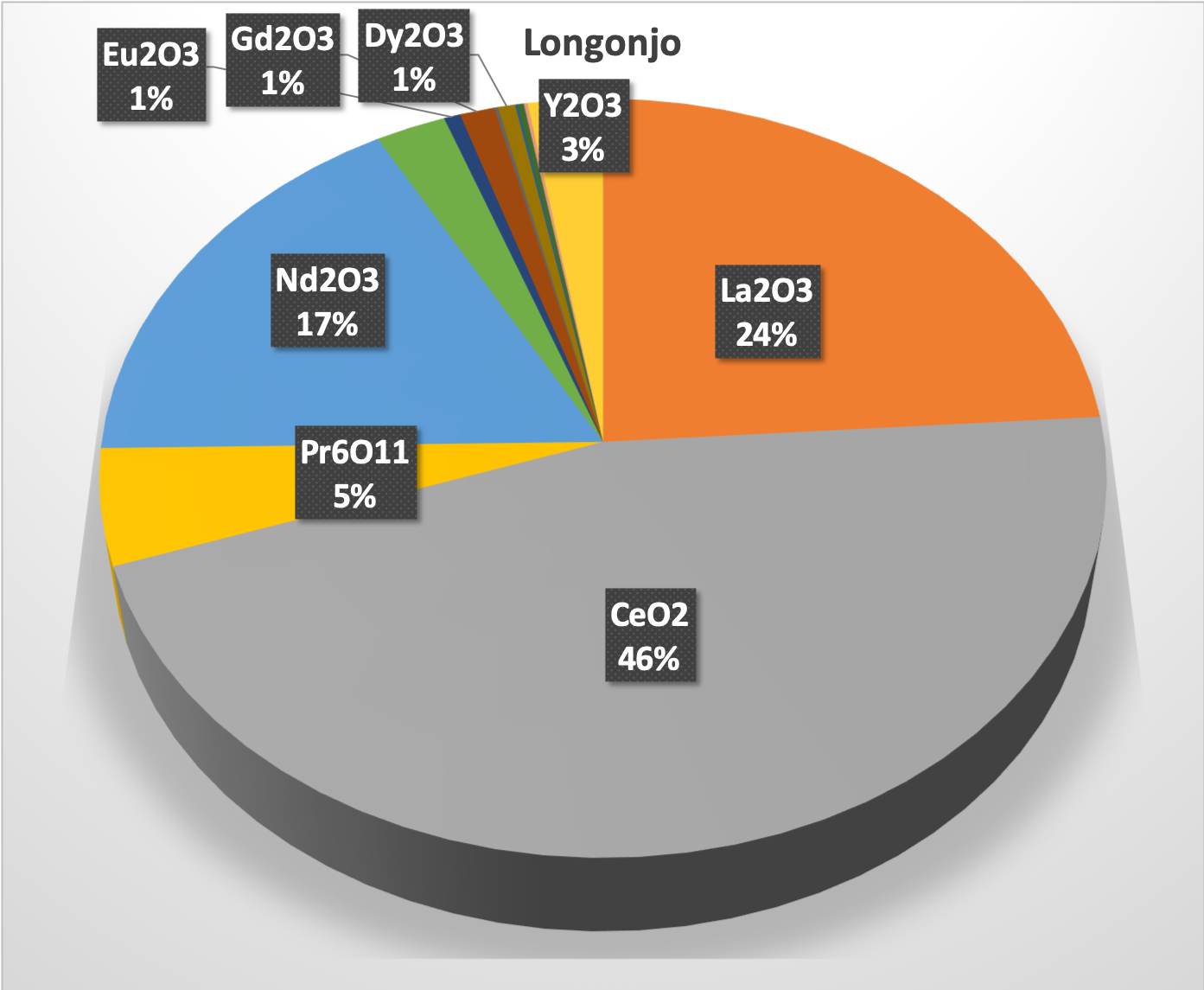 As we lined out before, La and Ce in terms of volume are a large part of the West's strategic dependence on China. Both make up ~70% of Longonjo's TREO. We know of two junior RE projects elsewhere, who strategise low-cost extraction of La and Ce at home, before they ship the rest off to China.
//Market
A Rhode Island radiologist pushed back against a recent JACR letter to the editor that he believes promotes "severe and unsubstantiated" conclusions related to gadolinium-based contrast agent administration.

Jeffrey Rogg, MD, with Rhode Island Hospital in Providence, says the argument penned Monday by a trio of experts puts institutions at increased legal risk in suggesting gadoteridol (Prohance) is the "safest and best" GBCA, he wrote.

Rogg claims this assertation runs contrary to American College of Radiology contrast committee and Food and Drug Administration positions and notes the conclusions are based primarily on Bracco Pharmaceutical-backed scientific research.
'Little dragon' Byton on the brink of collapse?

Byton had been struggling for a while. At the beginning of 2019, it lost one of its two founders, Carsten Breitfeld, who had made his name overseeing BMW's 'i programme'. He didn't like the direction that Byton was taking after state-owned FAW Group purchased a strategic stake. His departure prompted a round of litigation and Byton struggled to close a $500 million fundraising it launched in early 2019. It furloughed its staff at its Californian design centre this March, at which point its first model, the M-byte SUV, was still waiting to go into fuller production.

Byton then closed its Nanjing plant at the beginning of July. The company says this is a temporary measure while it reorganises. However, the Detroit Bureau, an auto industry news site, cites former employees as saying that the closure of the factory marks the end of Byton's business.
//Mining
The Micronics Engineered Filtration Group has introduced to the market its newest filter press cloth product, the MINE-XLLTM filter cloth. This was developed and tailored specifically for the mining industry to provide extra-long life, "dramatically decreasing the frequency of filter cloth change-outs, a pain point in mining & mineral processing dewatering operations including copper, zinc, gold, silver, rare earths, lithium, and more."
//Processing
Northern Rare Earth's "Research and Industrialization of Continuous Production Process of 10,000-ton Light Rare Earth Carbonate" project was formally recognized as "the overall technology reached the international advanced level" by the Chinese Rare Earth Industry Association and was successfully put into production.

Northern Rare Earth R&D team independently developed continuous precipitation of light rare earth carbonate, mixed precipitation agent of ammonium bicarbonate and ammonia and automatic control technology, and solved the large water consumption and waste water production caused by single-stage and intermittent production through technology integration.