Mind Your La-Ce; China Northern seeks external sources; North Korea's Rare Earths; NTU in trouble; RE Infidelity?;
Rare Earth 2020 June 19
China Southern Rare Earth increased list prices for heavy rare earths, a predictable move, after China Northern had increased the light rare earth prices. Predicting higher holmium, dysprosium, terbium and gadolinium prices actually has almost become self-fulfilling prophecy.

On the light rare earth side there is a nagging headache. In order to turn out enough permanent magnet materials, i.e. neodymium and to a lesser degree praseodymium, lanthanum and cerium are perpetually overproduced and therefore are as cheap as cabbage.

Lanthanum and cerium are by far the largest trade volumes of all rare earth elements, no matter if EU, Japan or USA. Since for these products it is a persistent buyer's market, suppliers are understandably unhappy and China puts most of its rare earth research funds into the application research of these two elements.
Thanks for reading.
//Companies
June 18: "Honest, Trustworthy and Sincere Communication"- In 2020, an online collective reception for investors of listed companies in Inner Mongolia was held on Thursday. Zhao Dianqing, chairman and party secretary of Northern Rare Earth (600111), said at the event that the company's controlling shareholder Baotou Steel (Group) Company has the exclusive mining right of Bayan Obo Mine, and the rare earth resources mined by Baotou Steel (Group) Company are exclusively smelted and separated by the company. The company is actively seeking to control external rare earth resources.
Comment: There he is, your willing and able investor in junior rare earth miners. After having been turned down by Australia on the NTU investment, may be China Northern want to check out North Korea?
The heavy rare earths developer's indicative debt position as at June 15, 2020, is around $19.2 million.

Northern Minerals Ltd (ASX:NTU) has repaid half of the debt owed to SinoSteel MECC, the engineering procurement construction (EPC) contractor for its Browns Range R&D Pilot Plant Project in the East Kimberley region of Western Australia.

There are also plans to repay the remaining $4.2 million by the end of the year with the first tranche of $2.1 million to be repaid on July 23, 2020, with the second repayment to take place on October 23, 2020.

Sinosteel is a subsidiary of Shenzen-listed Sinosteel Engineering & Technology Co Ltd.

NTU also proposes to repay $4 million to JHY Investments Pty Ltd on December 31, 2020, after the company extended the maturity date for an additional year for the convertible notes held by JHY and reduced the interest rate payable from 16% to 10% from January 1, 2020.
Comment: A loan at 16% p.a. must cripple any company, whether pre-revenue or not. NTU financial year ends in 11 days. Already last year it was borderline, see NTU annual report FY 2019:


NTU lost 70% of their market cap since beginning of the year.
Arafura plans to send samples of a refined liquor comprising middle and heavy rare earths, produced from its ores processed at an Australian government plant, to the USA Rare Earths' pilot plant in Colorado to separate into individual heavy rare earths, the company said in a stock exchange statement.

Last week, USA Rare Earth said its rare earth and critical minerals pilot plant processing facility in Colorado had received its required permits, helping it move closer to its goal of building the first rare earth and critical minerals processing facility outside China.

The testing program follows an initial agreement signed by Arafura and USA Rare Earths in December.
Comment: What happened to the marriage between USA Rare Earth and Texas Minerals? From the ASX announcement:
This strategic alliance allows for the treatment of the Company's SEG-HRE (middle and heavy rare earth) carbonate product by USARE's proprietary processing technology. Arafura successfully produced a refined liquor at its rare earth separation pilot plant at ANSTO Minerals in which SEG-HRE comprised >99.5% of the total contained rare earths
Hastings Technology Metals Limited (ASX:HAS.AX) (HAM:5AM.HM) has received a works permit to construct the Yangibana Rare Earths Project (Yangibana Project) process plant under Part V of the Environmental Protection Act 1986 (Western Australia).
Comment: The final product of Hastings is supposed to be a mixed rare earth carbonate. Hastings said to have signed an off-take agreement with German automotive supplier Schaeffler. Current published price for Chinese rare earth carbonate mix 45% is around US$3/kg.
Search Minerals Inc. (TSXV: SMY) ("Search" or the "Company") is pleased to report that its 2020 exploration program for Critical Rare Earths Elements (CREE), Zirconium (Zr) and Hafnium (Hf) in the Port Hope Simpson – St. Lewis CREE District has begun.

EXPECTATIONS FOR THE 2020 EXPLORATION PROGRAM

Program time line – Completed by August 2020

FOX MEADOW program aims to expand the previously successful channel sampling programs to make this mineralized zone ready for a Phase 1 exploration drilling program;

AWESOME FOX program consists of a trenching/channeling program to sample mineralization over a UAV magnetic anomaly;

SILVER FOX program will sample high-grade zirconium-hafnium mineralization on surface. SILVER FOX located just west of the FOXTROT DEPOSIT;
The board of Alkane Resources is progressing the demerger of Australian Strategic Materials (ASM), and listing ASM on the ASX, subject to finalisation of outstanding regulatory matters and shareholder approval at an Alkane Shareholder Meeting to be convened on 16 July 2020 at 10:00 am (AWST). ASM is currently anticipated to list towards the end of July 2020.
Comment: Dubbo Zirconia is a polymetallic deposit: Niobium, hafnium, tantalum, zirconia and RE. For zirconia there is an off-take contract. Mineable RE resource 73.2 mio t, TREO content 651,000 t. Original plan was to separate La, Ce and Y on-site (4,800 t/year) and separate the remaining LREE and HREE "off-site" (1,600 t/year).
Australian Strategic Materials (ASM) would continue to pursue opportunities and financing for the shovel-ready $1 billion Dubbo Project.
This new resource demonstrates:

A 49% increase in overall tonnage based on the results of the 2019 diamond drilling of 13 holes totaling 2,005 meters;

A 30% increase in overall average grade, in part through the incorporation of potentially economically significant praseodymium not previously estimated;

Conversion of 4,890,000 tonnes to Indicated category previously defined as Inferred;

Increased Inferred Resources by 730,000 tonnes in comparison to the initial Wicheeda MRE1;

Potential for expansion of the Wicheeda Deposit to the north and west in the down plunge direction.
Comment: There are also International Montoro Resources at Wicheeda.
Gonzales will manage the company's technical team working across Appian's portfolio, with direct oversight of the firm's operated assets including Atlantic Nickel's producing Santa Rita nickel-copper-cobalt project and Mineração Vale Verde's copper-gold Serrote project in Brazil, which is advancing towards production next year.

Igor Gonzales. Image from Appian Capital Advisory.

He will also advise businesses in which the company holds a significant minority interest including Roxgold's assets in Burkina Faso and Côte d'Ivoire, Harte Gold's Sugar Zone mine in Canada, and Peak Resources' Ngualla rare earth project in Tanzania.
A company's cash runway is the amount of time it would take to burn through its cash reserves at its current cash burn rate. As at December 2019, RareX had cash of AU$2.0m and no debt. Importantly, its cash burn was AU$1.7m over the trailing twelve months. So it had a cash runway of approximately 14 months from December 2019.

Because RareX isn't currently generating revenue, we consider it an early-stage business. So while we can't look to sales to understand growth, we can look at how the cash burn is changing to understand how expenditure is trending over time. Over the last year its cash burn actually increased by 5.1%, which suggests that management are increasing investment in future growth, but not too quickly.
Comment: Pointless analysis. RareX attempting a several hundred million dollar business and these professionals analyse their US$ 2 mio of petty cash? However, this is the new trend, the "cash burn rate" of the dot.com bubble has made a comeback and every junior miner sooner or later will get publicly lectured about his/her "cash runway."
Special Report: Rare earths explorer RareX is in great shape to complete two potentially game-changing exploration campaigns after investors, along with the company's directors, chipped in a further $2.3m.

This new placement, which received strong support from existing institutional and professional investors as well as directors, will boost RareX's (ASX:REE) war chest to $6.1m in cash and listed investments.

This puts the company in prime position to start a 6,000m maiden drilling program at its Cummins Range rare earths project, which hasn't witnessed any drilling for nearly a decade.
Comment: Cummins is not exactly new. See this IAMGOLD presentation of 2012, row 29: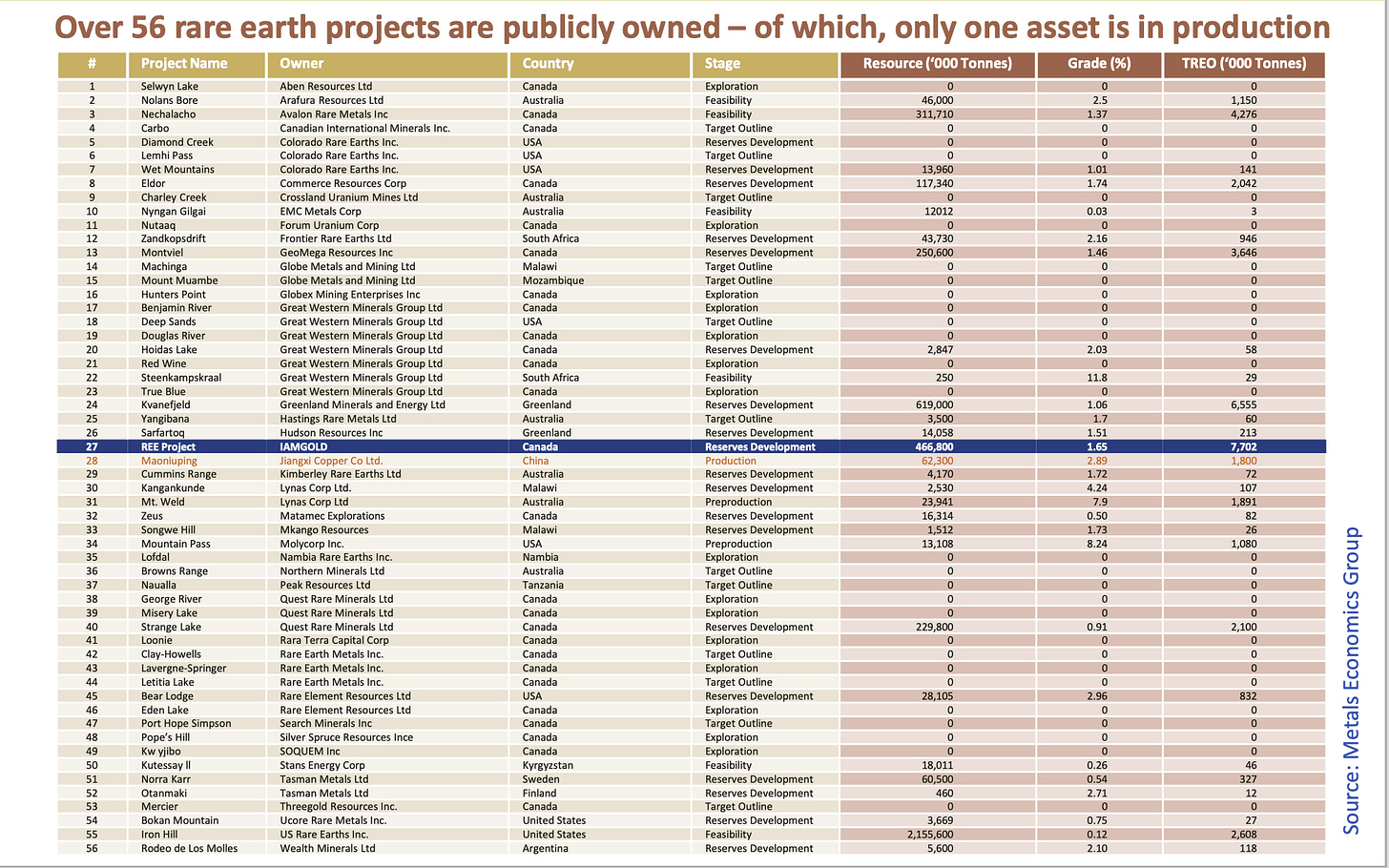 //Market
Moreover the e-motor doesn't need any rare-earth metals, and the battery is "the optimum of what is possible nowadays". BMW has managed to reduce the amount of cobalt in the battery by two thirds, and something called the "gravimetric energy density" is up 20 per cent. The iX3's battery lives under the floor, so apparently it doesn't eat into passenger or luggage space whatsoever.
Comment: Also Japanese automotive companies work on reducing RE usage. Argus recent growth forecast of 4.3% p.a. RE market growth is probably the most reasonable there is.
//Politics
US President Donald Trump sought help from Chinese leader Xi Jinping to win the upcoming 2020 election by asking his counterpart to boost imports of American agricultural products, according to a forthcoming book by former national security adviser John Bolton.

In a meeting with Xi during last year's G20 summit in Osaka, Japan, "Trump … stunningly, turned the conversation to the coming US presidential election, alluding to China's economic capability and pleading with Xi to ensure he'd win", Bolton wrote.
Comment: Off-topic, and still somewhat related. While we are not friends of conspiracy theory, we just can't help but wonder, if CFIUS permitting the acquisition of Mountain Pass, one of the largest rare earth deposits, by a China-dependent consortium for a fairly symbolic price may have been part of a "deal" during the "I don't blame them" period in August, 2017.
The DPRK could have a high concentration of rare earth elements, but given that it is a reclusive country, it has not yet exploited these resources, which could upset the current global order. Just as the Cold War split the world along ideological lines, this new struggle for resources will create fissures between those who have access to rare metal resources and those who do not. Because entire industries are built on a few rare metals, disruptions to their supply can have profound global implications while providing some countries with tremendous leverage.

Erbium, Thulium, Cerium, Samarium, Lithium . . . these are some of the elements that under the "rare earth" label. Many of the technological advances that have been realized over the past several decades have elements derived from the seventeen elements of the periodic table.

The Jongju site, in North Korea, is home to nearly 216.2 million tons of rare earth oxides, double the known world reserves. In terms of monetary value, if these figures are accurate, South Korea estimates the value of the mineral resources of its North Korean neighbor at $2,800 billion. In comparison, the GDP of South Korea was about 1,530,75 trillion in 2017. According to the Korea Resources Corporation (KORES) report, North Korea could hold vast amounts of magnesite (six billion tons), graphite (two billion tons), iron ore (five billion tons) and tungsten (250,000 tons). The country could become a key player in the rare earth industry, as demand peaks for smartphones, semiconductors and related products. Pyongyang said it could exploit up to twenty million tons of these seventeen elements, with China as its potential buyer. Rare earth metallurgy is also essential for United States, Russian and Chinese weapons systems. The U.S. Terminal High Altitude Air Defense (THAAD) system requires rare earth elements, as do Russia's S-400 and S-500 missile defense systems.
Comment: War-mongering. There are enough rare earth resources outside China and North Korea to cover the rare earth demand of the whole world for at least 350 years, with no recycling, based on current consumption. There is absolutely no point in getting all worked up about North Korea's RE resource (which is already being processed in northern China). There are a couple of RE processors around Dandong at the DPRK border.
//Zoom
Screenshot of a recent penny stock investor conference on Zoom