Million Dollar China-bashing advice; Radiating Bananas & Nuts; Cold, Hard Numbers;
Rare Earth 2020 July 3
Trains that have left the station:
At ~100 mio tons TREO, much of it in mines of different stages of development, the world needs additional 20,000 t TREO deposits as urgently as we need a third shoulder. Still, newcomers keep popping up, trying to ride the wave of China-fear.

China "advisories" and "think tanks" that don't think straight, both offering opportunistic fear, uncertainty, doubt - with pitiful little relevant substance and facts torn out of context - in order to cash-in on the China-hate boom.
The worst enemy of communism is truth. Staying true to fact is entirely sufficient for winning, whatever winning is supposed to look like.
Simple fact: In Chinese history the people of China have never been as free, as individualistic and as financially well-off as they are today, a direct result of the western-liberals supported reform process in China. The CCP wants the credit for that. But truth is, from the very reluctant, very beginning of reform and in the course of reform, it has always been the people pushing the CCP, not the CCP pulling the people.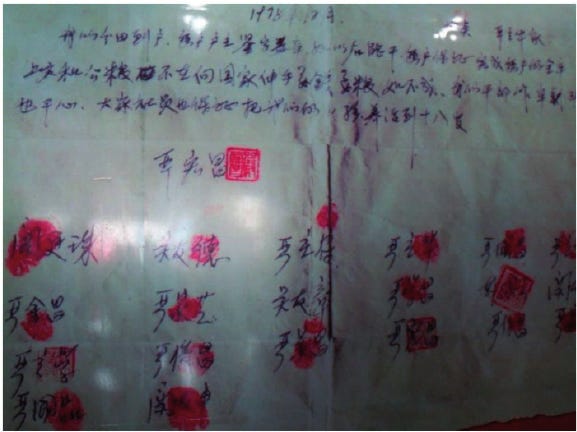 The beginning of reforms in China: Photograph of the historical agreement signed by the farmers of Xiaogang Village, Anhui Province, in 1978. The agreement declares that the householders will partition the village's common farmland among the families. If the government imprisoned or killed the farmers for this illegal agreement, the village's leaders agreed that the community would feed their children until age 18. Source: Yi (2009).
From its beginning in Shanghai 1921, the CCP had been run by consensus. Consensus principle was abolished when the party felt it needed helmsman leadership for winning the civil war. So Mao Zedong became supreme leader. After Mao's death and after the Gang of Four was arrested, the consensus principle was re-established, a correction of a historic mistake.
Following the national uprising of spring 1989, Deng Xiao Ping, holding no office apart from the chairmanship of the CCP's central military commission, realised that economic reform measures and communist dogma are plainly incompatible (in spite of economic development being a cornerstone of communist ideology!), and coined the phrase "no matter if the cat is black or white, as long as it catches mice", thereby sidelining ideology in favour of reform, unleashing massive economic growth (make no mistake, Deng was a lifelong, staunch, hardcore communist, same as all his successors are, with no single exception and growing the economy is ideology-compliant).
China has taken advantage of the WTO, abused IP and dragged its feet on commitments. Other nations have done the same, such as China's role-models Korea, Japan and Taiwan. The difference to China: Scale. China is an elephant in a porcelain store. Any ever so small move can have disproportional consequences.
So why are we, where we are today? As a direct result of reform, the CCP felt that its roots were eaten away by "westernisation" and by massive corruption. The turning point was the Lehman-crisis, when the CCP realised that it had put China and itself on a slippery path. In the end, a Lehman-moment could happen to China, too. Consensus was to change that.
2012 consensus candidate Xi Jin Ping was elected as CCP general secretary, in November/December that year he boldly forced abolishment of the consensus principle (repetition of a historic mistake?) and March 2013 he became China's president.
His to-do-list: Reform must be compatible with ideology (reversal of Deng's cat); corruption, dissential aberrations must be culled; economic development must continue; educate the masses on socialism (almost no-one you meet in the streets of Beijing can explain to you what socialism or communism is, which puts them on par with most people in western capitals).
Along with anti-corruption campaign unprecedented in size and thoroughness, the wake-up call for the world was the Decision of the 3rd Plenum of the 18th Central Committee in November 2013, which put forward this reform theme: Dominance of state-owned enterprise in all relevant economic sectors. This hit the private sector in China in more than one way: Corruption at behemoth state-owned enterprises had always been helpful to privately owned enterprises, offering access to privileged resources.
That also applies to the much politicised rare earth sector. In view of the a.m. 3rd Plenum decision, it has become impossible for China to de-risk its rare earth sector, for example through privatising and internationalising its state-owned rare earth companies by listing the majority of their shares on foreign stock exchanges.
As a direct result of the Lehman-crisis, we are now dealing with a highly ideology-driven mindset in China's leadership, running a now implicitly certified non-market economy.
The Rare Earth Observer's Ultimate Advisory on All Things China, worth millions of dollars, free of charge for you:
Our relationship with China is based on trust and understanding. They don't trust us and we don't understand them.
We admit, when listing RE stocks we are emulating Strategic Metals & Rare Earths Letter International of "Metal Commodities Investment Platform". But that letter lists companies who pay for being featured in that letter, most others are ignored. This way, the whole exercise becomes grossly misleading to the investor and meaningless in terms of content.
We prefer the transparent catch-all approach. As long as they they are rare-earthy and can spell praseodymium (or 镨) correctly, they will be on the list.
Thanks to bold price increases in China rare earth prices point north, well, some of them. Tb, Gd, Dy and Ho continue their briefly interrupted climb, NdPr price has also moved up a quite a bit. Chinese commentators keep making it abundantly clear, that the currently low RE prices are not in China's interest, they want higher prices. This is, what junior rare earth miners need.
Will western government initiatives, brute-forcing establishment of rare earth value chains in their respective countries, lead to higher prices? Or will they just lead us to perpetuation of low-price misery, benefitting just a handful of l-scale users, for example in Japan?
Wishing you a very rare-earthy weekend and a happy, virus-free 4th of July!
Thanks for reading.
//Companies
A proposal to ship tantalum/niobium (Ta/Nb) processing residues from Neo Performance Minerals' (NPM) ongoing Ta/Nb production at its Silmet plant in Estonia to the USA has now reached the public consultation stage, with the deadline for comments being July 10th, having been extended from June 5th. Energy Fuels, which seeks to recover uranium from NPM's Ta/Nb process residues, expresses confidence in the permit's eventual approval by the State of Utah. However, if the permit is not approved, NPM will be seeking alternatives to deal with its residue, a process that could impact its ability to process columbite and columbite-tantalite mineral concentrates in future, potentially leaving the company more heavily reliant on pre-processed concentrates for its refined output.

Roskill View

Strictly speaking, Ta/Nb concentrates contain small amounts of radioactive elements, as do the residues generated by processing. The word 'radioactive' is very emotive, however, and can easily lead to over-exaggerated perceptions. A crude but commonly cited illustration is that of the banana. A typical banana is considered to have 15bq/g (Brazil nuts are even higher). That is above the NORM cut-off. For all practical and human safety purposes, the radioactivity level of Ta/Nb concentrates and residues is insignificant.
This decision comes after biosecurity restrictions have been lifted in the Kimberley region as part of COVID-19. It was due to COVID-19 that Northern Minerals was forced to place its project on care-and-maintenance at the end of March.
ZIMBABWE-FOCUSED miner, Premier African Minerals has appointed Neil Herbert as its non-executive chairman with immediate effect.

George Roach, who was acting chairman, reverts to his role of chief executive.
That's just what Rare Element Resources has been working toward since 2011 with its Bear Lodge project, a rare earth elements mine and refining plant in Crook County. The nearly $300 million project includes the Bear Lodge mine south of Hulett about 70 miles from Gillette, and a processing plant to refine the minerals near Upton.

While the project has been on hold since 2016 because an OK from the U.S. Forest Service came too late for Rare Element Resources investors, the company has since found a new partner and is working toward opening the first American rare earths mine in decades, said George Byers, a consultant for the company and longtime mining industry executive.

"Bear Lodge is the real deal," he said about the potential for producing rare earth elements domestically.

But the key to the project is the processing plant, he said.

Along with the testing on coal ash announced this week, Rare Element Resources also is in the process of planning a demonstration plant, Byers said.

After a successful test plant overseas with partner General Atomics — in which General Atomics improved the process — they want to build a larger demonstration plant to show how the company's proprietary refining process scales, he said.

It's an "intermediate step" before building a plant in Upton and will take about $40 million, money the company is trying to raise, Byers said.
Jørn Skov Nielsen will play a key leadership role, driving many of the company's in-country activities pertaining to the Kvanefjeld Rare Earth Project.

Nielsen will help drive many in-country activities pertaining to the project, particularly around licensing and regulation in Greenland and Denmark, as well as strategic and commercial developments into Europe.

GML managing director Dr John Mair said: "The appointment of Jørn Skov Nielsen is a fantastic development for Greenland Minerals, and is a key step in building our in-country capacity in order to develop a globally significant international rare earth business from Greenland."

Investors have responded positively to the appointment with shares up 8% to 13.5 cents.
Comment: As long as GGG don't have a credible China-independent concept and don't get rid of their China shareholder, the chances of GGG being able to start are really slim.
eMetals (ASX: EMT) has discovered new tungsten, niobium and rare earth element (REE) anomalies at its Nardoo rare metal project located within the Gascoyne region of Western Australia, 840m north of Perth.

Highly anomalous tungsten has been identified at the newly discovered Miru prospect over a 2km strike length.

In addition, highly anomalous REE neodymium has been identified at another recently discovered area, Cairn Hill.
//Policy
The Commission, the EU executive, is working on a raw materials strategy to lay out plans for sustainable mining and increase recycling to limit the need for new extraction.

It has also proposed a 40 billion euro ($44.92 billion) Just Transition Fund that could support new mining projects and retrain some of Europe's 230,000 coal workers.

"We have a question to ask ourselves, whether we want to continue as we did in the past, to import all these materials and to depend on their import into Europe… or whether, in terms of diversification, we extract part of this here," director general of the European Commission's industry policy department Kerstin Jorna told a virtual event on Monday.

Currently, the Democratic Republic of Congo produces more than 60% of the world's cobalt, while more than 70% of rare earths are sourced from China.

Jorna said a Commission report found Europe will require five times more cobalt by 2030 for uses including electric car batteries, while Europe's rare earths needs will increase ten-fold within the decade, driven by demand from wind turbines and robots.
Comment: They have been at this for how long? If demand in the EU was to increase ten-fold, it would surpass China's current demand, which is very unlikely when talking about overall RE.
A new report suggests that the United States is vulnerable to China's lead in the rare-earth minerals industry and claims that the communist nation could even use it as a geopolitical weapon.

The Wall Street Journal cited a report compiled by Horizon Advisory, which said China knows full well that its dominance in rare earths — which are used in the technology, electric vehicle, and even the military industries — is a significant advantage.

"China's rare earths positioning both implicates and threatens the entire global system," the report reads.
Comment: We had a look at Horizon Advisory. Yet another attempt by sinologists - with little understanding of anything but the language - trying to make big money by stirring up China-FUD. Trying to project sinister communist world domination on Chinese industrial standards is something one would usually expect Monty Python to cook up.
//Stocks
Top 20 Rare Earth Stocks by market cap in US$ on 30. June 2020 (PRC companies shares are only partially listed on stock exchanges):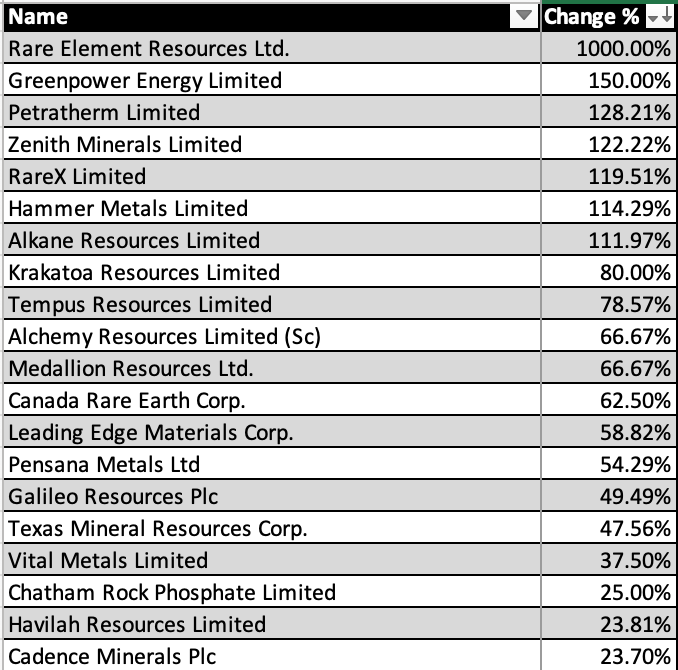 *we edited the list after posting, as we had missed the 3:1 consolidation of the Van Eck Vectors Rare Earth ETF (REMX).
Top 20 rare earth stocks by % gain from beginning 2020 to 30. June 2020: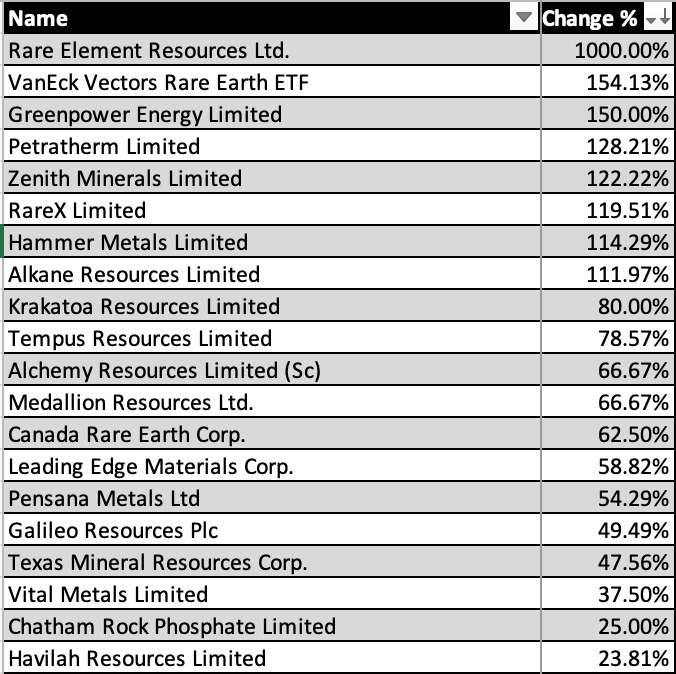 Top price/earnings ratios on 30. June 2020: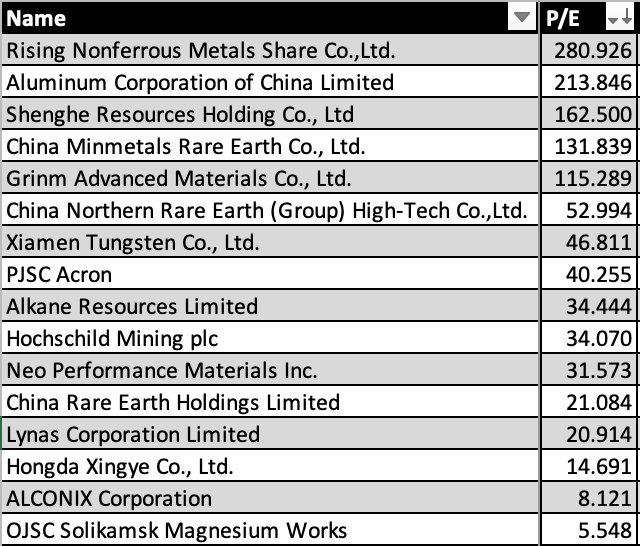 The complete spreadsheet with all companies you can find here.
//Rare Earth Prices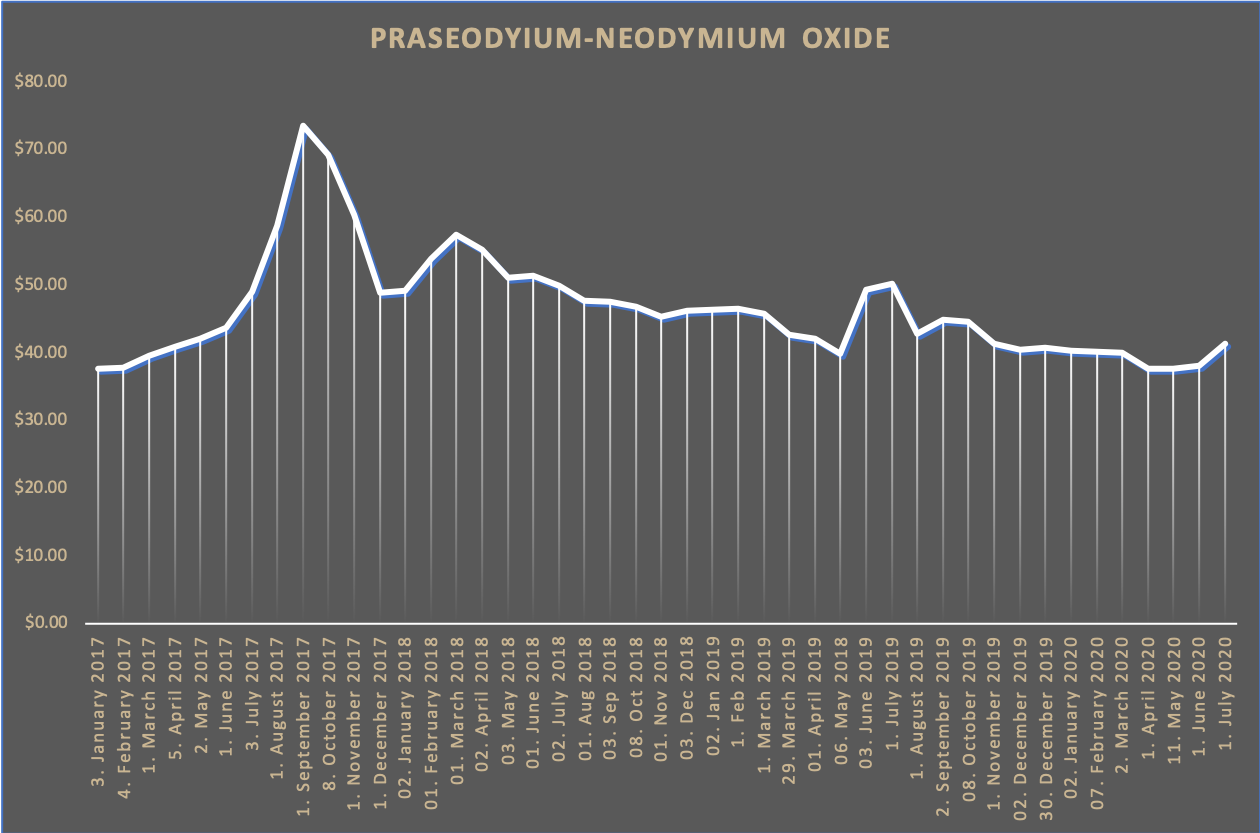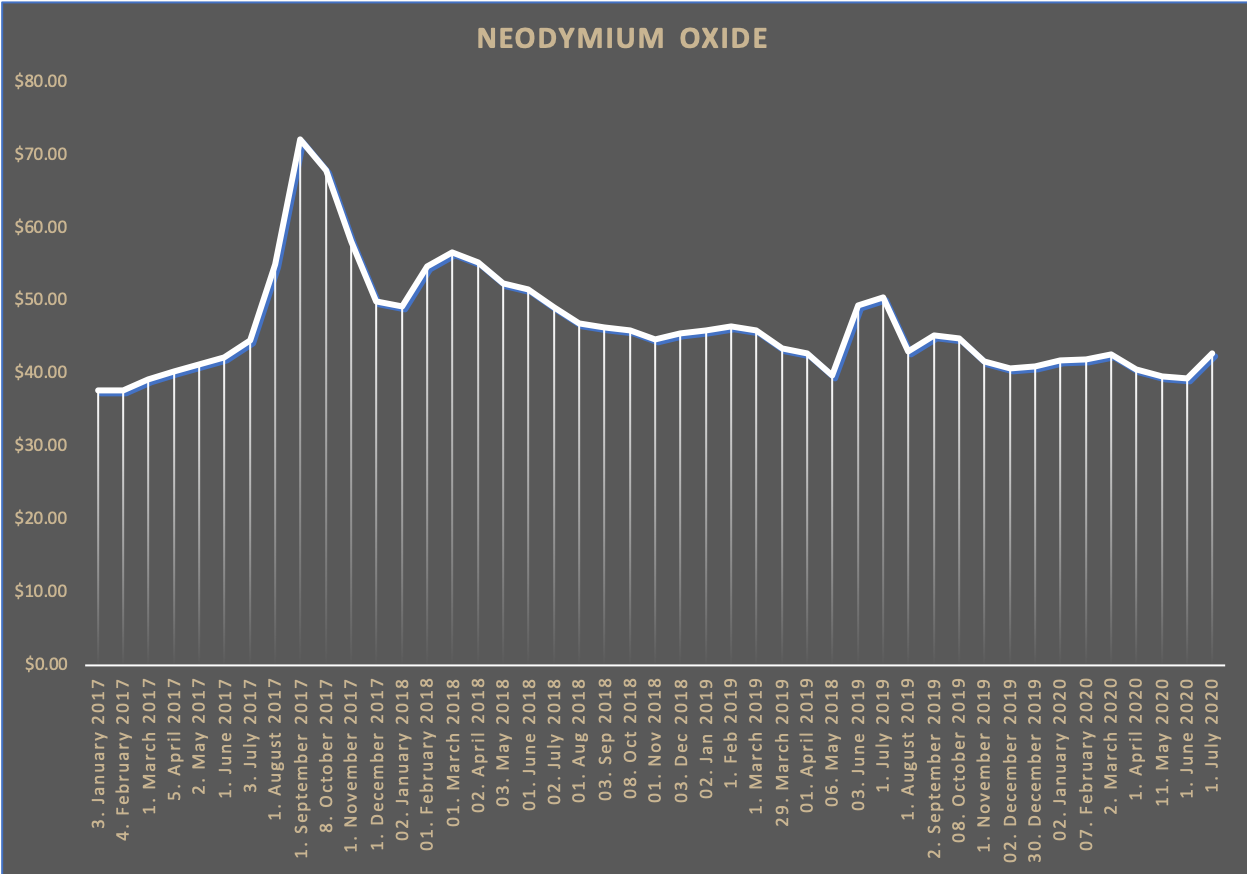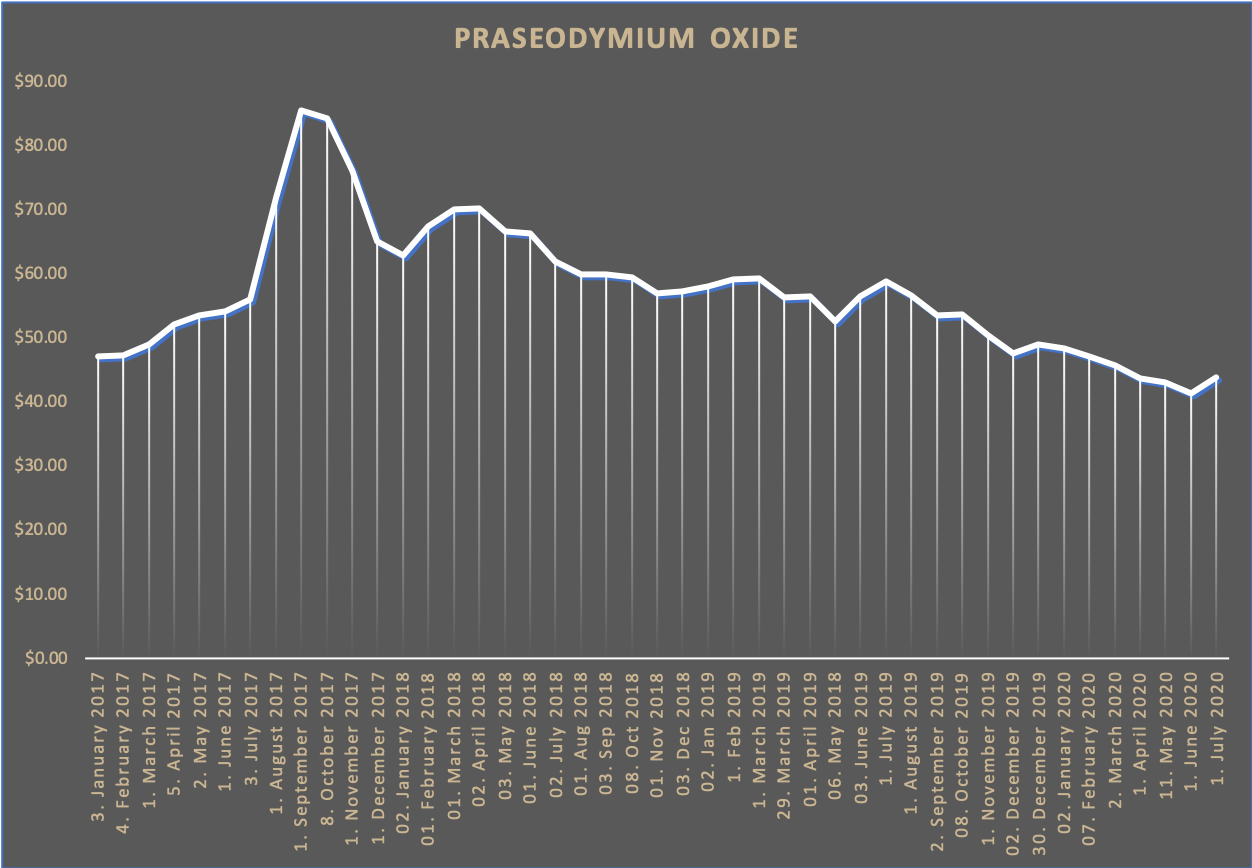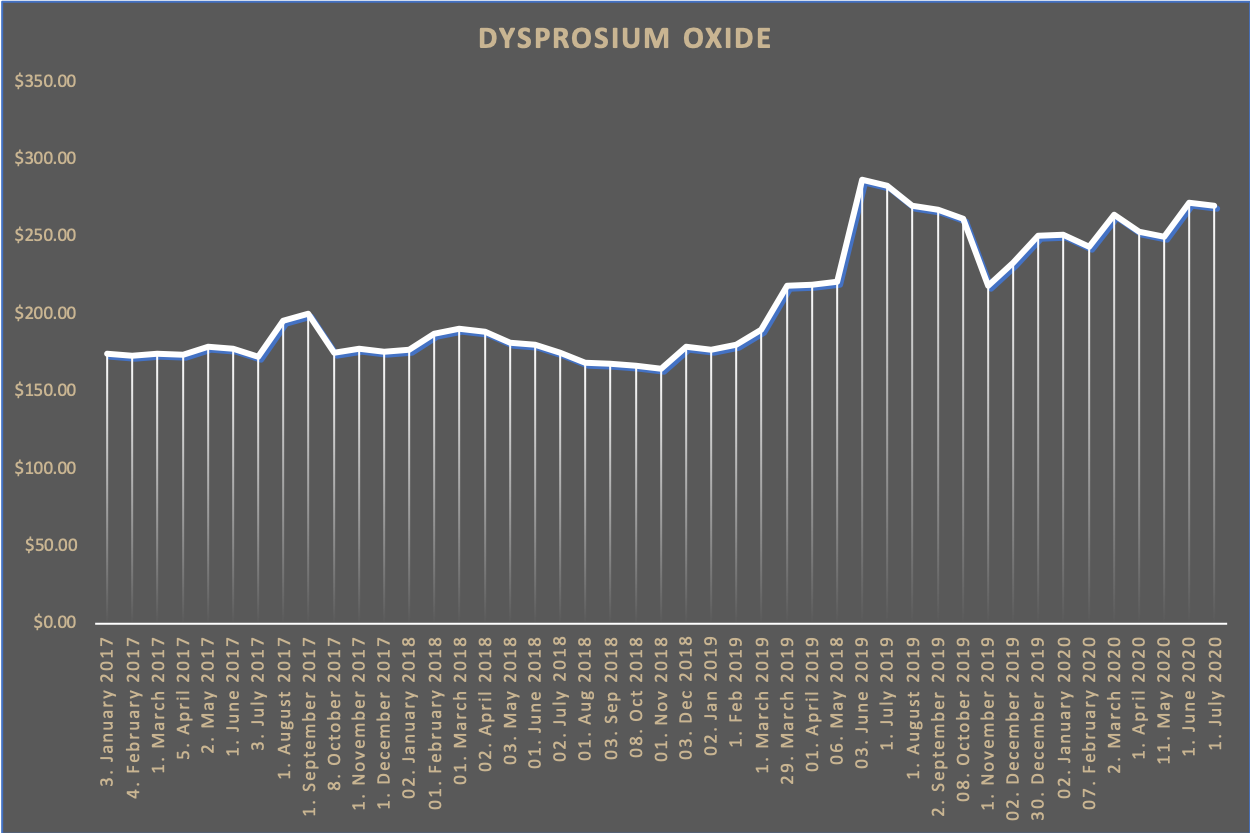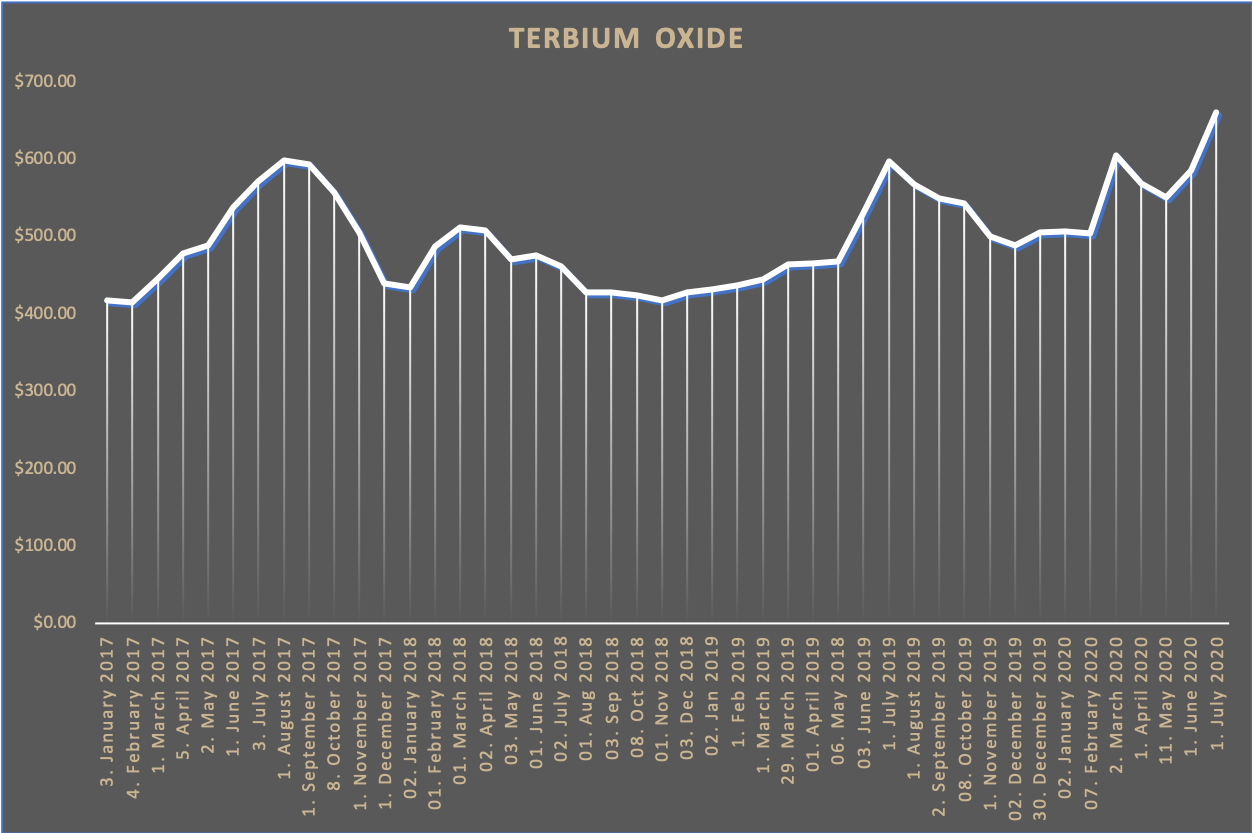 The spreadsheet with the detailed price list you can find here.