MDL & Talaxis Engage; Lockheed Martin China Exposure; McKinsey EV Disappointment; Hudson Finance Restructure; Guillaume Pitron's Ideas;
Rare Earth 2020 August 9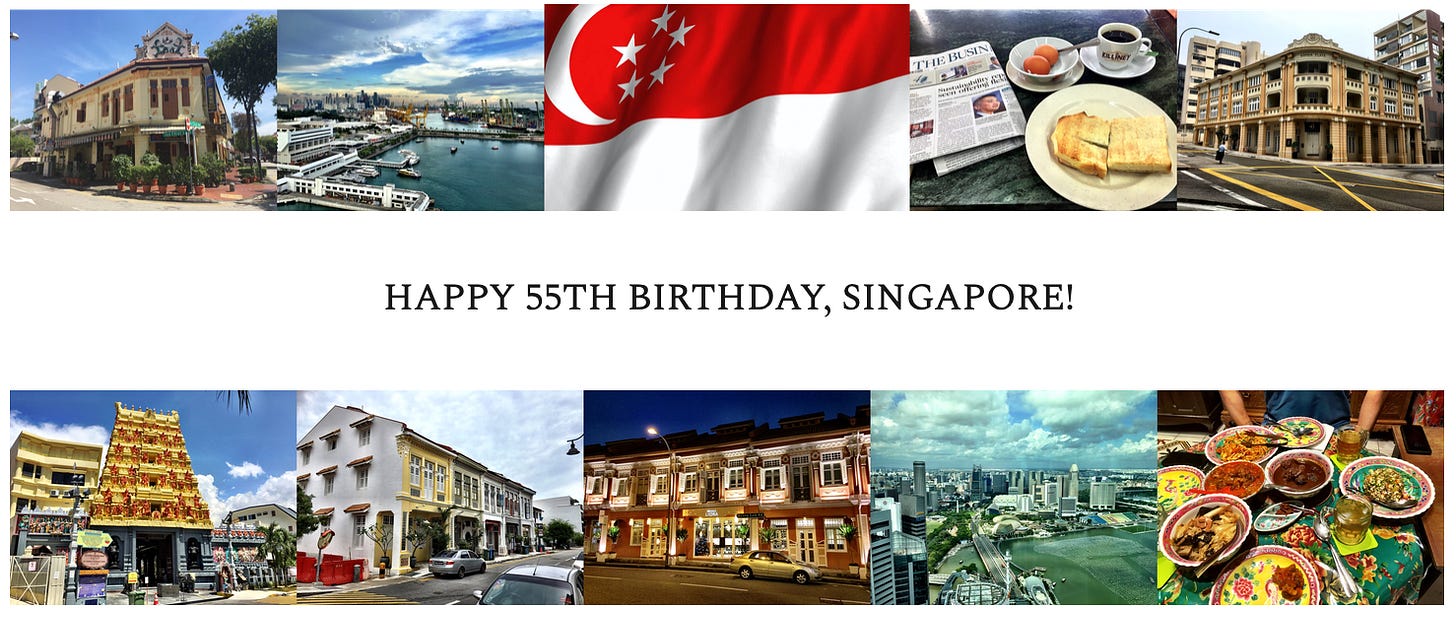 ---
Talaxis and Medallion get engaged.
Medallion is one of two Canadian rare earth companies who put mining aside and focussed rather on processing.
Geomega moved to recycling of permanent magnets and are proceeding with building the factory.
For years and years, they say, Medallion worked on a proprietary process, taking in monazite from a variety of mining operation and turn it into something value added.
Medallion advertise zero liquid discharge, de-risked near term NdPr production in the US, within 1-2 years.
Former CEO Don Lay envisions a TREO output of 2,000 t, which seems a rational and reasonable approach to the market.
This is the process diagram of Medallion: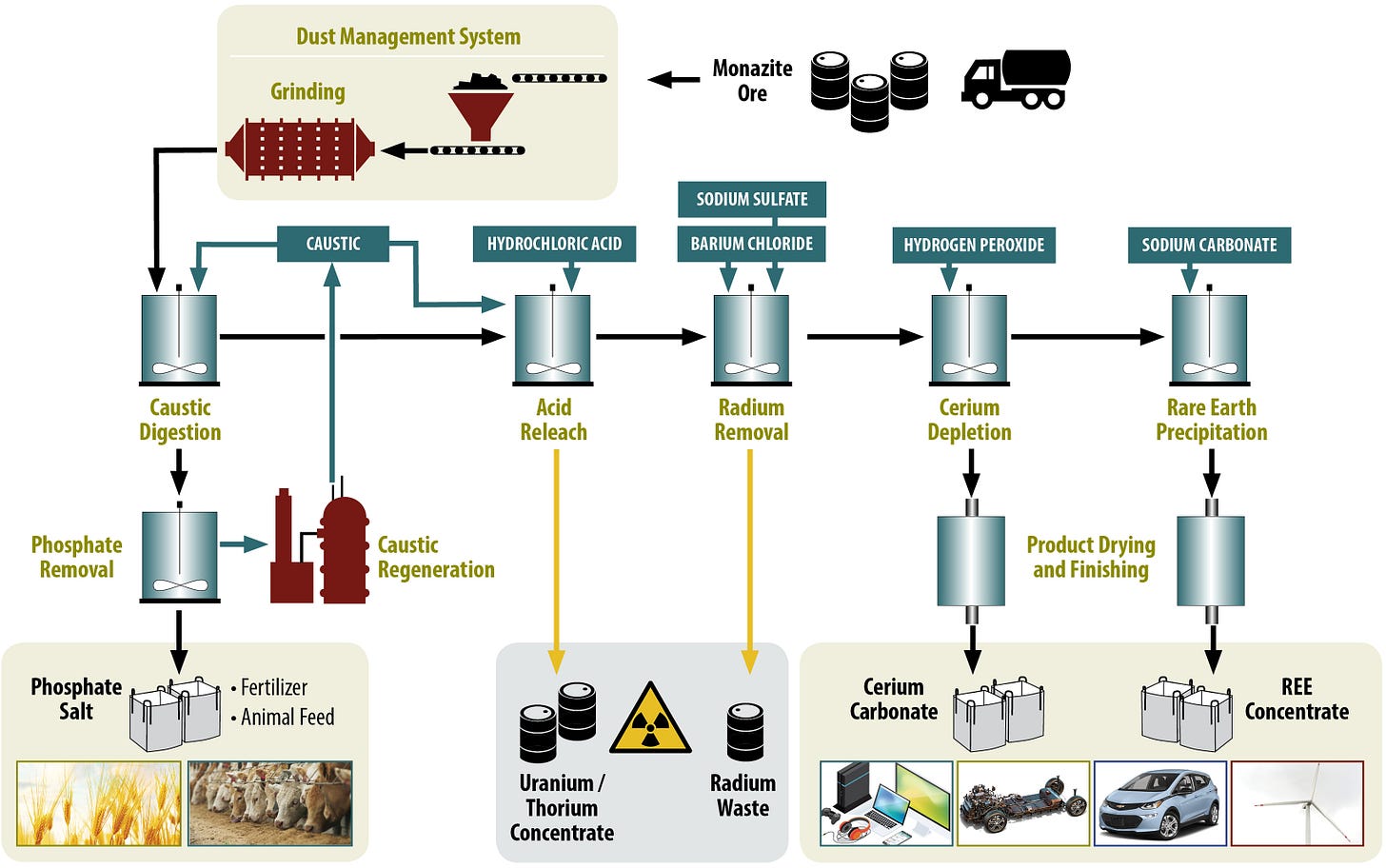 During a webinar in late May the new CEO Mark Saxon was grilled with questions, after a company presentation.
Rare earth concentrate that Medallion plans to produce is a long way from NdPr. CEO Mark Saxon says, he expects to combine with an "emerging technology" downstream.
We guess something like Superlig®, other MRT's and China-developed RapidSX®. Overall, it is not really de-risking if one goes for industrial-size untested "emerging technologies", but it is a bold step in the right direction.
Monazite can contain 5-10% radioactive materials (Th, U), which would need to be disposed of. New CEO Mark Saxon says this poses no problem, there would be sites in Canada and the US, designed to hold such material.
"Phosphate Salt": There have been abandoned efforts by fertiliser giants Yara and Mosaic for commercialising a similar phosphate residue. Also Lynas tried and failed over 8 years getting any of this sold and now they have to bury ca. half a million tons of it in a permanent disposal facility in Malaysia.
Medallion CEO Mark Saxon says, that they won't patent the Medallion process, but rather keep it a trade secret. If not patenting suspicion may arise, that there was nothing patent-worthy to begin with and that merely the wheel may have been re-invented here.
Upstream Medallion want to get married to a single monazite source, according to CEO Mark Saxon, and after so many years they are still looking for one.
How Talaxis (Noble Group) fit in with Medallion depends on the perspective.
Talaxis hold shares in Canada Rare Earth (11.2%), Arafura (5.23%) and 49% of Mkango's operating company Lancaster in Malawi. Additionally there are private agreements with the a.m. companies, plus RareX.
Medallion will clearly hope for money from the Noble Group, incl. financing of raw material purchasing and financing of sales, which would lift a substantial part of working capital burden off Medallion's shoulders.
Mineral sand companies would want to have off-take commitments from someone who has the financial ability to live up to commitments made.
Noble on their part, being a commodity trader, surely want to be the first to market with substantial quantities of rare earth products, ideally based on synergies between those RE companies it has already invested in.
---
In the sanction announcement, China's foreign ministry didn't specify cutting off rare earth from Lockheed Martin.
Lockheed Martin have about US$ 1 billion in ties to China, which can be sanctioned:
NFC/RFID chips (Savi Technology): Wholly-owned subsidiary of Lockheed Martin

Helicopter production (Shanghai Sikorsky): Production and sales of helicopters and optional parts

Next generation nuclear power plant (China National Nuclear Instrument System Engineering Co., Ltd.): A nuclear reactor on China's southern coast, a nuclear reactor cooling system, a central "nervous system" for nuclear power plants

Communication: China's Zhongxing 5A (Zhongwei 1) communication satellite is made by Lockheed Martin
So who cooked-up the Lockheed Martin rare earth sanction story?
We all know Steve Bannon, who teamed up with fugitive Chinese mobster Guo Wengui in an anti-China campaign, to secure Guo's continued permission to stay in USA. Among other things, Guo is accused of having bribed a China vice minister of public security, comparable to the Homeland Security Department, in order to blackmail competitors into handing over assets to Guo. Guo's conduct in the US commensurates with what he stands accused of in China.
Hu Xijin, loose cannon editor of the Global Times, is China's version of Steve Bannon. Same as Bannon, Hu lacks all credentials of an official spokesperson for his government or the nation.
Much to the horror of China's rare earth industry, in blissful ignorance paired with patriotic fervour, Hu Xijin has been continuously advocating a rare earth and permanent magnet embargo for more than a year, in spite of China's powerful National Development & Reform Commission (formerly known as State Planning Commission) and China's Ministry of Commerce having long abandoned the idea.
And it was Global Times who cooked-up the Lockheed Martin rare earth sanction story, baring supporting fact.
---
McKinsey came up with a report on the disappointing performance of the overall EV market lately, but is hopeful for the EU.
The EU has implemented exhaust regulations for 2030, that in all likelihood won't be met by pure combustion engine vehicles, so the electrification of vehicles is a must for EU vehicle manufacturers.
EV, however, do not necessarily require traction motors and on top of that, traction motors do not necessarily require NdFeB magnets. BMW and Bentley already opted out of rare earth magnet motors, while Japanese vehicle makers have been focussing on exterminating heavy rare earths Dy and Tb from their magnet compositions.
In 2018/2019, EV were merely 5% of of rare earth demand. This can reasonably be expected to grow, but not along the stellar forecasts some consultants like to predict.
We still think, that Argus rare earth growth assessment is still the most reasonable one.
---
Thanks for reading, have a wonderful week ahead!
//Geology
A scoop by Ore Deposit Hub, Professor Xie presenting on carbonatite in China.
//Companies
The non-binding Memorandum of Understanding ("MOU") specifies the terms for a close working relationship whereby Talaxis delivers to Medallion support for the global sourcing and transport of monazite, along with marketing of finished products from Medallion's proposed rare-earth element ("REE") extraction plant. Medallion and Talaxis anticipate a definitive agreement will be executed before the calendar year-end.
The conversion of existing debt into preferred shares of Hudson Greenland pursuant to the Definitive Agreements will result in the Lenders holding approximately 69% of Hudson Greenland. Additionally, the Lenders will have the right to each nominate one director to the Hudson Greenland board, which will be comprised of four members, including one member from Greenland Ventures, a government investment fund that holds eight million shares of Hudson Resources Inc..
Comment: Hudson's RE project is Sarfartoq, NI43-101 of May 30, 2012.
Malaysia approves Lynas' application for waste treatment facility
(not treatment, but permanent disposal)
Lynas can build its facility in a waste disposal site identified by the Pahang state government, Khairy Jamaluddin the science, technology and innovation minister, said in parliament.
The new claims comprise 3,243 hectares (8,014 acres), expanding the Property area to a total of 17,577 hectares (43,434 acres). Both claims were staked over legacy occurrences of interest. Historic assessment records indicate that additional Hawker surface uranium occurrences were discovered to the east of the previous land package. The new staking around Hawker ensures that all of the historic surface occurrences and potential geological trends are located within the Alces Lake property.

The McInnis area was staked based on references to biotite-rich, radioactive outcrops discovered and trenched in the late 1960's. No mention of Th or rare earth elements were made in the historic report, but based on the Company's experience in the region, it is believed that the McInnis occurrences are part of the rare earth minerals system. McInnis is located ~12 km south-southwest, and along geological and geophysical strike of the Alces Lake high-grade outcrops.

The two new land acquisitions now provide Appia with an additional 11 km of prospective trends to explore for additional high-grade rare earth element and uranium zones, bringing the total to 41 km along a continuous regional geological trend. Appia is the largest landholder in an emerging rare earth minerals system district in northern Saskatchewan.
Comment: Could be very high TREO, similar to Mount Weld CLD and Mountain Pass.
To date, a total of 14 pilot plant processing runs have been completed since initiation of pilot plant test work on June 11, 2020. Highlights of the recently completed bulk sample flotation pilot plant are as follows:

Sixteen tonnes of bulk sample feed processed over 118 hours of operation to date. Approximately 750 kilograms of flotation concentrate produced (dry weight at approximately 15% moisture content).

Process run concentrate grades ranging from 45.4% up to 56.7% (averaging 51.6%) LREO (light rare earth oxide expressed as the sum of light rare earth elements expressed as oxides Ce2O3 plus La2O3 plus Nd2O3 plus Pr2O3).

Process recovery ranging from 53.8% up to 79.1% (averaging 70.2%) LREO.
The agreement will see ARR purchase Zenith's subsidiary Wyoming Rare Pty Ltd, which holds the Laramie REE Project.

This acquisition provides American Rare Earths with the opportunity to define a very large-scale exploration target once initial follow-up work is completed.
Comment: La Paz is already a difficult-impossible project. Wyoming was drilled a little bit and they found 0.2-0.4% TREO between 17 and 332 metres deep. Don't hold your breath.
//Politics
Can the Pentagon find a way to no longer depend on China for the rare earth minerals it needs to make armored vehicles, precision-guided weapons, batteries and night-vision goggles? It is certainly trying, as our colleague Sarah Cammarata reports

The Pentagon last week signed a contract with Australia's Lynas Corp., owner of the Mount Weld mine in Western Australia, to begin design work and research on a rare earth separation facility in Texas. Last month it said it awarding $28.8 million under the Defense Production Act to Urban Mining in Texas. And the Pentagon has also reportedly resumed funding to MP Materials, owner of Mountain Pass mine in California, to create a rare- earth mining operation there.

But industry analysts and mineral economists doubt whether the mines selected by the Pentagon will be able produce enough of both heavy and light rare earth minerals anytime soon to be commercially viable.

"I see these DoD decisions as individual stepping stones with a path that's not yet certain," said David Henderson, founder and president of Rittenhouse International Resources.
China fired a verbal rocket at U.S. arms maker Lockheed Martin last month only to unleash a response which threatens its most strategically important industry, rare earths.

Because rare-earth elements have essential uses in a range of civil and military technologies, such as weapons guidance systems, China's control of supply is a powerful commercial and diplomatic bargaining chip.

Earlier threats to cut-off supplies of the elements, especially the two most important heavy rare earths, neodymium and praseodymium, have caused short-term disturbances in the market with China eventually backing off in case it pushed too hard and international customers developed their own supplies.
Bruce Shapiro gives his analysis of President Trump's attacks on the US Postal Service, we find out about the risks and rewards of rare earth metals and what does Ernest Hemingway's correspondence reveal about him?

15mins 50secsThe dark side of green energy
Comment: Guillaume Pitron advocates to move RE mining to the West, in order to make sure that the green revolution is environmental regulation compliant.
//Applications
The internal temperature of automobile driving motors rises to around 200 °C, which requires high residual magnetization and heat resistance. The coercivity of currently used neodymium-iron-boron magnets (neodymium magnets) decreases dramatically at high temperatures, so a heavy rare earth element, such as dysprosium and terbium, is added to provide heat resistance. However, the heavy rare earth elements are expensive and the supply is unstable, so heat-resistant high performance magnets that do not use heavy rare earth elements are demanded.
The company plans to lower its costs in the future. They have recently announced a study that will last three years to develop a recyclable system and get rid of the rare-earth magnet.

Rare-earth magnets, obviously, include rare-earth elements, that make the motor perform better. However, there is one thing that doesn't fit the automotive giants: the cost. The electric vehicle designed without a motor including a rare-earth magnet will most probably lower the cost both for the manufacturer and the buyer.
Comment: If the buyer of a Bentley will benefit from lower cost, or if a buyer of a Bentley is even interested in lower cost, is a bit doubtful.
McKinsey's proprietary Electric Vehicle Index (EVI) assesses the dynamics of the e-mobility market in 15 key countries worldwide (for more information on the metrics evaluated, see sidebar "What is the Electric Vehicle Index?"). EVI results for 2019 and the first quarter of 2020 provide important insights about market growth, regional demand patterns, market share for major electric-vehicle (EV) manufacturers, and supply-chain trends.
//Recycling
According to the researchers, AMD derived from coal mining operations in Appalachia constitute a potential domestic source of rare earth elements since it usually consists of these minerals in high concentrations, and since it is already being gathered and treated as a result of environmental issues.

AMD forms as a result of the interaction of pyrite rock—iron sulfide—unearthed by mining activity with air and water and its further oxidization, which leads to the formation of sulfuric acid. Then, the acid breaks down surrounding rocks, resulting in dissolving of the toxic metals into water.
//China
Draft for Soliciting Opinions on the Catalog of Industries Encouraging Foreign Investment (2020 Edition·Aluminum)
The National Development and Reform Commission and the Ministry of Commerce released the "Catalogue of Industries Encouraging Foreign Investment (2020 Edition) (Draft for Soliciting Comments)" on July 31. It is reported that the overall consideration of this revision is to only increase but not decrease entries. Compared with the 2019 version, the "Catalogue of Industries Encouraging Foreign Investment (2020 Edition) (Draft for Solicitation of Comments)" has added 125 items and revised 76 items (mainly expanding the scope of the original items). The deadline for comments is August 30, 2020.
Comment: The interesting bit of this foreign investment catalogue is, that it encourages investment in legacy combustion engine automotive parts and also in products, where already now there is significant oversupply.