Japan Hands Magnet Patents To China; China Northern: The Pot Calling The Kettle Black; RE Pollution In China Continues; RE Prices; RE Stock Performance 1-9 2020;
Rare Earth 2020 October 13
Hitachi Metals being sold, potentially to China, signals that Japan Inc. may want to exit the rare earth space.
Japan Inc. is not known for impulsive decisions. Consensus for this conditional surrender may have been a very long time in the making.
Perhaps it is also related to nearing expiry dates of permanent magnet patent protection?
This decision may also herald the retreat of JOGMEC from the rare earth scene, with consequences for the RE companies concerned.
If Hitachi Metals are sold to China, China will add the permanent magnet patents of Hitachi to its ten thousands of rare earth process patents, resulting in absolute and total world domination of rare earths and permanent magnet markets.
---
Readers of The Rare Earth Observer may have missed the one or the other of our newsletters, if they still think that China's central government is in control.
This article underneath describes with naïve honesty, how it took the coordination of a handful of ministries to get local governments to finally move against artisanal mining and in-situ leaching related environmental degradation, 5 (five) years after the decision was made.
Once Beijing turns its head, the whole thing will start over.
---
Rare earths prices had to finally face the reality of corona-ed demand, particularly reduced export demand for REO.
---
Stocks…. well, yes, stocks. Some comments on the main ones.
Pensana do very well, thanks to an aggressive marketing campaign, ardent support from the Angolan government's sovereign wealth fund and thanks to the socialist ruled Angola having exceptionally good relations to socialist China, which induces fantasy regarding the Longonjo deposit. What is due these days is the long anticipated definitive feasibility study. The fly in the ointment is, that just at this time Pensana's on-location COO departed. Pensana's cashburn rate is high, new rounds of recapitalisation are within sight, which may increase the shareholding of Angola's sovereign wealth fund to less than comfortable levels.
Medallion and Leading Edge stocks both shot up. Leading Edge stock went up after Mark Saxon left them, while Medallion stock went up after Mark Saxon joined them.
We can see no sane reason for Leading Edge stock going up, neither Woxna graphite, nor Bergby lithium or economically totally hopeless Norra Kärr rare earth.
Medallion's light-weight concept is somewhat more interesting. Instead of burdening themselves with mining, they intend to buy the monazite and process it. But this has been Don Lay's concept for the longest time, why it is now suddenly en vogue beats us. In our view there are challenges: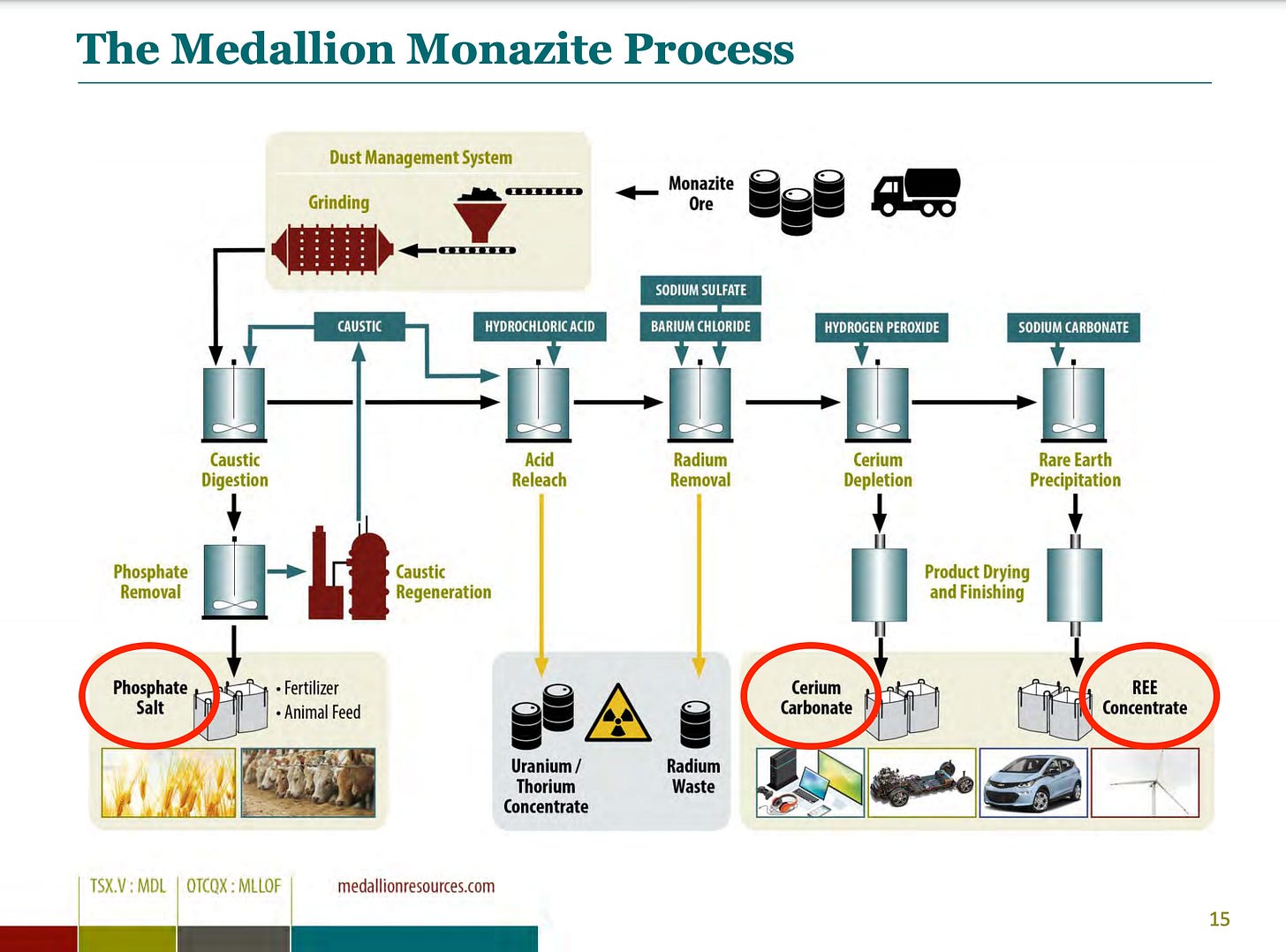 Source: Medallion Resources investor presentation, retrieved Oct. 13, 2020
Phosphate salt by-product: Lynas, fertiliser giants Yara and Mosaic failed with this or similar. Therefore, we are rather sceptical regarding this Medallion by-product.
Cerium carbonate or other Ce compounds do have a wide market, however, there is rather keen competition in each segment. Ce prices have fallen nearly 20% year on year.
The REE concentrate as such would need to be shipped to China or to China owned companies in South East Asia for cracking and separation, unless one of the Western companies out there such as RES, US Rare Earths or perhaps Neo Performance Materials can use this concentrate.
Theoretically, this concept would create a distributed value chain somewhat similar to China's. Each part of the chain only would do, what it is good at.
Core question: Will it be competitive or will it need tariff protection? Currently, China is in a monazite buying frenzy, pretty high bids are flying around.
RareX are taking a good shot at Kimberley. Will they find the continuous financial backing needed to bring this to fruition during the coming 5 years? Talaxis (Noble) have the mandate to find financiers.
---
The pot calling the kettle black: China Northern Rare Earth Group's CEO Zhao Dianqing (who accidentally happens to be deputy general manager of China Northern's mother company, Baotou Steel Group) calls for unprofitable rare earth enterprises in China to be shuttered.
We won't mince our words: This is outright ridiculous!
Practically all products that China Northern turn out have an oversupply problem.

Products like heavy rare earth, that China Northern do not have in market destroying quantities, are doing just fine.

China Northern pays too little for the raw material it receives from Baotou Steel. That is probably, because quite possibly the CEO of China Northern Zhao Diangqing sets the market price together with the Deputy General Manager of Baotou Steel, also Zhao Dianqing, along the bogus quote on the Baotou Rare Earth Exchange for mixed rare earth carbonate.

China Northern leases its many millions of square meters of land from its mother company Baotou Steel Group at a fraction of the lease cost of any other company in Baotou. To add insult to injury, the lease price increases are capped and even after 4-5 lease price increases China Northern would pay comfortably half of what anybody else in Baotou pays.

In spite of all this, China Northern's consolidated subsidiaries keep writing losses year after year. The pot calling the cattle black.

Pushing losses to subsidiaries is old-school 1990s state-owned enterprise balance sheet acrobatics.

There is no company on the planet, that can keep 100,000 up to even 160,000 metric tons of rare earth products in inventory, just like China Northern do, and not go bust.

The arms length principle as part of the reform of Baotou Steel Group and China Northern 5 (five) years ago has never been implemented. Obviously, if the very same person sits on both sides of the negotiation table.
There is more, wait for our upcoming China Northern report. We'll finish it one fine day.
China Northern is not part of the solution of the rare earth problem, China Northern is the problem, for everyone, inside and outside China.
Mr Zhao, if you ask us what solution for the world rare earth industry including China's we propose: A complete, thorough, total break-up of the state-owned corporate monstrosity that has been created in Baotou.
---
Thanks for reading, have a great rest of the week!
//Companies
Though the Magnetic Materials forms one of the smallest segments of the Hitachi Metals business unit, accounting for 13% of total revenue in 2019, its importance in the production of rare earth magnets is much greater. Hitachi Metals patents for NdFeB production represent IP licenced to a number of producers, with more than 600 individual patents being held by Hitachi Metals worldwide, including 100 within the USA for the production of sintered NdFeB magnets. Historically, Hitachi Metal has also aggressively defended its patents for NEOMAX® NdFeB production, reporting a successful legal challenge against several China-based manufacturers marketing products in the USA during January 2019. It is unclear if Hitachi Metals could sell off individual segments, or whether the business unit will remain as one entity after the sale, though the Magnet Materials segment may form an attractive target for any company looking to consolidate its position in the growing rare earth permanent magnet market.

Though no interested parties have been identified, some market participants suggest one candidate could be Beijing Zhong Ke San Huan Hi-Tech, with whom Hitachi Metals formed a JV to manufacture NdFeB magnets with in 2016. The potential for Hitachi's NdFeB production patents and manufacturing capacity to be acquired by a Chinese based company may raise concerns for some end users, as both the USA and China have become increasingly defensive on the supply chain for rare earth products.
Comment: New US magnet companies would henceforth need to apply for licenses from Beijing. Perfect.
Recently, Northern Rare Earth held an analysis meeting on economic activities from January to August. At the meeting, Baotou Steel (Group) Co., Ltd. Deputy General Manager, Party Committee Standing Committee Member, Northern Rare Earth Chairman and Party Secretary Zhao Dianqing pointed out that from January to August, Northern Rare Earth completed its production and operation tasks well, but some enterprises still suffered losses. He emphasized that, in the next step, Northern Rare Earth will assess the continuous loss-making enterprises and shut down those enterprises that are hopeless to make a profit.

In order to do a good job in this work, in 2019, North Rare Earth formulated the "Loss-losing Enterprises' Loss Reduction and Management Plan and Liquidation Treatment Plan." During the implementation of the "Plan", the company adhered to problem-oriented, efficient cooperation, careful analysis, and formulated measures to turn losses and increase profits. At the same time, the company implements "embedded" support and project-based management methods for key loss-making units to help companies turn losses and get out of trouble as soon as possible.

For the large and medium-sized rare earth group companies that are hopeless to turn around, one of the directions for disposal is bankruptcy and liquidation, closure and revocation, and second, letting it rebirth from the fire and the phoenix nirvana. To achieve this, it is necessary to steadily promote the survival of the fittest, deepen supply-side structural reforms, and promote high-quality economic development.
Comment: Let's begin with the supply side reform at China Northern, afterwards may be no further reforms elsewhere will be needed.
//Environment
In the 1970s, the Zudong rare earth mining area in Longnan City was the earliest ionic heavy rare earth mining area in China. At first, peeling the mountain bark, digging the soil, and then pouring it into the pool, this "moving mountain movement" type pool leaching process, excavate the lush mountain forest into a "high slope of loess" with bare soil, cross-flow of sewage and pits everywhere.

In order to avoid breaking the soil, the local improved the rare earth mining technology, using in-situ leaching, that is, digging holes in the mountains and using a "dropper" method to input ammonium sulfate into the mountain to smelt rare earth oxides. Although this process avoids the destruction of mountain vegetation, every ton of rare earth oxides smelted requires 5 to 6 tons of ammonium sulfate and produces 1 to 2 tons of ammonia nitrogen. For more than 40 years, these ammonia nitrogen ions have been trapped in the mountains, causing long-term pollution of the surface water in the basin, and inferior Class V water in some basins.

In Dingnan County, the area of rare earth mines is as high as 82.4 square kilometers. In more than 30 years of in-situ leaching mining, a large amount of ammonia nitrogen has also been deposited in some mountains, resulting in high ammonia nitrogen content in surface water, making it impossible for aquatic organisms, microorganisms and plants to survive. The water ecological environment was destroyed.

In November 2016, the fourth environmental protection inspection team of the central government reported to Jiangxi Province the inspection situation, which pointed out that the ecological restoration of rare earth mining was lagging behind.

In May 2017, Ganzhou implemented a source control action. Longnan City shut down all rare earth workshops, shut off power generation units, stopped recycling rare earth tail water in all workshops, and removed all raw materials such as ammonium sulfate and ammonium carbonate required for the extraction of rare earths in the workshops. Dingnan County also implemented the closure of mining areas for rectification, and carried out the dismantling and remediation of rare earth workshops.
Comment: This is nothing short of a scandal.
//Rare Earths Prices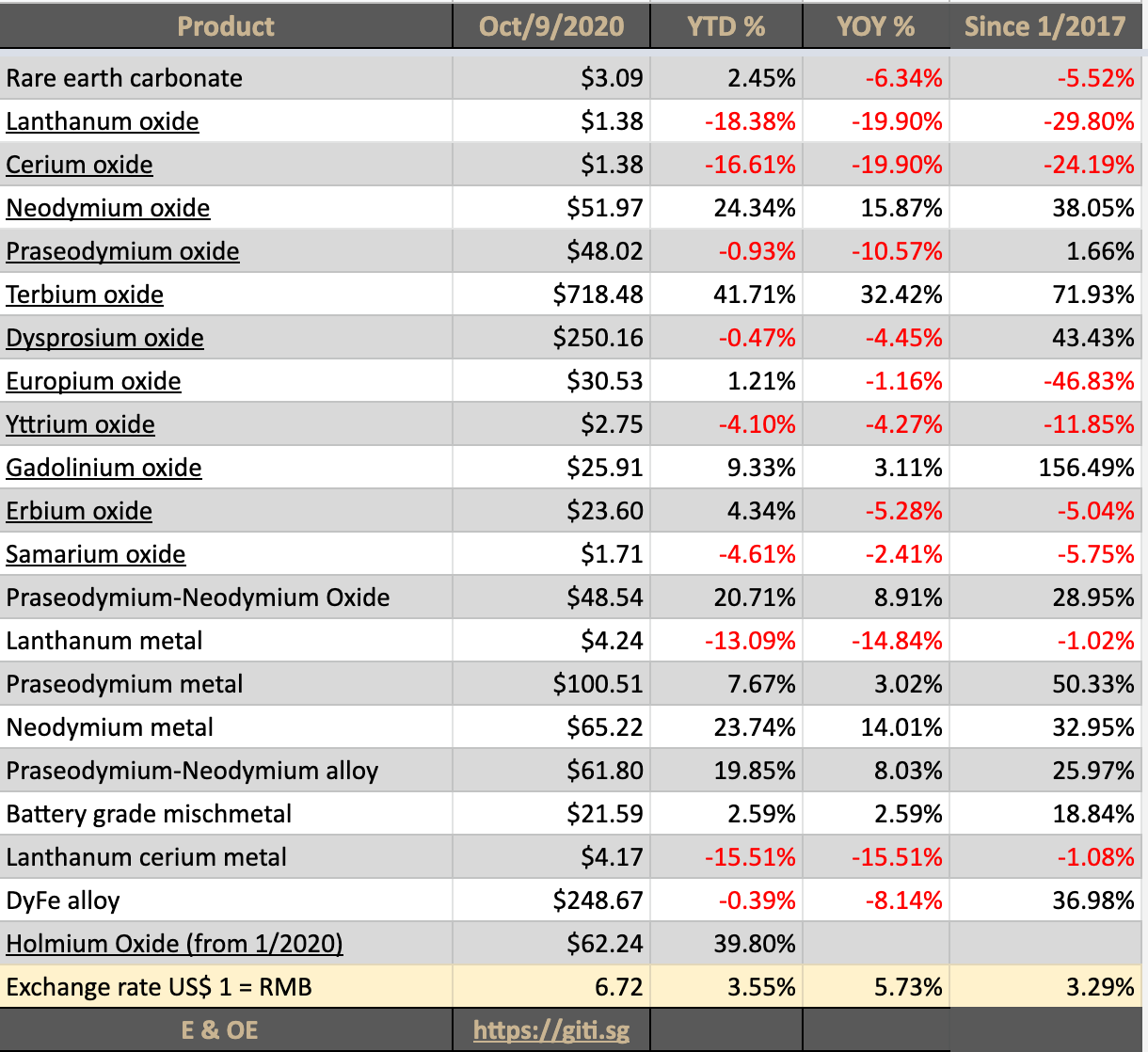 Looking at the rare earth oxide prices long term, it is pretty obvious for which products there is continuously healthy demand, and which products are a problem.
As mentioned before, the rare earth metal prices increased on improved margins, because of closures of unlicensed or under-licensed or polluting smelters in China.
Everybody's darling NdPr enters Q4 with a COVID dent, but still up substantially this year: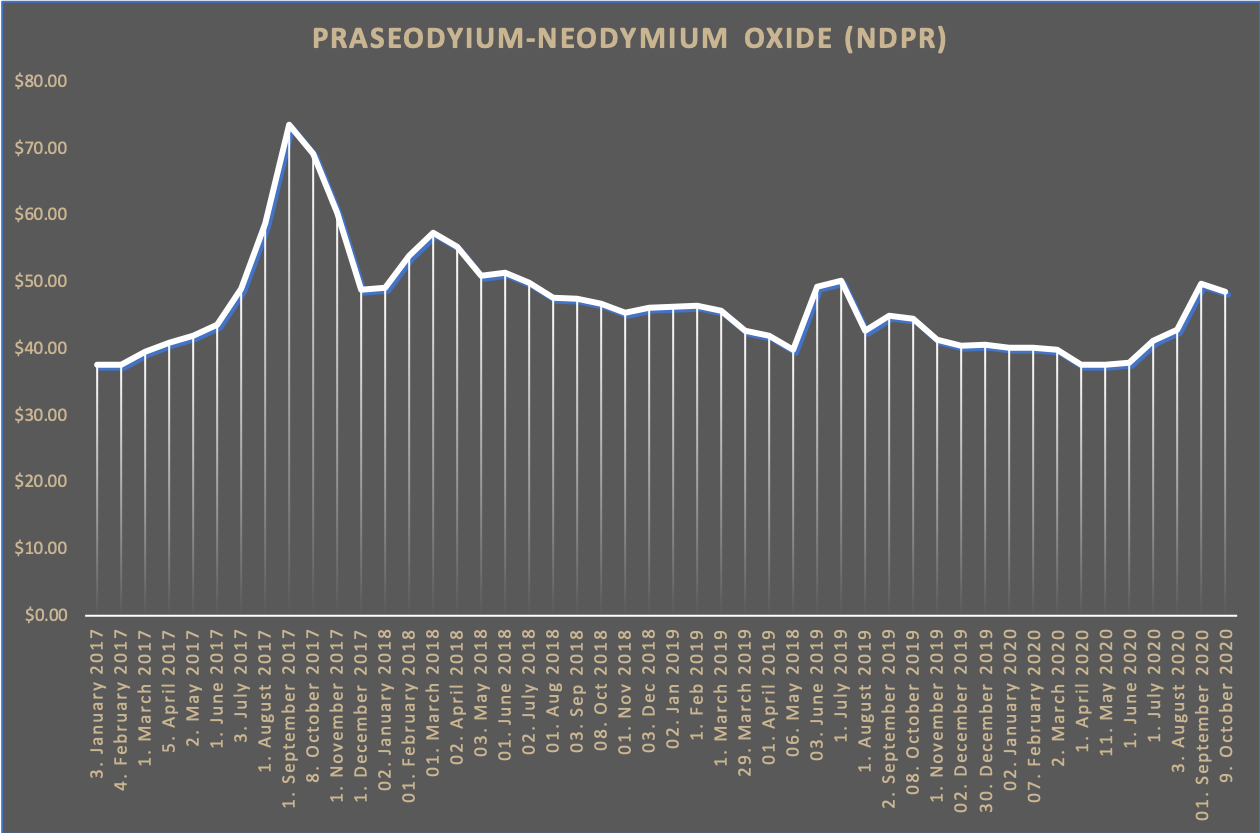 Also dysprosium prices took a virus-hit, as a representative for the other heavy rare earth oxides: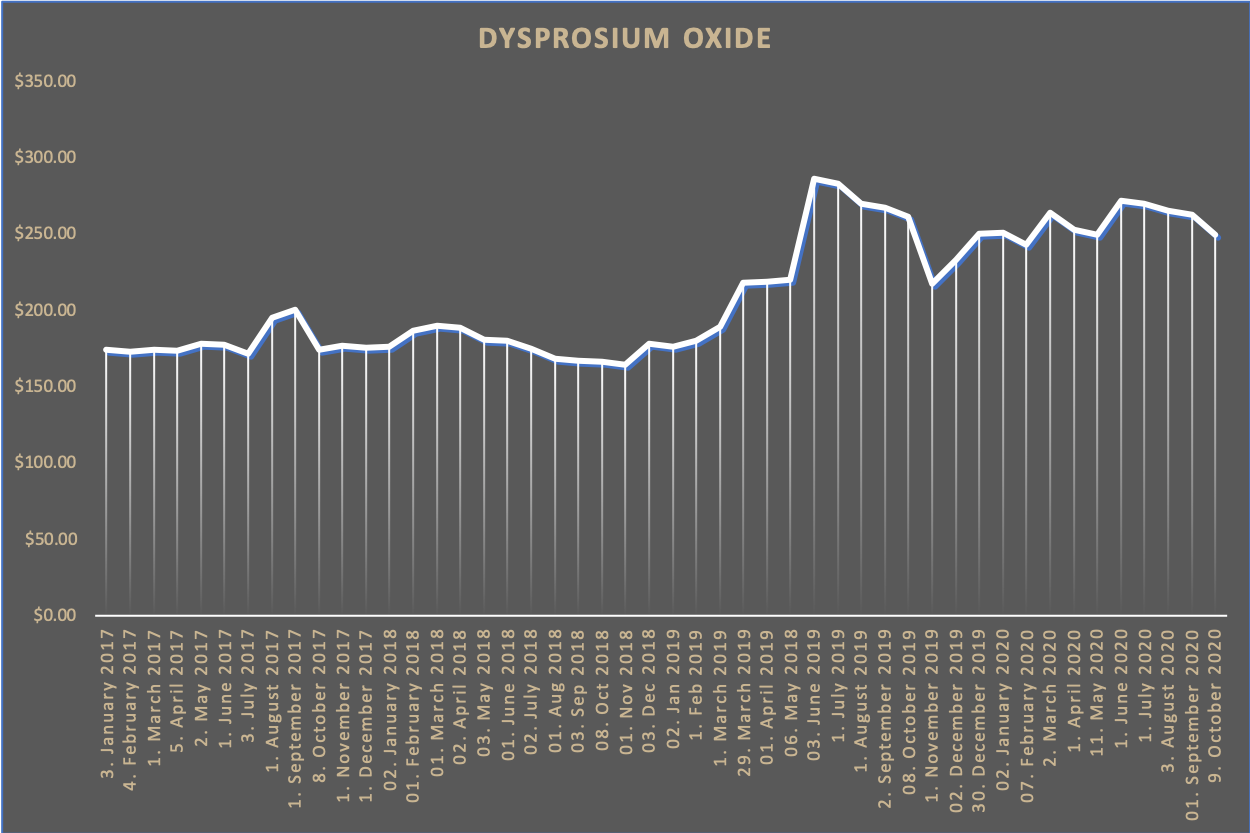 Double digit misery for lanthanum and cerium, already overproduced at normal times, this time additionally downstream demand and thereby prices were corona-ed: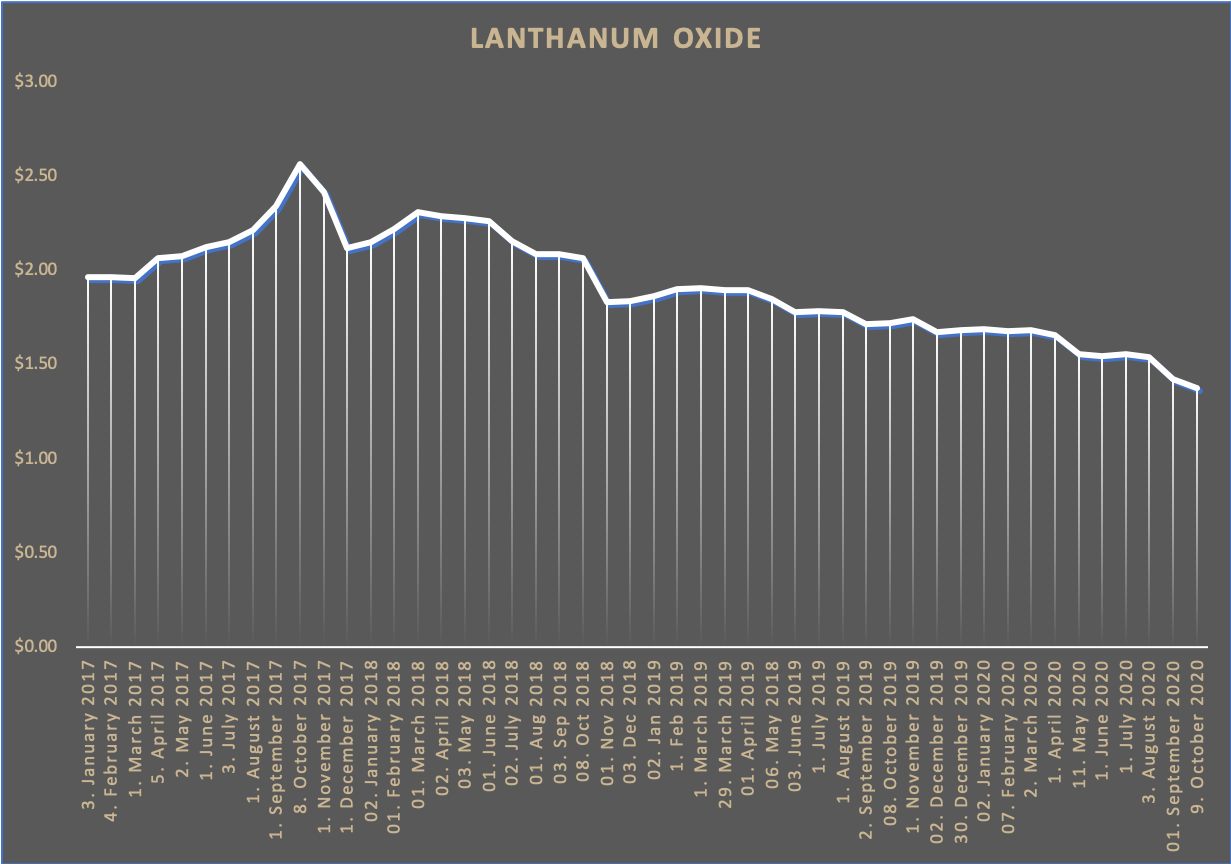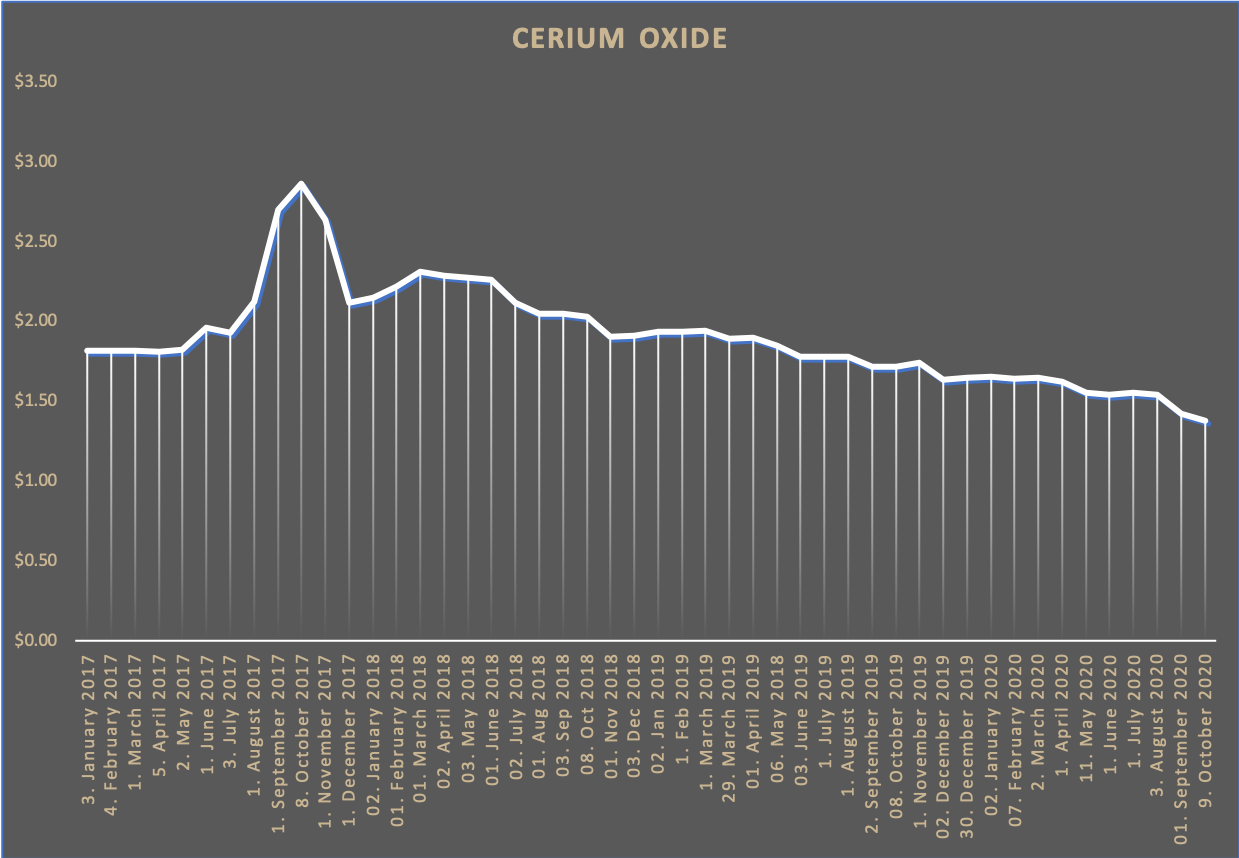 Occasionally there may be a correlation between REO prices and the US-Dollar-RMB exchange rate, but generally it is quite obvious that the export demand and US$ export prices are the determining factors for overall rare earth pricing: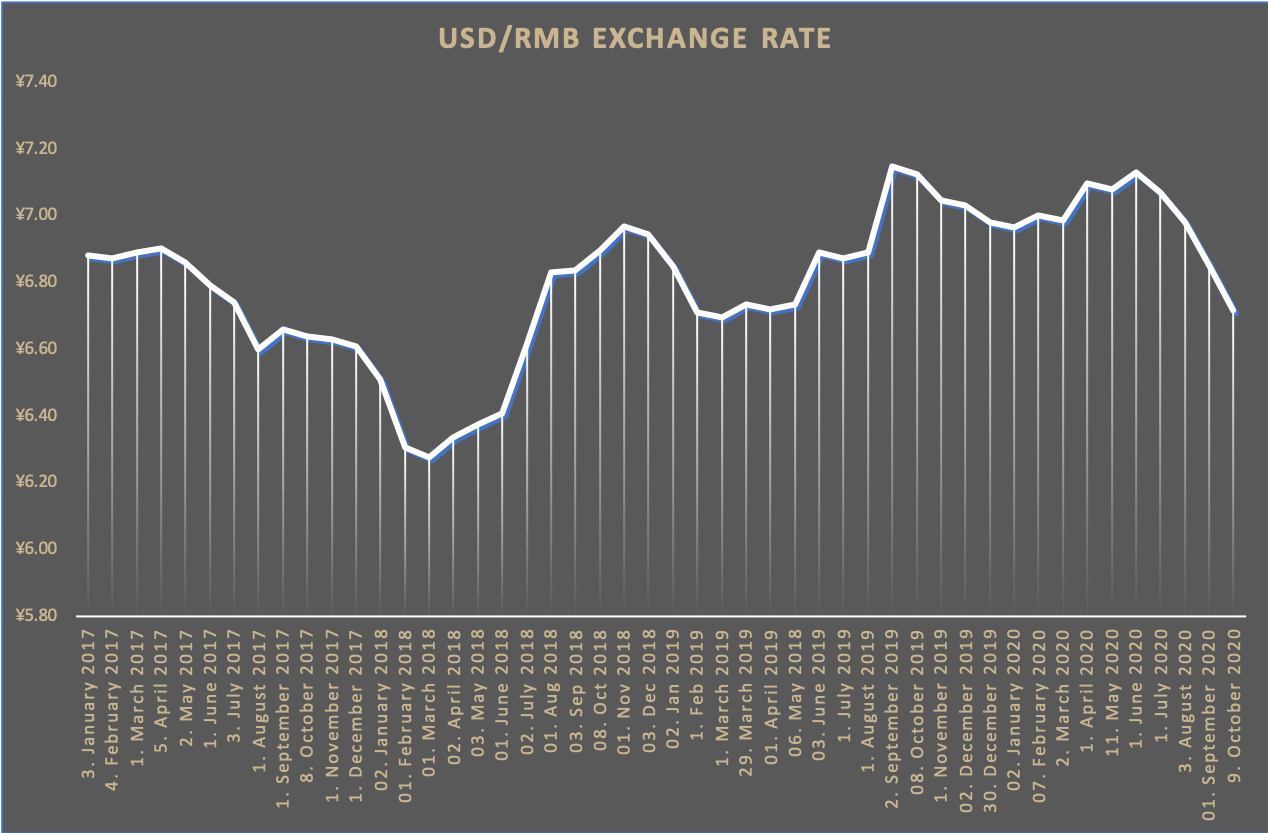 //Stock-performance
Stock performance January through September 2020, the Top 10: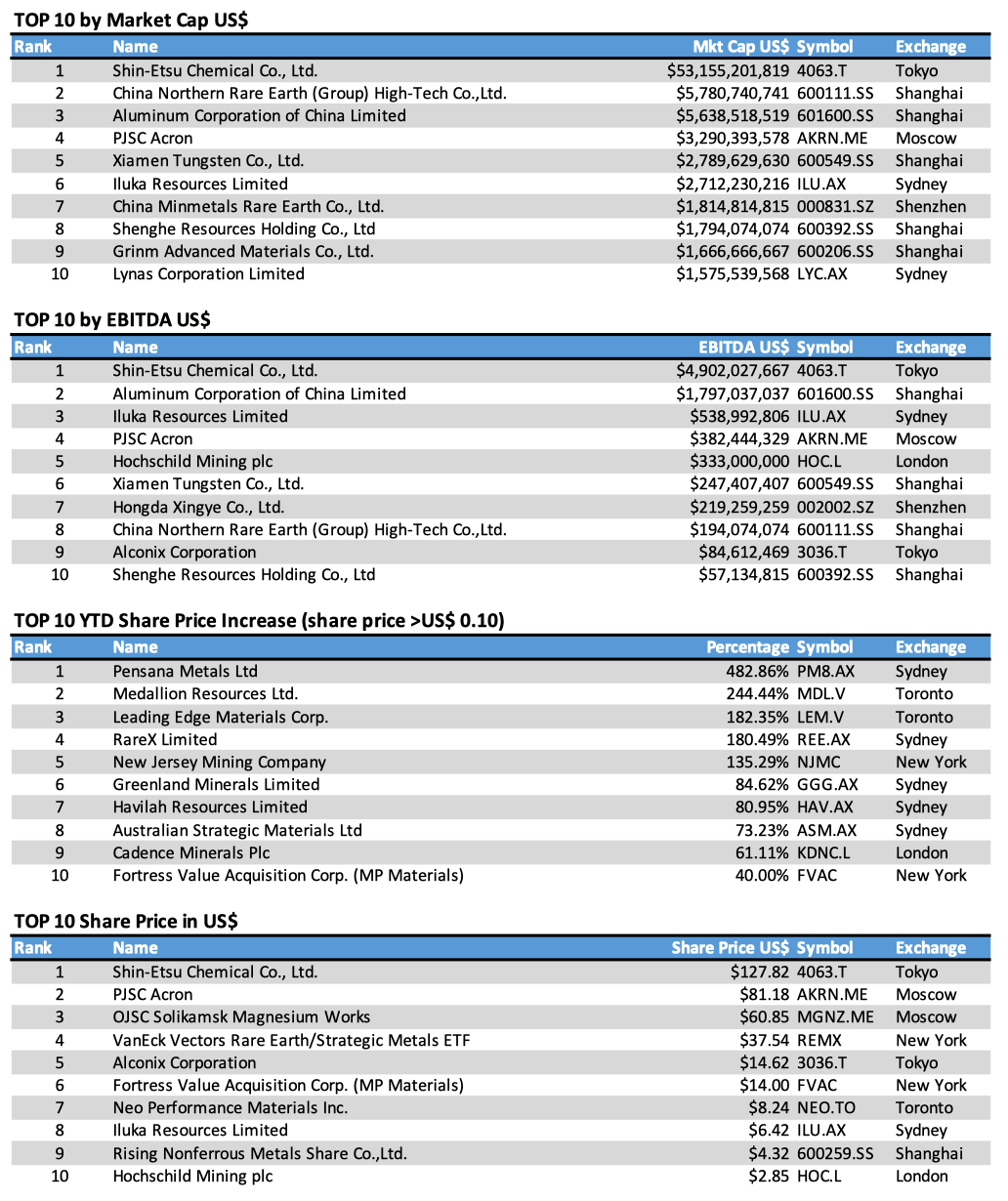 And here the Bottom 10: