Futility Of Boycott; Skewed RE Cost Accounting; More Details On Afrikanda; Polymetal Shares Surge; Siberia's Mining Enigma; Call For RE Restraint From China; Mysterious RE Activities In Malaysia
Rare Earths 2020 September 11
China already said before, that it does not appreciate, if foreign weapon systems that could threaten China would be built with input from Chinese rare earth products.
While this could be taken as an indication of intent to stop supplying rare earth to foreign countries, also because it would fit current ideological fervour, the reality is that all weapons that could possibly be used in any potential forthcoming armed conflict have already been built and that in the event of such armed conflict trade would stop anyway.

It Takes 41,500 Hours Of Labor To Build A Single F-35A with about 400 kg of rare earth products used to enable certain functionalities of a large number of parts in it.
The dilemma remains: Western produced rare earth oxides would likely cost significantly more than China produced ones.
The US Department of Defense already made glass-clear, that it has no intention to pay premium prices over current.
Neither has any other consumer the intention to pay more, and some lofty rare earth demand forecasts might rapidly evaporate in view of substantially higher rare earth cost.
---
Why China believes it is cheaper, you can find in Lin Boqiang's article below. He may have a number of points, but one he is missing.
Our take: The prime advantage that China has is the Bayan Obo mine, home turf of the largest rare earth manufacturer in the world, China Northern Rare Earth Group, good for ca. 70% of China's rare earth output.
It is primarily an iron ore mine, with other elements like niobium, fluorspar, rare earth et al appearing as by-products.
China in iron ore is import-dependent, so domestically, particularly with an integrated mine to steel mill like Bayan Obo's owner Baotou Steel, you want to mine as much iron ore as possible at home, especially if the nation is heading for an all-time crude steel output record of >1 billion tons in 2020.
At Bayan Obo along with that come the by-products.
You could assign the mining cost of by-product fully to iron ore, if you'd like to. You would process the tailings anyway for all kinds of materials, another great opportunity to allocate cost, depending on which direction the wind is blowing.
As a regular, dedicated rare earth company you can't possibly compete with that, unless you cut corners.
Neither can China Northern's domestic competitors compete. Hence Lin Boqiang's ill-conceived call for further consolidation ("integration") of China's rare earth industry.
Bayan Obo would be unbeatable, if it was not for a core weakness: The lack of heavy rare earths.
If you look at it, the other Chinese rare earth companies look tiny in comparison to China Northern, but they still eek out a living, because they are heavy on heavy rare earth. South China rare earth companies shun light rare earths competition. They'd rather stock their light rare earth and wait for better days, as you can see from the inventory bloat in their balance sheets.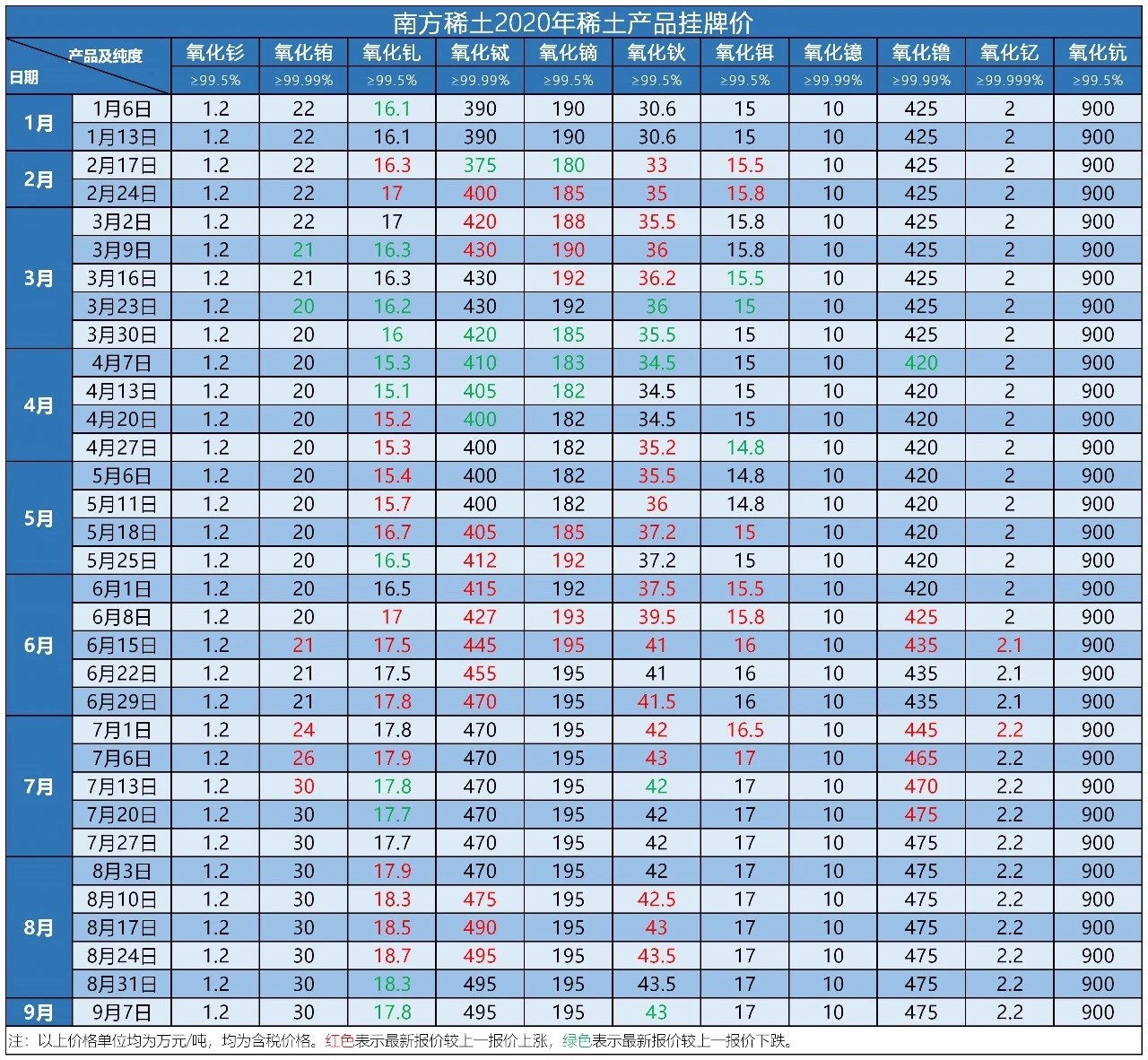 The official rare earth oxide price list statistic 2020 from China Southern Rare Earth Group does not contain a single light rare earth product, only medium and heavy rare earth. Left to right: Samarium, europium, gadolinium, terbium, dysprosium, holmium, erbium, ytterbium, lutetium, yttrium, scandium. Prices in 10,000 Yuan per ton, VAT incl. Green refers to price reduction, red is price increase.
China Northern tried to mitigate its heavy rare earth weakness by getting hold of Northern Minerals with their heavy rare earth xenotime, but Australia blocked this attempt a year ago.
On top of all advantages of Bayan Obo, in 2016 China banned the mining of "single element" monazite, withdrawing this raw material from non-Bayan Obo RE companies. Bayan Obo's ore itself is defined as "multi-element" mining, hence not concerned with this ban. Enter China's increasing rare earth concentrate imports, both legal and smuggled.
By doing so, China even strengthened China Northern and that gave rise to discord and at one stage certain other rare earth miners were even refusing to produce according to the quota, reasoning they would lose less money by not producing at all.
If there were normal trade relations with China now, it might not be the worst idea for RE mining-interested foreign governments to pressure their Chinese counterparts into having a deep and rather intense look into the internal cost allocation at state-owned Baotou Steel and state-owned China Northern Rare Earth Group simultaneously. The nation may be bleeding money there, unnecessarily creating and supporting a totally unhealthy rare earth market.
---
Last but not least, China exported 1642 tons of rare earth product in August 2020. That is 22 ton more than in July. The crowds are cheering.
As ever, thanks for reading, and have a terrific weekend ahead!
//Companies
Today, Afrikanda looks like an abandoned village with run-down houses, rackety roads and piles of scrap metal scattered around. It is a sharp contrast to Soviet days when this was a bustling site of military significance.

Afrikanda is located in the Kola Peninsula. The Afrikanda airfield dates back to the 2WW. It got a major upgrade in the early 1950s as base for the Soviet 431st Fighter Aviation Regiment. A big number of fighter planes were based on site until the late 1990s, and in 2001 the base was officially closed and abandoned.

Project developer Arkmineral first of all intends to produce titanium dioxide on site, says Andrey Trenin. In addition comes rare metals, including rare earth metals, he explained to Governor Chibis during this month's meeting.

Russia is among the countries in the world with the biggest reserves of rare metals. According to the country's Rare Earth Metal Strategy, a government document adopted in 2019, Russia today has a total of 66 mines where metals of the kind are extracted. In five of the mines, the rare earth metals are the main product.

The Kola Peninsula are among the regions in the country with the biggest reserves of the rare metals. A number of mines are in operation across the norther region and several more are under planning, among them the Afrikanda project.
Comment: Russia plans to reduce the market share of RE imports from 85% to 60% by 2025 and to 40% by 2035.
An initial resource estimate confirmed the large scale and potential "substantial value" of Polymetal's niobium and rare-earth metals project at Tomtor.
The resource estimate of 13.2 metric tonnes of ore available for open pit mining was based on data obtained from the drilling of 652 holes since 1990 with a total length of 42 kilometres.

Next steps for the project were now an initial ore reserve estimate and pre-feasibility study which were both due to be finalised in early 2021.

Shares of Polymetal were 3.99% higher to 1,995.5p as of 1232 BST.
Significant results include 15.1 metres at 703 parts per million (ppm) TREO from 5.5 metres, 9.6 metres at 1026ppm TREO from 7.9 metres, 10.1 metres at 1057ppm TREO from 6.6 metres, 12 metres at 929ppm TREO from 10.5 metres and 9.9 metres at 1188ppm TREO from 3.5 metres.

The drilling program is reportedly continuing steadily. Two rigs are now working through the Makuutu Western Zone (MWZ). So far, 134 holes, for 2217 metres, have been drilled.

Once drilling at this area has been completed, Ionic will return to the Makuutu Central Zone ahead of a 200-metre spaced infill drilling program.
Iluka Resources aims to further its pipeline of organic mineral sands and rare earths projects as it proceeds to demerge its royalty business.

The demerger, which will result in the formation of two separate ASX-listed businesses, Iluka and Deterra Royalties, will allow Iluka to focus on its mineral sands operations, including its move into rare earths production.

Deterra Royalties will carry Iluka's royalties business, including royalties from BHP's Mining Area C (MAC) within the South Flank project in Western Australia.

Post demerger, Iluka will remain operational in mineral sands and rare earths projects in Western Australia, South Australia and Sierra Leone.
//Policy
Earlier, some foreign media speculated whether the decline in rare earth exports was a way for China to counter the United States. Netizens have been discussing why we do not restrict rare earth exports as a countermeasure.

Why has rare earths still not been used as countermeasure that some netizens expected? I think there are three reasons:

First, the price of rare earths did not rise.

In July this year, China's rare earth exports fell by nearly 70% year-on-year. However, the price of rare earths only rose by 10%, which did not rise as expected. This may be due to the suppression of rare earth demand by the epidemic, but it also shows the impact of rare earth stocks. Generally speaking, the demand for rare earths is relatively small and easy to store. The current reserves of major demand countries can resist short-term risks.

The same is true from the trend in recent years. In recent years, the price of rare earths has continued to fall due to severe oversupply. Since 2011, although the global rare earth prices have risen relatively sharply several times, they have fallen back after a few months.

This reflects the overcapacity of rare earth production capacity worldwide [and off-the-book production of China RE companies, based on smuggled monazite, for example]

Secondly, our main advantage lies in low cost.

The rare earth reserves are also relatively abundant.

Relying on rare earth output as a strategic bargaining chip has short-term effects, but long-term effects are difficult.

The technology of rare earth mining is not difficult to master.

The long-term global supply of rare earth depends on China mainly because our costs are relatively low, including resource costs, labor costs and environmental costs [quod erat demonstrandum].

Once the price of rare earths rises sharply, it will stimulate other countries to mine rare earths and rapidly increase international production capacity. Many examples in history, such as cobalt, illustrate this point.

Finally, countermeasures may force the United States to accelerate the development of its rare earth industry and that of other countries.

Using them as countermeasures is a society's expectation of rare earth resources, but for the rare earth industry itself, the more urgent task is how to think about rare earth mining from a long-term strategic perspective. The current loose market capacity and low prices provide opportunities for further integration of the rare earth industry. In addition, we should deepen resource tax and environmental tax reforms so that related taxes can better reflect the environmental externalities of mining and the scarcity of resources.

(The author is the Dean of China Energy Policy Research Institute, Xiamen University)
//Science
Several minerals suffer radioactive self-irradiation and hence experience long-term changes of their properties. The mineral monazite virtually behaves "just alike Camembert cheese in which holes are drilled": Existing radiation damage heals itself.
//Mining
This summer laid bare the unlikely role Potanin finds himself playing in the face of climate change. The Arctic is warming with such rapid speed—more than twice as fast as the global average—that it serves as a leading indicator. The Arctic also happens to be where Nornickel's mines produce enormous quantities of the minerals essential for rechargeable batteries. It's the source of nickel and cobalt found in millions of electric vehicles, as well as much of the palladium inside the catalytic converters that reduce tailpipe emissions.

Permafrost that's been frozen for thousands of years is thawing as Arctic temperatures rise. While all companies and cities built on frozen soil are affected, Nornickel is particularly vulnerable. Eighty-five percent of the company's infrastructure, from roads and pipelines to processing plants, sits atop thawing permafrost, according to Morgan Stanley. The process gives what was once solid land the characteristics of a slow-motion earthquake.

Nornickel's sprawling Arctic operations, dates to Josef Stalin, who used gulag prisoners to build the plants to source metals for the Soviet arms industry before World War II. The mines and refining facilities in the region have long been a target of environmentalists. Nornickel's smelters around the city emit more sulfur dioxide than any other company in the world, with an output of the gas equal to two-thirds of all of Western Europe combined. Sulfur dioxide causes acid rain and has been linked with other power pollutants to the deaths of more than 4 million people around the world each year through heart disease, strokes, and cancer, according to the World Health Organization.

Plus, the Siberian mines are an unmistakably vital part of the supply chain for electric vehicles, accounting for a quarter of the world's refined nickel. While the silvery metal is abundant, high-quality material sought-after for EV batteries is rare—and the world's cheapest and highest-purity source is Nornickel's Arctic mines. The company "is without a doubt the lowest-cost nickel producer in the world," says George Heppel, a battery-metals analyst at CRU Group.
Comment: The Tomtor niobium and rare earth deposit can only be mined in winter.
[Pahang, Malaysia]
A group of Orang Asli villagers from Pos Lanai, Pahang, wants the environmental impact assessment (EIA) for three rare earth mines to be cancelled.

Citing a letter they received from the Orang Asli Development Department (Jakoa), the group said permission has been given to carry out an EIA for three mines spanning 660ha.

The area of 660ha is roughly the equivalent of 924 football fields. The EIA covers Orang Asli villages around the Jelai forest, but it is unclear how much of the total proposed mining area is forested.

The Pos Lanai Orang Asli Land and Territories Action Committee had submitted a letter to Jakoa on Monday, protesting the plan to mine rare earth metal lanthanide in the area.
Comment: This has nothing to do with Lynas, who have 200ha at Bukit Ketam, Pahang State, very close to Kuantan LAMP.