Flooding: China's Shenghe declare Force Majeure; Lynas Capital Raise; More On Decline of China RE Exports; RE Lobbyism Beats Common Sense; Scoop! Adamas Research Strikes Again;
Rare Earth 2020 August 19
Shenghe Resources announced, that their Leshan facilities, Leshan Shenghe Rare Earth Co., Ltd. and Sichuan Runhe Catalytic New Materials Co., Ltd., have stopped production owing to severe flooding of the area, in what is in effect a force majeure declaration.
At the time of this writing, Shenghe consider all equipment and material stocks at both Leshan companies lost.
Shenghe shares dropped nearly 10% on the news.

---
Japan's Kyodo News ran a story about the drop in China's rare earth exports this year and suggest, that there may be export restrictions to the US involved.
In our view, if there should be any restrictions at all, they would serve only to fulfil the 5-year plan, which called for reduction of export dependency from 57% in 2015 to 30% in 2020.
China's Global Times wasted no time to re-publish the story in Chinese.
---
In a previous issue we linked the presentation of Professor Xie about carbonatite mining in China. At the beginning of the presentation, she presented her view of the world resources of rare earth: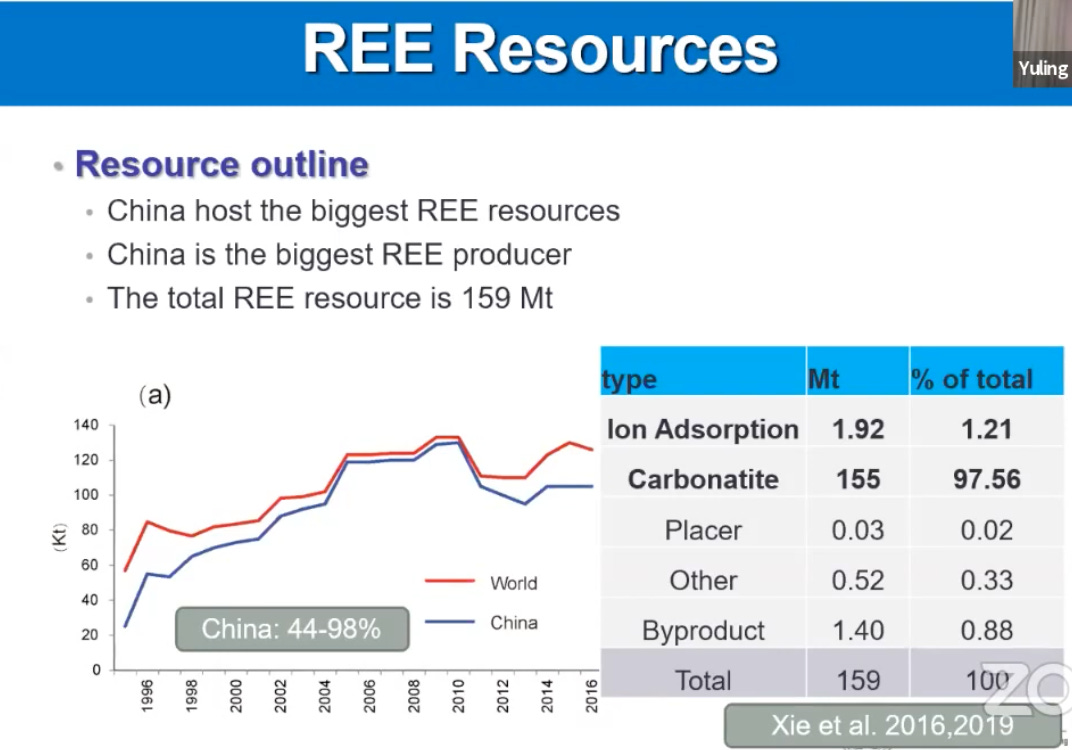 The number of 159 million tons differs substantially from the assessment of USGS: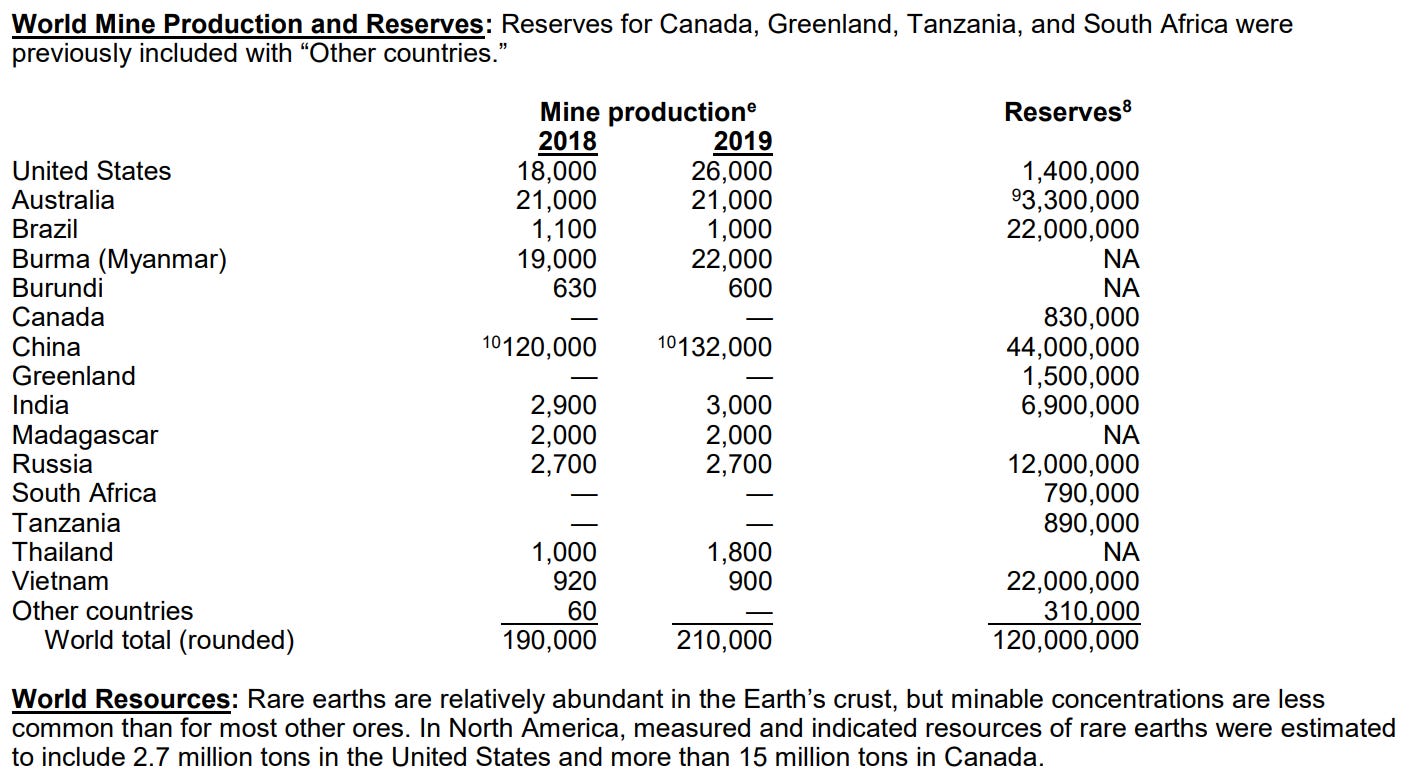 We dove into the details and won't bore you with the outcome. Let us just say, forecasts are difficult, especially when they concern the future.
---
The New York Times ran a piece on rare earth, repeating the same-old, same-old and adding details regarding lobbyists trying to play a role, paid for by the one or the other company.
---
We shared a SMM report on China metal dependence. Now Forbes came up with US dependence: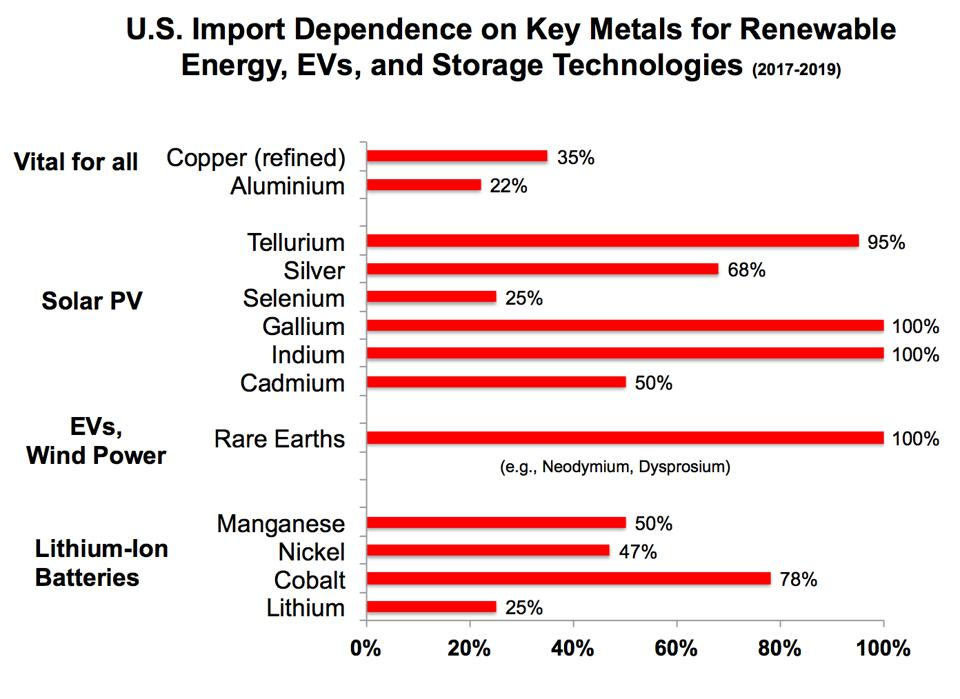 We think, that hydrogen fuel cells may well become the new lithium-ion battery.
---
ISO, the International Organization for Standardization, is working on a couple of international standards for rare earth. The working group has 8 active members: Australia, Denmark, USA, Japan, Korea, Canada, India and China, and there are 26 observers. It is a slow and tedious process.
---
Adamas published a new, dramatic forecast on permanent magnet use rare earth, and advertise the following highlights:
Market for Magnet Rare Earth Oxides to Increase Five-Fold by 2030

Annual NdFeB Shortages of 48,000 Tonnes Expected by 2030

Annual NdPr Oxide Shortages of 16,000 Tonnes Expected by 2030

Annual Dy Oxide Shortages of 1,850 Tonnes Expected by 2030
It may look spectacular, but it actually isn't, because even at a humble yearly growth rate you may see >50% growth over a period of 10 years.
Report like this point out the necessity for production increases, although, absent divine intervention, most of it would probably occur in China domestic.
But such reports are always useful for junior miners to push their cases, even though a certain rare earth forecast fatigue has been settling in for while.
China has ca. 200,000 t of processing capacity left and will probably cover growth by importing more raw material in the form of concentrates.
Lets see the upcoming feasibility studies or pre-feasibility assessments, who would probably the likely sellers.
In view of such situation, will Shenghe Resources drop MP Materials and thereby torpedo the project, or will they go along?
---
China made its position clear regarding rare earth, that it stands ready to meet legitimate needs of other countries. In other words China would find it highly controversial, if China's rare earth would be used to enable weapons that threaten China.
It seems, the US-government likewise would find it highly controversial, if US-made semiconductors would be used to enable weapons that threaten the US.
The US Department of Commerce now has closed all alleys for China's Huawei to buy US semiconductors, or any other product made on US-machines or with US-know-how.
And, as usual, retaliation from China by rare earth is on the menu again.
We are not sure, if this is time and effort well spent, as Huawei simply will morph into something else.
China on its part has missed to de-risk Huawei by letting the company linger within the nebulous military-industrial realm that it arose from, instead of taking it public.
No-one complains about China's Lenovo (a.k.a. 联想集团有限公司) being a security risk, even though the ultimate controller of 30% is still China's Academy of Sciences in Beijing.
Everyone happily uses Lenovo ThinkPads, other laptops, desktops and servers in offices everywhere.
Thanks for reading, have a great rest of the week!
//Companies
The mooted capital raising comes as Lynas races against the clock to build and commission a cracking and leaching plant at Kalgoorlie after being ordered to stop producing low-level radioactive waste at its operations in Malaysia.

Lynas, the world's biggest non-China producer, is aiming to truck rare earths from its Mt Weld mine near Laverton to the Kalgoorlie plant before sending the semi-processed material on to Malaysia.

Funds raised would be used to help finance the plant. Lynas has previously told shareholders and analysts it required a $500 million investment to be able to perform the required early stage processing in Australia.

The deal comes as analysts expect an ugly set of numbers for the year to June 30. UBS analysts, for example, told clients the result would represent a disruptive year for the company and forecast a $41 million loss at the adjusted net profit after tax line. Consensus forecast was a $22 million loss, UBS said.
Comment: It is high time to solve the issue, which built up during years of meddling through.
Australian rare earths producer Lynas Corp Ltd posted an annual loss on Monday, hurt by a temporary coronavirus-linked closure of its Malaysian processing plant and lower market prices.

Lynas also said it intends to raise A$425 million ($304.94 million) in equity to fund the construction of a new initial ore processing plant at Kalgoorie in Western Australia, among other projects.

The world's biggest rare earths miner outside China said loss after tax came in at A$19.4 million for the year ended June 30, compared with a profit of A$83.1 million a year earlier. ($1 = 1.3937 Australian dollars)
"The new discoveries are extremely positive news for Imperial in view of the rapidly growing demand and limited supply for this important new technology metal," said Peter Cashin, Imperial's President & Chief Executive Officer. "Scandium is showing increased demand for its use in high-strength, lightweight aluminum alloys in the aerospace, automotive, defense and alternative energy sectors. Currently, scandium is only produced as a minor by-product in China and Russia and, with supplies limited, it is our belief that Crater Lake represents an important alternative, primary scandium supply source to serve western consuming markets."
//Politics
Rare earth mining site in Inner Mongolia, China (Kyodo News)

[Kyodo News, Beijing Office] It was revealed on the 15th that the export volume of rare earth from China has been visibly decreasing since the beginning of this year. In July, it fell to 69.1% year-on-year. If exports to the US, which depends on China for high-tech including military, are delayed, it is likely to become a new source of conflict between the United States and China. There is also a possibility that China will use it as a retaliation means for the Trump administration to eliminate Chinese companies.

According to the General Administration of Customs of China, the amount of rare earth exports in July was 1620 tons. The same month last year was 5,243 tons.

The decrease is remarkable after April. It seems that the spread of corona infection is the cause, but the United States relies on China for 80% of rare earths, and it is possible that China will move to export restrictions in the future.
Last month, the Pentagon invoked the Defense Production Act to award nearly $30 million to Urban Mining Company, a small company in Texas, which has said it can manufacture finished rare earth products by recycling the metals from scrapped electronics containing them.

According to Urban Mining Company's website, it employs around 25 people. Since 2018, it has also paid at least $240,000 to a lobbying firm run by Jeffrey A. Green, a specialist in rare earths who has also represented Ucore since at least 2011, according to the Center for Responsive Politics.

A spokesman for Urban Mining Company did not immediately respond to requests for comment.

From 2019 through the beginning of this year, USA Rare Earth was represented by Jeff Miller, a prominent Republican lobbyist who served on Mr. Trump's inaugural committee and also helped direct Rick Perry's presidential campaign in 2016. A lobbying report from July indicates that USA Rare Earth specifically lobbied in support of Mr. Cruz's bill.

Experts say that if the current political momentum lasts, one or more new sites in the United States could nonetheless start production, given enough time, money and tolerance for pollution.
As America stands today, we are unwisely laying the foundation for another huge energy problem: over relying on outsiders for the essential components of the energy world of tomorrow.

This would be our growing need to import the various rare earth minerals and other materials that are essential to the development of cleaner sources of energy. These vital natural resources are used to manufacture windmills, solar panels, and electric car batteries, not to mention many of them are used in oil and gas technologies, medical equipment, computers, cellphones, and even military and national defense systems.

Whether its for $2 trillion or $5 trillion, Joe Biden's climate plan for huge amounts of wind and solar farms and electric vehicles will surely require huge amounts of rare earths and other materials. We could thus transfer trillions of dollars of wealth into China and even further increase U.S. dependence on the Chinese Communist Party.
//Processing & Separation
Recently, the Ministry of Industry and Information Technology issued 12 industry standards and 10 industry standards foreign language versions for approval, including 3 foreign language versions of the rare earth industry standards, specifically the chemical analysis methods of NdFeB alloys, zirconium, niobium, Determination of molybdenum, tungsten and titanium content, inductively coupled plasma atomic emission spectrometry.

At the same time, the Ministry of Industry and Information Technology also issued 21 rare earth national standards, specifically high-purity metal ytterbium, lanthanum hexaboride, dysprosium, terbium metal targets, yttrium oxide powder for thermal spraying, ultra-fine dysprosium oxide powder, and stable oxidation of scandium Chemical analysis methods such as zirconium composite powder, scandium aluminum alloy target, high-purity rare earth metals.

In order to provide more accurate and efficient testing services, rare earth product chemical analysis laboratories often need to adopt their own developed or improved detection methods. Especially in the field of rare earth chemical analysis, more and more laboratories use non-standard detection methods, but How to ensure the suitability and reliability of these detection methods has always been controversial.

Currently, with the development of economic globalization, competition in the rare earth market has changed from a dispute over products and technologies to a dispute over standards and intellectual property rights. The competitiveness of rare earth companies is not only manifested in the market share of products, but also in terms of whether our product standards can become international industry standards, that is, the right to speak in international standards.
Comment: If you want to sell to China, you'd better know these standards and have your product qualification done according to these standards. Else you may be in for nasty and expensive quality claims.
Standards also facilitate trade by reducing the need and expense to validate countless samples plus the related test methods.