EU Overtakes ROW In RE; NdPr Price Swings; China Denials; Malaysia Continues Bickering;
Rare Earth 2020 August 26
Even though the EU is not known for speed, it seems that an EU initiative and a Norwegian billionaire may beat the rest of aspiring countries in separating the full range of RE in commercial quantities.
A bit of background.
2 years ago, March 20, 2018, the Research Council of Norway posted an article that has since been pulled. However, the same article appeared about a month later on April 17, 2018, on the Norwegian American website:
The partners in the research and innovation project SecREEts aim to develop and verify a sustainable, stable, and safe production process for rare earth elements (lanthanides) from phosphate minerals used by Yara in its fertilizer production. Such elements are essential to many technological products such as mobile phones, hard disks, electric cars, and wind turbines.

Some of the phosphate rock used in the fertilizer production comes from Finland, where Yara owns a mine, and some comes from other parts of the world. On average, the phosphate rock contains between 0.3 and 1 percent rare earth elements. In full production, Yara expects to extract 3,000 tonnes of rare earth elements per year. The partner REEtec will separate the rare earth elements in a pilot plant next door to the fertilizer plant.

SINTEF is leading the project. The main Norwegian partners are Yara and REEtec, and the foreign partners are the British company Less Common Metals and the German company Vacuumschmelze [currently rated B3-PD by Moody's]. EU has granted funding in the amount of EUR 12.8 million, and the project period is from 2018 to 2022. The project aims to enable full-scale industrial production from 2023.
According to this new article of August 20, 2020, they are well advanced by now: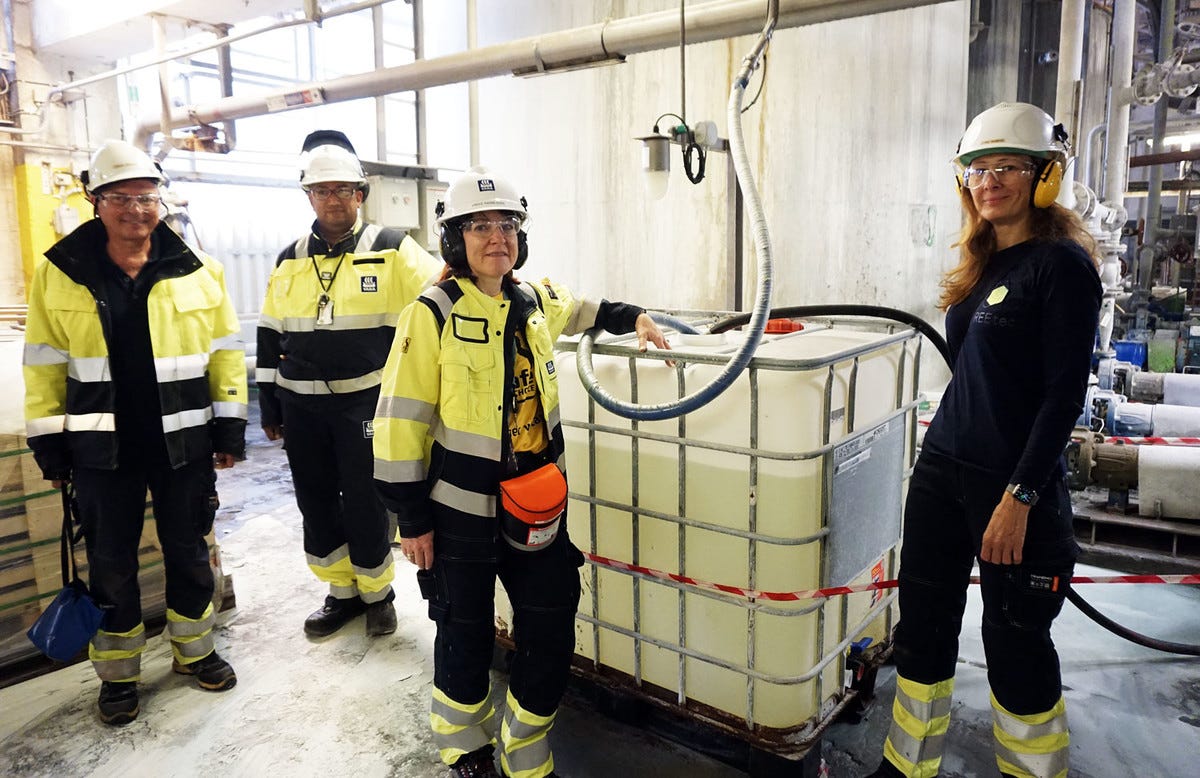 "The first container with concentrate of rare earths was delivered this week," says Vibeke Rasmussen from Yara Technology Center proudly. The concentrate is extracted in the production process from the complete fertilizer factory in full operation.

"The process plant has been developed in Norway and built over a long period of time here at Herøya. We have operated the demo plant since 2019, and learned the process based on other raw materials. We are now ready with a tailor-made front end in the plant that can process raw materials from Yara [Siilinjärvi mine, Finland]. We will spend the next six months fine-tuning the process with raw materials from Yara, and producing materials that will continue in the value chain and become magnets. That will be in 2021," says Sporstøl.

In the long term, REEtec wants to develop the plant to extract raw materials from several sources.
How did all this come about?
The driving force behind all this is Norwegian billionaire Alf Bjørseth (78). He is a doctor of chemistry, worked as a researcher at above-mentioned SINTEF, worked as a director of Norsk Hydro's (now Yara) research center at above-mentioned Herøya, and was also a technology director at Elkem (now ChinaChem).
He founded incubator Scatec and later listed off-shoot Scawafer, est. 1994, on the Norwegian stock exchange as Renewable Energy Corporation.
Scatec is the mother company of above mentioned REEtec.
According to EURARE 2017, REE Minerals are considered being an affiliate of REEtec. REE Minerals explore the Fens-Field rare earth deposit in southern Norway (MR 84 mio t, TREO ~ 1 mio t). Fens-Field is located 25 km from Herøya.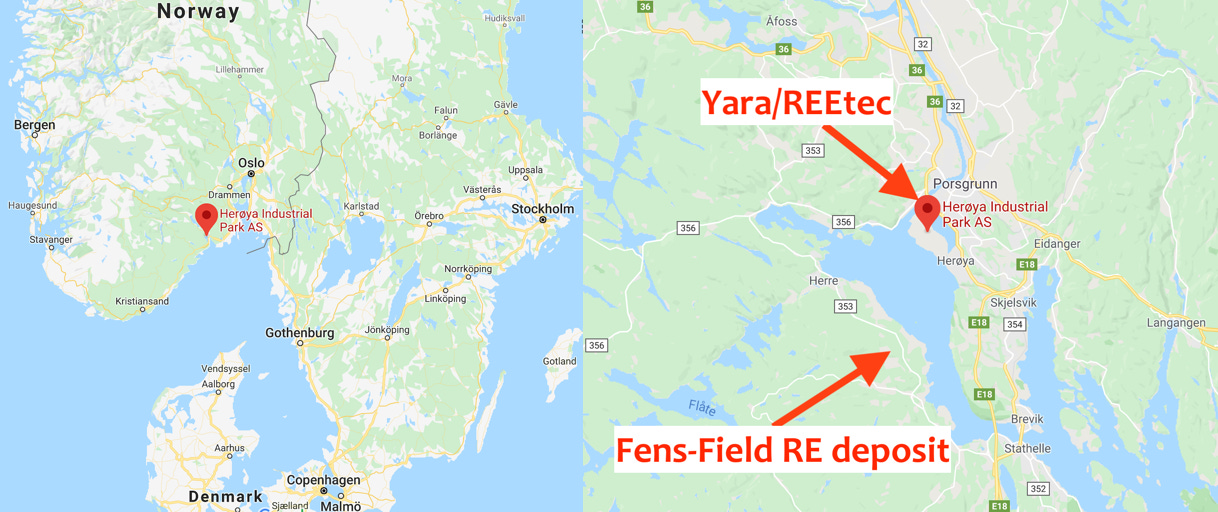 Since the area already has a historical radiation issue, perhaps mining Fen is not the preferred option in Norway.
3,000 t is a market-adequate quantity, which REEtec's commercial director, David O'Brock, former general manager of Neo Performance Materials Silmet facility in Estonia, should have no problem marketing in the EU.
The closest to starting production in North America are Geomega.
---
The price of NdPr keeps rising, now above US$50/kg, up 35% from US$37/kg in April/May, in spite of reduced export and dampened demand. It is no longer cheap. Speculators at work? Japanese reserve buying?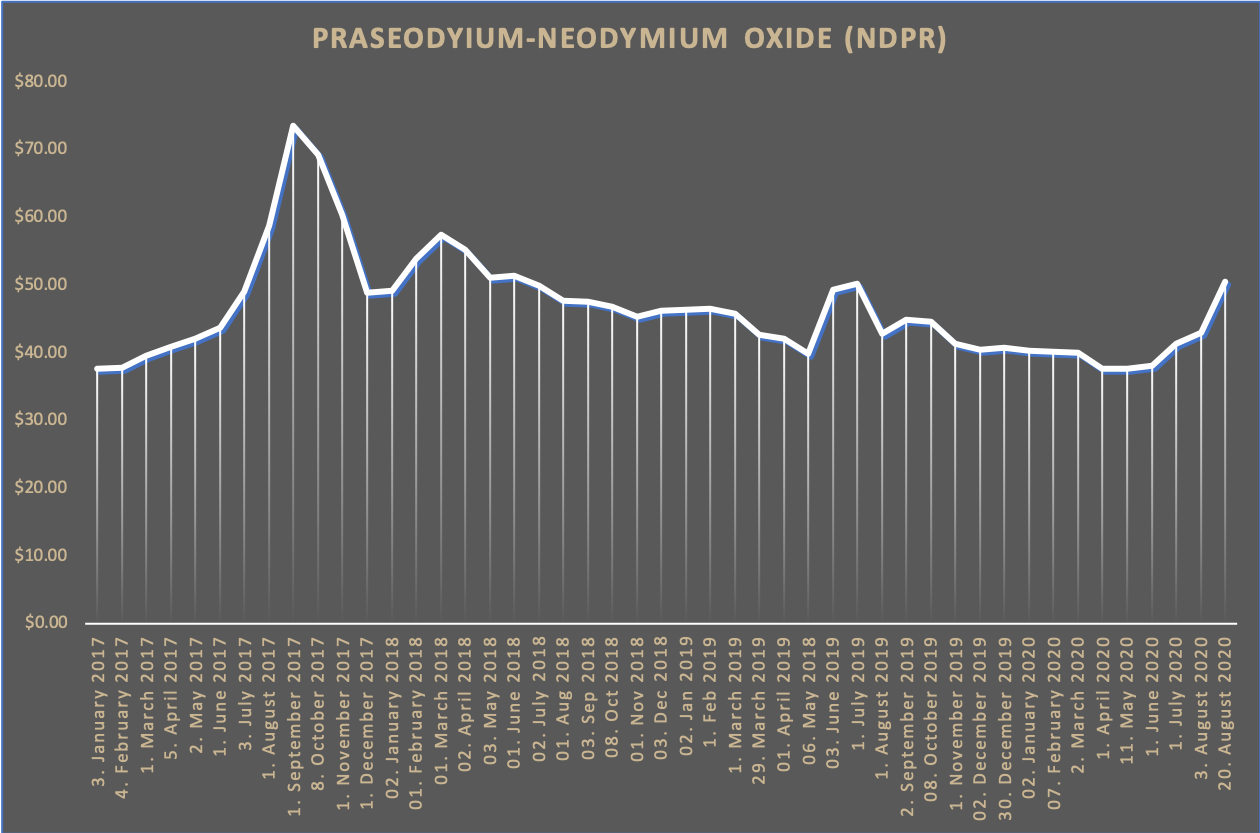 Someone in the industry said recently, that NdPr is seasonal and its price is always likely to rise in autumn, which is of course utter nonsense, as you can see.
One thing for certain: Traditional vehicle manufacturers, some of whom have mass production margins of a couple of hundred dollars per vehicle, are not used to such price swings in their supply chains and they certainly will not get used to it either.
---
Quo vadis, rara terrae?
Anti-China sentiment is high, and in the vain hope that governments may do something to alleviate China RE dependence that may benefit junior miners, the average rare earth stock price is up 70% since beginning of the year.
This, however, was totally outperformed by Pensana, whose Paul Atherley is relentlessly unapologetic about Pensana leaning on China (even though it has features of a tightrope act). Pensana's stock price has risen 350% since beginning 2020, 5 times the average:

Atherley is quite right, as realistically nothing will move in the junior RE miner space without China, with few exceptions in the RE processing and recycling sector.
According to previous announcements, a feasibility study of Longonjo is due sometime soon.
---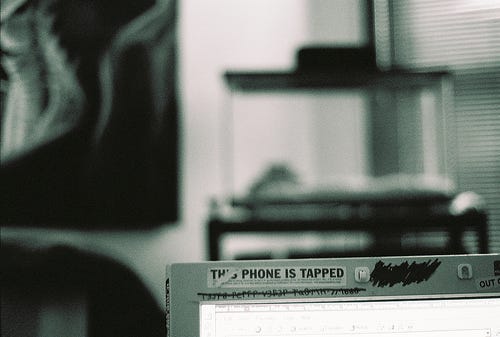 Our friends at copper heavy-weight KME got hacked. It ruined KME's workflow and caused significant damage.
In rare earth all of us are active in a "sensitive" area, and there is a lot of interest from all kinds of parties in either spying on your proprietary data or even destroying years of work.
Be safe. Use encryption. Use air-gap. Consider use of VPN. All of that is cheap.
Thanks for reading, have a good rest of the week!
//Politics
A spokesperson for the Ministry of Commerce said that according to customs statistics, China exported 22,800 tons of rare earths from January to July this year, a year-on-year decrease of 20.2%, with an amount of US$211 million, a year-on-year decrease of 26%. According to industry reports, since the beginning of this year, due to the impact of the new crown pneumonia epidemic, the production and operation activities of downstream rare earth enterprises have slowed down. Chinese companies carry out international trade business based on changes in international market demand and risk situation.
A plunge in China's rare earth exports last month has fanned speculation over whether Beijing has been curbing overseas shipments of the raw materials to inflict pain on its trade partners, but an industry association official says the decline in such exports is more of a result of coronavirus shock than a deliberate effort to cut off supplies.

Chen Zhanheng, a deputy general secretary at the China Rare Earth Industry Association, an industry group of domestic rare earth companies, said the drop in July's rare earth exports has led to rumours about whether China is weaponising rare earths in trade.

"Some people attributed it to geopolitical factors. That is actually not the case," Chen said. "The foremost factor should be the pandemic, which led to weak external demand [for rare earth minerals]."
Japan is moving to increase its stockpiles of rare earth

In March, Japan announced plans to reduce its dependence on China for rare earth minerals and to diversify its supply routes. At present, China provides 58 per cent of the rare metals imported into Japan, while Beijing has also been quick to strike agreements with other governments to access their natural resources.

The Republic of Congo, for example, is the largest producer of cobalt in the world, but China has reached an agreement with the Congolese government so that 60 per cent of all the cobalt mined in the country is shipped to China to be smelted.

Under the Japanese government's plan, debt guarantees are to be extended through the government-affiliated Japan Oil, Gas and Metals National Corporation to companies that wish to obtain existing refineries or to build their own facilities, as well as to aid firms that wish to invest in mining operations overseas.
The creation of the entire REM production chain in the United States is an extremely ambitious business. And the Americans are doing very badly to develop the industry. The fight for a new market, which the Pentagon is ready to support with the dollar, has embarked on companies that have absolutely no experience either in the extraction or processing of rare earth elements. And this process is much more complicated and dangerous than the extraction of simple coal.

First, each new mine must obtain an environmental permit due to the radioactivity of the ore waste, which requires safe disposal. Secondly, the separation and marketing of such metals requires some technical knowledge.

So far, the United States has only one active rare earth mine in Mountain Pass, California. Its capacity is not even close to the States, and besides, it is an old mine. Moreover, the mined ores are sent to China for processing. There are plans to extract ore from deposits in Alaska, Texas and Wyoming. Three companies have been operating here for several years, but the only thing they have done so far is to develop websites. None of them started to work in the ground, much less to process metals.

However, one of the main questions that should concern the United States in this regard is what are the reserves of their own mines. "Mountain Pass, California, is already an old enough mine, so it won't last long. Where will the Americans get their raw materials in the near future? They have only "paper", theoretical calculations of the mines and no practice, or laboratory practice, "says Alexander Toporkov.
Comment: Refreshing views from Russia. Of course Mountain Pass is nowhere near depletion.
//Mining
They said they're not entirely sure what form Trump's disavowal will take, although it is more likely to come as a rejection of the Army Corps of Pebble's water permits rather than a veto from EPA, which earlier this year indicated it would not exercise that power. The Wall Street Journal and The Washington Post also reported the Corps plan to issue a letter today saying the mine would cause "significant degradation."
The Report of National Cancer Registry Programme 2020, released on Tuesday, has found that two districts in the state — Thiruvananthapuram and Kollam — had a high incidence of thyroid cancer at the national level, triggering debates on radiation, over-diagnosis, and presence of thorium-rich monazite sands.

As per the report, among males, thyroid cancer is more prevalent in Thiruvananthapuram than Kollam. In the case of females, the top slot rests with Papumpare district of Arunachal Pradesh. But it is followed by Thiruvananthapuram and Kollam districts. An oncologist at a state-run cancer care centre said, "The link between thyroid cancer and radiation is well known. But there are other areas like hereditary, uncommon genetic conditions, overweight, and obesity."
Commerce Resources of Canada has announced plans for its advanced-stage Ashram rare earth deposit in northern Quebéc, to upgrade the mine's potential fluorspar by-product. Using a lab in Colorado, Commerce Resources plans to work on upgrading the deposit's fluorspar from metallurgical grade metspar to higher grade acidspar. This pilot plant work will complement Commerce Resources' pre-feasibility studies as the Ashram deposit progresses.

Meanwhile, at the world's largest existing rare earths mine in China, Baotou Steel Union's tailings project has also made a recent breakthrough in its fluorspar beneficiation technology. The company can now recover 95% CaF2 concentrate and is working towards becoming a fluorspar producer from rare earth mine tailings.
//Companies
Energy Fuels, which recycles this waste, has filed a petition that Utah is considering .

"Energy Fuels believes that the application meets the requirements and will be satisfied. We will wait until this process is completed and we will not speculate about alternative plans," the head of communications for NPM, a US company that owns Silmet , told Forte .

Silmet CEO Jim Sims clarified that the Utah authorities have up to three months of time by law to announce their decision.

"In the meantime, we have meticulous packaging for transportation on site," Sims said.

Over 600 tons of radioactive waste are packed in sealed drums on the Silmet site.
The Ministry of the Environment has not extended the permit for the processing of tantalum and niobium until the waste has been removed from Estonia.
Comment: Silmet is a Neo Performance Materials company, inherited from Molycorp. In USSR times it was a uranium processing plant, whose mere existence was a state secret.
The site, some 100 kilometres southwest from the capital Oslo, will become a headquarters for Elkem's Northern Recharge project, which aims to produce graphite for emerging battery markets. A final investment decision on the plant is expected by 2021.
Appia Energy Corp. (CSE: API) (OTCQB: APAAF) (FSE: A0I.F) (FSE: A0I.MU) (FSE: A0I.BE) (the "Company" or "Appia) is pleased to announce that diamond drilling has commenced and the second phase of the 2020 summer exploration program (the "Program") is progressing at the Alces Lake property (the "Property") northern Saskatchewan.
Lynas Corporation (LYC) has successfully completed its placement and the institutional component of its entitlement offer.

These two completions means the rare earth miner has raised $311 million, forming part of a larger $425 million equity raise.

To raise the $311 million, 92 million shares were issued under the placement to raise $212 million, while 44 million shares were issued as part of the institutional entitlement offer to raise approximately $100 million.

Further, as part of the entitlement offer, shareholders were offered one new share for every 7.7 held.
Since February 2019, Umwelt-und Ingenieurtechnik GmbH Dresden ("UIT"), an affiliate of Synchron, a significant shareholder in the Company and a General Atomics affiliated company, has operated a hydrometallurgical pilot plant in Germany utilizing ore from the Company's Bear Lodge Project in Wyoming. Using the Company's technology, UIT processed 1.1 tonnes of ore, with an average grade of approximately 10% total rare earth oxide (TREO), to produce 13.6 kg of neodymium/praseodymium (Nd/Pr) oxide at commercial grade. This represents an average Nd/Pr recovery rate of 89.5%. Lanthanum (La) oxide, and a mixed mid and heavy rare earth concentrate were also recovered. The Company's innovative patented process was further optimized and involves significantly fewer steps in a closed cycle with attendant environmental benefits and expected lower operating and capital costs compared with current technologies.
"Even Benta assemblyman (State Agriculture, Agro-Based Industry and Biotechnology committee chairman Datuk Seri Mohd Soffi Abd Razak) and Lanchang assemblyman (State Tourism and Culture committee chairman Datuk Seri Mohd Sharkar Shamsudin) visited the site and confirmed there is no stream in the area," he said when replying to a question by Lee Chean Chung (PKR- Semambu) at the one-day Pahang state assembly sitting here today.

Save Malaysia, Stop Lynas (SMSL) had early this year claimed that the areas surrounding Bukit Ketam were water catchment areas for the Kuantan district.

Earlier this month, Science, Technology and Innovation minister Khairy Jamaluddin said the AELB has approved the usage of the land for the construction of the PDF, subject to a radiological impact assessment (RIA), environmental impact assessment (EIA) and other relevant assessments by local authorities.
Comment: Torturous for everyone involved. There are probably ulterior motives and interests of foreign forces at play.
Ucore Rare Metals (TSXV: UCU) issued a statement saying that the permitting of its Bokan-Dotson Ridge rare earth elements project in Alaska may see a clean slate soon, following the approval of environmental renewal activities on the former Ross Adams uranium mine site.

The approval was granted by the United States Forest Service after reaching an agreement with Newmont USA Limited and Dawn Mining Company. The miners will be in charge of financing the $7-million on-site environmental reclamation project.

"This is a highly encouraging advancement, both for the Bokan project and Ucore as the current developer of Bokan Mountain," Mike Schrider, Ucore's VP and COO, said in the brief.
Comment: Ucore's PEA on p. 195 says Bokan will yield 20,000 t of REO in total.