China Shows Its RE Colours; The Cuttoff Story; Capital Raises; Carbon Neutrality; Sm More Magnetic Than Nd; ASM Start Sub-Zero; Northern Minerals Thrown Lifeline;
Rare Earth 2020 August 28
China Nonferrous Metals News:
"The strategy of China's rare earth trade is to export rare earth products to maintain China's due position and influence in the global rare earth market."
We are not exporting for profit, but we export for exerting power.
China Daily added oil to the fire: Will China-US dispute extend to rare earths?
(Please find both articles below)
The more they publicly debate it, the more compelling the case for decoupling from China rare earth.
There is no such thing like open discourse in China. Whatever is published has the approval of the the "relevant organs".
But may be this time it is China who wants to decouple?
The bigger context is the Chinese concept being debated for the coming 5-year plan, called "dual circulation." It is essentially supposed to be a more healthy domestic market fed by healthy domestic industry. External trade will continue playing an important role, but not at the expense of maintaining old dependencies or creating new ones.
That leaves a lot of questions to answer, which will need to be worked out by the ministries, if there are any solutions at all.
In rare earth, China continues to be export dependent. This dependency rests foremost on the RE that are overproduced, e.g. La and Ce, but also Sm, Eu and Y, because on increasing demand the supply-demand balance in NdPr needs to be kept.
The shortage in Dy and Tb can also only be alleviated by turning out even more "by-product."
Previously, under the expiring 5-year plan, the all-out effort was to increase domestic consumption in La and Ce. Some advances have been made to create some balance, but not nearly successful enough.
We speculate, that probably China is going to turn that around and investigate deeply, if NdPr can't be substituted in many applications, notably in the growth sector of EV, so to take the pressure out of the system to turn out enough NdPr, Dy and Tb, and consequently reduce the pressure from "by-product" (see the alternative magnet conference in Harbin in January this year - we reported).
That in turn would reduce the need to export.
But it would also reduce the availability of NdPr, Dy and Tb. As demand is growing, there would be the need for export limitations in order to avoid bidding wars. And such limitations are mentioned in aforementioned articles.
The Ministry of Industry & Information Technology will have to develop a new rare earth policy for the coming 5-year plan as the old one ends this year, and it will be an interesting one.
---
Sometimes we see headlines like these:
XX% Increase in Ore Reserves

Mine Life Extended to XX Years

XX% Increase in Measured and Indicated Mineral Resources
What has happened? Have the geologists totally underestimated the deposit and handed in a correction?
Not so. While sometimes this is the result of drilling, new data and fundamentally new assessment, in most cases it is purely a number game.
Typically, initially junior RE miners use the cutoff to overstate grades and understate tonnages and later lower the cutoff in order to increase the tonnage.
If or not the resource can be mined along the cutoff and if at this cutoff the resource is good enough for processing remains, well, kind of open.
Announcements of resource upgrades are typically followed by capital increases.
Enough said. You get the sequence.
By the way, since we are at it: If you see recovery rates like "average recovery rate of 75%", then they are talking about a rare earth oxide yield of 24% of originally assessed TREO.
An "average recovery rate of 90%" would yield 59% of the originally assessed TREO.
How? "Average recovery" applies to all the steps in the ore-to-oxide process:
Resource recovery

Mining recovery

Processing recovery

Cracking recovery

Separation recovery
75% x 75% x 75% x 75% x 75% = 24% of the originally assessed TREO.
90% x 90% x 90% x 90% x 90% = 59% of the originally assessed TREO.
TREO, cutoff grade and average recovery rate are the three things the shrewd investor will look at and compare.
Thanks for reading, have a magnificent weekend!
---
//Politics
August 26, 2020, China Nonferrous Metals News

On August 20, Gao Feng, a spokesperson for the Ministry of Commerce, said that from January to July this year, China's rare earth exports were 22,800 tons, down 20.2% year-on-year, and the amount was US$211 million, down 26% year-on-year. Since the beginning of this year, affected by the corona epidemic, the production and operation activities of downstream rare earth enterprises have slowed down. However, Chinese enterprises usually carry out international trade business based on changes in international market demand and risk conditions.

Recently released data show that our country's rare earth exports this year began to decrease, and the performance was even more pronounced in April, until last month it decreased by nearly 70% to 1,620 tons. Based on this, some insiders believe that the reduction in China's rare earth exports will have a great impact on the global rare earth market, especially the United States, Japan and other countries that rely heavily on rare earth imports.

Rare earths are an important raw material for military and high-tech industries, and 80% of rare earths in the United States rely on Chinese imports. The U.S. Department of Defense's "Assess and Strengthen the Resilience of the U.S. Manufacturing and Defense Industry Base and Supply Chain" report in May 2019 stated that the U.S. defense industry has more than 280 products in the supply chain that rely heavily on foreign countries, especially China's rare earth and the demand for spare parts is high. The report stated that China is the single or even sole supplier of some special chemicals used in ammunition and missiles.

In addition to the United States, Japan is currently heavily dependent on China's rare earths. For example, about 60% of rare earths needed for electric car engine magnets in Japan are imported from China. Statistics from the Ministry of Economy, Trade and Industry of Japan show that in 2019, 58% of Japan's rare metals were imported from China. To this end, the Japanese government is prepared to adopt a more flexible way to reserve rare metals. For example, the more important rare metals ensure the reserves for more than half a year, while the less important ones are maintained at less than 60 days.

Our country will expand the advantages of the rare earth supply chain in the world market. For a long time, my country has controlled Western countries' access to rare earth materials. These factors have led to China's current advantages in this field. It also means that our country will eventually lead the world in the development and deployment of advanced weapons including guided weapons.

In fact, rare earths can be mined in many countries, such as the United States, Vietnam, Brazil, India, and Australia. However, the processing link after mining is the focus. There will be multiple processes to extract metals from ore. Now Chinese companies control a large amount of rare earth processing. Technology and patents are in a leading position in this field.

Rare earths have been included in China's important strategic areas for resource development and utilization. At least at present, compared with the United States, Australia, Vietnam, Brazil and other countries, China's rare earth reserves are relatively rich, and since the early 1970s, the development of rare earth separation and purification technology has been In a leading position in the world, if other countries want to establish a new rare earth supply chain, the production cost cannot be compared with China.

Jin Canrong, a well-known diplomatic commentator, pointed out that one of China's three trump cards to win the trade war with Western countries is to control the export of rare earths. In response to this statement, a recent consulting agency's view stated that "(rare earths, etc.) are vital to US industry and defense, and there is no other supply that can replace it in the short term. If tariffs are imposed, the US will suffer more pain than China. ."

In this way, it is reasonable that the decline in our country's rare earth exports has caused panic in the United States, Japan and other countries. With the increasing strategic position of rare earths, for now, the number of rare earth exports from our country is no longer important. The strategy of China's rare earth trade is to export rare earth products to maintain China's due position and influence in the global rare earth market; apart from that, it will implement a limited trading quota. After all, China's rare earth products are limited, and [we should] especially refuse to export at a cheap price.
Comment: Not everything that is published in China is official opinion. However, if it was totally off, it wouldn't be published at all. This article is carried on more than one China news site.
Expert 1: Jin Baisong, an economist with expertise on the rare earth industry

China could control the export of the strategic resources based on civilian and military use, which means it should have two sets of export regulations-one for export of rare earths for civil use, and the other for military use.

Regulations for the export of rare earths for civilian use should follow the rules of free trade, but they should be accompanied by a verification system for the use of resources to ensure they are actually meant for civilian use. And those parties that import rare earths from China for civilian use and yet use them in the military sector should be held accountable.

On the other hand, we should have our own annual reports to evaluate different countries' security risks to China, and the export of rare earths for military use should be made based on the security risks the importing countries pose to China. To countries and regions that are rated as high risk, China can reduce or cut off exports of rare earths, in accordance with the World Trade Organization national security exception rule.

Expert 2: Mei Xinyu, a research fellow at the Chinese Academy of International Trade and Economic Cooperation

Unlike the US that threatens to impose sanctions and ban the export of many items, China values its international image and plays by the rules of the global market-and it will take countermeasures only when another country interferes in China's internal affairs.

Therefore, countries should cooperate with China to make the international trade environment stable, safer and predictable, instead of creating troubles for China, and thereby disturbing the entire global supply chain.

Thanks to its advanced separation and purification technique for rare earths, China has a cost advantage in rare earth mining and processing. As such, without achieving technological breakthroughs, any country trying to establish a rare earth production chain to bypass or isolate China in the rare earths sector is likely to suffer huge losses. This is not to say that other countries should not develop production chains for rare earths or achieve breakthroughs in their separation and purification.

These are the personal views of the experts and don't necessarily reflect those of their institutions or China Daily.
//Companies
2020/08/26 13:20
On August 25, 2020, Shin Nankei reported in an article entitled "Good news!" that the performance of a major corporation in the industry has grown significantly in China, which has begun to organize the rare earth industry.

According to the article, China Northern Rare Earth Group, China's largest rare earth supplier, announced a financial report for the first half of 2020 on the 24th, with operating revenue of 9,611 million yuan (about 148 billion yen), a year-on-year increase of 12.81. %, net income attributable to owners of the parent also showed a significant increase of 23.36%.

It then explains that the group said in its report that this result was inseparable from the persistent rise in the price of rare earths as a reason for the increased performance. Prices of light rare earth varieties such as praseodymium and neodymium have risen sharply, and the offer price of neodymium oxide, which is said to be a barometer of the rare earth market, has reached the highest price in three years.

In addition, regarding the background of rising rare earth prices, the supply of rare earth has decreased sharply under the new regulations aimed at organizing the industry in the country, and suppliers are beginning to sell. it pointed out that the market has high expectations for rare earth stockpiles.
The Australian Taxation Office has thrown Northern Minerals a $10 million cash lifeline and wiped out a further $9 million in potential debt after settling a protracted research and development grant dispute that has played havoc with the company's finances. The dispute related to which aspects of Northern Minerals' Kimberley-based, heavy rare earths pilot plant were technically considered R&D.
Shareholders in Iluka will receive 80% of the shares in Deterra, which has a single asset, a 1.232% iron ore royalty.

Valuing Deterra before it is cut loose from Iluka is not easy, but it will become easier in the next few weeks when a report on the spin-out process is released ahead of an Iluka shareholders' meeting expected in October and a stock exchange listing later in the year or early next year.

On the Australian market, Iluka has been rising steadily over the past six months as demand for its traditional products of titanium dioxide used in paint and zircon used as a glaze on tiles improves in line with China's buoyant property development sector.

But there is also growing interest in Iluka for the iron ore royalty business it is close to launching.
ASM's results for the financial year ended 30 June 2020 are now available.

The principal activities during the course of the year were mineral evaluation activities for the Dubbo Project, a large in‐ground resource of zirconium, rare earth elements, niobium and hafnium.

ASM's subsidiaries include Australian Strategic Materials (Holdings) Limited that continues to focus on mineral evaluation activities for the Dubbo Project and Toongi Pastoral Company Pty Ltd that continues to focus on managing the farm activities (breeding and grazing of sheep and cattle) and biodiversity offsets as part of the Dubbo Project activities.

The Dubbo Project is development ready, subject to financing, with the mineral deposit and surrounding land acquired and all major State and Federal approvals in place.
Comment: The publication of accounts may have been the cause of a little dip in the share price.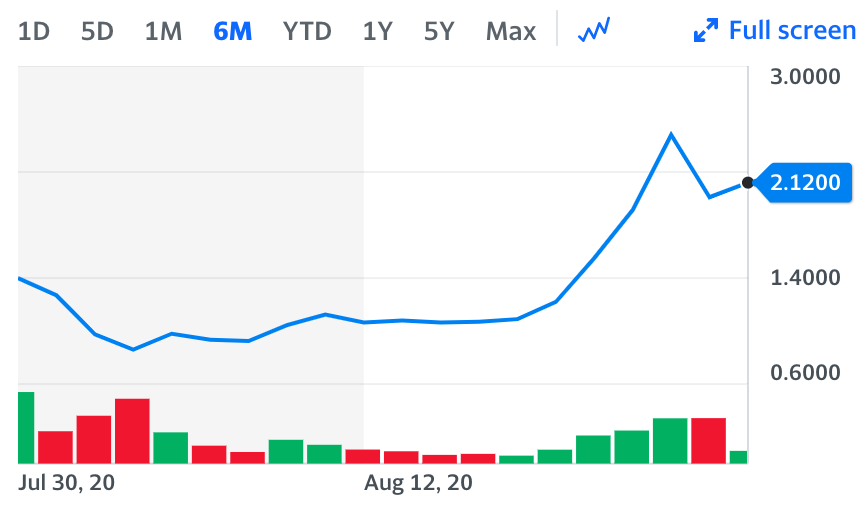 Note 1 says:

RareX's (ASX:REE) 58-hole program totalling 6,146m also identified a northwest-southeast striking breccia fault zone that represents a likely control on the higher grade mineralisation in the weathered material.

Where it gets interesting for the company is preliminary XRF work identifying the presence of abundant niobium, which is common in carbonatite deposits as both primary and by-product minerals, in the drill holes.

Cummins Range currently hosts Australia's fourth largest rare earth resource of 13 million tonnes grading 1.13 per cent total rare earths oxide (TREO), a significant portion of which is believed to consist of high-value neodymium and praseodymium.
Mr. Chalmers will provide investors with an update on the Company's various critical mineral initiatives, including uranium production, uranium and vanadium inventories, potential U.S. government action to support U.S. uranium miners, elimination of debt, and progress on the Company's rare earth element ("REE") processing program.
The Company issued 10,666,667 units (each a "Unit") in the private placement (the "Placement"), at a purchase price of $0.15 per Unit for gross proceeds of $1,600,000. Each Unit consists of one common share in the capital of the Company (a "Common Share") and one-half of a transferable Common Share purchase warrant (each whole warrant, a "Warrant"), exercisable to acquire one additional Common Share at an exercise price of $0.20 until August 25 2023. Medallion has paid finders' fees with respect to the Placement to Leede Jones Gable Inc., Mann Mann Jensen Partners LP, and PI Financial Corp. in the aggregate amount of $65,620, and 437,467 finders' options, each finders' option exercisable to acquire one Common Share at an exercise price of $0.25 until August 25 2022.
Comment: Compared to the current MDL.V share price of C$0.25, this is very cheap.

Weeks of flooding along the Yangtze River, China's longest waterway, has crippled commodity production, weighing on an economy that has been shaking off the coronavirus downturn.

Though authorities have not revealed total economic losses caused by the deluge of rain since June, several companies whose production plants have been submerged have ceased operations.

Sichuan-based Shenghe Resources, one of China's few rare earth production companies, on Wednesday said floods have damaged fixed assets, including equipment and inventory at two plants.

The Shanghai-listed group is projecting an initial loss of between 390 million yuan and 520 million yuan ($56 million to $75 million), though the water has prevented company personnel from entering the premises to gauge actual destruction.

Sichuan Hebang Biotechnology, a fertilizer maker, announced on Thursday that its plant had been submerged. Losses due to production line and inventory damages are estimated at 350 million yuan. Sichuan Hebang Biotechnology and Fuhua Group account for 24% of China's production of phosphate ore, according to Everbright Securities analysts who also said uncertainty remains as to when production can restart. Phosphate ore is a mineral widely used in the making of fertilizer and animal feed.

Although several dams in the country, notably the Three Gorges in Hubei Province, have withstood high water levels, people living downstream are living with anxiety. The Three Gorges has had to put its back up against a record-level of inflows this summer; on Thursday, it opened its gates to 75,000 cu. meters of water per second.

The Ministry of Emergency Management warned on Saturday that levels along key waterways remained high and ordered local governments to remain on alert for more rain to come through Tuesday.

Another storm is on the way. The China Meteorological Administration on Sunday issued an alert for Typhoon Bavi, which is expected to hit the country's southern region on Wednesday.
The company on Wednesday said it would issue some 117-million new shares to institutional, sophisticated and professional investors at a price of 12.5c a share, which represented a 21.9% discount to Hastings' last trading price.

Hastings will also launch a share purchase plan (SPP) to raise an additional A$3-million, allowing eligible shareholders to participate in the capital raise.
//Mining
Australian Mines says it has become the first mineral resources company to be certified a "Carbon Neutral Organisation" under the Australian Government's Climate Active program.

Last month, the Queensland Government offered a conditional financial support package to Australian Mines' 100% owned Sconi cobalt-nickel-scandium project in the north of the state. When fully developed, Sconi is forecast to be one of the most cost competitive cobalt-producing, nickel operations in the world, Australian Mines says.

The 2018 Sconi bankable feasibility study outlined a three open pit, 2 Mt/y operation that could produce some 8,496 t/y of cobalt sulphate, 53,301 t/y of nickel sulphate and 89 t/y of scandium oxide over the 18-year mine life.
//Science
NIMS and Tohoku Gakuin University have developed a boron-doped anisotropic Sm(Fe0.8Co0.2)12 thin film containing only small amount of rare earth elements. The compound exhibited 1.2 tesla coercivity, sufficient for use in automotive electric motors. This was achieved by creating a unique granular nanostructure in which Sm(Fe0.8Co0.2)12 grains are uniformly enveloped by an amorphous grain boundary phase approximately 3 nm in thickness. This compound exhibited superior magnetic properties to that of Nd-Fe-B based magnets even when processed into a thin film.
This is significant with nickelates as they are already known for their capacity to switch from an insulator to an electrical conductor at a given temperature. When this transition occurs depends on the composition of the nickelate. When the material is doped with Sm, the jump occurs at around 130 ⁰C. However, if neodymium (Nd) replaced the Sm, the threshold drops to 73 ⁰C. The deformation of the nickelate's crystalline structure explains this change.

The scientists from UNIGE took the Sm doped nickelate (SmNiO3) and the Nd version of the material (NdNiO3) and arranged them in a lattice-like structure, to study how two materials that undergo a metal-to-insulator transition at different temperatures would interact. They also hoped to gain an insight into the length scale over which these phases can be established. This required depositing repeated layers of SmNiO3 on to layers of NdNiO3 , creating a 'super-sandwich' of perfectly arranged atoms.

When the layers were thick, the different compositions of nickelate retained their characteristics ,  particularly those different transition temperatures. However, when the team stripped the layers back to no more than eight atoms each, the whole sample began to behave like a singular material, with the layers losing that individuality. This opened up the possibility of made-to-order materials.
The Super-Kamiokande neutrino observatory in Japan has received a relatively simple upgrade that should allow it to look further back in time. A rare-earth element called gadolinium has been added to the water in the huge underground facility, which will make it more sensitive to neutrinos from more distant and ancient supernovae.