China Off-The-Books Output; China RE Concentrate Import Booms; A Closer Look at NTU; Cheap Sm May Kill Expensive NdPr; Artificial Intelligence May Kill RE Altogether; RE Prices
Rare Earth 2020 September 2
China estimates the world refined rare earth production as REO 2019 was 178,000 t, 160,000 of which made in China (not to be confused with rare earth mine output).
Like all China statistics and China numbers this may be debatable, but the point here is a different one.
As published, the planned China quota was set as 132,000 t REO for 2019, the above number suggesting that there was output of ~28,000 t as REO above the plan in China, a gap of 21%.
While over-plan-production would explain the overall weakish prices light rare earths until this July, the question arises, how double digit excess output is possible, given the rigid governmental controls in place, from reporting requirements via ad-hoc site inspections to special tax invoice forms for rare earth products in China.
We know, that under the forced closure programme for "illegal capacity" companies re-opened the very next day under a slightly different name, licensed for chemical processing and still manufacturing, selling and exporting REO. However, these are lacking economies of scale and can't accompany sales prices of the Big 6.
We also know, that rare earth processing sites under the Big 6 which have no official processing quota, actually do produce.
Perhaps there is also internal quota swapping within the Big 6.
Last but not least, until late last year there was the recycling at tax-exempt so-called "comprehensive resource ultilisation enterprises", whose output often did not enter official RE statistics.
Probably the suggested non-quota output is a combination of all of the above.
Again we are reminded not to trust statistics, that we haven't cooked-up ourselves.
Forecast calculations that are built on the correctness of China statistics should be enjoyed with a grain of salt (preferably a grain the size of a brick).
---
Why are NdPr prices up 23% compared to the start of the year?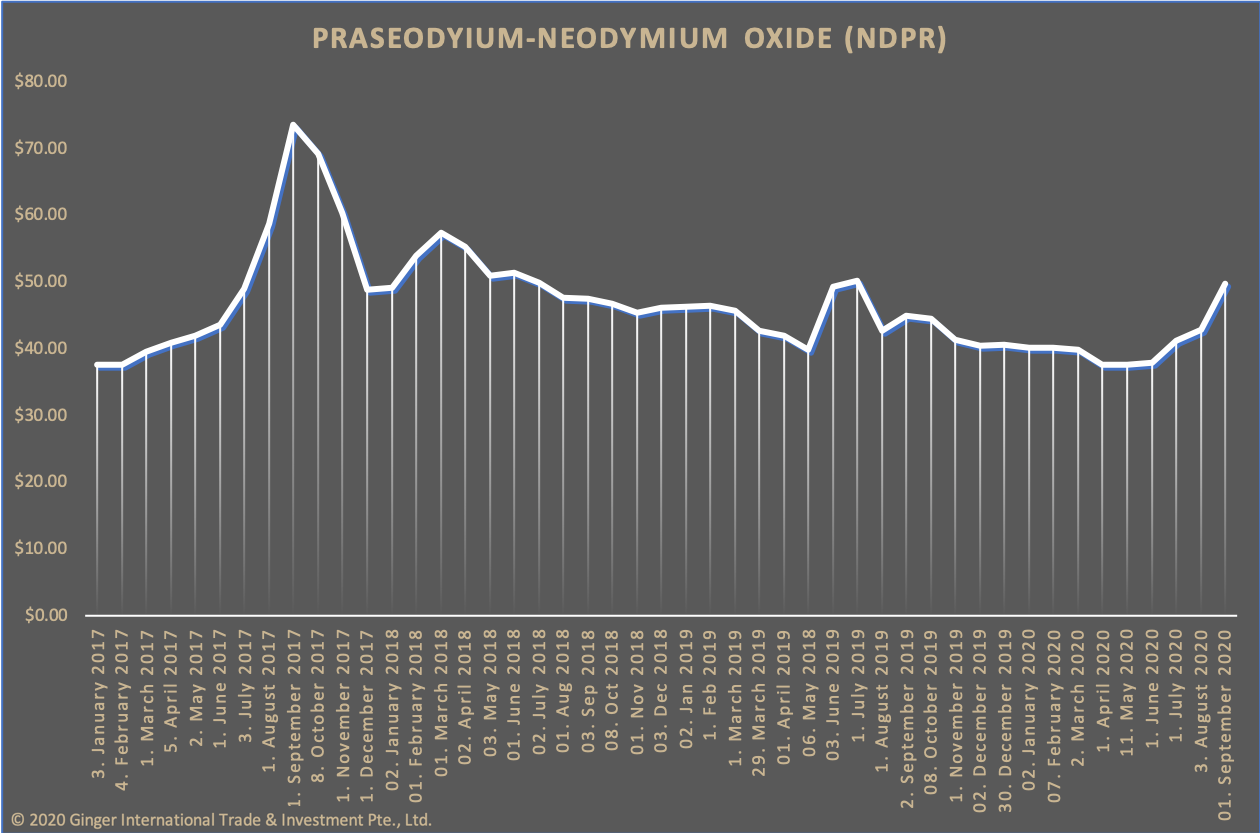 We think, if there is Corona and flood-induced production and transport stoppage, then wholesalers and traders take hike inventory and fellow producers increase list prices.
The NdPr growth factor automotive industry does not mind, if a product price is high or low, but whatever the price may be, it has got to be stable.
Conventional wisdom has: Don't bet against the Fed and don't bet against China's Ministry of Finance. We would add to that: In raw materials, don't bet against the global automotive industry.
To take advantage of higher NdPr prices and to replace raw material inventory, lost in the flooding, RE-raw material imports are up markedly.
Our view: Sustained high imports of raw material would lead to higher raw material cost and subsequently to sustained higher REO prices. It puts junior miners in the position to negotiate a more advantageous price formula for their respective RE compositions.
---
Based on Northern Minerals latest presentation we became curious. The following table is contained in the annex of that presentation: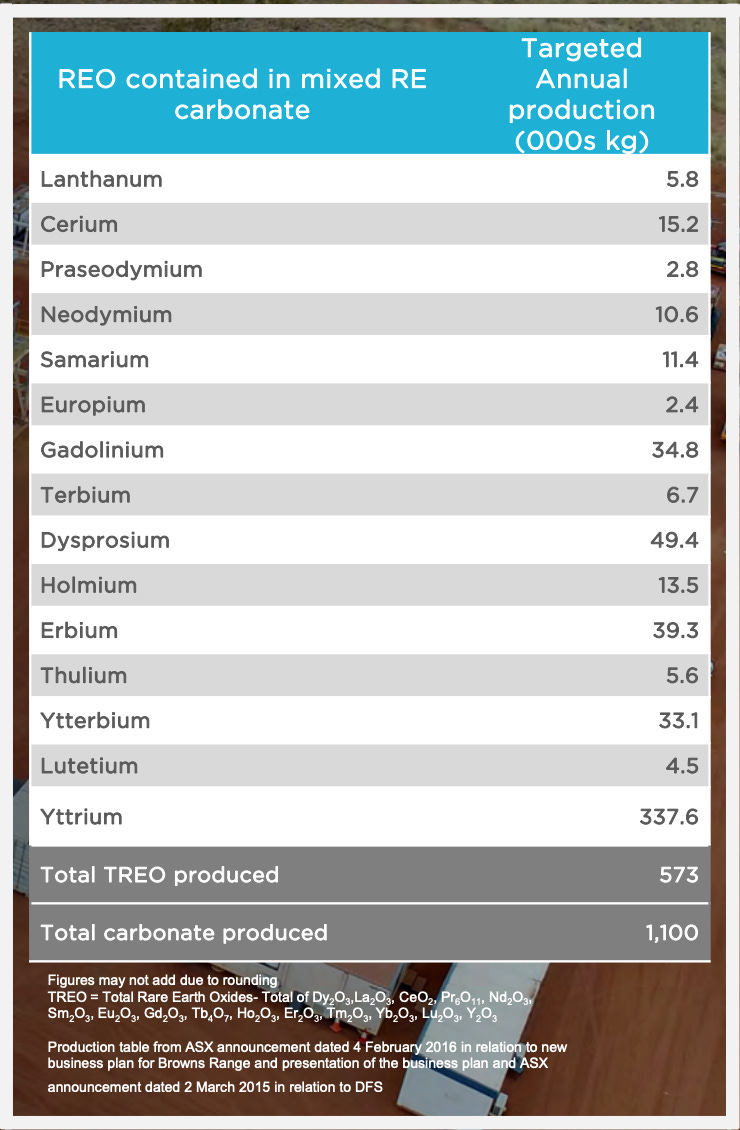 So we did the math. Based on the China price formula these 1,100 t of rare earth carbonate (similar concept with Hasting's) should fetch them US$ 14.8 mio revenue per year at current prices, US$ 9.84 mio of which would be thanks to high dysprosium contents of the xenotime.
According to the Northern Minerals annual report 2019 cash used in operating activities was AU$ 19.7 mio (~US$ 14.6 mio) and NTU piled up losses of AU$ 64 mio vs. assets of AU$ 62 mio.
Northern's Minerals resources of 60,000 t TREO are in the classes indicated, inferred and probable, as per the company presentation.
We dug a bit further.
The NTU 2015 definitive feasibility study was also only published as an "executive summary" (the DFS itself not available), same as in case of Hastings'.
In the NTU executive summary of the DFS the life of mine was set as 11.25 years, life of mine revenue was estimated as US$ 3.1 bio on a life of mine output of 34,851 t as TREO, as per table 13.2 on page 58 and table 12.2 on page 57 of the executive summary of the DFS: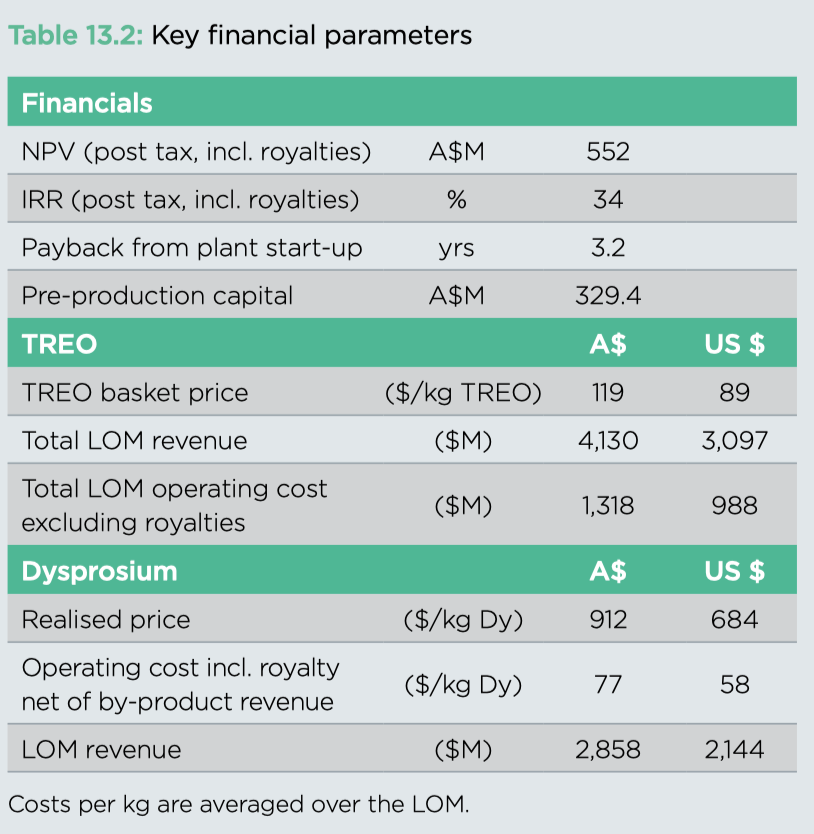 On page 57 of the executive summary of the DFS there is this table 12.2: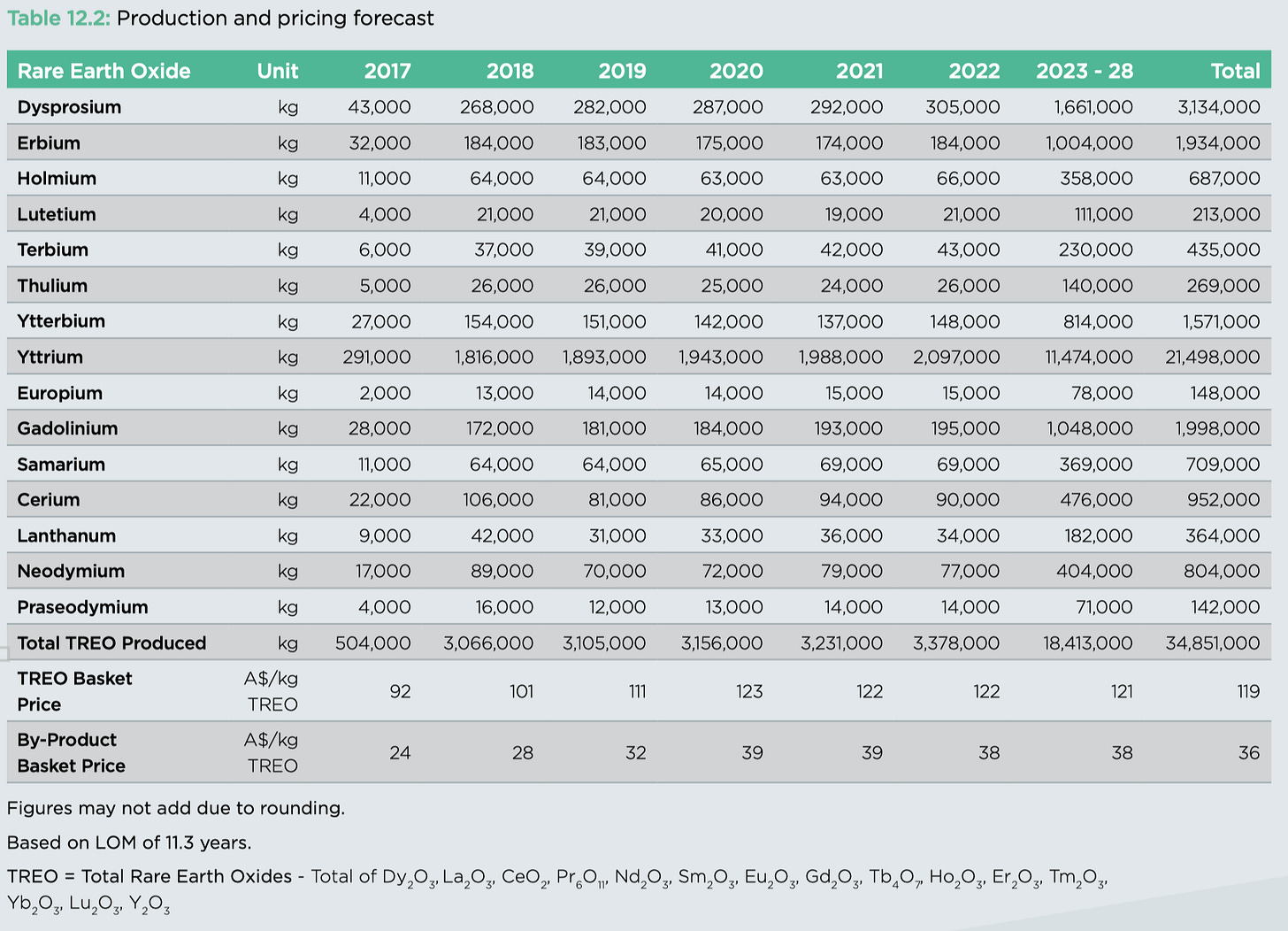 NTU's final product is a mixed rare earth carbonate for which there is currently only the China market, whose current price formula only considers the value-bearing elements Nd, Pr, Dy and Tb, with a min. 20% recovery deduction.
Accordingly, we calculate a LOM revenue of US$ 950,653,600.00 based on current prices, not US$ 3.1 bio as indicated in table 13.2 on page 58 of NTU's executive summary of the definitive feasibility study.
The "realised price" for dysprosium oxide of US$ 684/kg as per table 13.2 is certainly a factor in the gap, as in 2015 the price level for dysprosium oxide was around US$ 290/kg and recently it has risen to above US$ 260/kg.
The executive summary of the DFS bases on a much larger yearly quantity of >3,000 t TREO than the latest corporate presentation with 573 t TREO.
Enough said.
---
Hot off the press: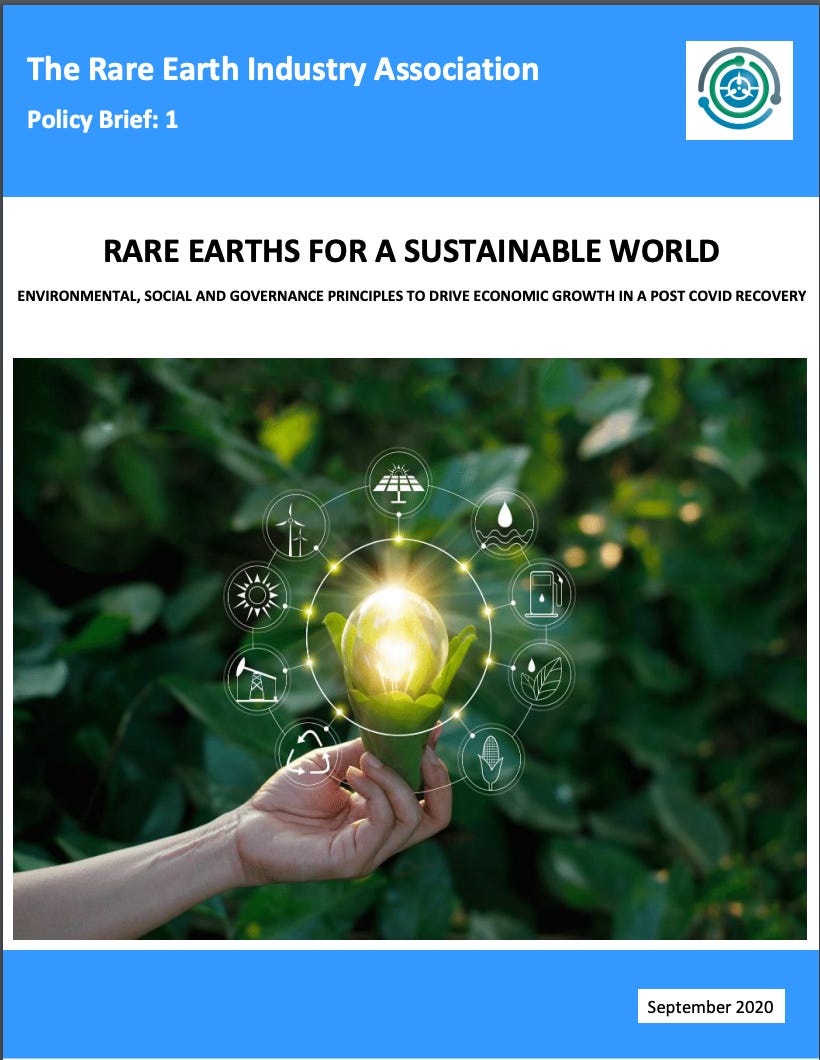 RARE EARTHS FOR A SUSTAINABLE WORLD is a new briefing and - may we say - mission statement from the Global Rare Earth Industry Association, who has the ear of governments.
As always, definitely worth reading.
---
In the coming issue we'll have another look at the RE stock market.
Thanks for reading and have a successful rest of the week ahead!
//Mining
According to Chinese customs data, China's total rare earth ore imports from Myanmar in July surged 443% over the same period last year, while imports of rare earth metal ore from the United States increased 113%.

China's imports of rare earth ore from Myanmar and the United States increased year-on-year in July, which was attributed to the higher operating rate and strong demand of China's rare earth separation and processing plants. At the same time, China abolished the 25% tariff on imports of rare earth metal ore from the United States, further stimulating importers to increase their purchase of rare earth ore from the United States.

In July, China imported 2,493 tons of rare earth ore (rare earth oxide and mixed rare earth ore not specified ), an increase of 108% year-on-year, of which 1,052 tons of unspecified rare earth oxide ore (up 41% year-on-year), mixed rare earth ore 1,441 tons (up 217% year-on-year). Among them, the import of rare earth ore from Myanmar soared to 1,760 tons, accounting for 70% of total imports, an increase of 443% year-on-year, but a decrease of 24% from June, and the average import price rose 11% year-on-year to US$10,847/ton.

China's imports of unspecified rare earth oxide ore from Myanmar increased from 324 tons last year to 875 tons in July this year. In July, China imported 884 tons of mixed rare earth carbonate ore from Myanmar, while the import volume during June to July 2019 was zero because the export of Myanmar mixed rare earth carbonate ore to China was prohibited.

From January to July this year, China imported 16,741 tons of rare earth ore (rare earth oxide and mixed rare earth ore not specified), a year-on-year increase of 25%, of which 11,798 tons of rare earth oxide ore (an increase of 9% year-on-year) were not specified. 4,943 tons of mixed rare earth carbonate ore (down 57% year-on-year). Among them, China imported 14,363 tons of rare earth ore from Myanmar, a decrease of nearly 20% from 17,895 tons in the same period last year. Among them, the unspecified rare earth oxide ore increased by 23% year-on-year to 10,659 tons; the import volume of mixed rare earth carbonate decreased by 60% year-on-year to 3,704 tons.

In July, China's exports of rare earth metal ore from the United States increased by 113% year-on-year to 7,624 tons, and the average import price rose by 37% to US$1,664/ton.

From January to July, China imported 45,298 tons of rare earth metal ore from the United States, an increase of 117% from 20,866 tons in the same period last year. The average import price rose slightly by 2% to US$1,427/ton during this period.
Comment: While the quantity from Myanmar is equivalent to 1-2 truck loads of concentrate per day, we really wonder if these undocumented deposits in Myanmar are really that productive, or if it is not largely Chinese product that is being laundered through Myanmar.
//Processing
The proposed facility will be owned and operated by the Saskatchewan Research Council. The province said it will be the first of its kind in Canada and will create a rare earth element supply chain. The province said this will form an industry model for future commercial rare earth expansion.

The province anticipates construction to start this fall and plans for the facility to be fully open in late 2022.
//Companies
Comment: Given MP's single customer concept, how would Litinsky keep his generous benefactors from China happy for the coming years? Shenghe's stake in the to be listed entity is being reduced and there is no seat on the board for them.
If the need for exports of REO arises, MP may run the risk of getting molycorped.
TSX-V- and Aim-listed Mkango Resources continues to progress the work programme for its Songwe Hill rare earths project, in Malawi, towards completing a feasibility study by the second half of 2021.

On February 4, 2019, Mkango announced an updated mineral resource estimate for Songwe Hill, with eight-million tonnes grading 1.50% total rare earth oxides (TREO) in the measured category; 12.2-million tonnes grading 1.35% TREO in the indicated category and 27.5-million tonnes grading 1.33% TREO in the inferred category, applying a base case cut-off grade of 1% TREO.
Comment: The pre-feasibility study NI43-101 is on Sedar, look under publication December 1, 2015.
Chinalco, best known as an aluminium producer, was in hot water with the environmental authorities twice in 2018 when officials from its unit in northwest China were punished for their handling of hazardous solid waste and a rare earths subsidiary was found to have breached environmental rules.
//Recycling
The researchers believe lanmodulin provides an alternative to chemical processes in the recovery of rare earths from electronic scrap and pre-combustion coal. The solution does no harm to the environment, according to scientists at the Lawrence Livermore National Laboratory (LLNL) who are partners with Pennsylvania State University and Idaho National Laboratory.

'Lanmodulin has several unique and exciting properties. We were all amazed to discover that a natural protein can be so efficient for metal extraction,' says project supervisor Gauthier Deblonde of LLNL. 'I have worked on many molecules for metal purification but this one is really special.'
//Science
A team of researchers at the University of South Carolina College of Engineering and Computing and Guizhou University, a research university located in Guiyang, China, with funding from the U.S. and the Chinese governments, have applied an advanced form of artificial intelligence to the task of finding new combinations of elements that could meet future needs for rare earth resources.

"Considering the huge space of doped materials with different mixing ratios of elements and many applications such as high-temperature superconductors, where six to seven component materials are common, the number of potential materials is immense," notes the paper published in the June issue of NPJ Computational Materials.

The paper was supported by grants from the U.S. National Science Foundation as well as the Chinese government's National Major Scientific and Technological Special Project of China.

Those high-profile instances deal mainly with the failure of some researchers to disclose funding ties to the Chinese government, which is not the case here. (The paper's corresponding author declined to answer questions about the National Major Scientific and Technological Special Project of China and its funding process.) But Sen. Tom Cotton, R-Ark., has introduced legislation to basically prohibit Chinese graduate students from studying in any science or technology field in the United States.

That could make discoveries like this one harder for the United States to realize in the future. Chinese students and researchers play a key role in the advancement of U.S. technological capabilities, Eric Schmidt, former Google CEO and the chair of the Defense Innovation Board, said at the Defense One Tech Summit in June.
Sm is another rare metal, but according to NIMS, it has developed a material "containing only small amount of rare earth elements. The compound exhibited 1.2 tesla coercivity, sufficient for use in automotive electric motors, and superior magnetic properties to that of Nd-Fe-B based magnets even when processed into a thin film."

"Among rare-earth elements, Nd and Sm have a more or less similar natural abundance. However, we want to use less rare-earth in the permanent magnet, which is the case for the Sm(Fe,Co)12-based compounds compare to Nd-Fe-B magnets," NIMS researcher Hossein Sepehri-Amin told Electronics Weekly. "In addition, broadening the use of [different] rare earth elements is one of the strategies to avoid shortage of the rare-earth elements in the future considering ever-increasing demands for the current Nd-Fe-B based magnets."
Comment: Is this the NdFeB killer? NdPr costs US$50/kg. Cobalt cost is US$ 33/kg. Cobalt is not a China controlled metal and Samarium only costs US$1.85/kg.
//Politics
Unlike the US, China has a small and very rarely used set of export controls, which have so far been most notably deployed on the rare earth metals found in consumer electronics such as smartphones.
Comment: This is a very wrong perception and rather disappointing reporting of the famed Financial Times.
First wrong, regarding the China rare earth export quota: The quota limitation quantities were so high, that they were improbable to be reached. The EU, US and Japan WTO suit was solely to strike down the principle of export quota management as such.
Second wrong: China's export controls are not "small" and "rarely used", China's export controls are huge and are used daily, hourly, by the minute. The massive trade manipulation is exercised through the VAT-refund-upon-export scheme.
We invite the Financial Times to do some very, very simple and very basic research on the subject, which will almost instantly reveal the enormity of the scale of export manipulation in China.
The same manipulation mechanism contains the "kill-switch" for non-China based rare earth compound production.
The Trump administration has determined that another 11 Chinese firms, including construction giant China Communications Construction Company, are owned or controlled by the Chinese military, laying the groundwork for new sanctions.

The new list comes after the Pentagon earlier this year designated 20 top Chinese firms as Chinese military companies operating directly or indirectly in the United States, including those "owned or controlled" by the People's Liberation Army that provide commercial services, manufacture, produce or export.

The updated list, released Friday by the Pentagon, also included China Three Gorges Corporation Limited, Sinochem Group Co Ltd and China Spacesat.
Comment: They can as well stop business with all China companies, as all is intermingled. The China military is not answering to the government. The soldier's oath is to the Communist Party, not to the nation. Military affairs are run by the Central Military Commission under the Communist Party Central Committee. Every single company in China is obliged to have a communist party cell/organisation, no matter if "private", state-owned, listed or not.
//Prices
As usual, these are ex-works median published prices to catch the trends, not necessarily reflecting actual individual offers that would include consideration of quantity, required quality, export cost, finance and shipping cost, plus a trade-margin.