Bloated PFS; Another CEO resigns; Government Funding; Zoom with Zimtu; Market Assessment from Japan; Message from China;
Rare Earth 2020 June 14
A look into the pre-feasibility studies (PFS) of junior rare earth miners reveals an investor wonderland: Massive demand for the product, high growth, stellar sales prices that will even increase when the new mine wrestles into the market upon start of production (SOP), and projects that go from zero to full production immediately after SOP, returning capital invested at the speed of light.
"No battle plan survives the initial contact with the opposition." (Helmut von Moltke, General Field Marshal of Prussia)
One PFS suggests a RE concentrate could be sold near the current price of pure neodymium oxide. Another one bases its 70% above current prices assumption on a reputed rare earth consultancy forecast, but forgets to mention that this forecast is at least 3 years old and was totally wrong from todays perspective.
This is contempt for potential investors intellectual capabilities.
Ucore's Jim McKenzie resigned, the company was "pleased to announce." He has been nursing Ucore's tiny Bokan Ridge rare earth deposit since 2007. "Building an independent, competitive North American rare-earth supply chain has been my life's work for nearly 15 years," stated Mr. McKenzie.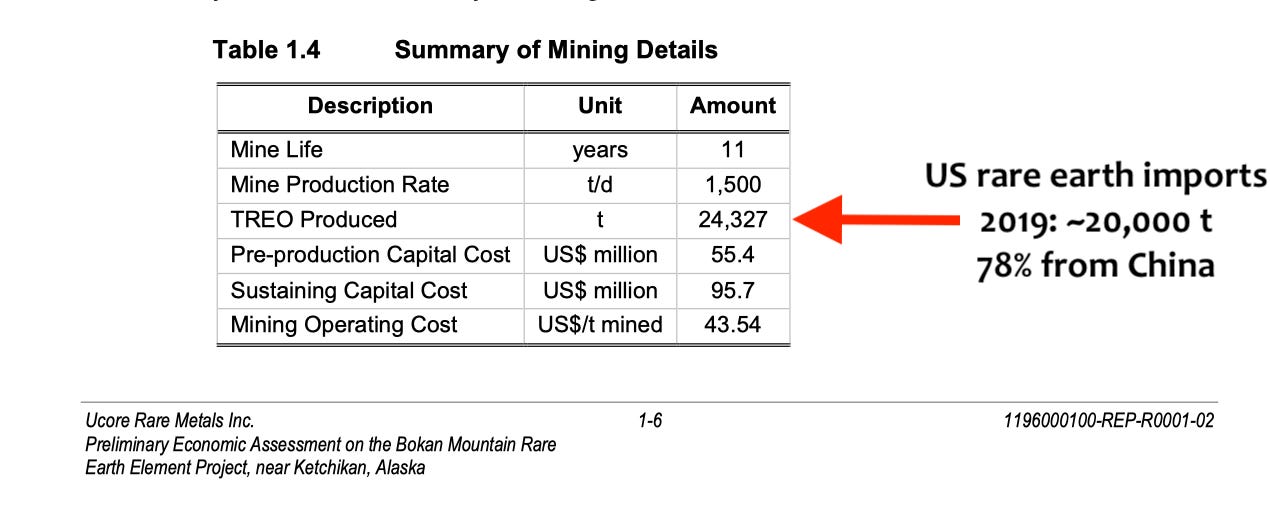 Pensana received a commitment from Angola's sovereign wealth fund, a very important step towards Pensana achieving 84% ownership in the Longonjo project.
Longonjo has a mineable resource of 226 mio t with estimated 3.3 mio tons of TREO, which puts it among the Top 10 deposits, just behind Geomega's Montviel.
Related to Pensana's move to the London Stock Exchange, they hired German penny-stock promoter Stefan Müller - who recently went through tearful divorce from Tony Sage - to promote Pensana's stock to "German-speaking EV investors". Pensana's final product is about as remote from EV as iron ore is, and - notwithstanding change of product - currently 100% of Longonjo's output would anyway have to go to China.
Commerce Resources were at Zoom with Zimtu. Their Ashram deposit is estimated to hold 4.176 mio tons TREO, which makes it the 6th largest on our list, but after more than 20 years it is probably infinitely better explored than most other deposits out there.
Within hours from one-another, two almost identical Chinese language articles on rare earth were published in China and the US. One was posted by someone under the synonym 大阅无疆, who regularly publishes on military and foreign policy matters on China's sohu.com, and the other was published by Beijing-friendly Chinese language news website Duowei in New York.
Both articles were heavily edited after publication, suggesting censorship intervention.
A 3rd separate article in the China Natural Resources Daily criticises, that China's degradation of the environment, waste of natural resources paired with overcapacity, smelting and separation capacity of 300,000 t vs. 120-150,000 t of demand, have created an unsustainable situation in rare earth [we are not sure, if that capacity is still accurate, ~200,000 t was the implied target of government policy, and the recovery of RE-metal margins suggests, that it was successful].
Basically, all three articles air the long standing complaint that China doesn't have the rare earth pricing power, which at 30-40% of output going to export is conceivable, and it affirms that also China is interested in - and will pursue - higher prices. This aligns the interest of China with those of western junior miners against complacent and opportunistic RE-consumers.
The author of the 3rd article calls for China's rare earth producers to "go out" into the world and for international cooperation as a solution. A Siren's call or genuine? A similar China-policy in steel for many years has shown us zero change of market conditions inside China, but a couple of serious, large investments abroad.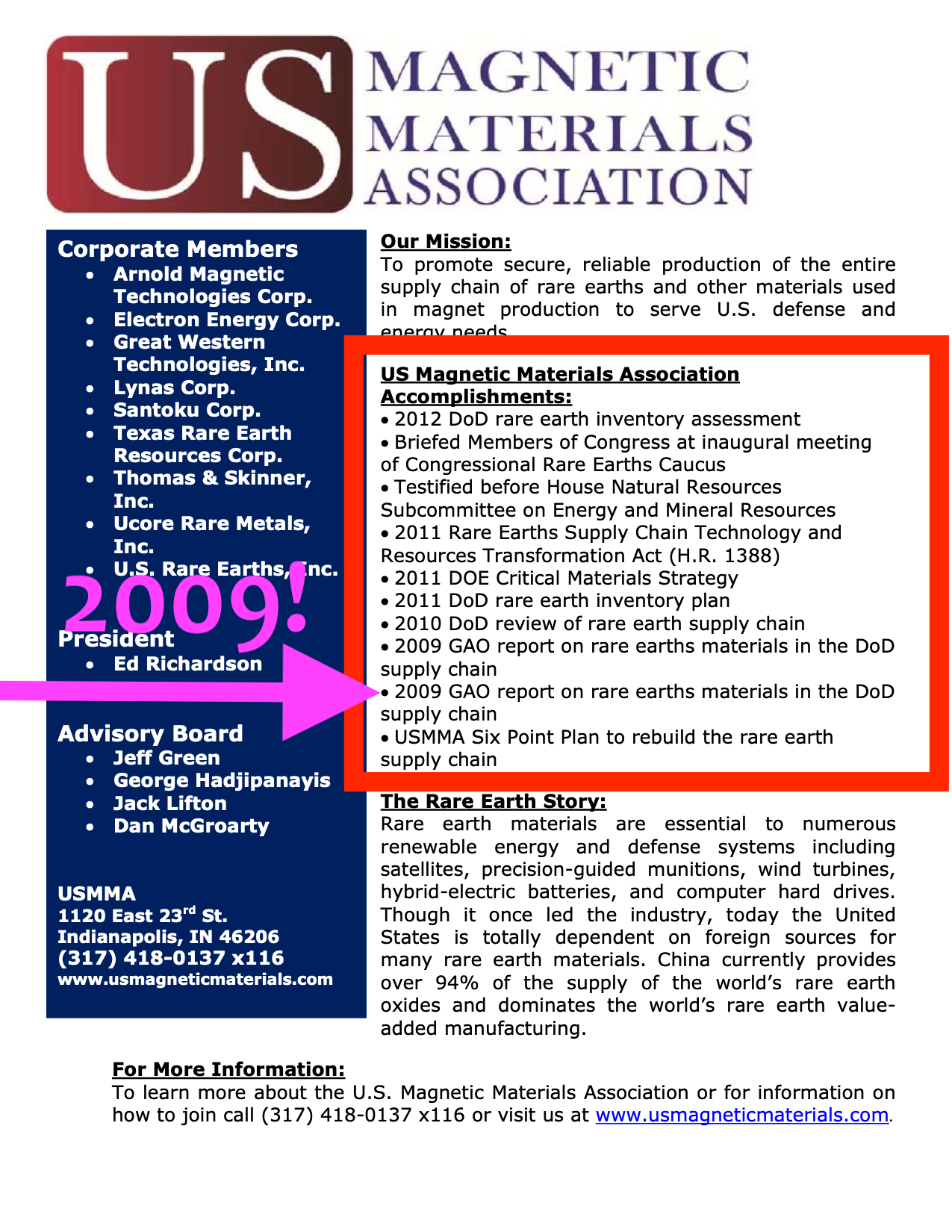 The current strategy, policies and lobbying regarding RE are not new, we had it all before. Remember The Association for Rare Earth and the U.S. Magnetic Materials Association (UMMA)? 10 years ago. Both dormant, if not dead in the water. Nowadays we have the Global Rare Earth Industry Association, which still has to find its footing: We don't know what we want, but we want it with all our might!
Given the dismal outlook for most rare earth projects, perhaps contrarian strategies may work in lobbying for both, investment and policies.
Thanks for reading.
//Companies
Tantalum and niobium concentrates contain naturally occurring levels of uranium and thorium, which are radioactive and the wastes generated by processing to metal are also radioactive. The FeNbTa alloy does not generate radioactive waste. Silmet has a licence to store 615.5t of waste and its allowance is used up, with the licence having expired in January. Tantalum and niobium recovery from concentrates has been suspended, although processing of FeNbTa appears to be ongoing according to trade statistics.

The Ministry of Environment of the Republic of Estonia has ordered Silmet to demonstrate that it has arranged with an off-site facility appropriately licensed for recovery or disposal of the radioactive material, prior to renewal of its licence and resumption of niobium and tantalum recovery operations. There is no such facility in Estonia.

It an attempt to deal with the waste, Energy Fuels Resources, of the USA, has applied for a permit to import the material for processing to nuclear fuel rods at its White Mesa uranium mill in Utah. It already processes such material from elsewhere in North America. Key to the permitting process is public consultation. The closing date for public comments nears.
Comment: Energy Fuels Resources have been offering the White Mesa facility also for rare earth processing. Only 7% of the uranium consumed in the US is made in USA. In spite of having risen substantially, uranium prices are still below Energy Fuels break-even, hence the nuclear licensed White Mesa facility is idle.
Following its initial investment in March, the Angolan Sovereign Wealth Fund (FSDEA), has invested a further A$7.25-million in rare earths miner Pensana Rare Earths' Longonjo project in the province of Huambo, Angola.
Washington | A US-based rare earth mining investor backed by Australian money is finalising a deal with Arafura Resources to ship raw materials from the Northern Territory to Colorado for a pilot project that won a regulatory green light last week.
Comment: Does that make any commercial sense at all?
One of very few companies that has a quality US based rare earths deposit is Rare Element Resources Ltd. (OTCQB: REEMF). Their flagship project is the Bear Lodge Critical Rare Earth Project in northeastern Wyoming, USA. The Project has a projected 45-year mine life with an initial 9-year high-grade zone.

Extensive geological work by the Company since 2004, including drilling, geophysical and geochemical sampling and assaying, has resulted in a Measured & Indicated Resource of 18 million tons grading at 3.05% Total Rare Earth Oxide (TREO) at a 1.5% cutoff grade. This includes 3.0 million tons of Measured and 15 million tons of Indicated resource. Total contained M&I Resource is estimated at over 450,000 metric tonnes of TREO. It is worth noting that the cutoff grade is the starting point for some projects.

The one challenge is that the deposit is in the Black Hills National Forest but with the current administration and the desire to establish a domestic source this should not be an impediment to permitting.

Rare Element Resources has a highly attractive 'US based' rare earths project, with excellent economics, including a low upfront CapEx of $290 million. All that is needed is some funding.
Comment: Shares of REEMF have risen already more than 900% this year. 49% of the company is owned by General Atomics, for whom the investment to build the mine plus downstream would be petty cash money.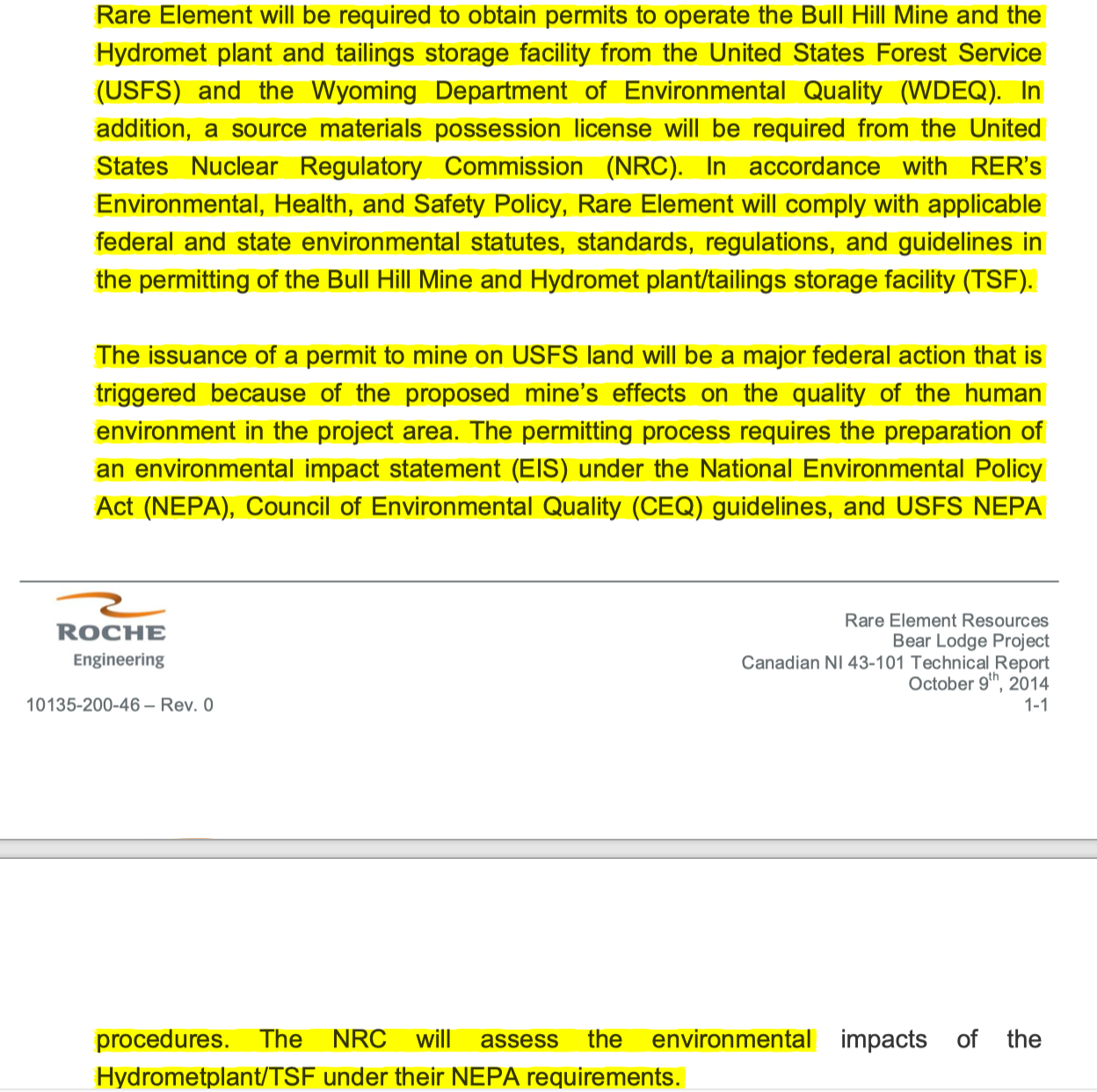 //Market
Rare earth prices are currently rising, and many countries, including the United States, worry that dependence on Chinese rare earths will threaten the security of their country.

Since President Trump took office, he has been working to reduce his dependence on China's rare earths [yes, making a real head-start by approving the sale of North America's only operating rare earth mine Mountain Pass to a China-dependent consortium in August 2017]

The US government will issue subsidies to help companies bridge the gap with China's rare earth industry, but this action may take years, leaving China with ample room to respond.

The author believes that the cultural differences between China and foreign countries are huge, and differences and misunderstandings cannot be bridged by a few plane-loads of masks and [medical] supplies. But at the same time, we should also see that the price increase of Chinese rare earths is both a market need and our right. As the world's largest exporter of rare earths, the pricing power must be in our own hands.
Comment: Since first being published, this article has been heavily edited on both websites, the Beijing one and the New York one. The general tone of the author's other publications in highly nationalistic.
Demand for dysprosium and terbium used as heat-resistant additives for neodymium magnets is decreasing. This is because the new coronavirus affected the automobile-related production cutback.

Some rare metal trading companies have already been gradually decreasing the number of transactions.

Prices have recently risen due to the rumour of the Chinese government's heavy rare earth stockpiling and anxiety about supply due to Myanmar entering the rainy season.

However, the upper price of neodymium has been suppressed, and there is also a view that the price of heavy rare earth will weaken if demand for neodymium magnets does not return.
Comment: Not so long ago rare earth producers in China refused fulfil the government production quota, in order to limit losses. We wouldn't bet on continuously depressed prices.
At present, prices in the international rare earth market are sluggish and fluctuate frequently. However, although my country is a major contributor to the world's rare earth resources, it lacks independent pricing power, leaving our country's rare earth industry in a relatively passive state.

Environmental losses deviate from actual benefits. According to relevant research data, the reserves of rare earth mines in my country have dropped from 55 million tons in 2010 to 44 million tons in 2018, a decrease of 20% in the past decade. In addition, the environmental pollution caused by rare earth mining and smelting is serious and the added value is low. For example: Southern ionic rare earth mines are likely to cause a large amount of ammonia nitrogen to remain in the soil and groundwater of the mine; Baiyan Obo mixed rare earth mines are likely to cause radioactive pollution and heavy metal pollution of the soil. Relatively speaking, Japan, the United States and other countries import my country's rare earth raw materials for high-end manufacturing in their own countries, and then enjoy high added value, but do not have to bear the loss of resources and environment.

The contradiction between overcapacity and insufficient high-end applications is huge. At present, our country's rare earth smelting and separation capacity has reached more than 300,000 tons, but compared with the upstream mining and smelting capacity, the application of domestic downstream industries is insufficient, and the market demand is only 120,000 to 150,000 tons. Demand for traditional application fields such as agriculture, metallurgy, chemical industry, glass ceramics has shrunk, while the development of high-end manufacturing industries such as new-generation information technology, high-end equipment, and new energy is relatively slow. At the same time, due to the constraints of technology and other factors, many areas have not formed strong international competitiveness, so the mined rare earth is mainly exported abroad.

And here the solution:

Strengthen multilateral cooperation and enhance the influence of global resource allocation. Make full use of the "Belt and Road" and other international exchange and cooperation platforms, make a "combination punch", promote the rare earth industry to go abroad, and continuously enhance our country's core competitiveness in the field of rare earths.

One is to actively build a multilateral economic cooperation relationship with other rare earth resource countries, use the advantages of mining and smelting technology, and participate in the development and utilization of rare earth resources in the world more deeply; the second is to open the domestic market as a traction and establish an international rare earth with China at the core, industrial alliances, encourage resource countries, supply countries, and request countries to join the alliance, establish alliance mechanisms such as technical cooperation, market opening, supply priority, and financial services to enhance China's coordination ability in the allocation of rare earth resources; third, establish a rare earth differential pricing mechanism. Utilizing resources and upstream technological advantages, carrying out technical cooperation projects with powerful rare-earth terminal application countries, breaking through downstream key technology blockades, and accelerating the upgrading of the rare earth industry chain.
Comment: Well spoken. Please establish a full VAT refund upon export for rare earth compounds, legalise export processing of import raw materials, change the way Bayan Obo accounts for its iron ore and rare earth mix (this may be at the core of cheap China rare earth prices), fully deregulate the domestic rare earth sector and hold ALL participants to stringent compliance, especially those "more equals" among the state-owned enterprises. Applying the highly successful Lenovo model to the one or the other Big 6 company might help induce confidence.