10th Anniversary; Bold EU Plan; Papers & Disconnects; RE Stock Performance Jan-Aug 2020
Rare Earth 2020 September 5
Day after tomorrow, September 7, is the 10th anniversary of the Senkaku Islands incident, the collision of a mainland fishing boat with Japanese coast guard vessels.
September 21-22, 2010, the Chinese government issued a ban on all rare earth shipments to Japan for a month, subject to extension at the Chinese government's discretion.
To avoid a repeat of the incident or any incident at all around the tenth anniversary, the China government has ordered Chinese fishermen to stay far away from "sensitive" areas during this time, incl. the Senkaku, which China, Taiwan and Hong Kong call the Diaoyu Islands.
---
There is this fabulous 2013 paper from the US-Congressional Research Service, titled Rare Earth Elements in National Defense: Background, Oversight Issues, and Options for Congress.
Since then not much changed. Even Molycorp's old "Mine to Magnet" initiative is being resurrected nowadays.
---
The EU Commission Directorate-General Grow published a paper just in time for this anniversary, Critical Raw Materials for Strategic Technologies and Sectors in the EU, which shows dramatic increases of RE needs during this and following decades.
---
Argus published a heads-up for RE, an affirmation of the trends.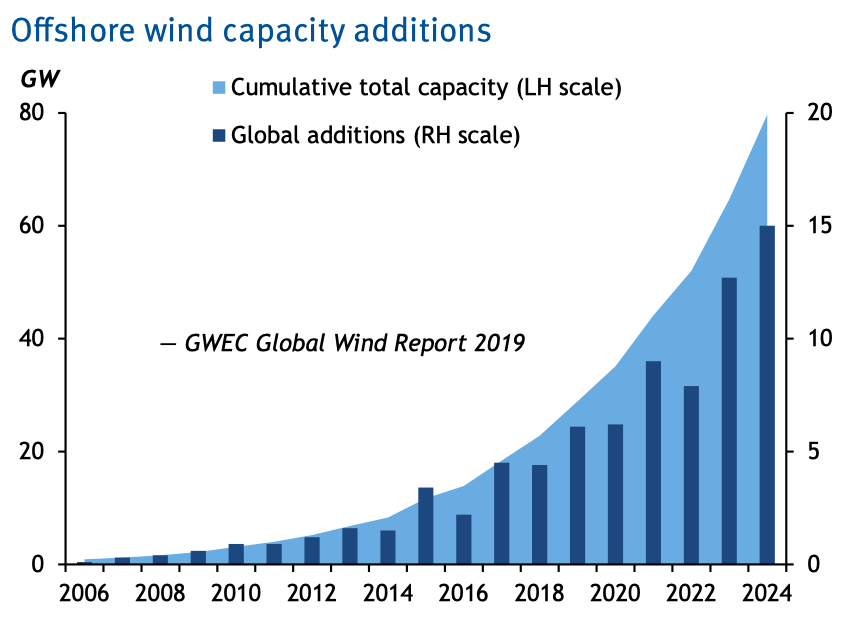 Source: Argus Media
---
An article in China's Shenzhen Security Times analyses quite correctly, that the West can build up a rare earth industry with much effort and money invested, but no matter what the tax breaks, that industry may not be competitive (and may not be able to cover the full spectrum of products and qualities required).
Without the intention of doing so, the article exposes a disconnect between relevant industries and policy makers.
While the prime concern of policy makers is having stable, continuous, environmentally benign and reliable (=politically de-risked) supply of the raw materials, needed for implementing EU energy policies and US-China rare earth independence, the real economy's prime concern is and must be competitiveness, e.g. price and cost, no matter if one is a buyer or a seller of RE.
That issue requires a lot more attention and a solution.
---
Below please find the top and bottom 10 for the stock performance January-August 2020. There had been mistakes owing to incorrect data feeds, that we corrected by hand and we took out companies who left the rare earth space.
Thanks for reading and have a nice weekend!
//Policy
The House bill is patterned after the ORE Act, introduced in May 2020 by Senator Ted Cruz (R-TX). Both Senate and House bills create a comprehensive tax incentive program to encourage investment in U.S.-based rare earth and critical mineral production, from mining, reclamation and recycling through processing and advanced materials production, along with a grant program for demonstration projects developing primary mining projects for the rare earths and critical minerals, as well as "secondary recovery" projects, recovering the materials from legacy mine waste and eWaste. Full text of the Gooden press release can be found here - https://gooden.house.gov/RAREAct. A copy of the RARE Act bill can be found here - https://www.dropbox.com/sh/pf1ssjoc2puwgoc/AABe3YiByosgJ0Uw5oC6aScua?dl=0

While the magnet plant will ultimately be fed by rare earth feedstock originating at our Round Top Mine, USA Rare Earth is in the process of re-commissioning its magnet facility sooner, using recycled rare earth materials.

USA Rare Earth announced on July 16, 2020 that it is working with GeoMega Resources of Canada to integrate material recycling into the magnet production process, and subsequently pledged in to power its Round Top operations with 100% renewable energy.
Bill Redmond, a former U.S. congressman who now works at TechSource Inc., attended the San Juan County Commission meeting virtually on Sept. 1 to ask for a letter of support as the company submits an application for a U.S. Department of Energy grant.

The County Commission unanimously approved the letter of support.

Redmond said the San Juan Basin is one region in the United States that has been identified for possible rare earth element extraction. These rare earths can be extracted from new coal mining or from coal ash.
[China State Administration of Taxation]
The "Resource Tax Law of the People's Republic of China" was formally implemented on September 1, 2020.


The Resource Tax Law clearly stipulates that strategic resources such as crude oil, natural gas, medium and heavy rare earths, tungsten, and molybdenum are subject to fixed tax rates. Others are determined by the local government within the legal tax rate range.


The legal tax rate range for coal is 2%-10%; the tax rate range for ferrous metals is 1%-9%, and the tax rate range for light rare earths is 7%-12% [La, Ce, Nd and Pr] . Crude oil, natural gas, tungsten, molybdenum, medium and heavy rare earths, uranium, and thorium are fixed tax rates. For example, the crude oil tax rate is 6%, the natural gas tax rate is 6%, tungsten is 6.5%, molybdenum is 8%, and medium and heavy rare earths are 20% [Sm, Eu, Gd, Tb, Dy, Ho, Er, Tm, Yb, Lu, incl. Y, excl. Sc].
The European Commission has said that the disruption to supply chains caused by Covid-19 has shown that Europe can no longer rely entirely on third countries for raw materials that are essential for Europe's "green transition".

The European Commission has today (Thursday, September 3) announced actions to make Europe's raw materials supply "more secure and sustainable".

According to the commission, the secure supply of raw materials for the EU's industry is a "long-standing issue".

Commissioner for Internal Market Thierry Breton said that by "diversifying the supply from third countries and developing the EU's own capacity for extraction, processing, recycling, refining and separation of rare earths, we can become more resilient and sustainable".
Worried by an increasing dependency on the raw materials used to make smart phones, televisions and energy-saving lights, the European Union on Thursday launched a new strategy to secure access to rare earth minerals and to reduce reliance on suppliers like Chile, China and South Africa.

The EU is predicted to need around 60 times more lithium and 15 times more cobalt for electric vehicle batteries and energy storage by 2050. Its demand for rare earth materials in permanent magnets used in several technologies could increase 10-fold over the same period.
Comment: The numbers have been massaged a bit for drama.
//Companies
RER's mine has been relatively dormant since 2016, when the permitting process was placed on hold just a week after the Draft Environmental Impact Study was released. The company announced that it was running out of funding and would be downscaling for the time being.

In 2017, an affiliate of General Atomics by the name of Synchron purchased 33.5% of the company's issued common shares, totaling around $4.5 million. Synchron purchased an additional $5 million of shares in 2019 and now owns 49% of the outstanding shares.

This cash influx allowed RER to get back to work on its proprietary technology through a pilot plant test in Germany, which met with success. RER now feels it necessary to build a scaled-up demo plant before moving ahead with a full-scale plant operation.

At this time, according to Byers, RER is not moving ahead with restarting the NEPA process for the mine itself.

"We've got to get the demo plant funded and then built and then operated," he says. "That will tell us about what the plant in Upton will look like."

This in turn will determine how much ore needs to be produced and at what rate, which may reduce the scale of the mine.
Northern Minerals is also finalising plans for an aggressive exploration program to drill around 16,500 metres across its Browns Range tenements before the end of June 2021.

Exploration is focused on increasing the mineral resource and the life of mine potential at Browns Range.

These results, along with the findings from pilot plant test-work, will feed into a new feasibility study to evaluate the potential for a commercial, larger-scale heavy rare earths production project in the Kimberley.
"All these factors will be scrutinised. During the risk assessment, a 'worst case scenario' will be adopted in anticipation of the effects in case of pollution. These studies will be usually done before a proposed landfill is approved for construction... it is not just about determining whether the 'waste water' is permeable or not," said the source.

During the state assembly sitting last week, Semambu assemblyman Lee Chean Chung claimed that a former member of the government's Lynas executive review committee, during his visit to the Bukit Ketam site, had confirmed that the area was within a water catchment area (tributary) that flows to Sungai Riau before reaching Sungai Kuantan, thus raising concerns the PDF might result in the ground water being contaminated.

However, Menteri Besar Datuk Seri Wan Rosdy Wan Ismail in his reply said AELB, along with their experts, had conducted checks before deciding on Bukit Ketam as the site, and assured the assembly that the state government will look into the issue again for the sake of the Kuantan people.
Comment: The never-ending story with someone pulling strings in the background.
The formalisation of Hilton Banda's appointment to the board of Altona is ongoing and it is expected that Mr Banda will become a director of the Company in conjunction with the granting of the Exploration Licence for Chambe. Mr Banda is Chief Executive Officer of Akatswiri Mineral Resources and a highly experienced qualified geologist.

The Company is now in advanced discussions with two other REE projects in different stable African jurisdictions, and the board is confident that it will sign Heads of Agreement with at least one of these companies within the next 30 days. These projects are both Carbonatite bearing REE deposits which have had extensive exploration work including diamond drilling carried out over the past 20 years by previous owners which warrants further exploration.

Finally, the proposed capital raise, as announced on 17 July, will be launched via the NR Private Market investor platform (www.NRPrivateMarket.com), once the Exploration Licence has been granted in Malawi, or the Company signs Heads of Agreement with one of the other companies it is negotiating with.

The Company will apply to AQSE to restore trading in the shares following a successful fund raise.
Comment: NR Private Market promises "only carefully selected high quality mining deals."
//Recycling
A greater global effort to recover and recycle magnet rare earths from end-of-life devices can also play a meaningful role in helping to satisfy demand in the years ahead.

For example, our analysis projects that in 2030 alone, upwards of 90,000 tonnes of NdFeB magnets will be entering waste streams globally; 4,500 tonnes from end-of-life wind turbine generators, 4,500 tonnes from end-of-life EV traction motors, 35,000 tonnes from end-of-life consumer electronics, 10,000 tonnes from end-of-life consumer appliances, 10,000 tonnes from end-of-life cordless powertools and upwards of 35,000 tonnes more from a long list of other end uses and applications.

If just 5 to 10% of the NdFeB magnets entering waste streams globally each year by 2030 could be viably recovered and recycled it would make a substantial contribution to global supply.
Comment: That is, where companies like Geomega, Hypromag and Urban Mining are headed. Even if only a minor part of forecasts come true, such recycling companies will have a good business.
//Stocks
TOP 10 from January to August 2020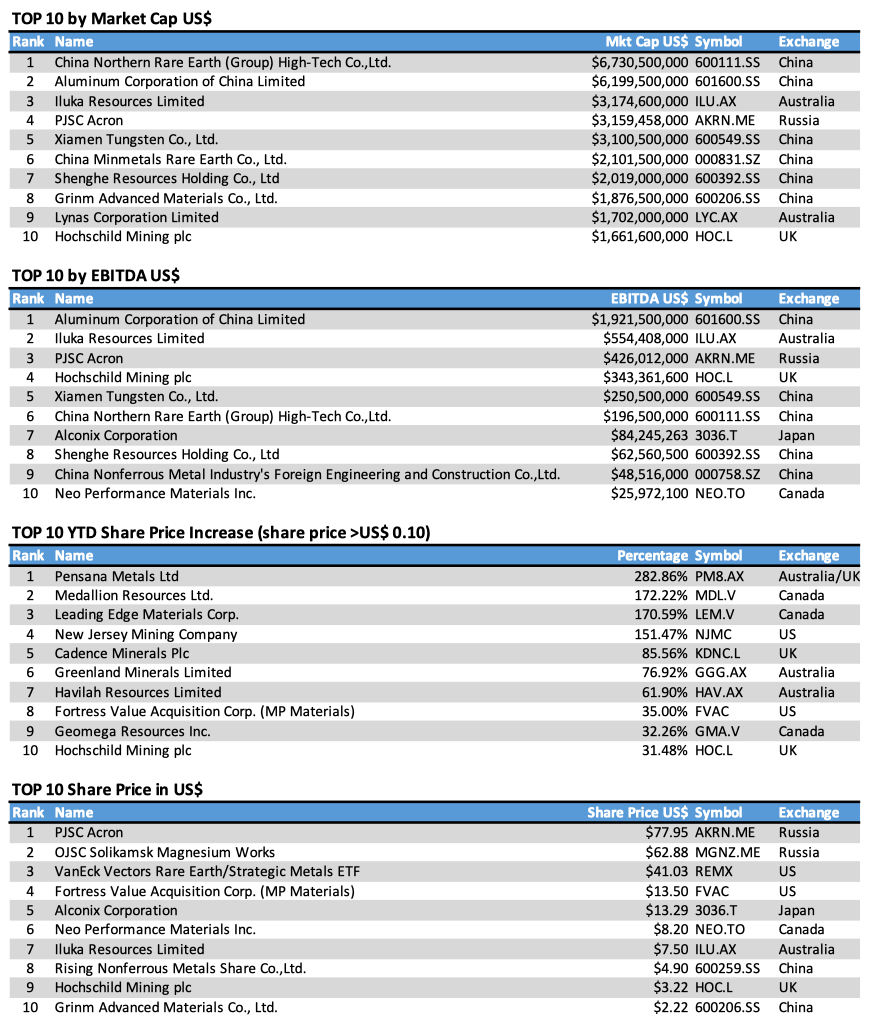 BOTTOM 10 from January-August 2020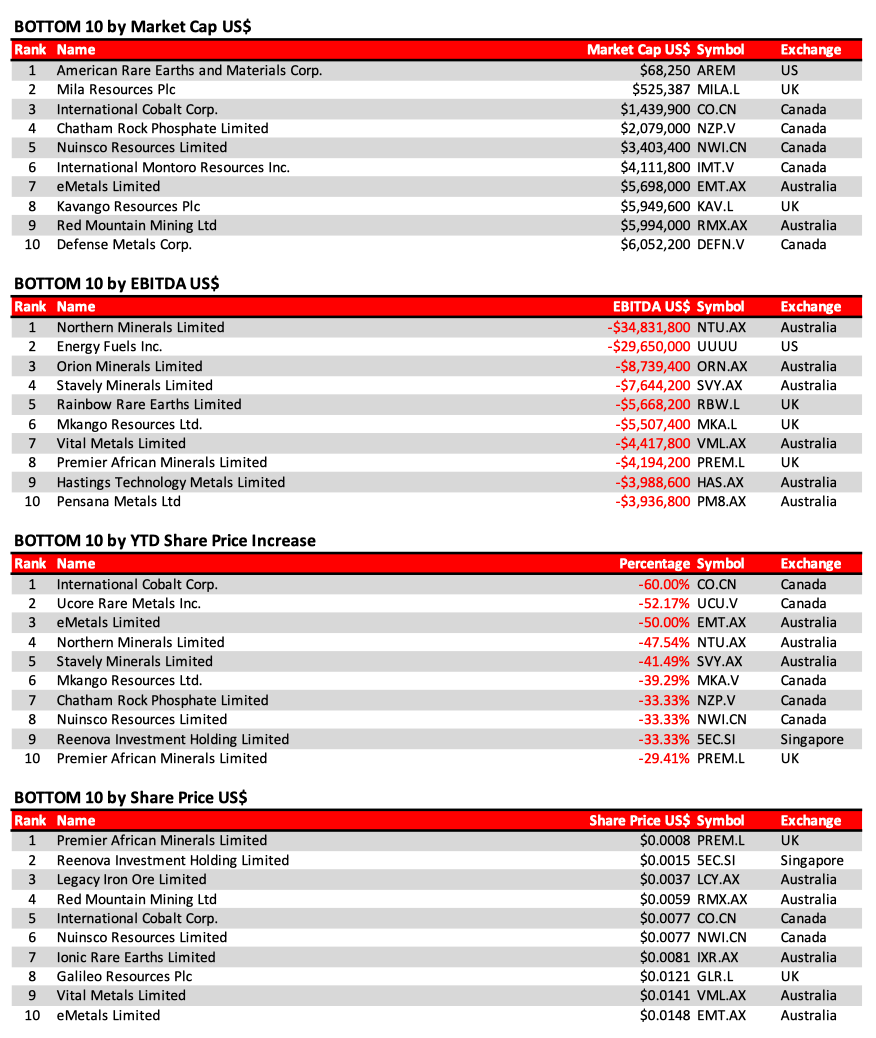 As usual, errors and omissions are excluded. Please do your own research. The underlying spreadsheet you can find here and use it at your own account and risk.